E-bike News: Specialized Again Tease 'Budget' E-bike, Class 1 Trail Access Policy and Much More!
Although today's lead story about Specialized seems, on the face of it, to amount to releasing a couple of PR pics for their latest tease at the upcoming Globe Haul ST, there is a lot riding on the future success of Specialized's forthcoming 'budget' e-cargo bike. To quote this Cyclist article on the history of Specialized, 'Since then (the 1974 company founding date), the company has developed beyond all recognition, growing to the point where it not only follows trends in the cycling market but often dictates them.'
So will Specialized kickstart a new movement in the e-bike industry for companies that have traditionally produced premium priced bikes, often with elements of their own proprietary technology, to head downmarket? And will innovative design and tech be a feature of the new lower-priced models or are Specialized simply aiming to compete on price? EBR will let you know very shortly….
In this week's e-bike news:
Specialized gives first clear photos of Globe Haul ST

People For Bikes Urges Class 1 Use Only On Non-Motorized Trails

Delfast's New Moped Style E-Bike

All The Latest With E-MTBs

NYT Looks at Van Moof and E-Bike Growth
SPECIALIZED TEASE PICS OF NEW LOW COST E-BIKE
A long time in the anticipation, 18th October will see full details of the first of Specialized's promised line of low cost e-bikes that were hinted at earlier in the year. This week however, Specialized released more pics and unlike earlier ones they don't obscure key parts of the e-bike!
Christened the Globe Haul ST it's clearly a small utility-cum e-cargo bike with a chunky rear hub motor, a decent size battery, step-through frame and a strong-looking rear rack that looks like you will be able to fit all manner of carrying accessories onto it.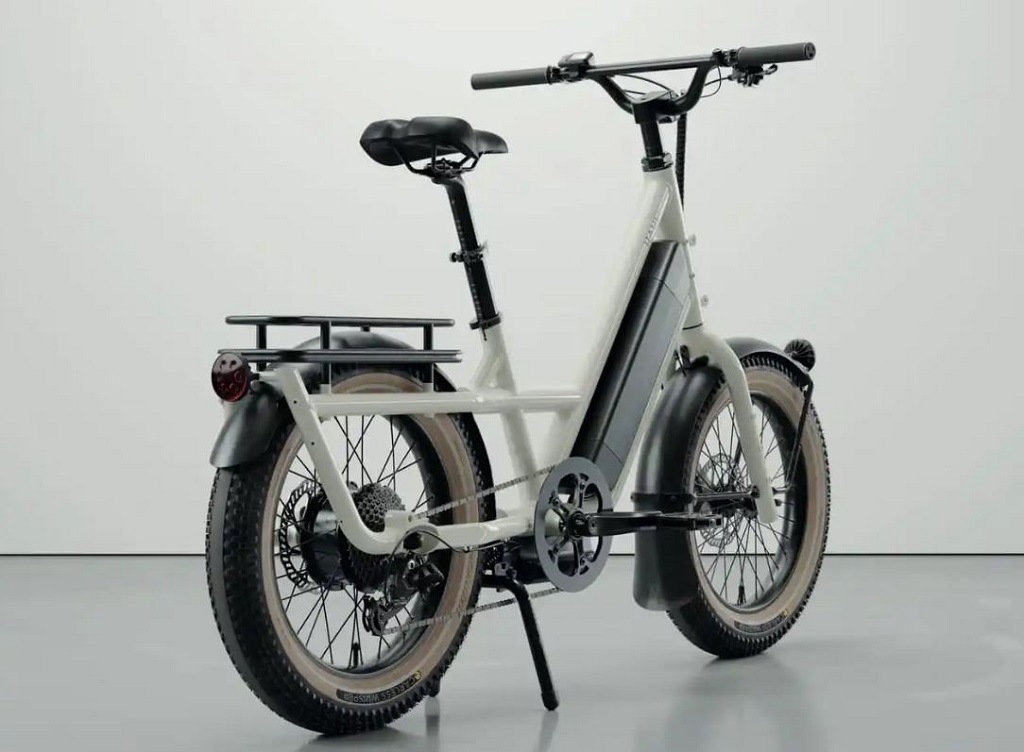 Prices, along with full spec details, haven't been released yet, so exactly what Specialized mean by low cost isn't clear – but most riders would probably have price tags nearer to $2,000 in mind rather than the $3000 plus mark, which is where Specialized's current range of e-bikes start. EBR will keep you up to date with price details as soon as they are released.
PEOPLE FOR BIKES NEW ACCESS POLICY – CLASS 1 ONLY ON NON-MOTORIZED TRAILS
Bicycle Retailer and Industry News (BRAIN) reports ' PeopleForBikes is urging land managers to allow the use of Class 1 e-bikes — but no other e-bikes — on all non-motorized, natural surface trails (including singletrack mountain biking trails) where traditional bicycles are allowed. The recommendation, if adopted by land managers, would ban unclassified e-bikes, higher powered Class 3 and throttle-controlled Class 2 bikes from the trails. '
PeopleForBikes released the new recommendation at its inaugural eMTB Summit, held onSept. 14-15 at Palisades Tahoe Resort.
Class 1 e-bikes allow a maximum assisted speed of 20mph but do not allow throttles (ie they are pure pedelecs). In short, throttles and higher speed e-bikes should be banned on non-motorized trails say PFB.
As the article points out, the current situation allows for quite a bit of local discretion and perhaps confusion; 'Currently the National Forest Service allows Class 1, 2, and 3 e-bikes on motorized roads and trails, but not on trails that don't allow motorized vehicles. A March 2022 policy update allows forest managers to designate trails or other routes that are open to e-bikes but no other motorized vehicles. The update defines the three e-bike classes, but does not allow or disallow any of the classes from trails. The National Parks Service and other public lands managers have varying policies.'
DELFAST'S NEW MOPED STYLE E-BIKE
Originating in Ukraine, Delfast have, up until now, been known for producing ultra-powerful machines with huge ranges that were decidedly more e-motorbike than e-bike.
Now comes their recently announced California model and, even though it is an e-bike – a class 3 one – it's clear Delfast are still looking to push the envelope in performance terms. The company says 'the Delfast California Class 3 eBike blends a hyper-intelligent onboard computer, the power of a 750W mid-drive motor and the grace and balance of the first U-frame in the industry.' Oh, and it features a 2880Wh battery with a claimed 100 mile range in 20mph mode.
The Delfast California is being built in the US at the company's base in Whittier. The bikes will retail for $3999, with shipping planned from June 2023. Early birds, though, can order the bike at a special pre-launch price. For more details, see here.
E-MTB ROUNDUP
New lightweight, premium-priced e-mtbs continue to be announced seemingly marking the start of a real trend.
Bike Rumour reports that Spanish-based 'Berria Bikes has introduced its latest all-mountain eBike in the form of the Berria Mako Hybrid GT, a 151mm travel eMTB powered by a Polini Motor capable of delivering 90 Nm torque and 400% assistance. The frame is composed of Berria's own HMR2X carbon, a composite incorporating a reinforced "Mach R" resin said to improve vibration damping. There are seven models to choose from and three sizes available, with pricing starting at € 6,899.'
EBR couldn't find a quoted weight – but with a 720Wh battery on-board and a mid-drive weighing nearly 6.6lbs / 3kg it won't be a true lightweight – but with top end components and a carbon frame it likely will be comparative lightweight for the battery and motor spec.
Rather more lightweight is NOX's Epium, a new full suspension E-MTB series that is developed and produced in Europe. There is a choice of two different models, each with three versions with Fazua Ride 60 drive.To give one example, the ALL-MTN version in medium sizing has a claimed weight of 39.6lbs / 18.4kg.
ANALYSIS – NYT CONSIDERS IF E-BIKES WILL MAKE A STEP CHANGE
The New York Times takes an indepth look at Van Moof:
'The Dutch e-bike company started by the brothers, has been among the biggest winners (of the e-bike boom). With a simple and stylish design and clever integration of technology, the company has drawn comparisons to Apple and Tesla and has attracted a loyal and fast-growing customer base among urban professionals in Europe and the United States.
Sales of the battery-powered bikes more than tripled during the pandemic, and the company has raised more than $150 million from venture capitalists who don't typically bet on bicycles.'
The article goes beyond just a description of the bike and its success to ask whether the continued e-bike growth premise many young firms are based on will really come to pass. VanMoof itself estimates industry sales will hit $46 billion by 2026, double prepandemic predictions and its many investors are clearly basing their hopes on the truth of predictions like this.
Add to this the fact Van Moof is doing things rather differently – as the article points out 'VanMoof designs most of its components itself, rather than relying on suppliers in Taiwan or China, which helps it produce a more integrated design but has added manufacturing and supply-chain challenges.' It also points out that the company sells and maintains the bike directly itself and so if buyers are not near one of Van Moof's few service outlets they will need to return the boxed bike to Van Moof should repairs be needed.
But if the article's suggestion is right – that despite the e-bike's popularity they are still in their sales infancy and it needs the iphone of the e-bike world to come along to help prompt truly mass adoption – some e-bike companies, perhaps including Van Moof themselves, will become truly household names.