E-bike News: Range Extenders, Powered Bike Trailers, Solar Power, E-bike Subsidies and more!
One thing that it's taken e-bike manufacturers a while to figure out is how to best integrate a battery into the bike frame. On early e-bikes batteries appeared as afterthoughts, usually either integrated into the pannier rack (bad for balance and handling) or, literally, bolted onto the frame, which may have been better for balance but didn't do a lot for the looks of the bike, especially if a large capacity battery was used. Current designs look a lot slicker, usually integrated into the frame in varying degrees, and they also afford the battery better protection and give the bike better handling. To show how far the concept has come Van moof released their latest take on battery design with their completely frame-integrated main battery now supplemented by an optional range extender. With several electric assist systems offering range extender options this could be an idea taken up by more manufacturers in future.
In this week's news:
Van Moof Launch Range Extender

Ein and 1Drive Powered Bike Trailers

Solar Powered SunRider eCargo Trike Announced

Revonte's Innovative Mid-drive Explained

Domino's Trial E-powered Bots

New E-bike Hire Scheme for NYC

E-bike Subsidies Analysed
New eBikes and eBike Systems
MORE RANGE FOR VAN MOOF
VanMoof produces slick city bikes with a frame integrated battery and a lightweight, high tech but simple to ride approach that many riders clearly love. One initial design weakness was the relatively small battery causing 'range anxiety', particularly acute for some riders as the batteries are not made to be removed from the frames and so can't be swapped out by the end user (only for repair and servicing).
To reduce range related qualms Van Moof have now introduced a range extender dubbed the PowerBank;
Unlike the main battery the 378Wh PowerBank is removable. It has an on / off button so you can choose when to charge the 504Wh battery that hides within the frame and you can charge whether you are riding or not.
Van Moof gives the vital stats as 2.8 kg (6.2 pounds) weight for the new PowerBank with a cost of $348 / €348 / £315 (Van Moof e-bikes without the range extender start at $1,998 / €1,998 / £1,798). The PowerBank starts shipping in June.
ARE POWERED TRAILERS MAKING A COMEBACK?
Powered trailers are not a new idea but having never really seen mass adoption, despite the temping idea of being able to hitch up a powered trailer to any bike and, hey presto, you have an e-bike. Ridekick was one of the early proponents but now two new products look to be developing a new take on the idea.
The Biomega Ein has just launched on Indiegogo and looks to incorporate intelligent tech into the trailer design, which is powered by a single rear electric hub motor. It claims to attach to any regular bike or e-bike with a single click and to provide just the right amount of assist to make any load feel almost weightless.
The 1 Drive also looks to introduce new tech to make for a smoother ride form an assisted trailer; appearing on the Baumeister website, the stroller style trailer features hub motors in both wheels and like Biomega's Ein is looking to incorporated sensors to stop the 'pull-push' problem you can get with some trailers and loads and that can be exacerbated by adding electric assist to the trailer. It sounds as though the 1 Drive has something similar to an overrun brake on a traditional car trailer which certainly sounds interesting tech.
The 1 Drive still looks to be in development and may be launched late in 2021.
E-tech
SOLAR POWER CLAIMS TO ADD 60 MILES TO RANGE OF SUNRIDER eBIKE
The recently launched Sunrider e-cargo trike from Dutch company Need the Globe (NtG) has a large cargo box covered in solar panels that allows the company to make the claim that it is at least '50% self-charging' and in optimum conditions you won't need to plug it into the mains at all say Sunrider.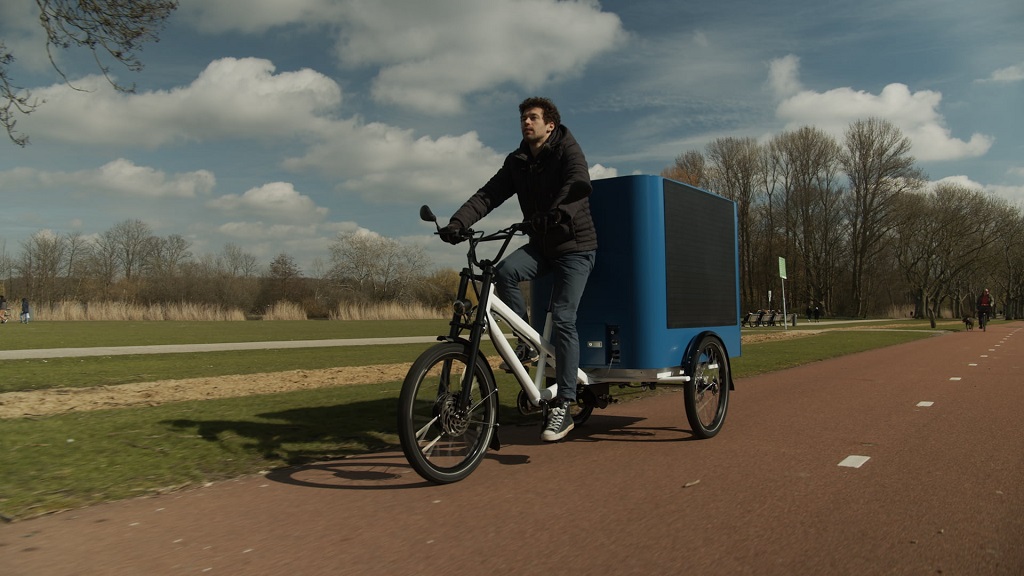 NtG say the SunRider will carry 1m³ Euro pallets with a max payload of up to 150kg of cargo.
Why is a solar powered vehicle being launched right now? NtG say it's due to a drop over time in the price of solar tech and an increase in the efficiency of the panels – ie more charging power for your money.
NtG say the panels themselves have a 545 watt-peak generating ability and the trike appears to be a Euro-spec e-bike with a 250W hub motor. Claimed max range is 60 miles but the company doesn't say under exactly what conditions – but the huge 1600Wh battery certainly makes it sound feasible.
REVONTE EXPLAINED
Revonte is a unique e-bike motor design that incorporates the role played by bike gearing into motor itself, so there is no need for hub or derailleur gears in addition to this mid-drive unit.
Although the motor system has been around since 2019 Revonte have just released this video to explain just how they manage to make a system that alters the gear ratio and provides strong mid-drive motor power all in one unit.
DOMINO'S TRIALS AUTONOMOUS DELIVERY BOTS FOR PIZZA DELIVERY
CNN reports that 'Domino's is rolling out a robot car delivery service to select customers in Houston. For those who opt in, their pies will arrive in a fully autonomous vehicle made by Nuro.'
Naturally there are the inevitable update texts on the pizza's autonomous progress. A unique ID number is used by the customer to unlock the door on the vehicle and retrieve their order.
According to CNN 'Nuro's robot car was the first completely autonomous, human-free on-road delivery vehicle to receive regulatory approval from the US Department of Transportation last year, Domino's said.'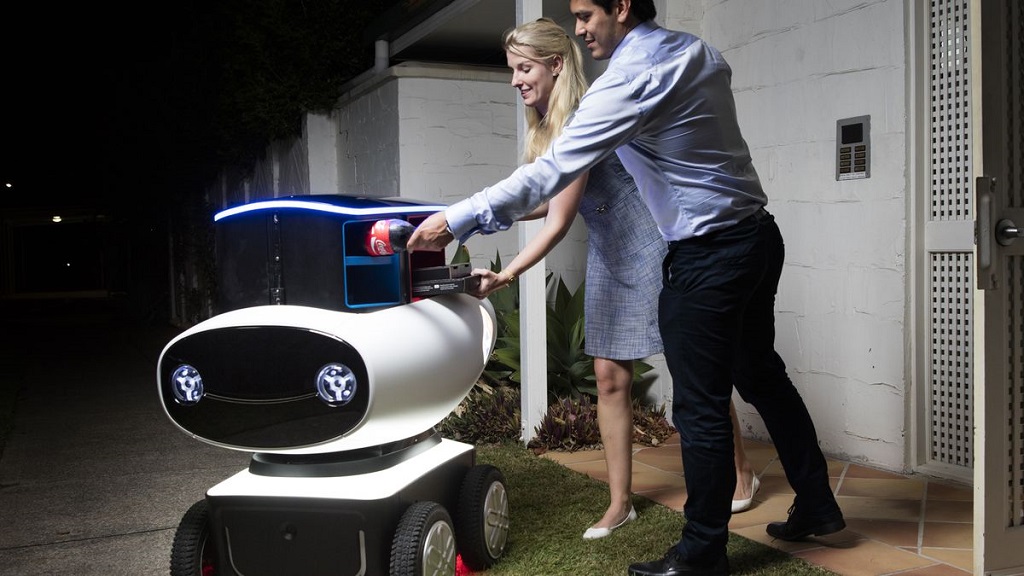 Despite the trial it doesn't seem likely e-bikers will have to contend with many more autonomous vehicles any time soon. As the article points out 'For years, self-driving car companies operated under the belief that their technology and current road infrastructure would be enough. But self-driving has proved harder to get off the ground than expected. Companies have missed deadlines for deployments, and the industry has consolidated, with even a company as big as Uber selling its self-driving vehicle program.'
eBike Share Schemes
eBIKE FOR NYC USES PRIVATE PROPERTY TO SPEED LAUNCH
Treehugger reports on how, in addition to NYC's Citibike bike hire (with e-bike options) there is now 'a new micromobility player in town: JOCO. The company partnered with Vulog, which claims to be "the world's leading platform for shared mobility services," to introduce a unique docking scheme for e-bikes in New York City.'
The article tells us that JOCO is the first shared operator to launch with a network of stations on private property – think hotels, offices, and apartment building garages. They say this will speed up the launch process compared to schemes where the e-bikes use public land.
According to Vulog,
"Vulog's platform will power a fleet of premium shared e-bikes launching with 30 stations in Manhattan and soon to grow to more than 100 stations across New York…The service will complement CitiBike, allowing New Yorkers to access a network of top-quality Acton Nexus e-bikes via Vulog's white-labeled app. E-bikes will be picked up and returned to JOCO stations located in office buildings, hotels, apartment buildings, and more."
eBike Finance
eBIKE SUBSIDIES WORK SAYS STREETSBLOG
Last week's news detailed how Lawmakers in France's National Assembly have just passed a preliminary vote on offering the owners of older more polluting cars the opportunity to hand over their vehicles for scrap in return for a 2,500 euro ($2,975.00) grant to buy an e-bike.
This interesting Streetsblog article details how these e-bike subsidy schemes are being adopted by more and more countries in Europe, from Lithuania to Scotland.
The US is perhaps a little behind the curve in this respect – as the article also points out 'In the U.S., a handful of states have launched their own programs to encourage residents to ditch their gas-powered rides, but they tend to be more limited in scope. California, for instance, has already expanded its unfortunately named "Clean Cars For All" trade-in program to include up to $7,500 for e-bikes, bikeshare memberships and transit passes, though the government has faced criticism for restricting eligibility to only the lowest-income Californians in a tiny handful of cities, in addition to requiring them to have a car to trade in.'
To add some perspective Streetsblog also point out the scale of the whopping $100 billion in consumer rebates for electric cars that President Biden is pushing for in his infrastructure plan.
eBike Biz
BIO-HYBRID INSOLVENCY – WHERE DOES IT LEAVE eBIKE CARS?
Electrive reports on how German manufacturer of the innovative 'pedelec car', Bio-Hybrid GmbH has filed for insolvency with the Nuremberg District Court.
The article adds 'The start of series production, which was planned for mid-2021 after the separation from Schaeffler, is thus in jeopardy. In October 2020, the automotive supplier Schaeffler sold all shares in its subsidiary Schaeffler Bio-Hybrid GmbH to Micromobility Services and Solutions. Series production of the four-wheeled Bio-Hybrid pedelec was to begin under the new owner in mid-2021. What will become of it is unclear in view of the insolvency proceedings.
Stay tuned for more e-bike news and reviews and thanks for reading!
Rich