E-Bike News: QuietKat Lynx, 26.5lb 3T Ultra Boost & Lots More!
If it were still needed, this week's news shows proof of the huge difference in approach to e-bike design by many manufacturers in the US and European markets. The QuietKat Lynx (from a Colorado-based company) looks ultra powerful and ultra capable, with its huge 2 speed hub motor and software switching to allow it to be used in different conditions where different legal rules as to power and speed may apply. Weight considerations are clearly secondary to all this as this definitely won't be a light e-bike.
By contrast, Italian company 3T has a lightweight racing bike background, so it's no surprise they have come up with a 26.5lb electric gravel bike. Assist is limited to the max Euro-allowance of 15.5mph and there is no throttle and no means of varying the top speed for different legal regimes. It's clearly aimed at those with at least some inclination towards sporty bike riding – very possibly 'converts' from the world of non-assisted cycling. The bikes are about as far apart as assisted two wheelers can get and offer vastly different pros and cons, but both call themselves e-bikes; that breadth of design is one of the beauties of the e-bike world.
In this week's e-bike news:
QuietKat Lynx – a super capable full-sus e-bike with dual speed motor

Propella's latest lightweight w/ torque sensor

3T's new e-gravel bike weighs 26.5lbs

E-quad delivery vehicles to be legalised in NYC bike lanes

Driven's Clever Orbit Drive Seeks Equity Crowdfunding

Yet more on the Van Moof bankruptcy saga
QuietKat Lynx – A Cafe-Moto Style E-bike with Dual Speed Hub Motor Now Available for Pre-order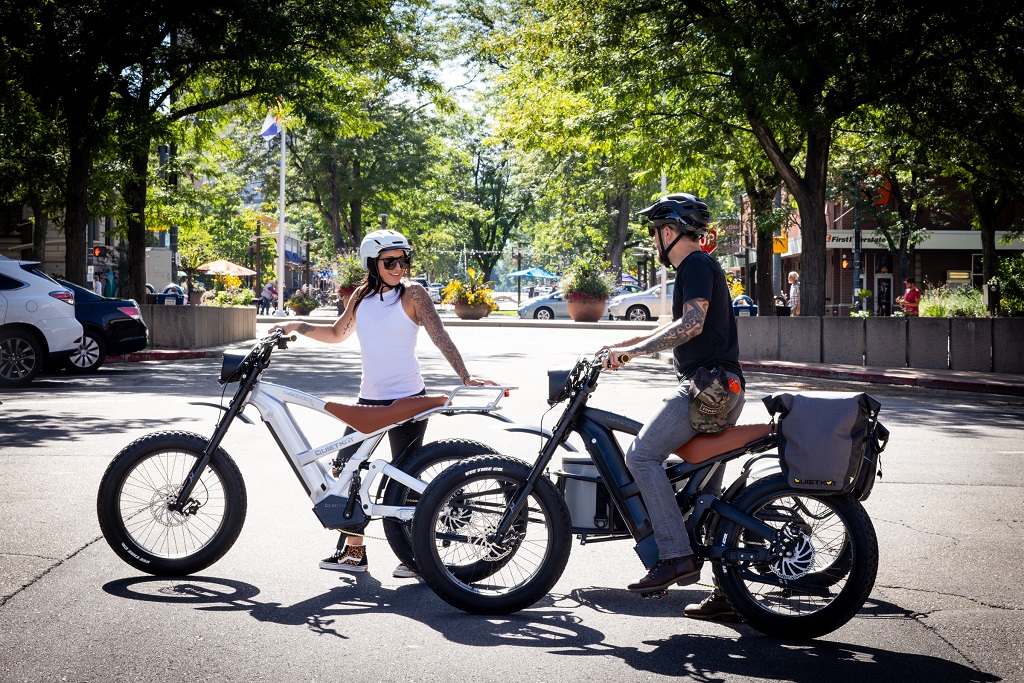 QuietKat's Lynx is something completely different; a full-suspension e-bike with an unusual 2-speed, 1000W hub motor – the two speed aspect of the motor makes it a pretty unique e-bike that, in theory, should better be able to deliver motor assistance at high torque in low speeds and also propel you along at speed. Whilst that 1000 watt rating would put it outside the US legal class of e-bikes if it went unrestricted, QuietKat say the Lynx comes with 'Variable Power Output (VPO™) technology that gives the rider the ability to change what class system the bike operates at, allowing access to more terrain and trails.'
Other features include 960Wh battery, twist throttle, 180mm KKE front fork and a mechanical coil rear shock giving 100mm of travel, 24×4.0″ off-road moto style tires, cargo rack and hardwired lights. Smartphone-linked wireless features include remote control and tracking.
The Lynx will be available late summer 2023 and will retail for around $4000
Propella Announce Lightweight Step-through Model with Torque Sensing
Propella describe the 9S PRO V2.0 as their 'first step-through model which incorporates our affordable-lightweight design approach with torque sensor technology, UL-certified 350Wh battery, and much more..'
Headline weight is just 42.5 lbs (19.1 kg) and other features include a step-over frame option, hydraulic disc brakes, 9-speed derailleur gears, 2" wide tires and an integrated headlight.
Propella are currently taking $200 reservation deposits for estimated delivery in December 2023.
3T Ultra Boost; an E-gravel Bike Weighing Only 26.5 lbs / 12kg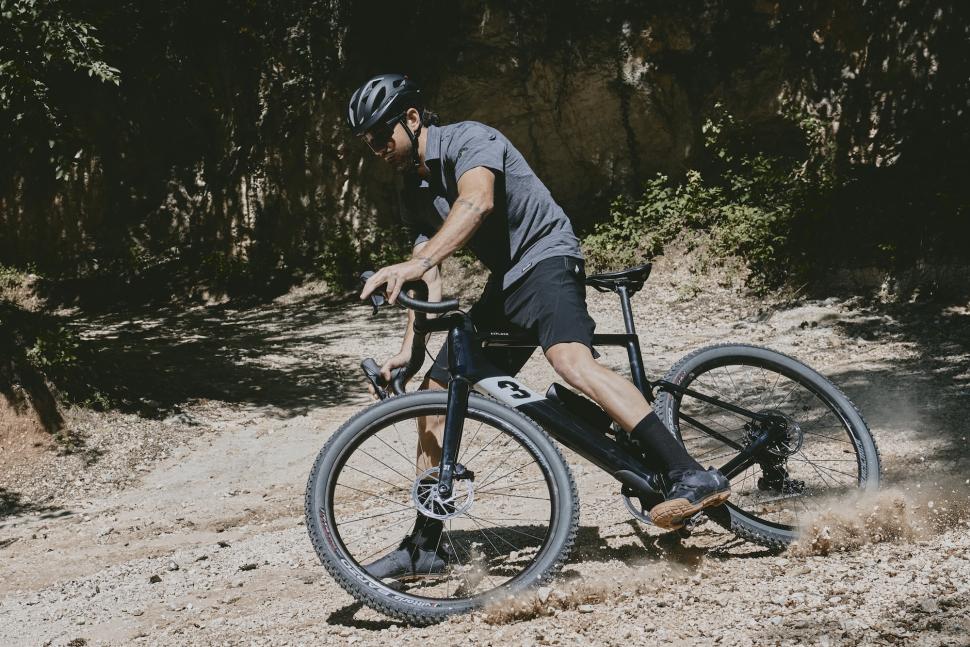 The new Ultra Boost is the electric version of the 3T Exploro Racemax Boost and claims to weigh only 26.5lbs. How do Italian–based 3T keep the weight so low? For a start they use a carbon frame then add the outstandingly light Mahle X20 rear hub motor which, despite its small size, can apparently produce 55 Nm of torque. There's also a relatively small frame-integrated battery of 350Wh, though that can be extended to 523Wh with the range extender which allows for very long rides given the light weight and the efficiency of this sporty design of bike.
There are twelve derailleur gears and SRAM hydraulic disc brakes. The new 3T Ultra Boost is available in three different variants. It is available with 700c or 650b wheels in the versions with drop bar and flat bar. Each variant is priced at 5,999 euros / £6173 / $6,531 at current exchange rates.
Bigger E-cargo Bikes headed for NYC Bike Lanes
'A proposed rule update in New York will pave the way for four-wheeled electric cargo bikes, which look like small delivery vans with bicycle pedals, to share the bike lanes and roads' according to Electrek.
As the article notes, 'Most bicycle laws in the US require either two or three wheels to be legally classified as a bicycle, and thus four-wheeled e-bikes have yet to catch on in the country' but, 'according to the NYC DOT, the updated rule would "expand low or no-emission options for freight deliveries — including packages and groceries — by allowing the use of pedal-assist bicycles that may be up to 48 inches [122 cm] wide and have up to four wheels."
UPS started trials of four wheeled e-quad bikes around a year ago – more detail in the video below:
Innovative Driven Gearbox Suitable for Mid-drives Looks for Equity Crowdfunding
The UK's ebiketips reports how 'Driven Technologies is looking for crowdfunding to bring its innovative Orbit Drive bevel differential gearset for e-bikes to market. The idea is to provide a continuously variable drive system that is completely enclosed in a cast housing so it's hidden away from the elements.'
Note this is not a motor in itself but a system for stepless gearing rather like the Enviolo system that has no steps between gears. A mid-drive motor drives into the Orbit Drive and a secondary motor alters the speed of the output shaft that drives the rear wheel whilst the pedal cranks continue at the same comfortable pace for the rider. Whilst the example given is, very unusually, a shaft drive, the system could be made to work equally well with a chain drive.
Here's a visual demonstration:
Van Moof's Options Narrowing
We've reported in the last couple of week's news on the saga of Van Moof's bankruptcy and the apparent possibility that the debt-ridden company will be salvaged as a going concern if a buyer is found – thereby giving hope to existing Van Moof customers that normal service might be resumed.
However, the UK's Cycling Electric reports on the dwindling possible options for the company as another buyer pulled out of the process to find a purchaser for the Dutch-based company that has customers right across the world; 'Cycling Electric has this evening (August 23rd) learned that in the space of 36 hours the proposed bid for VanMoof by former Accell Group veteran Brian Mogensen and his proposed investment partners is no more.'
That's not to say riders of the high-tech, minimalist design city e-bikes will be totally left in the lurch as Cycling Electric also notes 'numerous outsider businesses are lining up means by which to service VanMoof bikes and customers in future, some by adapting or recovering parts from the fleet in circulation.'
Reader Interactions