E-Bike News: Priority's Simpe e-Classic Plus, Decathlon Mid-drive Model with Integrated Stepless Gearing & Lots More!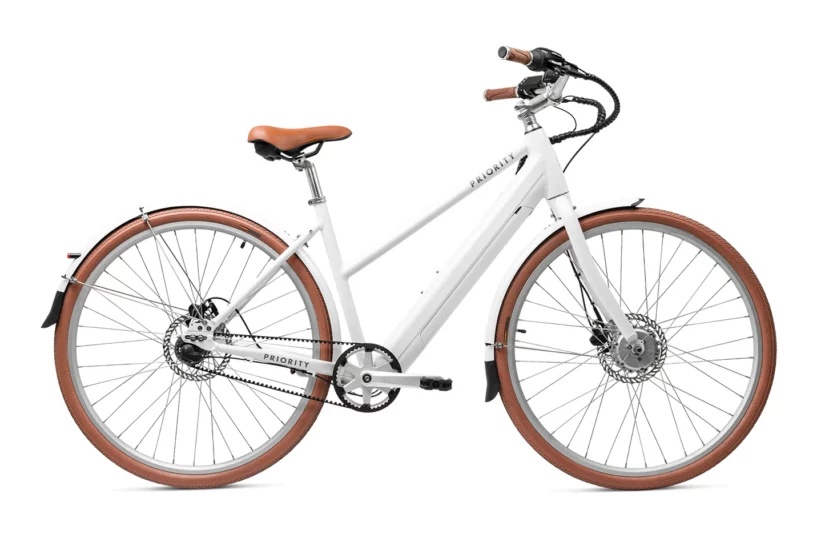 Just how simple – or how sophisticated – do we want our e-bikes to be? That seems to be the question posed by this week's news; e-bikes don't come a lot simpler and lower maintenance than Priority's new e-Classic Plus with its tried and tested formula of front hub motor and enclosed hub three speed drivetrain. By contrast, over in Europe, Decathlon has launched one of the highest tech and most groundbreaking e-bikes out there with stepless gearing integrated with the mid-drive itself. It will be interesting to see if the public put their hands in their pockets to pay for e-bikes with evermore connectivity and more complex and heavier gearing systems.
In this week's e-bike news:
Priority's e-Classic Plus

Decathlon combines mid-drive and stepless gearing

QuietKat Pivot Pro heavy duty 2-bike, 100lb vehicle rack

200 Lime e-bikes for St Paul

Vook – not your average looking e-trike
Priority's e-Classic Plus – Simplicity Itself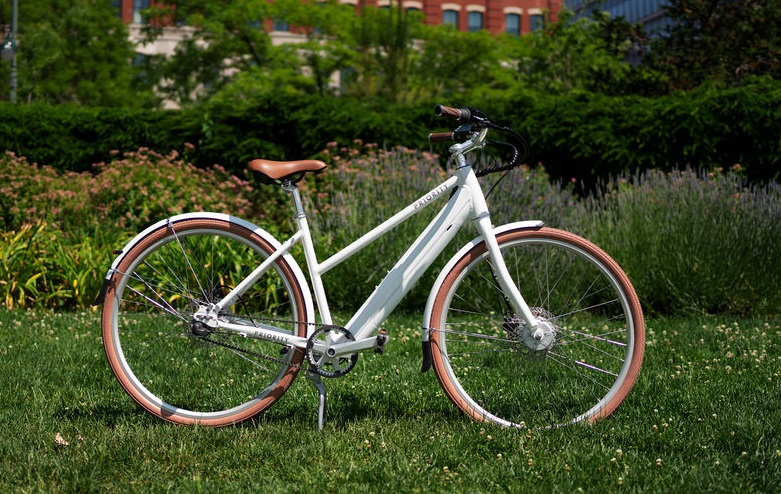 Priority have just announced the an electric assist version of their best-selling 3-speed and it's called the the e-Classic Plus.
Priority bill the e-Classic Plus as offering 'simplicity to the recreational rider. Weighing in at just 49 lbs and virtually keeping a clean "traditional bike" aesthetic with help from its sleek downtube battery integration, riders can enjoy that traditional bike feel along with an energy boost from its 3 pedal assist levels.
The e-Classic Plus is the fourth electric bicycle model from Priority, comes in step-over and step-through frames. It has a 250W front hub motor and removable 374Wh battery integrated into its downtube. Other spec details include a rust and grease-free Gates Carbon Drive Belt, Shimano Nexus 3 drivetrain, composite fenders, built-in front and rear lights, and powerful hydraulic disc brakes.
The e-Classic Plus is now available for $1,399 for a limited time with the promo code ECO300 (will go up to $1,699 on Aug. 15).
Decathlon Debut their Most Sophisticated E-bike Yet
Decathlon is a truly global company with around 1700 stores in 70 countries. So it's pretty big news in the e-bike world that they appear to be extending their e-bike range from more budget models to much more sophisticated offerings.
This is exemplified by the news as revealed by UrbanBikeNews that their new B'TWIN LD920 model features the Owuru mid-drive motor that also contains continuously variable, automatic gear shifting. 'Riders simply set their desired cadence, and the motor and transmission control then do the rest.' It sounds about as simple as it can get.
According to the article 'The system's performance is supposed to be particularly quiet thanks to two synchronous belts, and eight sensors and a powerful microcontroller are supposed to provide direct and frictionless support. The torque of the motor is said to be 65 Nm, which should be more than sufficient for urban use. The gear range is 265 percent (for comparison, this value is on par with Enviolo's new Urban gear and Shimano's Nexus 5 hub gears). Via the display on the handlebars, the desired cadence can be defined between 40 and 90 rpm.'
Despite the fact that the B'TWIN LD920 E has sophisticated features such as smartphone wireless tracking (in case of theft) it's not too heavy at 26.1kg / 57.5lbs or too expensive at 2999 Euros (given the amount of groundbreaking new tech on it). Sadly for UK readers it's only available in continental Europe at present (and even worse for US readers Decathlon does not sell any of its e-bikes in its US stores).
QuietKat Launches Pivot Pro Hitch Rack – Easy Loading of heavy E-bikes onto Your Vehicle
QuietKat has launched their new Pivot Pro hitch rack they say is 'designed to load eBikes safely and easily onto your car or truck without the need for lifting'.
The Pivot Pro allows users to roll heavy eBikes and standard bikes onto the rack by pivoting to one side, allowing an arm to go from the rack to the ground and providing a ramp to simply roll the bike up. It also has silent toothless ratchet arms, providing a stealthy and noise-free loading experience. It will work with both QuietKats and 'most other bikes including mountain, road, gravel, city, kids bikes and more.'
The Pivot Pro certainly sounds extremely strongly made; it has a weight capacity of up to 100 pounds per bike and so can easily accommodate two heavy e-bikes (on the pricier two bike version) and is constructed of a robust steel design. Priced from $599-949 depending on option chosen.
200 Dockless Lime Share E-bikes for St Paul
Pioneer Press notes 'Under a new agreement approved by the city council on Wednesday, Lime will roll out 200 electric-assist bikes in the state's capital by mid-August.'
The article adds 'St. Paul hosts two approved e-scooter companies, Lime and Spin, but bike-sharing hasn't pedaled into the capital city since 2018. LimeBike briefly operated dockless bikes in St. Paul that year, but neither Lime nor the now-defunct nonprofit bike-share vendor Nice Ride Minnesota returned the following year.'
Vook – an E-trike like none we've seen before
US-based Vook are aiming to make their mark with a very different-looking E-trike that is now crowdfunding on IndieGoGo.
To say it's a blend of styles is an understatement; there's a hint of cafe-racer at the front end blended with one of the largest, fattest tires you're likely to see on a delta-style trike with two small wheels at the rear. Oh, and there is a bucket seat too. The drive system consists of dual 3-kW rear-drive brushless hub motors and total weight of the vehicle is 88 lbs (40 kg), with a total load capacity of up to 265 lbs (120 kg).
Given the unique look and all that power, we're very curious how it rides.
Deliveries are expected to begin in December 2023. It's had a handful of backers in the early going and time will tell how many people will sign up to get one.
Reader Interactions