E-bike News: Onyx Electric Dirt Bike, Hummingbird Fibre E-bike and Much More!
You might have thought just about every niche in bike design had an electric version, but if so this week's news proves you wrong. First off, California's Onyx have some up with their own take on an electric dirt bike aimed at skate park stuntmasters, whilst over in the UK Hummingbird are using a plant based material to make their latest ultra-light folding e-bike.
Elsewhere, FLX announces their first e-mtb, Mate gets involved in a lawsuit, e-bike price differences between the UK and abroad are explored and German cyclists go for a ride…….down the autobahn (freeway…). So this week's news is nothing if not varied.
In this week's e-bike news:
Onyx launch high-powered pedelec dirt e-bikes

Hummingbird uses flax plant fibre for frame manufacture and claims

New e-bikes from Blix and FLX

Mate e-bikes in Maryland lawsuit

Are e-bikes pricier in the UK than mainland Europe?

8,500 strong German bike protest takes over autobahn at Frankfurt

ONYX'S LZR – A VERY HIGH POWERED PEDELEC
Dirt bikes are small and agile bikes that can be used to put on a good show in bike parks and are also made to be strong to suffer plenty of use and abuse in daily riding too and they have been described as a cross between mountain bikes and BMXs – see the video below and you get the general idea.
And now, perhaps inevitably, comes an electric version. This isn't just any old electric version but a super powerful pedelec from California's electric ONYX, better known for high-powered electric mopeds. Most notably, the ONYX LZR is a pure pedelec e-bike with two different motor options, 28mph (class 3) assist and a derestricted version.
The ONYX LZR uses what is described as a Dark Matter mid-drive (not one EBR has come across before). It's 500W rated whilst the ONYX LZR Pro uses a 900W rated Bafang M600 mid-drive offering 1,050 peak watts and a top speed of 30+ mph. Both bikes include a frame-integrated 504Wh battery and use hydraulic disk brakes. Gearing is single speed. There is 100mm air suspension at the front.
The ONYX LZR retails at $2,799 (pre-order price is currently $1,999). The LZR PRO retails at $3,399 (pre-order price $2,799).
HUMMINGBIRD USE RECYCLABLE, PLANT BASED MATERIAL FOR ULTRALIGHT E-FOLDER
'Flax fibre is a plant-based material capable of being just as light and strong as carbon fibre. Already being used in the motorsport industry as an alternative to carbon fibre, flax is lighter than carbon and offers improved vibration damping.Flax is also a sustainable material, unlike carbon fibre, as the waste generated at the production stage is biodegradable. Flax is far less harmful to dispose of and recycle than carbon as it will break down.'
That's how UK-based Hummingbird describes their latest e-bike frame material. The Hummingbird Flas E-bike itself has the same one piece mainframe design as previous versions, with the rear triangle swinging underneath it and bars and seat dropping down, to produce a long, thin folded package (around 45" long x 25"cm tall x 8" wide) with a claimed weight of 10.3kg / 22lbs.
It uses the latest version of the Zehus all-in-one rear hub motor system that claims 50% more torque and 20% more range than its predecessor, with customisable power settings controlled from the Bitride App via Bluetooth 5.1 connectivity.
UK price is £4995
NEW E-BIKE ROUNDUP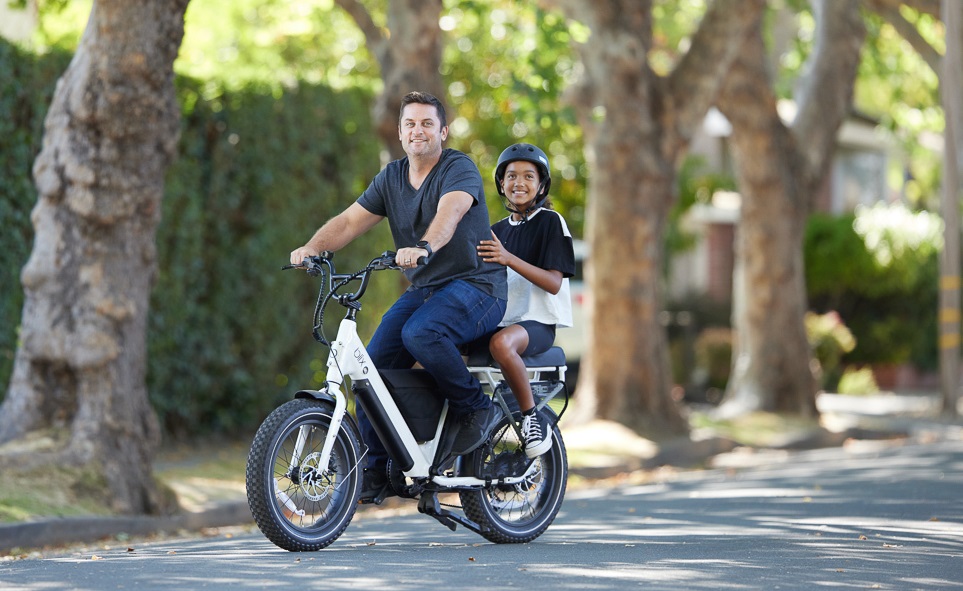 EBR just reported on popular e-bike manufacturer Blix's latest model, described by us as ' Part commuter, part cargo bike and part kid mover, the Dubbel is meant to be a versatile e-bike, suitable for hauling anything someone might put in their car.'
Perhaps most notable is the bike's potentially huge range, with the choice of one or two 672Wh batteries. Riders can choose whether to ride it as a Class 2 bike with a throttle and a maximum speed of 20 mph, or as a Class 3 bike with a maximum PAS speed of 28 mph.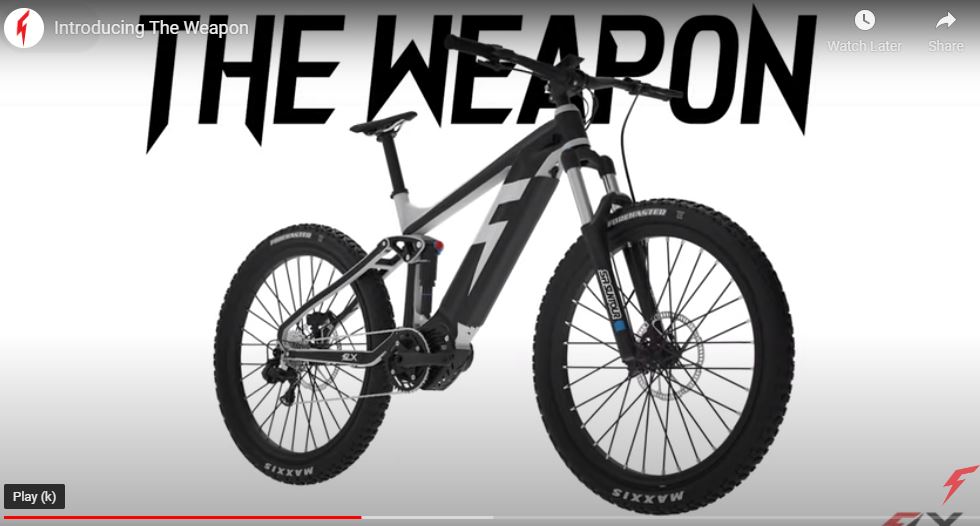 The FLX Weapon is a new venture for a company that made their name with a single speed road e-bike all made possible by a wildly popular crowdfunding campaign. A full-suspension e-mtb, it boasts two options. The 'standard' Weapon has a 500W mid-drive and 840Wh in-frame battery whilst the Weapon X is a carbon-framed version that uses the same motor/battery combo with other components upgraded.
MATE INVOLVED IN MARYLAND LAWSUIT
Bicycle Retailer and Industry News (BRAIN) reports that ' A lawsuit in Maryland federal court alleges the front fork of a Mate.Bike folding e-bike failed as plaintiff Benjamin White rode off a curb, allegedly causing White severe injuries and permanent disfigurement.'
BRAIN notes that Mate's initial success in the e-bike world was due to a 2016 Indiegogo campaign that raised over $17 million with the folding, fat-tire e-bike amongst the most successful crowd-funded e-bikes of its type at the time. The article also notes the thousands of comments suggesting the company struggled with fulfillment and quality issues.'
SOME UK E-BIKES PRICED SIGNIFICANTLY HIGHER THAN IN MAINLAND EUROPE

This interesting ebiketips article looks at the e-bike price differential charged by major retailer Decathlon between UK and mainland Europe, noting 'French sports goods giant Decathlon has said that its significantly higher UK prices for e-bikes are largely down to Brexit' (the UK's exit from the European Union in early 2020 is known as Brexit).
In particular it notes Decathlon's Riverside 500E model sells for £1,299.99 in the UK (around €1,520), whilst it is priced at just €1,199 in France, Italy and Spain.
8,500 BIKE PROTESTORS TAKE OVER GERMAN HIGHWAY
The BBC reports that recently 'Around 8,500 cyclists prevented motorists from using a stretch of Germany's autobahn, during a protest calling for better public transport and cycle lanes.'
The protest took place between Frankfurt and Wiesbaden over a 25 mile stretch of the German autobahn network (autobahns are akin to high speed, no stopping highways in the US). The group responsible was Verkehrswende Hessen whose demands included making transport in the German state of Hesse climate-neutral by 2030.