E-bike News: OL+EM's Titanium mid-drive, Orbea, SERIAL 1, Gates and Much More!
There are always many e-bike crowdfunding campaigns looking for backers, not a few of which, it has to be said, sound too good to be true – 'hubless' and 'fully self-charging' e-bikes being just a couple of examples.
However OL+EM's campaign for a titanium mid-drive uses established tech to produce a unique and very exciting-sounding e-bike – a 28.5lb / 13kg mid-drive with hub gears, lights and a titanium frame. So enticing is the prospect you wonder why it's taken a lone designer to come up with the idea rather than an established e-bike firm. Yes, titanium welding and 3D printed materials are still exotic – but they are well within the remit of bike firms who want to try their hand at limited editions. Yes, the price tag is high, but even non-titanium e-bikes regularly appear costing many thousands of dollars. It will be fascinating to see how popular OL+EM e-bikes prove to be…
In this week's e-bike news:
OL+EM titanium mid-drive crowdfunding

Gates belt drives new products aim at e-bike market

SERIAL 1 BASH/MTB is a limited edition single speed emtb

Orbea launches Keram high quality trekking e-bikes

Smart lighting pedals from Redshift

Ride Colorado's Iron Horse electric style
OL+EM offering bespoke titanium mid-drive ebikes on IndieGoGo
OL-EM have launched an exciting sounding IndieGoGo campaign that aims to sell 29lb, Bafang mid-drive equipped e-bikes with individually tailored, handmade titanium frames. .
The founder is British designer Kevin Champion, the British designer and man behind the crowdfunding campaign that looks to provide the first twenty such e-bikes through the crowdfunding platform.
Buyers provide personal details such as body measurements, desired riding characteristics and personal fitness levels, allowing a bespoke titanium frame to be made. Add in the myriad of finishing options OL-EM make available and apparently there is the potential to produce more than 5,000 different variants
All models will come with the Bafang M800 mid-drive with an EU 15.55mph assist spec, Shimano Alfine 11-speed hub gear (Enviolo stepless option also available), Shimano XT hydraulic disc brakes, carbon forks and Supernova LED lights. There are battery options that claim to give ranges of 40+ and 60+ miles respectively – these are OL-EM designed with 3D-printed cases.
Prices start at £5393 / 6350 euros with estimated shipping from July 2022.
Whilst these look like unique and very high spec e-bikes that many people would love to own, the usual 'buyer beware' caveat should be added – as with any crowdfunding purchase it's important to be aware of the risks as well as the benefits.
Gates new belt drive products look to widen their e-bike compatibility
Belt drives are increasingly popular on e-bikes – they are clean, low maintenance and last a long time – and Gates are the leading manufacturer of them.
Gates CDX is their top of the line offering boasting their toughest construction and longest life. Now there is the CDX:BLACK sprocket line for high torque applications, aimed at mid-drives or mid-gear boxes. The new sprockets will be available with a wide range of gearing systems found on e-bikes and bikes, including Shimano Inter-5e, Enviolo, Kindernay, and Bafang hubs plus Valeo's mid-motor and the bottom bracket Pinion gear system.
The new CDC line is apparently aimed at mid-drive e-bikes and in particular e-cargobikes whilst the CDN line is for lower torque applications such as smaller hub motors and includes new tech in the shape of carbon fiber tensile cords and a new elastomer compound.
Serial 1 launches BASH/MTB 'emtb'
Clean Technica reports on how Harley Davidson spinoff Serial 1 has launched 'the brand's first-ever trail bike.'
Based on the Harley-Davidson inspired MOSH/CTY frame, the new BASH/MTN is a hardtail "mountain bike" which has been achieved by featuring Michelin E-Wild knobby tires, SR Suntour NCX suspension and high-power quad-piston TRP hydraulic disc brakes.
It also retains the MOSH/CTY's Gates Carbon Drive belt, Brose S Mag mid-drive, 529Wh battery and hardwired lighting.
The Serial 1 BASH/MTB has a claimed weight of 48.8 lb. (22.1 kg) and will be a limited production run of 1,050 retailing at $3999.
Orbea's new e-trekking bikes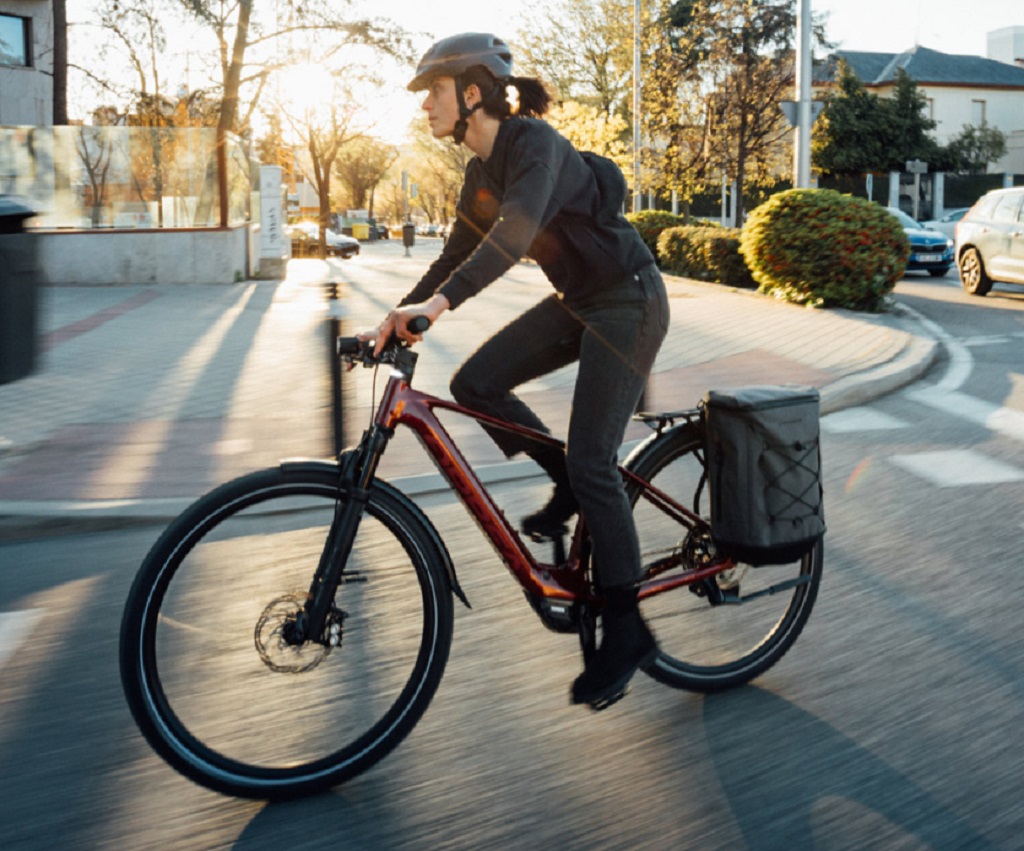 Orbea, hailing from Spain's Basque country, has just unveiled two brand new e-bikes — the Kemen, for city and moderate off-road use and the more heavy duty Kemen SUV (59lb rated pannier rack vs the 39lb rating of the Kemen). The Kemen SUV is also for use on rougher tracks as witnessed by the choice of knobbly tires.
Both bikes use the highly regarded Shimano EP8 mid-drive and Orbea's proprietary 540 Wh non-removable, in-frame battery with high volume 21700 cells. The optional Range Extender adds 252 Wh of extra capacity. Both bikes also have top bar and easier access mid-bar frame options and both come with hardwired lights at the front and rear (with brake light) plus mudguards, rack and kickstand.
There are four Kemen models in the range with spec of items like brakes and gearing rising as the price does witn RRPs ranging from £3,599 / $4,599 / €3,999.
to £4,299 / $5,499 / €4,799.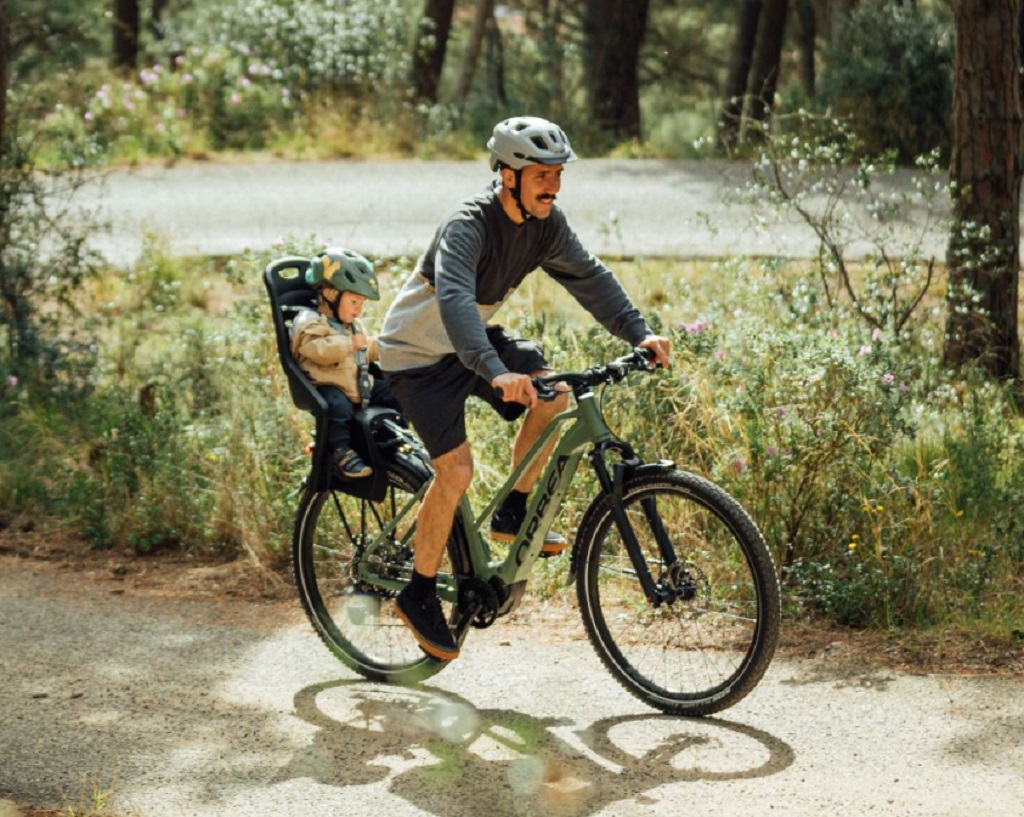 There are also four Kemen SUV models covering the same price range.
New lighted pedals from Redshift
Redshift Sports, creators of performance cycling components for gravel and road are
expanding into the commuter safety market with a new family of products designed to
increase the visibility of cyclists.
Redshift say their new lighted pedals contain a unique set of 'smart' features
and take advantage of the natural pedaling motion to amplify the visibility of the lights.
Moving lights, as on pedals, get noticed more, say Redshift, whilst four lights (two facing front in each pedal and two facing rear in each pedal) claim to make the pedals visible from any angle. The lights automatically turn on when they sense motion, and automatically turn off when they sense the bike is parked. SmartSet sensors dynamically change the LED color depending on orientation, so white is always facing forward, and red is always facing rear.
E-bike events at the Iron Horse

The 50th anniversary of the Iron Horse Bicycle Classic takes place May 27-30 in Durango, Colorado. Road, gravel and MTB trails will see both 'regular' and electric events taking place.
The two e-bike routes are the 25 mile Quarter Horse to Purgatory and the
50-mile to Silverton.
New route for Southern England
Cycling UK have just launched an interesting sounding cycle route that takes you on attractive paths and roads through one of the UK's loveliest areas, Kent:
'Taking its name from the Celtic tribe which inhabited the area during the Iron Age, the Cantii Way combines quirky coastal towns and dramatic chalk cliffs with the rolling hills of the Kent Downs Area of Outstanding Natural Beauty.
The circular route uses traffic-free cycle paths, bridleways and quiet roads, and is ideal for touring and hybrid bikes. It's perfect for a leisurely trip with lots to discover along the way – from remnants of military defences to vibrant art trails and vineyards.'
OLA electric moped safety controversy in India
The UK's ebiketips reports that 'Ola Electric Mobility, whose stated aim is to build 15 per cent of the world's electric mopeds this year, is facing a backlash from owners following a series of tech issues. Most strikingly, at least three people have reported their bikes suddenly attempting to reverse at high speed when they hadn't expected.'
The launch of Ola's new electric mopeds in India appears to have been a PR disaster for the firm, with reports of mopeds catching fire and various software issues prompting 'several colourful public protests. One frustrated owner deliberately set his e-moped on fire, while another had a donkey tow his through town after covering it with signs reading, "Beware of this fraudulent company, Ola."'