E-Bike News: New E-bikes from Trek, Gazelle and Juiced & Lots More!
There are a number of tried, tested and proven designs on show this week, with e-bikes from Juiced, Gazelle and Trek featured, demonstrating that very keenly priced fat tires, good value e-mtb hard tails and superb quality 'do anything' e-bikes respectively are still very much at the forefront of bike manufacturers' thoughts. As is often the case, it's the last, briefer news feature on a prototype that may point the way to the future. Pashley's chainless e-trike has made an appearance at a trade show and most exciting of all the UK manufacturer say it's slated for release next year. What makes it even more exciting is that Pashley are a traditional UK company not at all prone to hype and what's more they are trike specialists, so it's clear they at least think there is a future for this exciting sounding chainless tech which has – thus far at least – failed to make a big impact in the e-bike world. Could Pashley be the one to break the mold?
In this week's e-bike news:
Juiced Scorpion X2 – it's back and it's more powerful than ever

Gazelle's Eclipse – an e-bike marrying high quality with versatile performance

Trek's classic mountain bike, the Marlin, gets a Bosch drive system

Lectric brake fault recall details

Can Paisley succeed with their chainless e-trike?
Juiced Scorpion X2 Relaunched
The Juiced Scorpion X2 is the latest version of what was once Juiced's most powerful e-bike, the HyperScorpion, the latter being discontinued back in March with a promise to relaunch it when legal issues surrounding trademarking were resolved. It appears that's exactly what has happened.
Whilst the full-suspension frame is similar to the original model there's an upgraded 1,000watt motor (peak power 1300W suggesting this exceeds the legal e-bike category in most states) and a 811Wh battery safety rated to UL2771. Rack and fenders are included as are knobbly tires. Top speed is quoted as 'up to 28 mph in pedal assist and 20mph on throttle alone'. Carrying capacity is 300lbs / 140kg and there is even an integrated USB charging port.
Other details include 7 speed rear derailleur, hydraulic disc brakes, 2000 lumen front light and a rear light with integrated brake light.
Available for pre-order now, the Scorpion X2 retails at a discounted price of $1499 and with shipping quoted as late September.
Gazelle Eclipse – High Quality Dutch Marque Gets in on the SUV Action
So-called Sports Utility Vehicle style e-bikes is obviously a term borrowed from the automotive world where they are bestsellers – but beyond the marketing hype it fits well to a new breed of e-bikes that are meant to be easy and comfortable to use for every man and every woman as well having the ability to go places that many other e-bikes don't. The Gazelle Eclipse, launched in the US and Europe recently, is a good example of the genre.
There are two models that both feature the Bosch Smart System with a Performance Line CX motor and large 750Wh batteries – the T11 HMB and the C380 HMB, featuring 11 derailleur gears and a stepless Enviolo hub gear and belt drive respectively. There are low step and step over versions available too.
Other common features include 75 mm travel front fork, 60 mm wide tires, Kiox 300 display with Smart connectivity (including GPS tracker), adjustable position handlebar stem, rear rack, fenders, and powerful, hardwired LED lighting.
Currently there only appears to be a holding page for the bikes on Gazelle's US website but we will keep you informed when prices and availability dates are released. Current EU prices are €5,499 and €5,999 respectively – that's from around $5900 based on the exchange rate at the time of writing.
Trek's Best-selling Marlin Gets Electrified as the Marlin+ Plus They Reveal Their Red Barn Reconditioned E-bike Program in the US
Trek's unassisted version of the Marlin mtb is one their all time best sellers – and now it has been electrified thanks to a trusty Bosch mid-drive to become the Marlin+. It's billed as a 'go anywhere' hardtail e-mtb and the choice of the relatively modestly-powered Active Line Plus from Bosch's range of mid-drives indicates it's aimed more at the general rider venturing off-road as opposed to the adrenaline junky wanting to take on extreme terrain. To that end it features mounting points for a rear rack, mudguards and a kickstand so it could easily double as a commuter cum touring e-bike.
Spec in brief, in addition to that Bosch motor, includes a 400Wh battery (with the option of a 250Wh PowerMore range extender), 120mm front suspension fork, front and rear thru axles, 2.6″ wide knobblies. There's also a Purion 200 handlebar display and the ability to ride in Auto mode which varies the power output according to a number of variables.
Currently we have only been able to track down UK prices which are £2,500 and £3,000 respectively for the +6 and +8 iterations.
Over in the US, Bicycle Retailer and Industry News reports 'Trek Bicycle is encouraging cyclists to buy used in the name of sustainability through its new Red Barn Refresh program.'
Apparently 'Trek says the program is the industry's first manufacturer-led bike-certified trade-in and refurbishment program that is at the heart of Trek's circular-economy mission statement.
The BRAIN article adds the following:
Red Barn Refresh bikes will come with Trek's limited lifetime guarantee and 30-day unconditional guarantee. Schleicher said all will undergo a 151-point inspection, with repairs and component replacement completed if needed. Bikes up to 10-years-old and valued at $150 or more — as determined by Bicycle Blue Book — will be accepted.
The program also includes Trek e-bikes, with models less than 2-years-old accepted. In addition to the standard inspection, e-bikes undergo full system diagnostic testing, including battery assessment and firmware updating.
Lectric Recall Issued
'Lectric eBikes, one of the largest suppliers of electric bicycles in the US, made a joint announcement today with the Consumer Product Safety Commission (CPSC) of a voluntary recall for many of the Lectric XP 3.0 electric bikes produced and sold earlier this year….
According to the announcement, "the mechanical disc brake calipers located on the front and rear of the e-bike can fail resulting in loss of control, posing crash and injury hazards to the rider."
The recall covers approximately 45,000 Lectric XP 3.0 electric bikes with mechanical brakes sold between November 2022 and May 2023. Among those 45,000 e-bikes, there were four instances reported of brake failure due to a faulty part in the brakes produced by one of Lectric eBikes' suppliers. Two of those instances resulted in injuries to the rider.
That model hasn't been sold since May of this year when Lectric eBikes switched the XP 3.0 over to hydraulic disc brakes.'
Affected bike owners will get a hydraulic brake upgrade kit and will also cover the cost of fitting at a bike shop if the owner does not want to fit the kit themselves.
We reviewed the original mechanical disc brake model and were hugely impressed. Our fresh review of the version with hydraulic brakes is in the works and it has proven to be even more effective.
Pashley's Chainless E-trike Slated for Release Next Year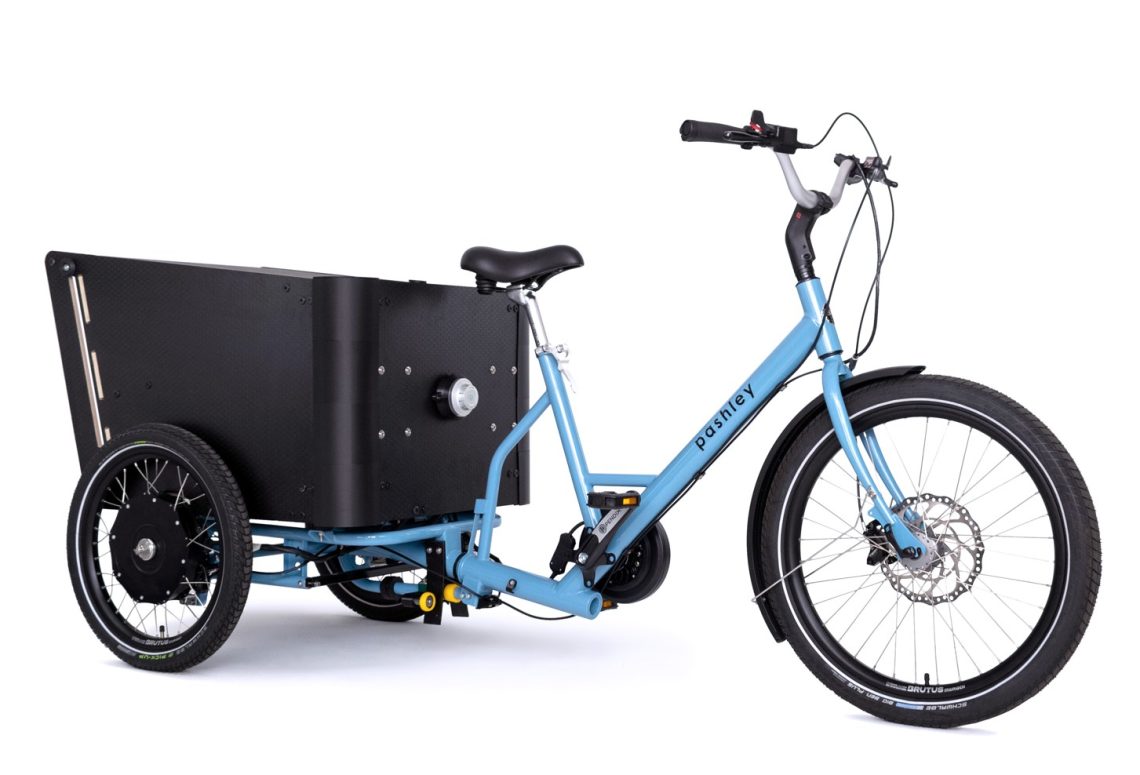 The UK's Bikebiz brings us news of traditional UK manufacturer Pashley's latest venture which looks to place them firmly in the future as far as e-bike tech is concerned:
'Pashley has revealed a glimpse of the future with its prototype, chainless drive Multi-trike.
Launched at Cenex-LCV ……the Multi-trike is targeted at the consumer market and designed to safely and efficiently carry light goods, shopping and young children…..Unlike conventional electrically assisted tricycles, which have a chain drive coupled with a hub or mid-drive motor, the Multi-trike employs a generator at the pedal crank which activates battery driven motors on each of its rear wheels.'
Whilst the current iteration is a proof of concept the article tells us 'It is expected to enter production in the first half of 2024 with retail prices expected to be in the region of £6,500.'
Reader Interactions