E-bike News: New E-bikes from Ride1Up, Fiido, Crowncrusier, MV Augusta and Blix
The relationship between e-bikes and motorbikes figures strongly in this week's news; whether it's the influence of very old motorbikes on current designs like the Crowncruiser or the trend for current motorbike companies to get into e-bikes, of which MV Augusta are the latest.
There's also more e-bike news from the likes of Ride1Up, Fiido, Blix and Rad Power and details of an intriguing move to restrict car speeds in Paris, plus questions about the use and misuse of rental e-scooters.
In this week's news:
Ride1Up's new highest spec yet model

Fiido X specs revealed

Crowncruiser – is the future affordable carbon fibre?

Motorbike brand MV Augusta gets into e-bikes

Blix announces major e-bike upgrades

Rad Power rentals across Europe

Bosch Tour + riding mode

New drivetrain options

Paris clamps down on motor traffic speed
RIDE1UP'S HIGHEST SPEC YET MODEL
Ride1Up has just opened pre-orders for the Prodigy, the company's highest-spec model to date.
It's the company's first mid-drive e-bike and uses a Brose TF Sprinter mid-drive, 500Wh battery, 9-speed Shimano drivetrain, hydraulic disk brakes and is Class 3 – 28 mph assist . Prices start at $2,295.
LOWDOWN ON THE FIIDO X E-FOLDER
EBR has already reviewed the Fiido D11 and liked it as a 'mulit-modal commuter' ie a compact folder for short hops about town that you can fairly easily take on mass transit too.
Fiido's latest e-folder, the X, features several upgrades including a torque sensor for more efficient use of the battery power, hidden folding mechanisms and key code battery locks.
There are two models, the Fiido X (with crowdfunding discount from $1099) and the Fiido X Lite (with crowdfunding discount from $899). The X Lite's battery at 209Wh is half the size of its bigger brother and it has mechanical disc brakes rather than hydraulic ones as on the X.
These look to be fantastic prices for e-bikes with torque sensors.
CROWNCRUISER – RETRO STYLED E-BIKE WITH FUTURISTIC TECH CROWDFUNDS
The UK's CrownCruiser might bring to mind retro racing motorbikes, but it's packed full of some of the latest e-bike tech, including monocoque carbon fiber frame with a max battery offering of 940Wh, Gates carbon belt drive, 2000 lumen front headlight, smartphone connection for locking / unlocking and anti-theft tracking plus a fall sensor linked to preset emergency contacts. A smartphone docking cradle will provide induction charging.
There is both EU pedelec spec with 250 watts of pedal assistance from the rear hub motor, up to 15.5mph and a USA spec with 750 watts of power and throttle grip.
Indiegogo prices start at US$3250 / £2352.
ITALIAN MOTORBIKE MANUFACTURER MV AUGUSTA LAUNCHES TWO LIGHTWEIGHT E-BIKES
Yet more new e-bikes emphasising the link between e-bikes and motorbikes. Italian motorbike manufacturer MV Agusta is launching two e-bikes, the Amo RR and the Amo RC.
The Amo RR is the "regular" model and the RC is a special edition limited to 200 bikes. The RC features carbon wheels and a unique paint job and saddle.
Both bikes have the same lightweight electric assist system from Mahle, with 15.5mph EU spec and inframe Panasonic 250 Wh battery. Both claim a total weight of 15.5 kg / 34lbs – pretty light for an e-bike.
The RR is priced at € 3075 euros and the RC at € 4100..
BLIX ANNOUNCES UPGRADES AND UPDATES TO E-BIKE LINE UP
Blix has just announced multiple updates across their lineup of city, cruiser, cargo and folding ebikes.
These include:
Blix's updated electric cargo bike, the new Packa Genie, features a stronger 750w hub-motor with higher peak output and torque for steeper hills, an increased capacity dual-battery of 1,228Wh, and high-performance hydraulic disc-brakes for improved stopping power. Packa Genie prices start at $1699
The Sol Eclipse electric cruiser bike also features a stronger 750w hub-motor, larger 2.4" tire size, and front LED light. From $1,599.
There are also new colour options across all models and new larger tyres for both the Vika+ Flex e-folder ($1,699) and the Aveny Skyline ($1,699).
Blix say these improvements come off a record year of 300% growth.
RADPOWER RENTALS
Rad Power is well known in the US of course but what about if you live in the EU or UK? Well, Rad Power sells into the EU and UK from Utrecht in the Netherlands, where they have a showroom, but if you don't happen to live near there you might have thought you would have to order a Rad Power e-bike without a test ride.
Not necessarily so, as Rad Power have come up with this handy map to show you where Rad Power rental bikes are available for rent across several European countries.
BOSCH INTRODUCE NEW TOUR+ RIDING MODE
Bikebiz report that 'Bosch eBike Systems has introduced the new Tour+ riding mode, offering pedelec riders "dynamic, continuous support depending on their own effort".
It eliminates the need for manual switching between the common drive modes, and is designed in particular for sporty rides. With Tour+, e-bikers pedal a little harder on flat routes than with the Tour mode.
WHO TAKES RESPONSIBILITY FOR E-SCOOTERS?
Whilst e-scooters offer great possibilities for low power urban mobility and helping countries achieve net zero carbon emissions. It's fair to say though that there have been teething problems.
In Germany, Cologne's Lord Mayor Henriette Reker is proposing e-scooters should be switched off and out of use in certain areas of the city at night between 10 p.m. and 6 a.m to avoid night time revelers abusing the hire system. There have also been similar problems reported in the UK's Newcastle. In the UK e-scooters are subject to the same drink-driving laws as any other vehicle, meaning that using a hire scooter while intoxicated can lead to a lengthy driving ban.
Outright vandalism can also be a problem; back in Cologne divers discovered more than 500 e-scooters at the bottom of the river Rhine. Local TV station WDR said rioters had thrown them into the river from a bridge in downtown Cologne. The divers also said they noticed some of these scooters secrete 'a sticky mass' – possibly leaking batteries.
It all begs the question who is responsible for e-scooters when things go wrong and need putting right. E-scooters are a massive opportunity for cleaner and greener transport and it would be a shame if these initial problems could not be overcome.
MORE DRIVETRAIN OPTIONS IN FUTURE?
Cycling Industry News has this interesting piece on how shortages of certain components – in this case bike and e-bike drivetrains – have presented opportunities for lesser known firms, whose order books were not previously as full as the likes of Shimano and SRAM, to increase their market share.
The article says 'belt drive giant Gates may well be one of those catching a favourable uptick on what was already a strong trend, in particular on commuter and electric bikes, toward the belt.' Apparently 500 bike brands now count on Gates' Carbon Drive system.
Other drivetrain brands you may not have heard of quoted in the article include SunRace (derailleur gear systems), Sturmey-Archer (hub gears) and Pinion (enclosed bottom bracket gearing).
Meanwhile Shimano, a name synonymous with reliable gearing, is scrambling to keep up with demand and stop the new kids on the block gobbling up their market share. Bicycle Retailer and Industry News reports that the Japanese-based firm 'plans to invest $179 million to build a new plant in Singapore that will open next year' and has 'also decided to invest another $118 million in its factories in Osaka and Yamaguchi, Japan, to expand production capacity.
PARIS TO INTRODUCE 18.5MPH LIMIT ON ALMOST ALL ROADS FROM AUGUST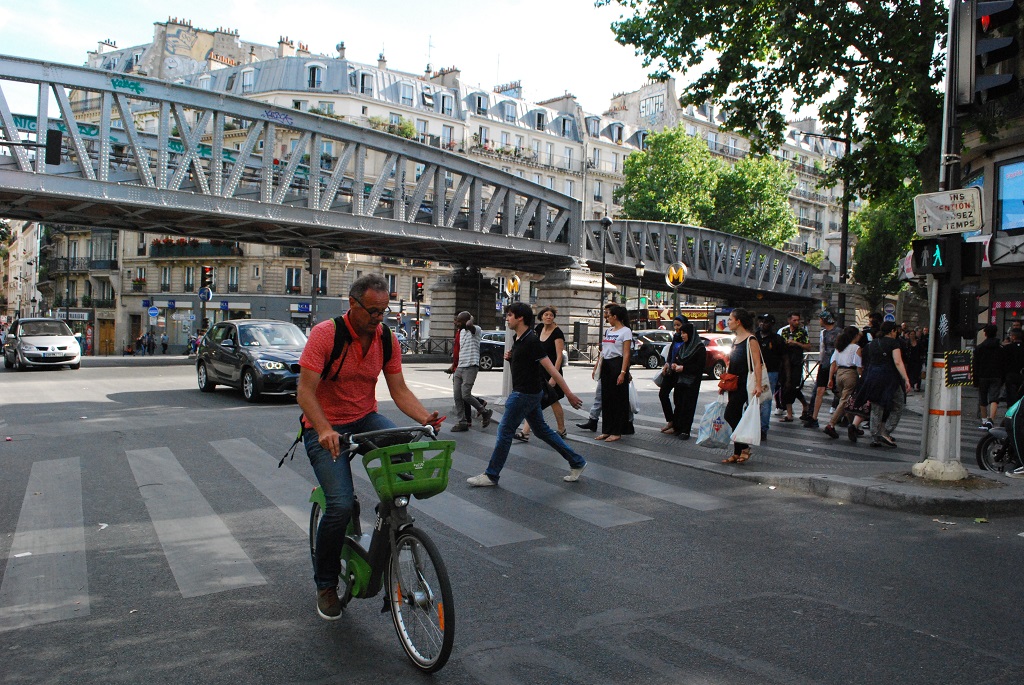 The UK's FT reports 'Paris will impose a 30kmh (18.5mph) speed limit on almost all the capital from the end of August, fulfilling a campaign promise of the left-Green alliance that runs the city'.
FT adds:
'The Paris government is not stopping at the new speed limits and is planning further measures to restrict cars, including a low-traffic zone in the heart of the capital that would exclude through-traffic while allowing deliveries and services to continue.'
Whilst complaints from disgruntled motorists seem inevitable, it will be fascinating to see how things develop and if even more bikes, e-bikes and e-scooters take to the streets – they have already grown tremendously in popularity in recent years. With there soon to be only a minimal speed difference between all traffic on Paris's roads it is to be hoped the increased sense of safety tempts out many more e-bikers.
Reader Interactions