E-bike News: Moto Parilla Carbon Emtb, Espin Nesta battery Upgrade and Much More!
With new e-bike launches a little thin on the ground this week we catch our breath to take a look into other areas of the e-bike world. Perhaps most notably, after e-bike and e-scooter share schemes seem to have suffered from a post boom period of bad news stories, there are signs they are on the up again. On our more usual tack, we take a look at Espin's battery upgrade and a new monster of an e-mtb from Italy.
In this week's e-bike news:
The Tricolore – a carbon-framed big batteries e-mtb from Italy

Espin announces battery size upgrade for folding Nesta

E-bike and e-scooter sharing – are they financially sustainable yet?


New bike trails from Michigan and Germany

Modmo likely to liquidate
MOTO PARILLA TRICOLORE; THE MONSTER E-MTB FROM ITALY
Italian e-bike company Moto Parilla makes some of the most distinctive e-bikes out there and recently showed off its super futuristic E-MTB, the Tricolore at the EICMA show in Milan.
This monster of an e-mtb has been in development for around two years. The monocoque frame is made of carbon along with the seat post and swingarm (the latter reinforced with aluminum).
Power comes from a Polini E-P3+ MX mid-engine with an impressive 90 Nm torque. The front light is integrated in the frame, the rear light in the structure of the seat post. Suspension is high quality in the form of an 'upside-down' Bright Next front fork whilst rear shock absorbers are Fox Float X 210×55 Kashima.
There are three variants of the Moto Parilla, but all feature a large 880Wh battery and electronic gear shifting. No price details are available but you can request further details via a contact form and order the E-MTB.
ESPIN'S LONGEST RANGE E-FOLDER IS HERE WITH A 50% BIGGER BATTERY
EBR has already reviewed the Espin Nesta and loved its jack-of-all-trades performance and its impressive hillclimbing ability. Digital Journal recently announced that Espin has announced an upgraded battery – at 960Wh it's double the capacity of the original 480Wh model we reviewed.
The new battery uses the same 21700 Samsung cells (5000mah) as used in some electric cars. The new battery fits in almost the same physical dimensions as the standard battery and has the benefits that come with larger capacity; a longer life cycle and better efficiency.
There are no price details of what the new larger battery option will cost as yet.
UK'S EAV SPOTTED IN NYC
EBR have often featured the hugely innovative EAV 2cubed – and we just came across this video of one actually in use in NYC. EAV vehicles are made in Oxfordshire in the UK but it's great to see them in operation on the other side of the Atlantic.
WHERE ARE SHARE E-BIKES AND E-SCOOTERS HEADING?

Some recent headlines might suggest that micromobility is in trouble – Bird is a micromobility operator based in Santa Monica, California, founded in September 2017 Bird operated shared electric scooters in over 100 cities in Europe, the Middle East, and North America with 10 million rides in its first year of operation. As reported widely – for example by ebiketips – 'Bird says that unless it can raise additional capital, it may face bankruptcy in the next 12 months. The US e-scooter and e-bike share firm has always run at a loss and has now revealed that it also overstated its sales over the past two and a half years by an estimated $31.6m.'
However, the UK's Financial Times is much more positive, pointing out increasing sophistication and efficiency of those firms that are successful, like Tier, based on increasing use of shared micromobility vehicles in London, mainland Europe and the US. There's also good news from Nottingham, England, as the BBC reports that a 'fleet of 700 e-bikes will be available to hire from city locations on a pay-as-you-go basis. The council, which will run the scheme through operator Lime, already has an e-scooter trial operating in the city.'
The real challenge now is not proving the popularity of widely available, small electric transport vehicles in cities – it is making it profitable so that there is always an incentive to keep them alive in the long term and not forever depending on venture capital. Deals like the one reported by the Verge, between Lyft (North America's largest share e-bike operator) and Redwood Materials for recycling e-bike batteries, is the kind of agreement that can only help ensure share e-bikes are here to stay.
INTERESTING NEW BIKE TRAILS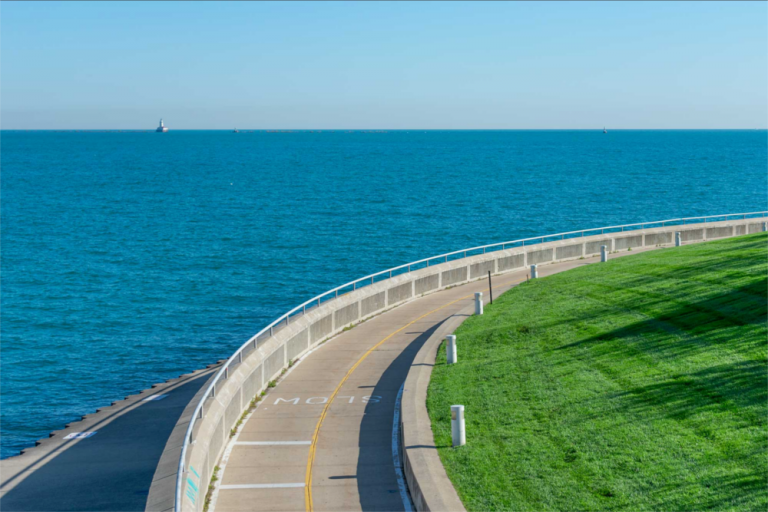 Grand Rapids Business Journal reports that 'From Michigan to Indiana to Illinois, bikers and pedestrians will soon be able to travel across state lines on a scenic, non-motorized greenway along the south shore of Lake Michigan. The Marquette Greenway Trail Project will stretch 58 miles and connect Calumet Park on Chicago's southeast side to downtown New Buffalo in Michigan.'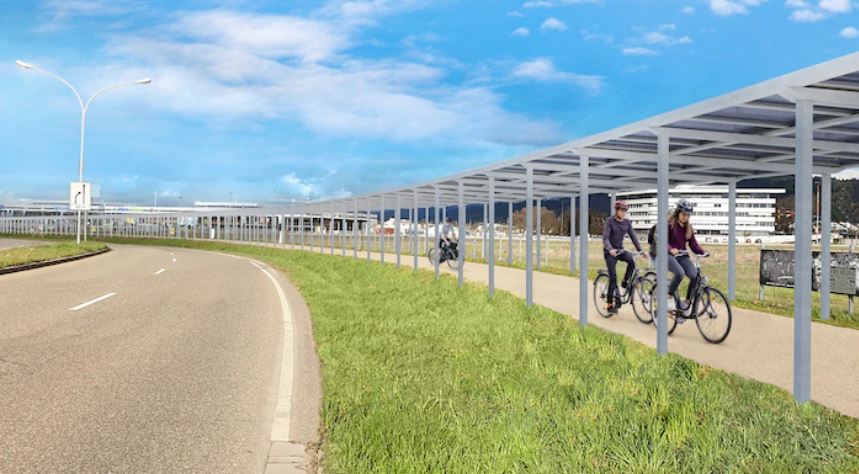 Meanwhile, over in Freiburg, Germany, a new cycle path with a unique feature is being built – one that will be covered by solar panels, reports Efahrer.
MODMO LIKELY TO LIQUIDATE

It's rare for any e-bike company anywhere to liquidate because of financial troubles – it is a booming sector after all – but that appears likely in the case of Modmo, according to Cycling Industry News.
The article tells us 'Having faced down a costly total recall issue on its electric bikes, Irish eBike firm Modmo has been forced to liquidate. Known for its modular Saigon platform, the recall notice related to a safety issue with a latch that kept the battery within the bike's frame. Where this latch could loosen there existed a risk of the battery falling from the bike when in motion.'