E-bike News: Mondraker Use Bosch Race Motor, Bosch Regulation Call and Much More!
Bosch, the European mid-drive motor market leader, clearly have huge influence. Of course this stems from their reliable, high-performance e-bike motor systems, but it is just that that allows them the right to lead the debate on issues such as regulation – which they are calling for more of in the US.
As respected e-bike industry commentator Micah Toll recently summarised 'The US market isn't quite the wild west, but it's much closer to that end of the spectrum than Europe's tightly-regulated electric bike market.' And as Toll also notes, there is a balance to be struck between allowing smaller companies to innovate – or just survive – and allowing unsafe products out there. With battery fires the main safety focus right now, Toll rightly notes 'Batteries provide the most risk of any component on an e-bike, so they seem like the right place to start. UL-rated batteries (ie tested to safety standards) can of course be purchased by any manufacturer.'
In this week's e-bike news:
Mondraker announce carbon-framed e-mtb with Bosch's most powerful, limited edition mid-drive

Bosch push for more federal regulation of e-bikes

Rad Power lay offs


Decathlon's three new e-bikes widen range dramatically

What's next?……six on an e-bike and bike lanes on stilts
MONDRAKER ONE OF FIRST TO USE BOSCH LIMITED EDITION MOTOR
Mondraker has announced a new e-mtb, the Crafty Carbon XR LTD and it uses Bosch's limited edition Performance Line CX Race motor. It's clearly aimed at giving maximum performance from the absolute top of the line products.
The Bosch motor has 400% assist in Race mode (that's compared to a max assist of 340% on Bosch's regular Performance CX model), whilst torque remains at 85Nm. Its magnesium casing means it is also lighter than the 'regular' model; at 2,750 grams some 150 grams lighter.
The Limited Edition motor features a Race mode that has a unique Extended Boost option, postponing the assistance cutoff for a longer period of time once riders have stopped pedalling. And being a part of Bosch's new 'Smart System', the Crafty Carbon XR LTD has both top tube and handlebar located wireless Mini Remote power controls.
As you might guess from the name, the Crafty Carbon XR LTD features a top end carbon frame and Öhlins fork and shock.
The new Mondraker Crafty Carbon XR LTD will be available soon through official Mondraker distributors and the usual sales channels though there is no word on price yet…
BOSCH CALLS FOR MORE FEDERAL CONTROL OF E-BIKES IN THE WAKE OF NYC CLAMPDOWN
'The Consumer Product Safety Commission should take a more active stance in regulating electric bike batteries and electronics to reduce fire risk and enhance safety, according to the head of Bosch eBike Systems in North America.
Speaking at the Austin Electrify Expo last month, Claudia Wasko urged federal regulators to mandate testing and compliance standards for the entire e-bike electronics system — not just the batteries.'
That's the start of an interesting article in Bicycle Retailer and Industry News (BRAIN), and it is particularly pertinent given recent moves in New York by private landlords to ban the keeping of e-bikes and e-scooters on private property – as reported on Streetsblog NYC.
In particular Bosch would like to see safety standard UL 2849 become mandatory in the US:
'UL 2849 has robust functional safety requirements for battery packs and battery management systems, and it also addresses risks associated with the other components of an e-bike system. Certification includes a detailed evaluation and testing of the drive unit, display unit, interconnecting cables and connectors, electrical accessories, battery system and charger system combinations.
Standards such as UL 2849 are essential to ensure safety through the thousands of cycles of charges and discharges. Testing and validating the safety of battery packs and battery management systems is needed to minimize the risk of fire and electric shock.
Getting certified to this system standard requires an investment of both time and money. Consequently, only a limited number of suppliers has taken these efforts. '
In BRAIN's interview with Bosch the German market leader in the European mid-drive market also commented on contrasting e-bike trends between Europe and the USA, noting 'The average sales price in Europe's core markets (Germany, Switzerland, Austria) is $2,700 compared to $1,800 in the United States.'
Also on the subject of batteries, Cycling Industry News reports that:
'A much revised battery regulations framework applicable to EU member states will soon go to the European Parliament and Council for final approval, with the content of the legislation prompting anyone selling batteries into the market to have met sustainability benchmarks.
Framed around creating a circular economy around one of Europe's most precious and most sought after resources, the new rules will require batteries found in eMobility goods, among others, to carry a "carbon footprint declaration" detailing the expenditure of carbon in production.'
MORE LAYOFFS AT RAD POWER

'Rad Power is conducting its third round of layoffs this year, citing an effort to reduce costs amid the broader market downturn. The Seattle-based e-bike company confirmed the cuts to GeekWire on Thursday. It did not provide an updated headcount, or information on which positions are being affected.'
The article also notes 'The startup slashed 100 positions in April, then made another 63 cuts in July. It has nearly 500 employees, according to LinkedIn.'
Apparently 'Many companies are being advised to lay off employees in an effort to reduce costs and extend cash runways. There have been thousands of layoffs at tech companies in the Pacific Northwest over the past two months.'
DECATHLON'S E-CARGO BIKE COMING TO THE UK – AND THEIR KIDS' E-MTB TO GERMANY….AND AUTOMATIC GEARS ARE ON THE WAY
Phew! Decathlon really have been busy recently in the e-bike field of late. The French-based sporting goods retailer known for its competitive pricing – and with over 1,697 stores in 60 countries in 2020 (according to Wikipedia) – has just bought its long-awaited e-cargo bike, the R500, to the UK. It's all detailed in this ebiketips article, though the article notes its expense in comparison to the competition, especially given it features a hub motor rather than a pricier mid-drive.
Inside EVs reports on the introduction of automatic gearing on a Decathlon spring 2023 model, the B'Twin Long Distance 920 E Connected – ' It is distinguished by its electric motor and automatic transmission. The gearbox used in the 920 E, for instance, was created in collaboration with the Belgian business e2Drive' says the article.
It adds, quoting a Decathlon product designer, 'At the slightest pedal stroke, the bike reacts instantly and super fluidly. We are talking about a technically very advanced and very innovative bike that will simplify the life of a cyclist'.
As there are no shifters or a derailleur the system requires the cyclist to do virtually nothing (including no maintenance). Assuming it works as well as Decathlon say, all now really hinges on the price…..not yet revealed.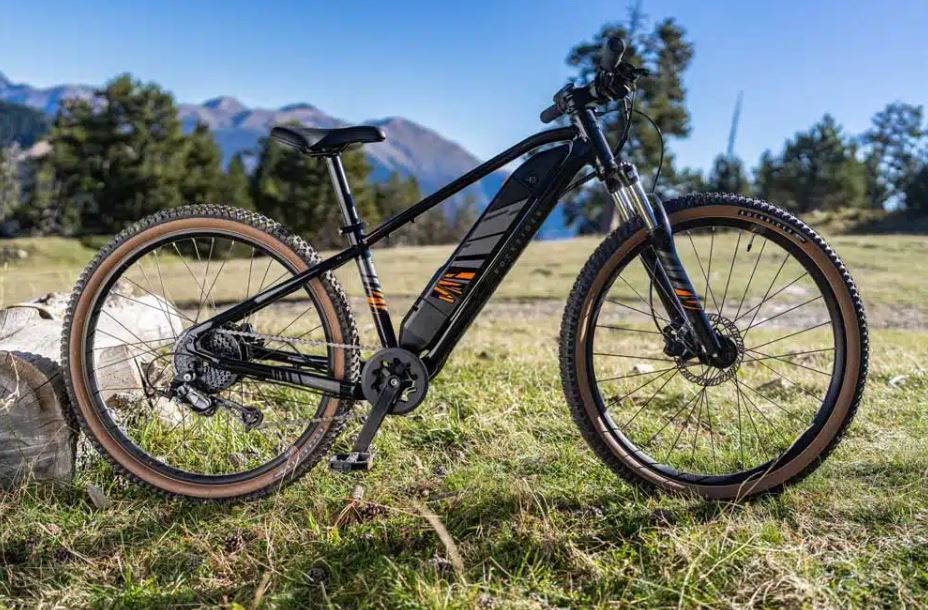 Continental European reports also show how the company is spreading its e-bike offer even wider, with Decathlon's first kids' e-mtb now being rolled out from its French base and into Germany. Apparently The BTwin E-ST 500 is aimed at kids between the ages of 9 and 12. It is designed for a body height of 135 to 150 cm and like a conventional e-bike, the E-ST 500 will also provide support up to 15.5mph. Germany and France allow younger children to ride e-bikes – unlike in some Euro countries such as the UK and Switzerland.
WANT TO SEE 6 PEOPLE ON AN E-BIKE?

Times Now reports 'A youth from Uttar Pradesh's Azamgarh has impressed the internet by inventing a low-cost 6-seater bike that runs on electricity. Ashhad Abdullah, who hails from Lohra village, says in the clip the bike can accommodate 6 people and it will come at a cost of Rs 10,000-12,000 (around $135). It can cover a distance of 150 km on a single charge, which can be completed by paying just Rs 10 (around ten cents).'
TAKE A LOOK AT THESE BIKE LANES ON STILTS
This German language article reports that 'Swiss start-up URB-X has a clever and innovative idea that could solve the problem of the lack of space for user-friendly and safe cycle paths in many cities……….. the company is building two-lane cycle paths on stilts. These cycle superhighways, called "Bike Highways" by URB-X, can easily be placed over the existing infrastructure with their slender pillars. A similar procedure has been followed in the Netherlands for some time, where many cycle paths lead on pillars over roads, rivers and Co.'
Apparently the stilted cycle paths can be equipped with heating elements to be free of snow and ice even in winter and there are also lighting and solar panel options. A trial of the technology is planned in the German city of Stuttgart.