E-Bike News: Haro Skwad LT Urban e-bike, 26lb BH E-road Model & Lots More!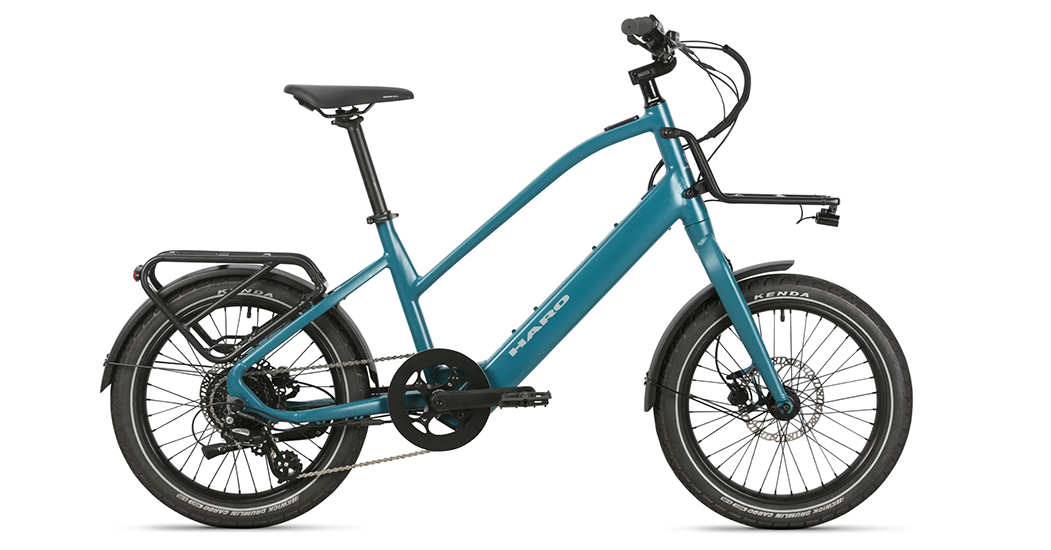 Whilst e-bike sales graphs may fluctuate from month to month and year to year and companies may come and go, the e-bike revolution itself shows no signs of slowing down. New models and new technology continues to come onto the market at a steady pace, whether it's the solid but technologically unconventional Haro Skwad LT for running around town or the first of a new wave of e-bikes fitted with the groundbreaking (though entirely positively-reviewed) SRAM Eagle Powertrain autoshift drive system. What could be a quantum leap forward for the whole electric mobility industry are new silicon-based batteries from the likes of Ionblox – that is if their claims add and this doesn't prove to be yet another false battery technology dawn…..
In this week's e-bike news:
Haro Skwad LT – a fun and practical urban runaround

SRAM Eagle Powertrain gets mixed first reviews

BH iAerolight is a 26lb e-road machine with 65Nm of torque

France's Angell Making e-bikes for Mini car company

Are Ionblox on the verge of a battery revolution?
Haro Bikes Announces All-New Skwad
Haro Bikes say their all-new Skwad LT 'delivers a lightweight, nimble and modern ride experience'. Its spec certainly appears to back that up as it has 20-inch wheels, 250W rear hub motor, 300Wh frame-enclosed battery,Shimano Altus 8 speed derailleur, hydraulic disc brakes, Lezyne front and rear lights plus front and rear racks with a host of carrying accessories available for them. There is a also a bluetooth app with navigation and quoted weight is 50lbs / 22.7kg.
The Skwad LT retails at $2399 and can be found at authorized Haro dealers nationwide.
First Verdicts on SRAM's New SRAM Eagle Powertrain – 2024 Transition Repeater Powertrain
Germany is a huge market for premium-priced and premium performance e-mtbs, so it's not surprising one of the first ride reviews of the remarkable sounding SRAM Eagle Powertrain system was recently undertaken there by E-mountainbike as US-based Transition have recently announced the spec of their Repeater PT model that features the system.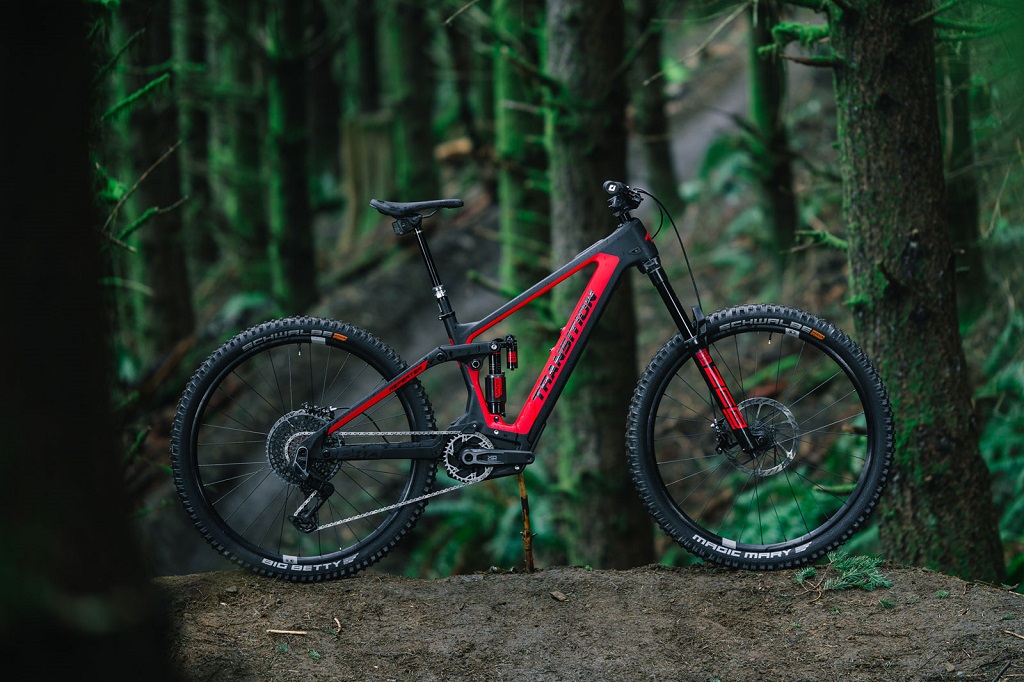 A quick recap first of all, as we reported last week, SRAM's Eagle Powertrain features:
'innovative Auto Shift (automatic shifting as the name suggests) which includes Coast Shift, a system that allows the drivetrain to shift gears even when the rider isn't pedaling – that's unheard of in a high quality derailleur system.
SRAM are gear specialists and so they have teamed up with premium mid-drive manufacturer Brose to help out with the motor expertise which was especially designed to work with the mechanical and software innovations of the SRAM transmission.'
You might anticipate glowing reviews of a new high-tech product from a highly regarded industry leader like SRAM but reviews have so far been decidedly mixed, with the above E-mountainbike magazine concluding:
'the Auto-shift function quickly reaches its limit on steep and technical climbs, shifting gears when you probably wouldn't. For example, when building up speed at a high cadence to overcome an obstacle, the system automatically shifts into a bigger gear, making it hard to clear the obstacle. Automatic shifting is a decent option for cruising to the trailhead in relaxed fashion, but doesn't work on technical climbs…'
Interestingly Bikerumour's recent test ride of the SRAM Eagle Powertrain was a little kinder:
'It's quite nice not to have to think about shifting. I was surprised at how quickly my brain adapted to relying on the auto-shift function. Very quickly I forgot I was still the author of my own destiny, forgetting to shift in anticipation of steeper sections. It caught me out a few times, but I soon re-adapted' but adding 'For me, the system is let down by its limited shift speed. This is more in relation to Transmission than it is the Eagle Powertrain and its Auto-Shift function, of course.'
BH iAerolight; a 26lb E-road Bike with Effective Mid-drive Power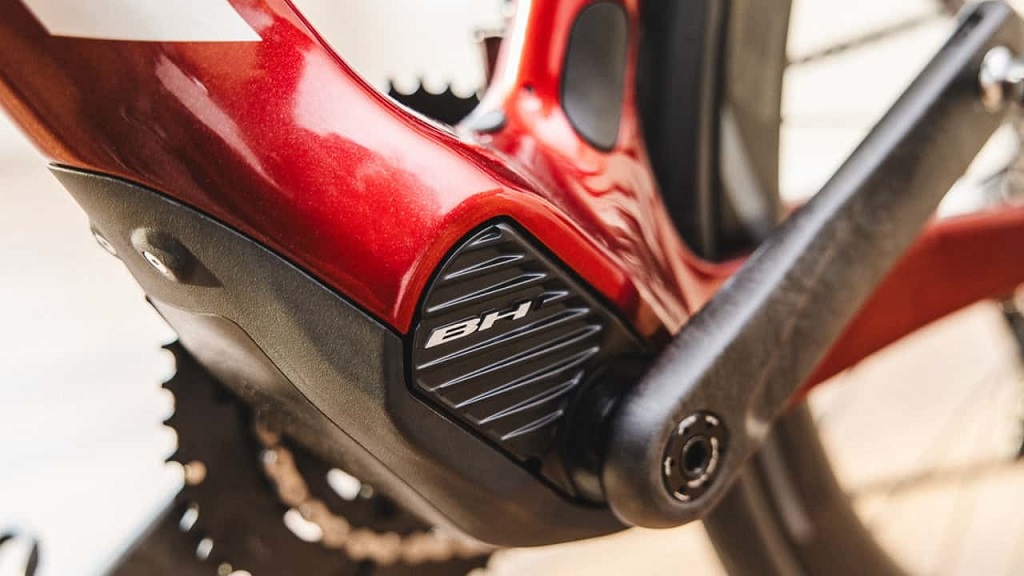 26lbs weight, 65Nm torque and 115 mile range – these are the attention grabbing headline stats of the new iAerolight electric road racing bike from Spain's BH. On paper at least, it looks to have one of the best – if not the best – power to weight ratios of any electric road bike out there.
The Mahle X35 rear hub system claims 40Nm of torque and is used on similarly lightweight road racing machines but it seems unlikely it could produce the motor power of BH's own mid-drive as used on the iAerolight. A fairer comparison might be the Fazua drive system as they claim similar torque figures and like the BH motor it's a mid-drive that leverages the advantages of working through the bike gears, meaning effective, efficient power over a wider range of bike speeds. All the models listed here by Fazua are at least a few lbs heavier than the iAerolight so would certainly appear to a leader in its class judging by the stats alone.
The mid-motor in question is the BH 2EXMAG, with a claimed weight of some 4.6lbs or 2.1kg. However, it's not a new motor, having been used on the BH Core Carbon which was released back in 2020. It is paired with a 410Wh frame-enclosed (non-removable for charging) battery. A bike that could certainly make road bike fans who are looking for a high-quality e-racer happy.
Prices start at 7,699.90 euros for the BH iAerolight Pro 1.7 with 12-speed Shimano 105 Di2. The iAerolight 1.8 with Shimano Ultra components costs 8,999.90 euros and the top-of-the-range iAerolight Pro 1.9 costs 10,999.90 euros and comes with Di2 gears and Dura Ace brakes.
MINI taking pre-orders for branded e-bike made by Angell Mobility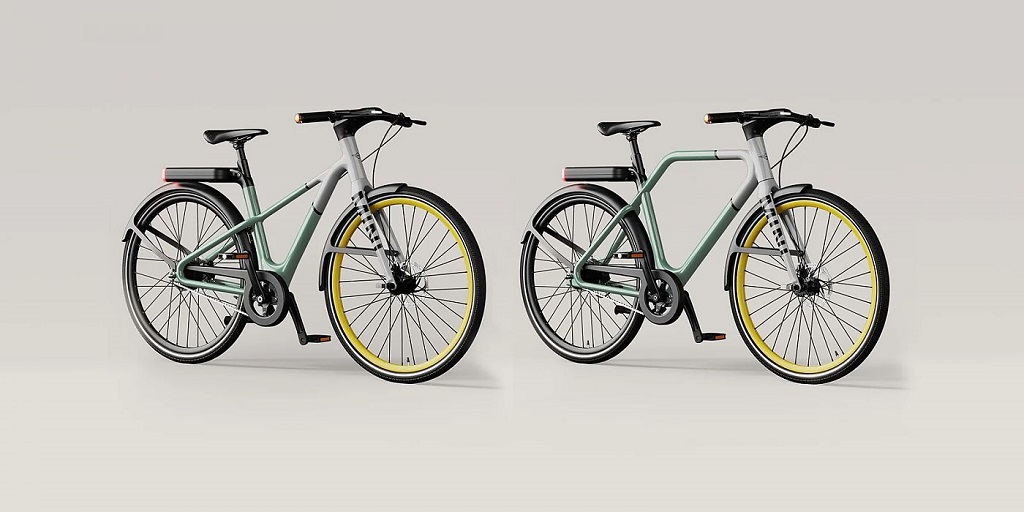 This is the headline reported by Bicycle Retailer and Industry News (BRAIN) recently and marks yet another move by an auto company to get in on the e-bike action.
'Auto brand MINI is releasing two e-bike models next year, manufactured by Angell Mobility in France…….MINI will produce 1959 bikes of each colorway, corresponding to the year the MINI car company was formed' BRAIN tells us.
Features include bar-end turn signals, custom fenders and chainguards, and a touch screen head unit on the integrated stem plus Brooks England saddles and grips. They will initially be available in Europe at €3,490 (about $3,700) and can be preordered now.
Are Ionblox Batteries Finally Emerging From the Research Labs?
Electrive reports that 'California-based battery developer Ionblox announces the launch of its ultra-fast-charging lithium silicon cells for electric vehicles.'
If these do make it into the real world they certainly promise to revolutionise the electric transport scene, as the following comparison with current lithium technology makes clear;
'According to the company, the cells allow a battery to charge 60 per cent in just five minutes and 80 per cent in ten minutes. In addition, Ionblox says the cells enable electric vehicle manufacturers to either increase range by 30 to 50 per cent with a similarly sized Ionblox battery pack or reduce weight and cost with a smaller Ionblox battery pack.'
According to the article, the new technology depends on 'a patented pre-lithiated silicon monoxide anode and a unique cell architecture'
Reader Interactions