E-Bike News: Great Value New Models from Ride1Up and Aventon, Garmin Radar, Volt E-folder and Much More!
The trickle down effect is a term used quite widely in economics but it can also be applied to the e-bike industry and its use seems very apt this week in relation to two new e-bikes from Aventon and Ride1Up that look great value.
Once upon a time features such as hydraulic disk brakes and torque sensing were considered as premium priced e-bike features. Nowadays hydraulics are pretty standard, having 'trickled down' from higher priced models and torque sensing is certainly appearing on more and more reasonably priced bikes. Whilst the Ride1Up Rift actually lacks torque sensing and the Aventon Sinch .2 lacks hydraulics, at $1895 and $1799 they offer great value for e-bikes with large capacity batteries and a list of features as long as your arm, including some rarely seen on e-bikes such as the Aventon's turn indicators. Long may the trickling down continue!
In this week's e-bike news:
Ride1Up get into e-fat bikes with the Rift

Aventon Sinch .2 gets major upgrades

Meet the Volt Lite – a lightweight e-folder with belt drive

Garmin Vario brings 'plug and play' vehicle radar detection to e-bikes

Rad Power battery recycling now available

60+ mph e-bike in Germany stopped and confiscated
Ride1Up's Rift – an All-new Fat Tire All-Terrain E-Bike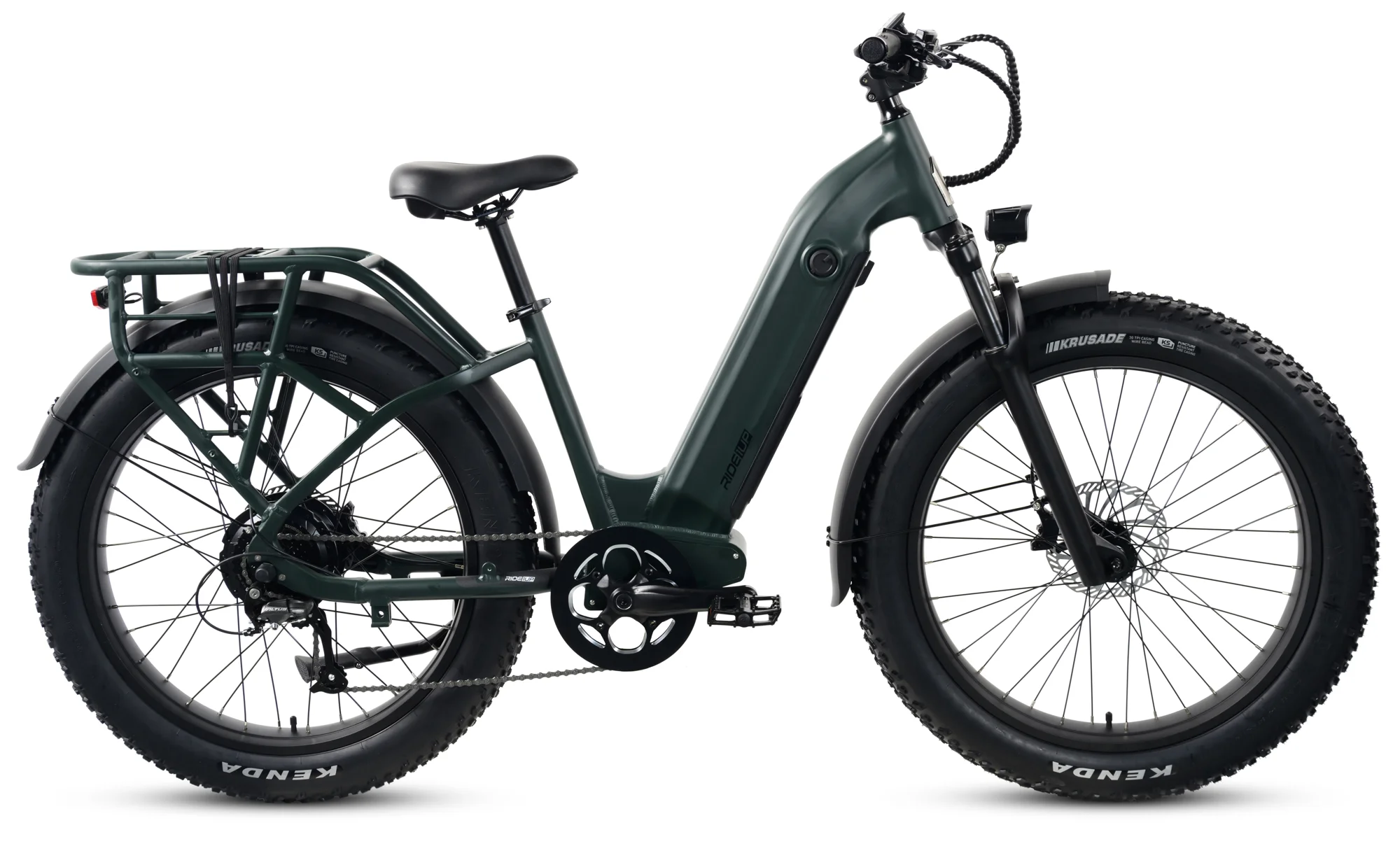 Ride1Up are perhaps best known for urban-styled e-bikes but their latest model, the Rift, is a fat tire, 'adventure' model that combines their hallmark of practical, performance-enhancing features with outstanding value.
Just check out what you get for $1895; a 750 W rear geared hub motor with a claimed 95Nm of torque, 20 mph via a throttle and 28mph via pedal assist (ie class 2 – unlockable to class 3 through the display), a huge 960Wh frame-integrated, removable battery and four piston hydraulic disk brakes. The frame comes in XR (step over) and ST (step-thru versions).
It's also more than fully-equipped in terms of those features some e-bikes leave off to either save on weight or cost (or both), with included front and rear fenders, frame integrated rear rack with 150 lb. weight limit and optional passenger seat (the Connect+ mount system allows easy swapping of attachments such as bags and chairs), integrated headlight and tail lights, kickstand.
Aventon Sinch 2 Gets Impressive Upgrades
Aventon's Sinch.2 step-thru e-folder just got a raft of performance enhancing upgrades. Firstly it gains a torque sensor – generally acknowledged as being a more efficient power delivery system with superior ride quality over many pedal movement sensors. The increased efficiency also means the Sinch.2 also claims its biggest ever estimated range of up to 55 miles from a 672Wh battery and the battery is also now certified to UL2849 standards. The 20 mph, class 2 model (pedelec and throttle) also goes from seven to eight derailleur gears and gets indicators which are integrated into the rear seat stays complemented by rear brake lights and a 300 lumen headlight. It retails at $1799.
Volt's New Lightweight, Low Maintenance E-folder
Volt are a UK brand selling only in the UK but they make some impressive and distinctive e-bikes and their latest model follows that tradition. The folding Lite model is indeed light at 35.2lbs / 16kg, and it also features a belt-drive. Surprisingly belt drives are not that common on e-folders but seem a very logical choice as their lubricant free nature means no oil on clothes when the bikes are being carried or stored.
It runs on 20" wheels and is powered by a combination of front hub motor and seatpost battery and has a Nexus three-speed hub gear unit, hydraulic disk brakes, hardwired lighting front and rear, mudguards and kickstand.
RRP is £2,199 and availability will be later in the summer.
Garmin Varia – Rear View Radar Can Now Plug Directly into E-bikes
Not only is the Garmin Varia eRTL615 an extra bright taillight that claims to make you seen from up to a mile away, it also has a rear facing radar that can detect vehicles approaching from up to 150 yards behind you. It connects to smartphones via an app and also to compatible displays and smart watches to show you the vehicles' approach.
And recent press reports also tell us that it can now plug in directly to compatible e-bike systems. UK pricing is £259.99 and it's on sale now and is sold with cable adapters for Bosch or Shimano systems or a generic USB-A cable (check with the retailer if it's compatible with your particular e-bike).
Battery Recycling Now at Rad Power Retail Outlets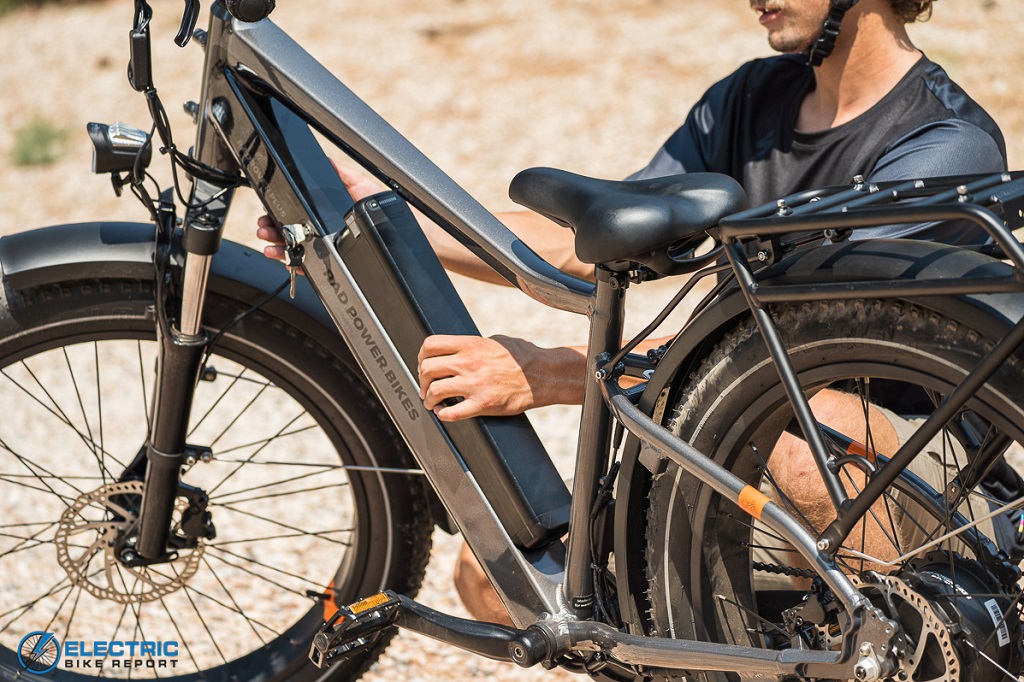 According to Bicycle Retailer:
' Rad Power Bikes will work with Redwood Materials to recycle the brand's end-of-life lithium-ion batteries. Consumers can bring their unpackaged battery to any U.S. Rad Power retail location. Rad Power will prepare the batteries for shipment to Redwood Materials for recycling, refining, and repurposing. Recycling programs like Redwood Materials facilitates the reuse of more than 95% of a battery's critical metals. Recycling also reduces the need to mine virgin materials.
In addition, select Rad Power retail locations will be equipped with collection bins for small-format lithium-ion batteries.'
60mph Plus on an Ebike – Possible but Not Legal!
This German-language report tells us that in the German city of Rüsselsheim officials recently checked a total of 66 people on e-bikes and were amazed to find one of the bikes they checked was capable of 60+mph / 100 km/h.
The police have seized the e-bike for the time being for technical inspection. According to first assessments, the e-bike is said to have reached the crazy speed due to an additional motor and 'chip tuning'.
Reader Interactions