E-bike News: Evelo Galaxy SL for Smaller Riders, Solar E-bikes and Much More!
This week's news is an interesting mix in more ways than one. The Evelo Galaxy SL is from a brand who we've reviewed a lot and looks to cut a niche with a combination of high speed for smaller riders. And the latest Tenways single speed shows, despite rising prices seemingly everywhere, there are still high quality yet very well-priced e-bikes to be had.
Looking to where e-bikes might be heading in the future there might also be interesting clues in the form of the intriguing Basalt electric fat bike from Mokwheel, which claims also to be a solar powered charging station and in the field of micro electric vehicles we have the Nimbus titling tricycle microcar! All is explained below….
In this week's e-bike news:
Evelo Galaxy SL – a speed pedelec for smaller riders

Tenways CGO800S – a high quality city e-bike with a great price tag

Mokwheel's Basalt includes a solar power station

Solar-power e-bikes roll out in East Africa

Nimbus, the latest light electric vehicle available for pre-order
EVELO GALAXY SL – THE 25MPH MID-DRIVE WITH THROTTLE
The Evelo Galaxy SL is an unusual combination; a 25mph e-bike with mid-drive and throttle that's also aimed squarely at shorter riders, with Eveleo saying it would suit riders from 4'10" to 5'10".
It uses a Dapu 500W mid-drive motor with claimed stats of 740W peak power with 90 Nm torque. Unusually for a mid-drive you can use it as a pedelec (by pedalling) or with an independently operated throttle. There's also a 468 Wh rear rack-mounted battery.
It has what might be described as an upper mid-level e-bike spec, with Enviolo 'stepless' rear hub gearing, Zoom hydraulic disk brakes, 3.7″ color display and hardwired front and rear lights.
Stated weight is 54 lb. (24.5 kg) and full retail price for the Galaxy SL is $3,699 but pre-orders, expected to ship in August, are $3,499.
TENWAYS CGO800S AVAILABLE FOR PRE-ORDER
Tenways already have one successful crowdfunding campaign under their belt; the CGO600 single speed which has gotten great reviews for its lightweight, responsive single speed belt drive and attractive $1799 / £1499 price tag.
Now comes the CGO800S which uses the same very small Mivice rear hub motor and single speed torque sensing belt drive system. However, it's a fully equipped city step through machine and also has a larger 373Wh removable battery (the CGO600 has a 250Wh battery that is not removable in daily use). It also has hardwired front and rear lights.
Other features include a large, handlebar stem-integrated LCD display, brake lights and turn signals.
Tenways say the 'net weight' (without mudguards, kickstand and pedals) is 41.9lbs / 19kg but as these come fitted as standard the real world weight is bound to be quite a few pounds heavier.
The CGO800S are is currently available for pre-order at $1999 / £1799 and EU and US (16mph and 20mph) versions should be available, with July the likely actual shipping date.
SOLAR COMPATIBLE MOKWHEEL EYES INDIEGOGO CAMPAIGN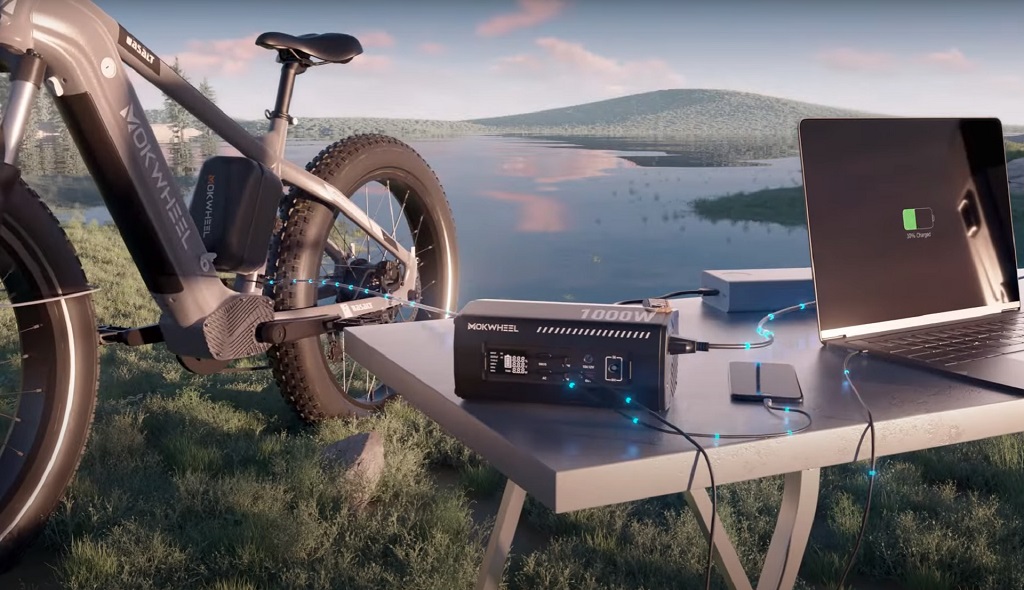 Californian-based Mokwheel already have a range of relatively conventional e-bikes but are about to Indiegogo launch the Mokwheel Basalt which they describe as a 'power station/e-bike fusion'.
The e-bike aspects of the Basalt are not that different from a number of other electric fat bikes on the market, featuring a 750W, 85 Nm torque rear hub motor with a speed pedelec rating of 28 mph and a sizeable 960Wh battery.
Unusually the bike comes with an inverter with solar charging compatibility and the ability to charge a variety of devices whilst out and about – think, cameras and phones to laptop or even small cooking appliances or fridges! The inverter has a peak output of 1,000W and a bank of charging ports, including USB-C, DC output, and more. It also claims to work with solar compatibility 18V to 48V solar panels.
The pre-crowdfunding holding page for the Mokwheel Basalt claims what looks to be a highly optimistic launch price of less $2,000.
Solar charging of e-bikes is an idea that keeps coming up; some models even attempt to integrate the panels into the body of the e-bike, like the SunRider e-cargo bike – now apparently scaling up production.
GERMAN E-BIKES AIM TO SAVE LIVES IN UGANDA
Talking of solar charging e-bikes, this German language report tells us that 100 'AfricroozE' e-bikes were handed over in Uganda after more than 6 years of development work. Powered by solar energy, the e-bikes from Germany are intended to save lives in Uganda, as well as acting as taxis and transport bikes.
Lack of access to emergency medical care is apparently an acute problem in parts of rural Africa, so the AfricroozEs are designed to act as e-bike ambulances, amongst other things. Germany's Kreditanstalt für Wiederaufbau (KfW) has funded the project with €400,000. The German bicycle manufacturer HNF-Nicolai designed the AfricroozE and is involved in the production process. The partner in Uganda is the non-governmental organisation "First African Bicycle Information Organisation FABIO", which was also involved in the entire development.
NIMBUS, THE LATEST LIGHT ELECTRIC VEHICLE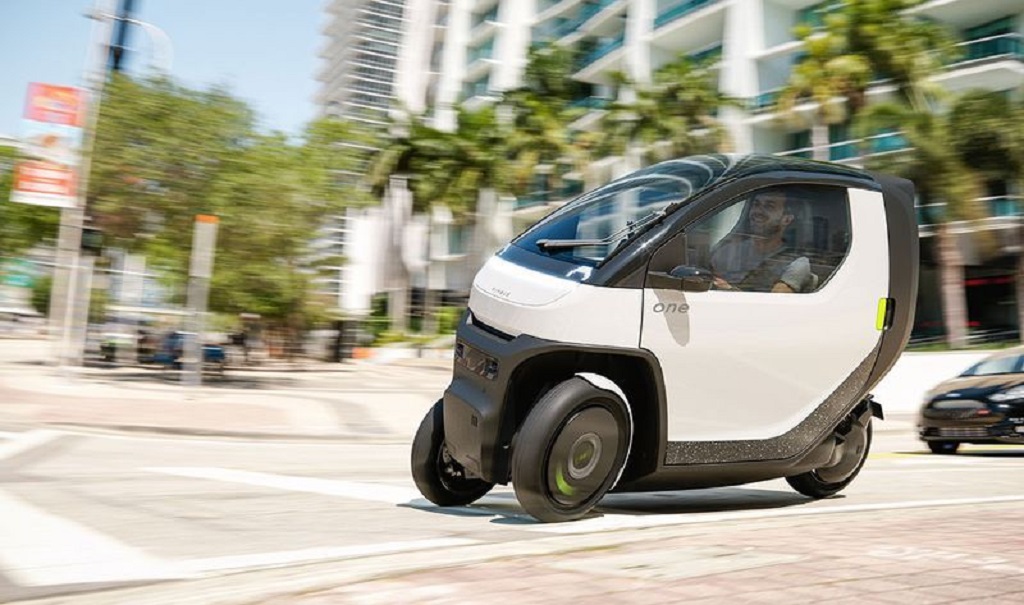 'Nimbus is a compact electric vehicle that allows you to avoid rush hour wait times by sliding through traffic, park virtually anywhere, and has safety features that will allow your mother to sleep better at night.'
This is how the latest light electric vehicle to enter the LEV space describes itself and it has just opened for pre-orders.
This is not an e-bike, more like a micro, three wheeled car, but EBR often features such light electric vehicles as they have much in common with the technology used by e-bikes and their aims of convenient and sustainable light electric transport will no doubt be of interest to many e-bikers.
So will the price, as Nimbus say 'At just $200 a month to rent, or $9,980 to buy, the Nimbus One costs less than the gas and insurance of a car.' It also claims a 93 mile range and has tilting cab technology clearly designed to enable fast and stable cornering.
Nimbus seek to address any potential safety concerns as the vehicle incorporates an airbag and 'a high-strength steel frame….onboard cameras and AI to sense other vehicles and prevent collisions.'