E-bike News: E-BIKE Act Reintroduced, 'World's Lightest E-MTB,' Bosch ABS Braking and Much More!
A federal subsidy to help people buy e-bikes, the E-BIKE Act has been reintroduced to congress. If passed, buyers could received a 30% credit toward the purchase of a new e-bike, although there would be a cap of $1,500 on the credit, and income restrictions would also apply. A similar proposition was first seen in 2021's Build Back Better Act, but didn't make the final draft. Will this new program get approved?
In this week's e-bike news:
E-BIKE Act Reintroduced to Congress

Rotwild's ultralight full-suspension e-MTB

Bosch goes for ABS in a big way

Acer announces funky and futuristic e-bike

Aventon and Worx team up to power e-bikes with powertool batteries

EBC's new customisable helmets

Norway claim world's longest bike tunnel
E-BIKE Act Reintroduced to Congress
Congress has revived hopes that a federal tax credit for e-bike purchases may be passed. The Electric Bicycle Incentive Kickstart for the Environment Act has been introduced by Reps Jimmy Panetta (D-Calif.), Earl Blumenauer (D-Ore.), Mike Thompson (D-Calif.), and Adam Schiff (D-Calif.), and Sen. Brian Schatz (D-Hawaii).
The act would grant buyers of an e-bike a 30 percent credit on e-bikes costing up to $8000. The tax credit would max out at $1500. If passed, individuals could make a purchase once every three years, or twice for a couple filing jointly if they both bought e-bikes.
The bill mirrors credits that we've seen for EV purchases with caps for income. Single filers would be capped at $150,000, heads of household would be capped at $225,000, while couples filing jointly would not be capped until $300,000.
An e-bike tax credit was proposed in the Build Back Better Act in 2021, but it was cut from the final legislation that was signed into law as the Inflation Reduction Act.
IS THE ROTWILD R.X275 ULTRA THE WORLD'S LIGHTEST E-MTB?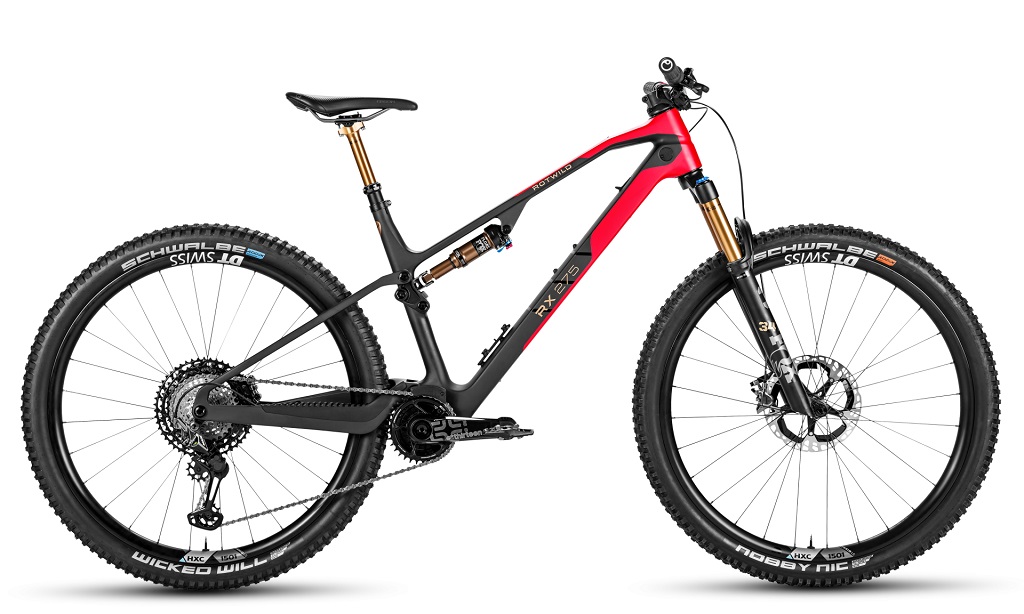 The race is surely on to break the 15kg / 33.07lb weight barrier in the competition to claim the accolade of world's lightest full-suspension e-mtb. German manufacturer Rotwild have just produced the R.X725 which, with a claimed weight of 15.3kg / 33.7lbs is probably the lightest full suspension production e-mtb in the world.
They managed this by using a full carbon frame and also by using the relatively small and light TQ HPR 50 mid-drive system along with a modest capacity 250 Wh non-removable battery. Other features include 130/120 mm suspension travel at the front and rear respectively. There is also the option of a 160Wh range extender.
German-based e-mountainbike are one of the first websites to review the R.X275 and conclude 'The ROTWILD R.X275 was designed to be ridden in the lower support modes, and is meant to feel more like an analogue mountain bike rather than behaving like a conventional ebike – with the benefits of the additional power boost (power button)!
Prices start at €12,499.
BOSCH MAKE A BIG PUSH WITH THEIR ABS BRAKING SYSTEM
It's clear that Bosch are making a big push with their latest, most compact and technically advanced version of their ABS anti-lock braking system, designed to stop the front wheel locking up under powerful braking – thereby reducing the risk of accidents.
Firstly we have seen Cube introduce four new e-bikes with Bosch's ABS braking system; Kathmandu Hybrid, Reaction Hybrid, Stereo Hybrid 120 and Stereo Hybrid 140 HPC are all now available in ABS versions. ABS versions are specced as non-ABS versions apart from, of course, the new ABS elements. The system itself consists of a unit mounted on the front fork, brake sensors front and rear and integration of the system into the bike's software. Software settings allow the rider to set the ABS to different stopping distances based on the anticipated type of riding they will be doing. All Cube's new ABS models use the Bosch Smart system which was clearly designed with this kind of feature connectivity in mind.
More developments are afoot though as Cycling Industry News reports that 'Bosch eBike ABS systems is to work with Taiwanese brake specialist Tektro to bring the 'safer braking system' to more e-bikes. Announced at this year's Taipei Cycle Show, the deal means bicycle manufacturers will have two brake manufacturer options (the other being Magura) if using Bosch eBike ABS.'
The article adds 'Bosch introduced its latest ABS system last year, with its own Accident Research team finding that up to 29% of all accidents involving e-bikes could be mitigated or completely prevented each year, if all e-bikes had ABS as standard.'
DOES ACER'S NEW E-BIKE MEAN A NEW DIRECTION FOR ELECTRIC TWO WHEELERS?
Better known for computers, Acer just launched its first e-bike, the ebii.
You might imagine it would be packed full of futuristic tech we have yet to see on e-bikes given its unusual looks but that's not really the case – though Acer claim it can predictively control gear selection and it features collision detection sensors – not groundbreaking tech exactly but certainly features not found on most e-bikes. Other high tech features are proximity unlocking and GPS tracking. If the bike ever actually hits the shop floor it might just give the likes of Van Moof a run for its money.
However, many of its features look attractive in their own right; claimed weight is 35 lb / 16 kg and it has a mono-fork at the front (presumably to save weight as the airless tires are apparently puncture proof) plus belt drive, hydraulic disc brakes, and 360-degree LED lighting.
No word yet on pricing or availability so only time will tell if this genuinely a new direction that sees tech companies get into e-bikes or just a marketing gimmick to sell more computers.
AVENTON & WORX COOPERATE TO POWER E-BIKES WITH TOOL BATTERIES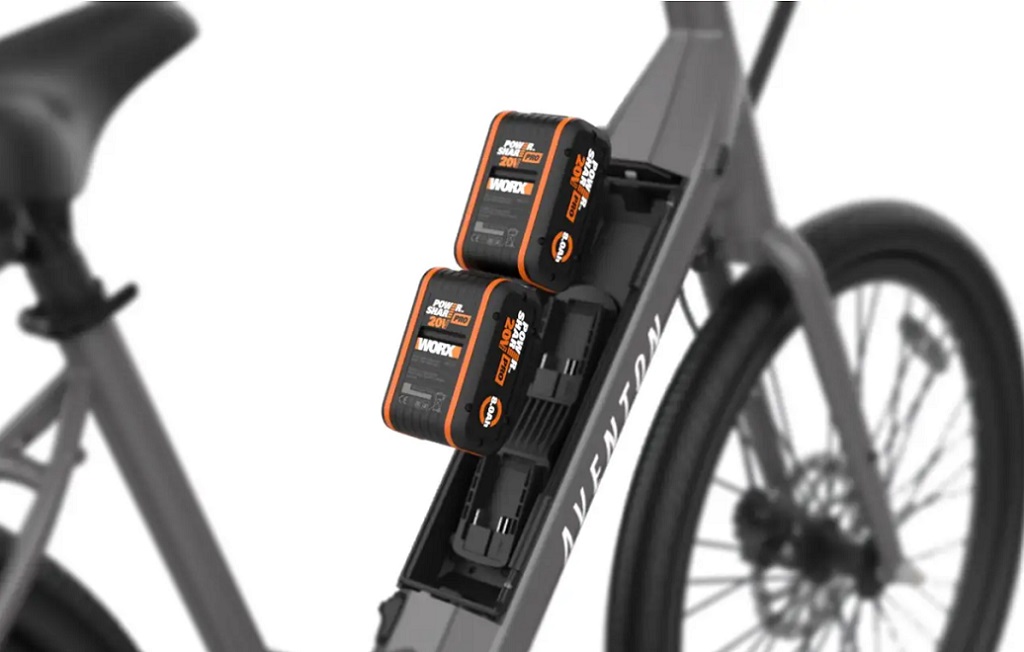 Bike Rumour reports '. If you have a tool in your garage that's part of the Worx ecosystem of battery-powered tools, you can power an Aventon Pace 350 eBike with the very same batteries.' Apparently the system uses an adapter that mounts in place of the typical Aventon battery.
It's not an entirely new idea; the UK's ARCC have been using Bosch's 36V powertool batteries to the same ends – indeed we featured a review of the Moulton ARCC model.
ELECTRIC BIKE COMPANY RELEASES FULLY CUSTOMISABLE HELMETS
EBC have announced a line of 'customizable E-Helmets, allowing riders to select the size and color of the main shell, trim, and strap from over 40 color options'. As the company says, 'Customers can design their helmets to match their bikes, outfits, and personalities!'
Riders can choose the size and color of the main shell, trim, and strap. If a customer can't find the perfect color on the website, he or she may contact EBC sales team with an ideal color code for an extra customized helmet.
EBC Custom Helmet Features include:
Integrated front & rear lights with flashing modes
An easy magnetic buckle (pinch-free!)
8 cooling air vents
A custom rear headlock retention dial enabling the perfect fit
Vegan leather straps
Fully rechargeable lights with a USB-C cable provided, with a 2-hour double-light run time from a full
charge, and complete recharge in 45 minutes
CPSC-certified and safety-approved.
2 sizes (Small/Medium & Medium/Large)
NORWAY'S CLAIMS WORLD'S LONGEST BIKE TUNNEL
Jalopnik tells us 'Bergen, Norway is preparing to open a vibrant 1.8-mile tunnel for only bicycle riders and pedestrians.'
Apparently 'The Fyllingsdalstunnelen is a tunnel cut through one of seven mountains surrounding Bergen. The 1.8-mile tunnel will connect a residential area, Fyllingsdalen, with the center of the southwest Norwegian city. When the tunnel opens on April 15th, it will take 10 minutes on a bicycle to get from end to end or up to 45 minutes if crossing on foot. While it sounds like a lot of time to spend in cramped confines underground, the transit will slash commute times. According to Euronews, the tunnel will cut a typical 40-minute journey down to a 25-minute trip.'
Reader Interactions