E-Bike News: Budget Models from Heybike and Razor, Raleigh Goes Compact Cargo and Much More!
It's great to see plenty of new e-bikes from an ever expanding pool of manufacturers regularly coming along to feature in Electric Bike Report's weekly news. But this can only continue as long as new tech is developed for premium brands to pick up and run with – it allows them to differentiate themselves from brands at the lower-priced end of the market and offers buyers genuine choice. The 'digitalisation' of e-bikes feels like it's making significant steps forward recently as Bosch roll out their Smart System on more and more new models whilst – as reported on this week – looking at future applications for wireless tech and e-bikes. Is the e-bike world approaching a digital crossroads? If so, what direction will it take and will that direction be a success with e-bike buyers? The answers might not be imminent but the questions are certainly making their way up the agenda.
In this week's e-bike news:
Heybike reveals 28mph, magnesium framed e-folder

Razor Rambler 20 – a $999 moped style e-bike

Raleigh Modum – a practical, Bosch-powered compact e-cargo bike

Is Bosch trialling the wireless road safety technology of the e-bike future?
Heybike's 28mph Budget Folding E-fatbike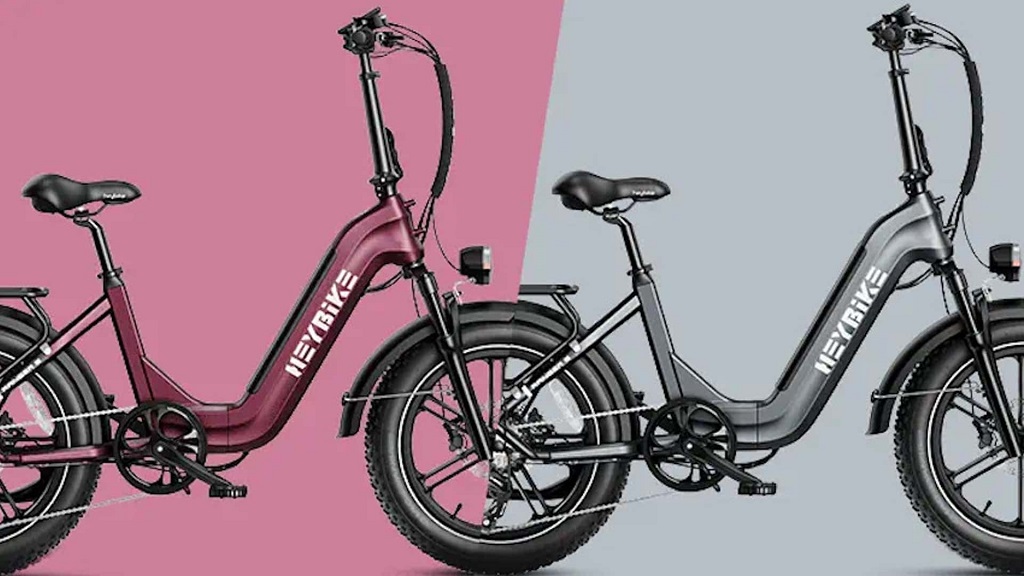 Heybike's latest electric folder is unusual in that it uses a one-piece magnesium alloy frame for this 28mph machine (throttle-assisted making it a class 3 machine) dubbed the Ranger S.
Key spec points are 750 W rear hub motor, 48V/14.4Ah(692Wh) battery integrated into the frame, 20″ x 4″ tires, hydraulic disc brakes, 7-speed derailleur gears and hard-wired lights.
Perhaps the magnesium frame is very cost-effective to make – at $1,499, the Ranger S's price certainly looks competitive.
Another Mope Style E-bike – this Time from Razor
Razor are probably best known for their budget e-scooters but have just released the Rambler 20, a 20 mph capable, class 2, moped style e-bike.
Alongside the classic features of a moped style e-bike – bench seat and fat tires – it has a 500W rear hub motor, mechanical disc brakes, hardwired lights and dashboard style display. We couldn't see the size of the battery capacity anywhere, but with a stated 16.6 mile range it's likely to be at the smaller end of the scale. It retails for $999.
Raleigh's Latest Compact Cargo Model On Sale in UK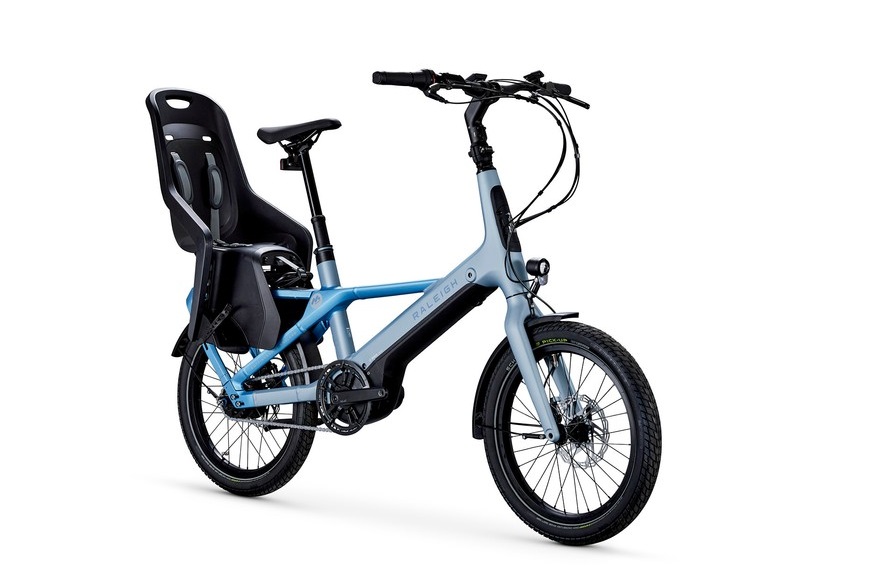 The UK's Bikebiz reports that Raleigh have just launched the Modum which they describe as 'a compact, urban e-bike with a wide range of accessories' adding 'The Modum is equipped with a quick release speed lifter and the handlebars will twist 180 degrees, so it can be tucked away in narrow spaces, taken on public transport or stored flat against a wall.'
In addition to the practical sounding frame and other features it also has a powerful Bosch Performance Line mid-drive, 500Wh in-frame battery, 59.9lbs / 27kg rated rear rack and five Shimano hub gears. It's currently on sale in the UK for £3,399.
What is V2X and Why is Bosch Involved in Trials?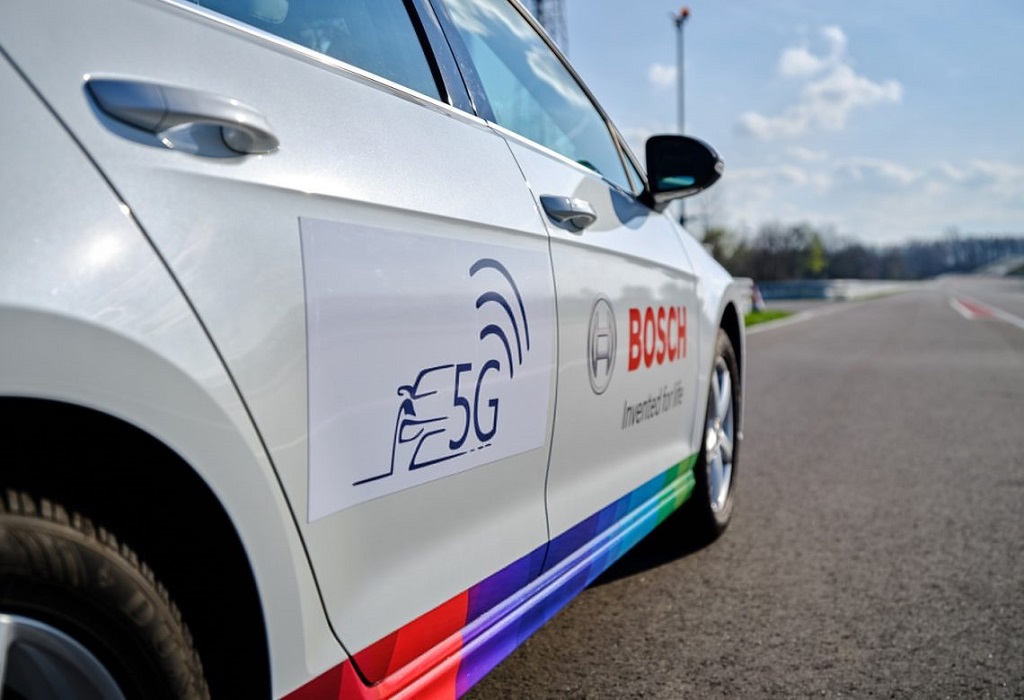 Autotalks describes itself as a 'V2X chipset market pioneer and leader, (which) helps reduce collisions on roadways and improve mobility with its automotive qualified chipsets' V2X is short for Vehicle-to-Everything communication – in this context it means vehicles on the road have the ability to wirelessly 'see' and communicate with each other – and it's hoped that the technology will help reduce accidents.
What has all this got to do with e-bikes? Well, Autotalks announced in this post that 'it is collaborating with Volkswagen (VW), Bosch eBike Systems and Commsignia to demonstrate how V2X can prevent one of the most common bike-vehicle collisions.'
Indeed a demonstration of the technology took place at the SECUR (Safety Enhancement through Connected Users on the Road) Final Event, held between March 29 and March 30 near Paris.In the demo an 'obstructed intersection use case' was used where the vision of the car or eBike coming from one direction is blocked and crossing the intersection might be dangerous. It showed how a V2X-enabled bicycle could communicate with a VW vehicle to alert it of its presence in order to avoid a possible crash. In Europe, VW's models Golf and ID electrical vehicles are already equipped with V2X, yet do not include bike detection.
ZooZ technology was also trialled and was specifically developed to prevent bike and scooter accidents; 'Installed on the handlebar of any bicycle, it provides real-time alerts to cyclists when a vehicle equipped with V2X is posing a potential danger. Additionally, it alerts V2X-equipped vehicles and smart infrastructure to the presence of a cyclist, allowing drivers to be notified and take precautions when the cyclist may be at risk'.
Reader Interactions