E-Bike News: Borealis Goes E-fat, Rad Power Out of Europe, Van Moof Woes and Lots More!
This week's news has the usual rash of new e-bike announcements, but more unusual is the news of financial difficulties in an area that's usually dominated by good news stories. In the intensely competitive European market high-tech leaders Van Moof have rapidly come unstuck as an going high rate of warranty claims appear to have caught up with them whilst Rad Power are retreating from this particular area of the globe altogether finding it a rougher ride than their home territory in North America where they undoubtedly have a higher profile. It all underlines the difficult economic climate in many parts of the world underscored by the fact that Covid-induced over production has lead to a glut of e-bikes in stock. You only need take a look at many e-bikes are being discounted to see the effect a complex mix factors has resulted in.
In this week's e-bike news:
Borealis Keystone – a premium quality mid-drive e-fat bike

Bergamont extends use of lightweight TQ HPR 50 mid drive in its new range

UK's Surge debuts it's great value e-folder with premium components

Is this the end for Van Moof?

Rad Power retreats from Europe

Garmin promotes e-bike compatibility
The Borealis Keystone is a High-end Mid-drive E-fat Bike
Colorado Springs-based Borealis has specialized in lightweight fat bikes since 2013. Now comes their first ever electric fat bike, the Keystone.
The spec is impressive; Shimano EP8 mid-drive, 630Wh battery, the latest 1×12 SRAM Eagle GX derailleur gearing, a durable 6000 series aluminum frame with smooth welds and internal routing, Manitou Mastodon Pro front suspension fork with 120mm of travel and a KS Lev Integra dropper post.
A spec like that naturally isn't cheap ($6,500) and you'll have to wait to fall if you pre-order one now – but it's a model whose arrival will certainly be eagerly anticipated.
Bergamont Announces Major Overhaul of E-bike Range and Includes Lightweight TQ HPR-50 Mid-drive
Premium German brand Bergamont recently announced their new e-bike lineup and it showed greater emphasis on the new lightweight mid-drive from TQ; the E-Grandurance e-gravel bike now uses TQ's HPR-50 whilst the E-Vitess Amsterdam still uses that same TQ Mid-drive but gets a lower step frame.
UK's Surge are Launch High Quality, Great Value E-bike Line
Surge are a UK dealer who now double as an own-brand manufacturer and their first e-bike looks a great blend of high quality e-folder and value for money. The fold-in-half style model features a Bosch Performance Line drive system, 500wh removable battery, Shimano hydraulic disc brakes and most unusually for a folder the belt driven Enviolo stepless gearing in the rear hub. There's also a sturdy rack, large volume tyres, fenders and hardwired lighting. All for £3,499.
Van Moof in Last Gasp Effort to Secure Lifeline Funding
Van Moof are a Dutch company who have often been in the media spotlight in recent years, whether it was for the much-hyped concept Hyperbike or the more recent launches – as recently as May of this year they launched the relatively budget-priced S4 model.
Now comes the news, as the UK's ebiketips tells us, that 'After 'pausing' sales of new e-bikes two weeks ago, VanMoof has now filed for protection from creditors'.
What has been causing the problems? Huge backing by funders means a lot of money to invest of course, but also it means you need a return on investment in the form of some juicy profits, which is clearly where Van Moof has been struggling.
Whilst the brand had a very high profile and seemingly healthy sales it seems, in the words of ebiketips again, that 'According to analysis of 2021 sales figures by Dutch financial publication FD, the cost of repairing or replacing VanMoof e-bikes under warranty was around €8m. The publication ultimately concluded that at that time the cost of selling a bike was greater than the purchase price.'
It's a great pity as Van Moof were an industry leader in terms of using their own tech to innovate and to endeavour to come up with a product that was genuinely distinct from the competition and bought it's own advantages; no other e-bike combined a minimalist appearance with hidden high tech like Van Moof did (think auto-changing gearing and electronic locking and alarming).
There is still a theoretical chance that Van Moof can survive; online sales are described as 'paused' whilst its own-brand stores are closed. Van Moof went from a €6 million loss in 2019 to nearly €80 million of losses in 2021 with no improvement expected for the 2022 figures. The company successfully applied to an Amsterdam court for a 'deferral of payment' and administrators are to guide the business through a 60-day 'cooling down' spell. In many cases this is a prelude to insolvency but does buy time for Van Moof to see if they can uncover a financial fairy godmother.
Rad Power Bikes to Pull Out of Europe
More unusual news from the Euro-bike market which is normally so buoyant; Bicycle Retailer and Industry News reports ' Rad Power Bikes will close its European operations at the end of the year to concentrate on growing its North American market.
In a letter posted on the Rad Power Bikes European website on Monday, CEO Phil Molyneux said an in-depth business evaluation made it clear the move was necessary for long-term success.'
The background story could not be in starker contrast to that of Van Moof; Rad Power was tremendously successful in its expansion and apparently remained profitable throughout, though more recent times have seen rounds of job losses and several legal claims against the company. The raising of hundreds of millions of dollars to fund developments such as an expansion into Europe has clearly been less of a success. North American e-bike consumers may well be the ultimate beneficiaries of this latest development in the helter-skelter Rad Power Bikes story as the company turns its attention back to home ground.
Is Your E-bike 'Garmin-Ready'?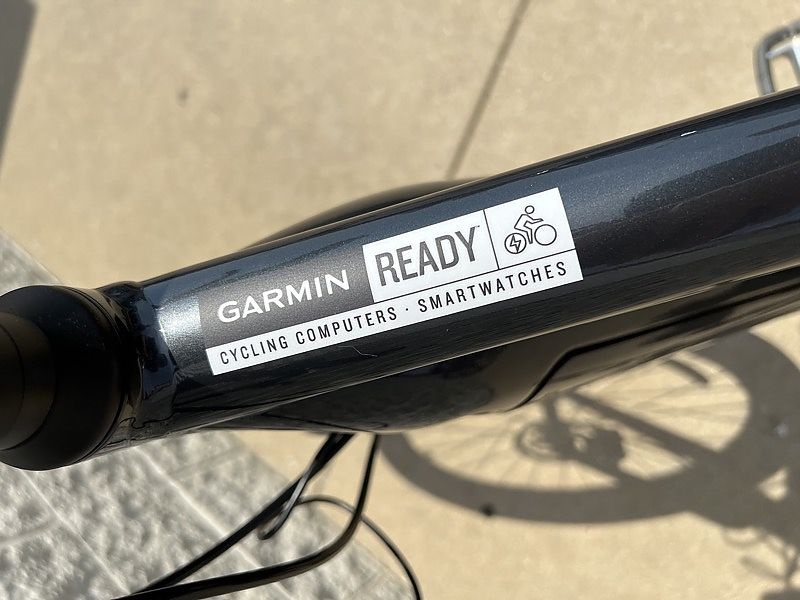 Bicycle Retailer and Industry news again, this time with the more positive news that 'Garmin is now providing retailers with "Garmin Ready" frame stickers that let consumers know the e-bike is certified to wirelessly communicate with their Garmin devices such as Edge GPS bike computers and some Garmin smartwatches.'
Reader Interactions