Do You Need A Cover For Your E-Bike?
Modern e-bikes are made to be ridden in the wet and rain, so regularly riding in raining conditions and sometimes leaving your bike in the wet shouldn't be a big deal as long as you dry it off afterwards and take care to keep the chain (if it has one) oiled and clean. But what about outdoor storage or traveling around on your car's hitch? Do you need an e-bike cover then?
There might be several reasons where you do want to protect the bike from rain or even strong sun (it's not the best idea to expose a battery to very hot, direct sunlight for hours on end). If you have to store the e-bike outside for long periods, perhaps just because that's the only space your accommodation has, then a cover is virtually a must.
Those on long touring trips may need to store the bike outside too, so a lightweight stowable cover could come in handy here too and then of course RV tourers may well have a couple of e-bikes on the rear where they live most of the time. Or your e-bike might be your most cherished possession and you simply want to keep it in the best possible condition which may mean covering it up when not in use.
Down below the Electric Bike Report team will break down the basics about e-bike covers.
E-Bike Cover Buying Advice: Materials, Size and Other Considerations
Covers are generally made for both bikes and e-bikes, and tend not to be e-bike cover specific. There are some more premium options that do offer advanced features that those with any worry about wear on motor, battery or just the frame in general can consider though (more on that down below).
When considering material for you e-bike cover there's a few choices of material used by bike and e-bike cover manufacturers, but polyester remains one of the best and is commonly used. It tends to be durable and is often made to be waterproof too.
Nylon is a more lightweight option and may be a good choice if you need to take a cover with you, perhaps on an e-bike camping trip, though be aware it may not be as resistant to abrasion as polyester. Nylon can be a good low cost option too and can provide a nice tight fit on the bike as it is stretchy.
Lastly, polyurethane is another material you may see used, but again it's not as tough as polyester.
These are generalisations and many materials use a mix of different fabrics to bring the whole e-bike cover together, so it may be difficult to gauge the strength from the fabric mix.
A good way is to look for a denier rating on the cover. This is indicated by a D then a number. Many bike covers are 120D to 240D – something like kite fabric or the thinnest pack down waterproof coats you get. A few bike covers have a 600D rating – that's much tougher and thicker and is akin to a well made backpack's material.
Be aware though a 600D rating may not feature on every bit of the cover and may only be used on the parts the manufacturer thinks need more protection.
Bike and e-bike covers come in more than one size so it's obviously important to measure your bike and to get an e-bike cover that's slightly oversize than to get one on the small side and overstress the fabric by trying to shoehorn the cover onto the bike.
Some do go for a one-size-fits-all approach by adding straps and strings you can use to sinch the cover around your bike.
Features you might want to look out for include reflective material (handy if you want to put the e-bikes on the back of a motor vehicle), access holes for locking and unlocking and carry handles. Compression straps and chords for gathering loose material at the main opening can also be handy to stop the cover flapping around in the wind. Perhaps most important of all, you should note many models are designed for storage only and are not tough enough for transporting e-bikes on the back of a motor vehicle where wind buffeting will be an issue.
We have highlighted those covers that are suitable for transport and those for storage use only in our picks below. This isn't a comprehensive list, there are certainly others, but these are the ones that caught our eye.
E-BIKE COVERS SUITABLE FOR E-BIKES:
E-Bike Cover for Premium Coverage: Zeal Pro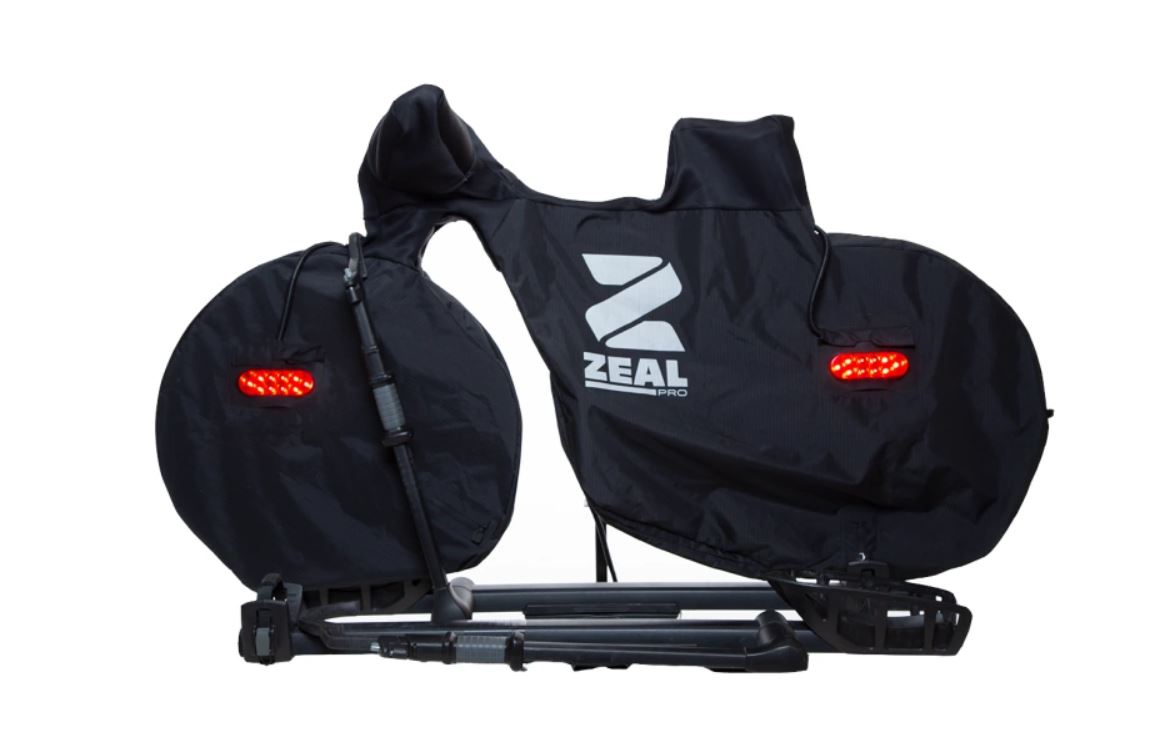 Starting things off on e-bike covers is a premium option. Designed for mtbs and fat bikes – and their electric variants – the Zeal Pro costs more than humbler bike covers. As Zeal say 'the patented engineering allows the standard rack securing mechanisms to pass through the bike / bag combination while keeping your bike protected from the elements. Additionally, rubberized backing makes the fabric impermeable to water and prevents paint abrasion on your frame. Designed and tested to fit XS to XL mountain, fat-tire, and eBikes, each cover includes pockets for the Zeal Pro Light Kit.'
It should fit the common styles of industry standard racks including tray-based, trunk mount / post-mast, and front wheel / fork hanging racks (roof racks being one of the few exceptions). For electric off-roaders this cover system clearly sets the standard but you pay for the privilege with a base price of $399.
E-Bike Cover For The Amazon Option: Team Obsidian
They have both a storage option (from $27.99) and a travel option (Up to $119.99) with varying capacity choices up to three e-bikes.
The former is in 210D material and the latter in 600D of the same design. Features, straps and buckles and locking hole. The transport version gets particularly good reviews and there is an option with transparent covers so lighting at the back of the vehicle can be seen.
E-Bike Cover For Mid to Light Elements: Pro Bike Tool
Their outdoor bike cover retails at $39.99 and features adjustable buckle straps and a front lock hole. It's described as being made of 300D Oxford fabric which suggests at least some polyester is used, perhaps 100%.
Their travel bag retails at $59.99-$69.99 (depending on size) and comes in various capacities and looks to use the same material as the outdoor cover. It features 'elasticated wheel fit' and a front lock hole.
UK availability also.
E-Bike Cover For Road, Trekking, and eMTBs: Topeak Bike Cover
Topeak offer a lightweight option that comes in mtb, trekking and road bike sizes (single bike). The nylon cover quickly folds to a compact size and is for storage protection only. UK availability too.
E-Bike Cover In The UK Featuring Design: Storm Skin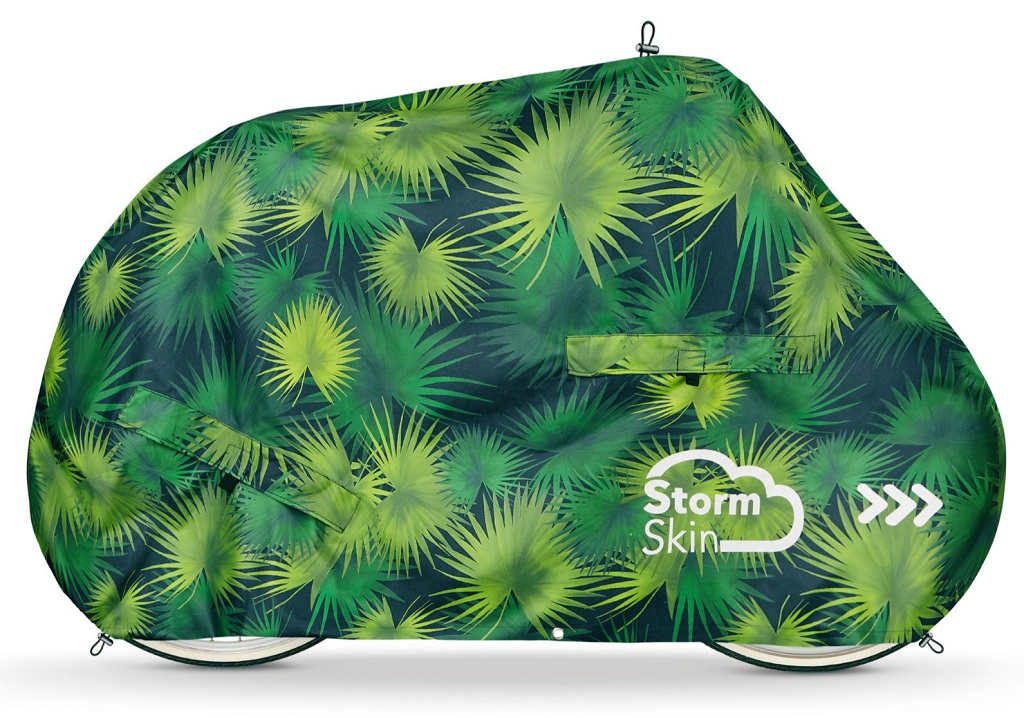 The Storm Skin is one of the best options for long term outside storage if you have no shed or garage and can't keep your e-bike inside your accommodation. It claims to be 100% waterproof and made of a material 'up to 9x thicker than rivals'. Other features include ventilation holes, drawstring and front and rear lockholes.
It's not really a lightweight, stashable on the bike option due to its heavy duty construction and at £45 is at the pricier end of the spectrum. UK shipping only.
E-Bike Cover In The UK For High Portability: Oxford Aquatex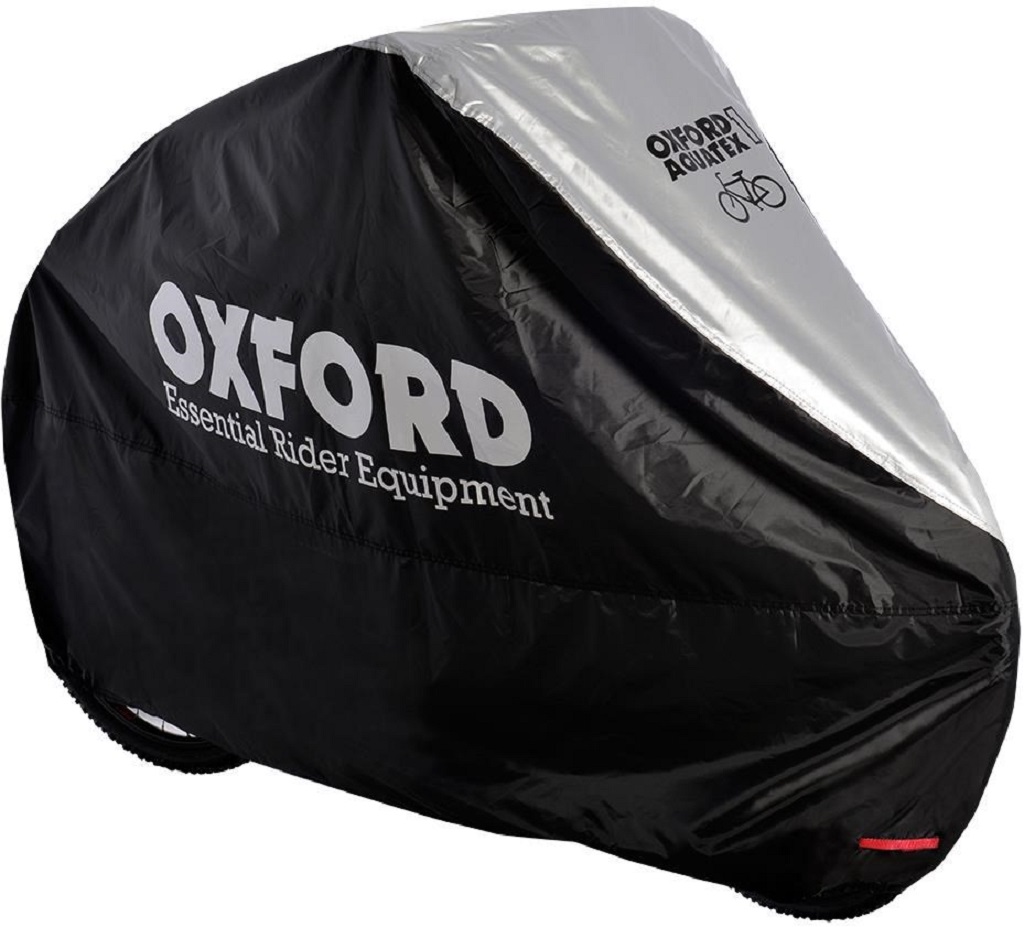 UK readers who are after a lightweight and easily stowable cover might want to take a look at Oxford's Aquatex cover. It's only 100D polyester rated but comes in 1, 2 and 3 bike capacity versions.