DOST Drop eBike Review 2020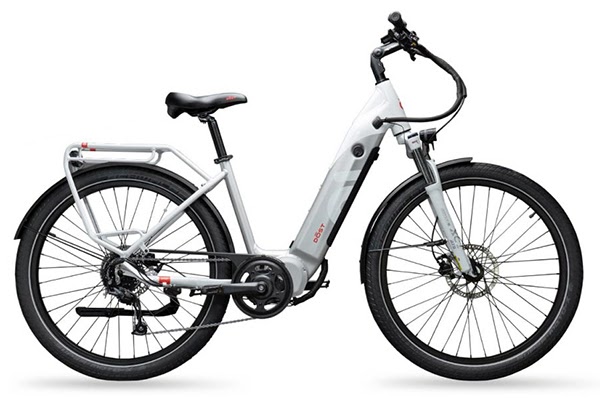 In this Spec Review we will take a look at the build, design and components on the DOST Drop.
The Drop e-bike by DOST Bikes is a comfortable e-cruiser with a step-thru frame that comes in glacier white or space gray. It comes with a 48 volt, 10.4Ah battery with the option to add a dual battery system for just $350 more. The Drop is currently on backorder, but the Oct/Nov 2020 batch is available on the DOST Bikes website.
DOST Bikes is a new e-bike manufacturer located in Canada. This company is a collective of e-bike professionals who are now working together to provide high-end e-bikes at mid-range prices. DOST Bikes only produces two bikes currently, the Drop (reviewed here) and the Kope (high-step version of the Drop).
One of DOST Bikes main emphases is extending the range and quality of traditional e-bikes. The Drop has a 750W mid-drive motor and a throttle and will zip up to 28mph (throttle peaks at 20mph), so it classifies as a Class 3 ebike. According to DOST Bikes, the Drop has up to 120miles of range (on the dual battery) depending on your assist/throttle level and weight. The Drop is currently listed at $2799 for the single battery and $3148 for the dual system. DOST only sells the Drop on its website; all bikes are shipped from Canada.

Bike Category: Urban Cruiser/Commuter
Class 3: Pedal Assist and Throttle to 28mph
Speed can be set to a 20mph max to make the bike street legal in all cities
Pros:
Easy to mount, low-step frame
Adjustable handlebars can be angled up or down
Wide, cushioned seat is comfortable on longer rides
Ergo grips are locking and have removable end caps to add mirrors, etc.
Comes with an integrated battery in the downtube. An additional battery can be purchased that attaches to the outside of the downtube for extended range.
Frame design allows riders to sit up straight which is more comfortable; wide, raised handlebars keep shoulders and spine in alignment while riding
LCD Display provides good ride info
Gear sensor turns motor off when you shift to reduce torque on the drivetrain
Great for around town or a bit of off-road cruising
Will work with any shoe
Cons:
New bike from a new company — longevity and durability tests are not available
If you opt for the additional battery, it will limit accessory mounts on the downtube (no room for a water bottle cage, pump, etc.)
A few cables (these are wrapped for protection) are externally routed near the bottom bracket
Drop Electrical Specs & Features
Motor:750W Bafang G340 (BBS02), mid drive motor, 120 nM of torque
Battery:48V, 14 Ah (672 Wh) Samsung lithium ion frame battery
Extra Battery: 48V, 11 Ah (528 Wh) Optional additional lithium battery
Controller:48V, 750W 25 amp
Charger:48V, 2 Amp smart charger
USB Port:Display: 5V, .5 Amp
Lights:Front: Spanninga AXENDO 80 (Integrated)
Rear: Spanninga LINEO (Integrated)
Gear Sensor:Bafang SD01 mid-motor gear sensor, waterproof
Balancer:DOST 42-60V dual battery balancer, waterproof
Display:DOST 3.2″ multi-color, backlit LCD with USB charger (DCP-18)
Pedal Assist:Intelligent 5 level pedal assist
Throttle:Thumb throttle to 20mph
Drop Components & Accessories
Brake Calipers:Tektro hydraulic dual piston (HD-E351)
Brake Levers:Cast aluminum grip levers w/motor cutoff and reach adjustments
Brake Pads: Metal ceramic compound
Brake Rotors:Tektro 180 mm front and rear
Chain:KMC Anti-Rust eBike chain
Crank Set:46T, 170 mm Lasco forged alloy, aluminum bashguard
Derailleur:9-Speed Shimano Altus, shadow design
Fenders:Included, black plastic front and rear, full coverage
Fork:SR Suntour XCT hydraulic lockout and preload adjustment, 100 mm travel, 100 mm hub width, 9 mm quick release
Frame:6061 aluminum
Freewheel:Shimano 9 speed, 11-36T
Gearing:Shimano 1 x 9-speed
Grips:Velo locking, ergonomic
Handlebars:Custom formed aluminum, 31.8mm clamp, 680mm width
Headset:Sealed bearing, 1-1/8″ straight steerer tube
Kickstand:Adjustable heavy-duty aluminum with wide plastic foot
Pedals:Wellgo B087 CrMo axle, forged aluminum platform with reflectors, standard 9/16″ x 20 TPI threading
Rear Rack:Integrated, 100 lbs carrying capacity, 16 mm tubing diameter
Rims:Aluminum alloy, double wall, 36H
Saddle:DOST gel, wide saddle with lifting handle
Seat Post:300 mm x 31.6 mm, aluminum alloy
Seat Post Clamp:Quick release
Shifter:Shimano Altus, 9 speed, rapidfire w/ optical gear display
Spokes:13-gauge stainless steel, black
Stem:Ergotech, 60º angle adjustment, 100 mm length, 31.8 clamp Ø
Tires:Schwalbe Super Moto X 27.5″ x 2.4″ puncture resistant, sidewall reflective
Drop Weight & Dimensions
Battery weight:8 lbs
Total bike weight:64.5 lbs
Max rider weight: 300 lbs
Rack weight capacity:100 lbs
Frame Size(s):One-Size 17.5" frame
Spec Review
Specs/Features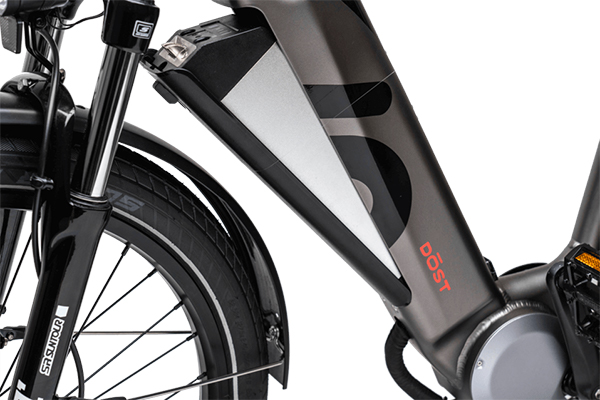 Battery
DOST Bikes has engineered a simple but powerful battery system on the Drop e-bike. The integrated battery is a 48v lithium 14Ah (672Wh) battery that is tucked safely inside the downtube. A charging port on the top right side of the downtube (same side as the drive train) allows you to charge the battery on the bike. You can also remove the battery from the downtube, although this takes a bit more effort. The second optional battery is a 48v lithium 11Ah (528Wh) which clips onto the outside of the downtube. The motor can then seamlessly access the second battery once the first one is drained so you don't have to swap them out. This system allows for extended range and reduces the hassle of having to swap batteries halfway through your ride. The dual battery system provides an impressive 1200Wh of power! Taking an additional battery along is nothing new, having it attached to the bike and connected to the motor is an innovative update. The batteries must be charged separately which may take some time since DOST only includes a 2amp charger (rather than the 3 or 4amp on other bikes), but the charger is lighter, which makes it easy to carry with you. The second battery will not fit inside the downtube — it is designed to attach externally. The minimum estimated range on one battery is 30 miles and with both batteries DOST advertises an impressive 120 mile range (we haven't personally tested this).
Display

The computer display is mounted in the center of the handlebars. It includes a handy USB port so you can charge other devices while riding. It cannot be removed and may be subject to outdoor conditions and/or scratches, etc., but it won't get stolen either. The display is large and easy to read with bright digital numbers. The display is a Bafang DCP-18 3.5" LCD screen with a built-in light sensor and adjustable angle. There is an independent control pad on the left handlebar, so you don't have to lift your hand off the grips to change settings or navigate the screen. The display provides readouts for:
Clock
Lights
Battery percentage
Current Speed (MPH or KPH)
Watts (Motor Output)
Odometer
Max Speed
Average Speed
Range (will fluctuate)
Calories
Trip Time
Trip Distance
Assist Level (0-5)
Motor
DOST Bikes has outfitted the Drop with a mid-drive 750W Bafang motor with 1000W of peak power and 120Nm of torque. This hearty motor is mounted low and centered on the bike. The motor relies on a 24 magnet cadence sensor to provide just the right amount of assist and also connects to a Bafang mid-motor gear sensor that shuts off motor power when you shift gears. This reduces torque on your drivetrain which can put tension on the chain or even bend/chip the teeth on the rear cassette. The combination of the cadence sensor, gear sensor and 9 gear system makes riding the Drop feel very smooth and fluid. The motor system has been well-engineered to provide seamless power that is gentle on the drivetrain.
Lights

The Drop is a commuter bike so it has integrated front and rear lights for safety. The lights can be controlled on the left control pad and light power is displayed on the LCD screen. The headlight is an 80 lumen Spanninga AXENDO and the rear light is a Spanninga LINEO. Having lights not only makes it easier for the rider to see, it also greatly enhances your visibility in traffic so other bikes, cars, and pedestrians can see you on the road.
Pedal Assist: 5 Levels
The Drop uses a 24 magnet cadence sensor so rotating between assist levels is smooth and the motor provides assist commensurate with your cadence. From a full stop, a bit of throttle always helps get things going. The Drop has 5 levels of assist that will take you up to 28 miles per hour, so you can get some good speed on this bike. For those in Europe or Canada who may have stricter e-bike regulations, you can adjust the max speed in the computer to top out at 20mph in accordance with local laws.
Throttle
There is a thumb throttle on the left handlebar to augment assist as needed. The more throttle you use, the faster it will drain the battery, but throttle makes riding the bike both easier and more fun. It is also helpful when starting from a full stop.
Drop Components & Accessories
Brakes
The Tektro 180mm hydraulic disc brakes on both front and rear have dual-piston calipers to stop the Drop quickly when needed. The brakes have a motor shut off feature so when you pull the levers the motor will instantly stop generating power. This makes it so you don't brake against the motor. The handlebar levers are a 3-finger adjustable lever that are comfortable and easy to reach.
Fenders
Fenders are often an optional upgrade on e-bikes, but DOST includes them standard on the Drop. These are plastic fenders which reduce bike weight and also won't rust or corrode. The elongated rear fender runs down underneath the rear rack to protect both the rider and any cargo from mud splatter.
Fork
You do get a suspension fork on the Drop which helps a lot with comfort and bike control — especially if you are hauling cargo. The front fork offers up to 100mm of travel which helps mitigate bumps rather than jostle the bike all over. The SR Suntour XCT hydraulic fork has both lockout and preload, so you can adjust it per your weight and terrain. It is a quick-release fork which makes changing the tire easier.
Frame
The Drop frame is a low-step thru design (hence: dropped down tube) that is easy to get on and off. The frame comes in two colors: glacier white or space gray. DOST only offers one frame size at 17" in standover height but they have added some innovative adjustments to make the bike usable for riders from 4'10" to 6' tall. The seat post can be raised or lowered for a 31.5 – 40" range. The handlebars also have adjustable height so you can lower them to a 45" or raise them to 47". Reach can also be adjusted from 20" to 24". This makes the bike work for both smaller and taller riders, but it also allows for different riding positions. If you like to lean forward into a more aggressive seated position, you can tilt the handlebars down and back extending the reach and lowering the bars. For those who want to sit upright, the handlebar stem can be lifted as well as the handlebars to shorten the reach and raise the handlebar height.
Drivetrain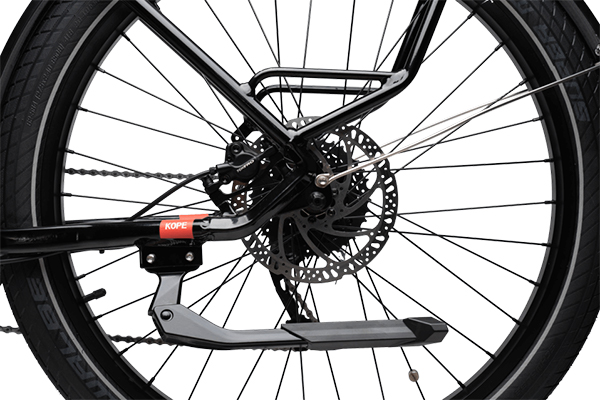 This is a 9-speed gear system with 11-36T in the rear cassette and a 46T chainring in the front. The rear Shimano Altus derailleur is sufficient. An aluminum bash guard protects the motor and the DOST branded chain guard keeps the anti-rust chain protected from impact or debris. The drivetrain is supported by the gear sensor mentioned earlier which turns off the motor when you shift to reduce tension on the chain. Sometimes shifting on an e-bike can take a bit of finesse due to the amount of torque on the chain from motor power, rider power and the overall bike weight. Trying to shift a heavy e-bike while riding uphill in a high level of assist can really strain the drivetrain. The gear sensor helps with this to prevent chipping the rear sprockets or even breaking the chain.
Grips and Saddle
The Drop saddle is slightly wider than a standard road saddle and padded for comfort. The saddle has a handle on the back so you can lift the bike from the handle rather than having to grab the rear rack to lift it. The grips are ergonomic and locking so they won't rotate around and they do have removable end caps if you want to attach mirrors here.
Pedals
These are flat, Wellgo aluminum pedals with non slip rubber cleats along the perimeter of the pedal to hold your shoe from slipping. You can wear any athletic shoe or even a sandal with these pedals. They may not be the most comfortable for bare feet, but certainly there are Californians who ride this way.
Kickstand
The kickstand is sturdy and supports the weight of the bike well. It is centered under the drivetrain just behind the pedals so you won't get pedal lock. The kickstand is also adjustable via a quick-adjust button on the side. You can extend the kickstand on lower ground or shorten it for city parking, etc.
Tires
DOST opted for 27.5" tires here which lifts you up a bit higher than other commuter/cargo bikes. This raises your attack angle and makes it easier to roll over road debris and other surfaces. The 2.4" width is also slightly wider than standard city tires which adds both cushioning and more grip on grass, gravel, dirt or other uneven surfaces. These are puncture resistant — always a nice feature — and the tires have reflective sidewall stripes for increased visibility in traffic.
Bike Size
This is a larger frame with only one 17.5" frame. But you can lift or lower the seat post as needed and adjust the angle of the handlebars on the handlebar stem – so even smaller riders can make the Drop work great. The bike weighs just over 60 pounds and you can feel it when tackling steep hills or riding on a lower assist level. But the Drop will support an impressive 300 pounds of combined rider/cargo weight. The rear rack is very sturdy and will support up to 100 pounds of cargo.
Summary Review / Where to Buy
DOST Bikes has listed the Drop at $2700 for the single battery set up and $3100 for the dual battery system. This puts it more in the mid price range for e-bikes, but you are getting a lot of high-end components here. The comfort, adjustability and durability of the frame are all impressive. The drivetrain is well powered and the mid-drive motor is centered and tucked inside and out of the way. We love the dual battery system which eliminates range anxiety and allows riders to commute longer distances with ease. The sturdy rear rack, dual fenders, and integrated lights all make this an excellent commuting bike. Even if you plan to just run to the grocery store, there is room for you and your bags — and you will be able to easily and safely navigate traffic as needed. The adjustable handlebars make the bike work for various sized riders without having to manufacture different frame sizes. DOST has really done a great job of thinking through what e-bike riders need and want and answering that with a bike that is both comfortable and well-engineered.
All DOST bikes are pre-assembled, so you just take it out of the box and you're good to go. Right now the company is backordered due to demand (and production limitations due to COVID), but when in stock, DOST indicates they will ship the Drop to you in 2 days or less. There is also a 14-day return policy. As a company, DOST is interested in quality and reputation not just sales and manufacturing and you can tell in the way the Drop is designed and marketed.
For those who may want the high-step version of this bike, DOST also offers the Kope, which is essentially the same bike just with a horizontal top tube.
We are impressed with this introductory e-bike. You can tell it has been designed by riders and engineers who have been in the e-bike industry for many years. The Drop is a quality urban commuter with tires and suspension that can tackle a bit of terrain, we look forward to providing more information via a test ride on this well-designed bike!
P.S. Don't forget to join the Electric Bike Report community for updates from the electric bike world, plus ebike riding and maintenance tips!
Reader Interactions