Cannondale Cargowagen Neo Review: First Look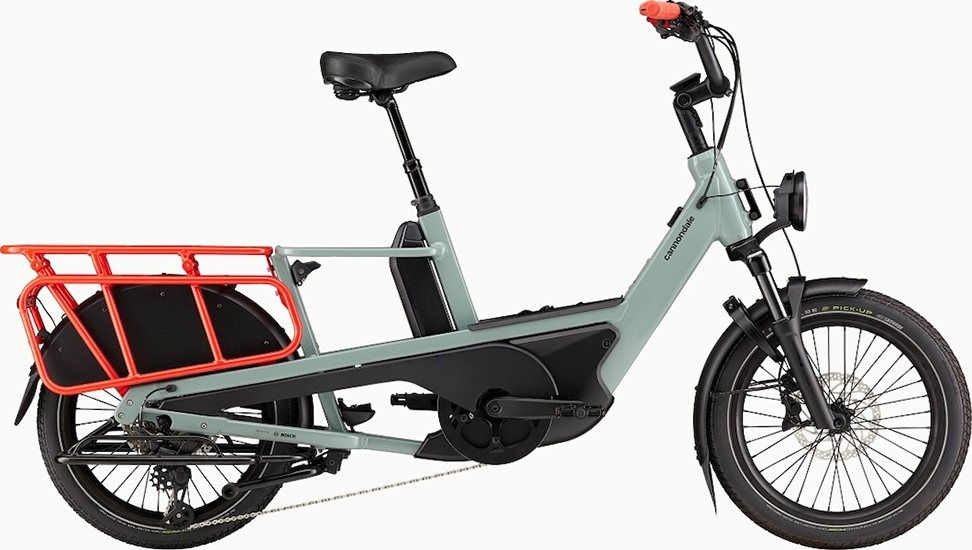 Cannondale has joined the cargo e-bike revolution. Remember when we said
2023 was going to be the year of the cargo e-bike
? Pardon us while we open our fortune teller biz. What has been notable in the many cargo e-bike introductions is just how many of these e-bikes have featured hub motors. In our review of the
Cannondale Cargowagen Neo
we will look at how this mid-drive design bears both similarities and differences to other cargo e-bikes.
Cannondale has been a premium brand for as long as they've been in existence. Their road bikes have been ridden to victories at the Tour de France and their mountain bikes have crossed the line first at the World Championships. While the Cargowagen Neo is obviously no racing machine, it benefits from Cannondale's deep experience in making high-quality bikes.
The Cargowagen Neo is a long-tail cargo e-bike, meaning it carries most of its load behind the rider, rather than in front of them. Long-tail designs are generally considered easier to ride because despite their long wheelbase, they turn more like a regular e-bike because the front wheel is much closer to the rider. Also, like many long-tail designs, the cargo deck is very low thanks to its 20-in. wheels.
Providing the muscle for this e-bike is a Bosch mid-drive motor and battery. The rest of the parts pick is decidedly high-end as well: a Shimano 10-speed drivetrain with a wide range cassette will make anthills out mountains and Tektro 4-piston hydraulic brakes will stop this e-bike even if loaded like a freight train.
Cannondale Cargowagen Neo Spec Review: Bike Overview
The Cargowagen Neo is a long-tail cargo e-bike with small wheels (20-in.) and a 250W Bosch mid-drive motor. It comes equipped with a 545Wh Bosch PowerPack battery, and can be equipped with a second battery for long-range use.
High-end components from Shimano and Tektro give this e-bike a quality presentation at every turn. And while this is Cannondale's first cargo e-bike, they have created a broad spectrum of accessories to outfit to fit the user's needs. Better yet, they have included a number of items that most makers of cargo e-bikes don't include, so while this is a pricier e-bike, Cannondale has loaded it with value.
Cannondale Cargowagen Neo Review: Specs & Features
Frame and fork
The Cannondale Cargowagen Neo rolls on a 6061 heat-treated aluminum frame. Its design echoes some of the other cargo e-bikes that have gained popularity. It is built for 20-in. wheels which provide several benefits: smaller wheels feature shorter spokes, which are stronger—a handy benefit. The smaller wheels also help keep the e-bike easy to maneuver while also keeping the e-bike's center of gravity low. Finally, building the frame for smaller wheels also enabled the designer to give the frame a wide opening and low overall standover height, another feature that will make this cargo e-bike easier to handle when starting and stopping.
Cannondale selected a Suntour Mobie suspension fork with 85mm of travel. This is one detail that holds the potential to frustrate riders. A suspension fork must be set up for the weight of the payload, not just the rider. Set the suspension up for a 180-lb. rider and the e-bike will ride well until a child and a couple of bags of groceries are added to the mix, at which point the fork will dive at each little bump. Our recommendation for any river would be to set up the fork for the maximum load they will ever carry with the understanding that the ride will be harsh when the load is lighter.
Motor and battery
When we first saw this e-bike announced, we guessed that because it was equipped with a Bosch mid-drive motor that they would spec the cargo line motor. We were wrong about that. Cannondale chose the Bosch Performance Line Speed motor, which is a Class 3 motor that will allow riders to reach a pedal-assisted 28 mph. It produces a whopping 85Nm of torque, which is good in a hub motor, but in a mid-drive motor it is even more impressive.
Like other Bosch motors, this produces 250W nominally, and because it is a mid-drive motor, it delivers power at the crankset, taking advantage of the 10-speed Shimano drivetrain. More on that in a bit.
It is equipped with a 545Wh Bosch PowerPack battery, which in another cargo e-bike would be cause for concern, but isn't with the Cargowagen Neo. Our rule of thumb for pairing a battery with a motor is that we want to see the motor's wattage roughly equal the battery's capacity as measured in watt/hours. That tends to give an e-bike solid range. On paper, pairing a 250W motor with a 545Wh battery looks terrific, but before we conclude this is a long-range champ we need to recall that this is a cargo e-bike with a payload capacity of 441 lbs. The heavier the load, the more power it will take to accelerate the e-bike up to speed and keep it there. While Cannondale doesn't give a range estimate, a busy person conjuring to work and picking kids up from school should still be able to ride for several days between charges.
Other than with eMTBs, there may be no other category of e-bike where having a torque sensor is more helpful, or welcome. Weighed down with a kid and a couple of bags of groceries, a rider needs power the moment they put pressure on the pedals, not a second or two later. The Bosch Performance Speed motor makes the application of power seamless with the rider's effort.
Components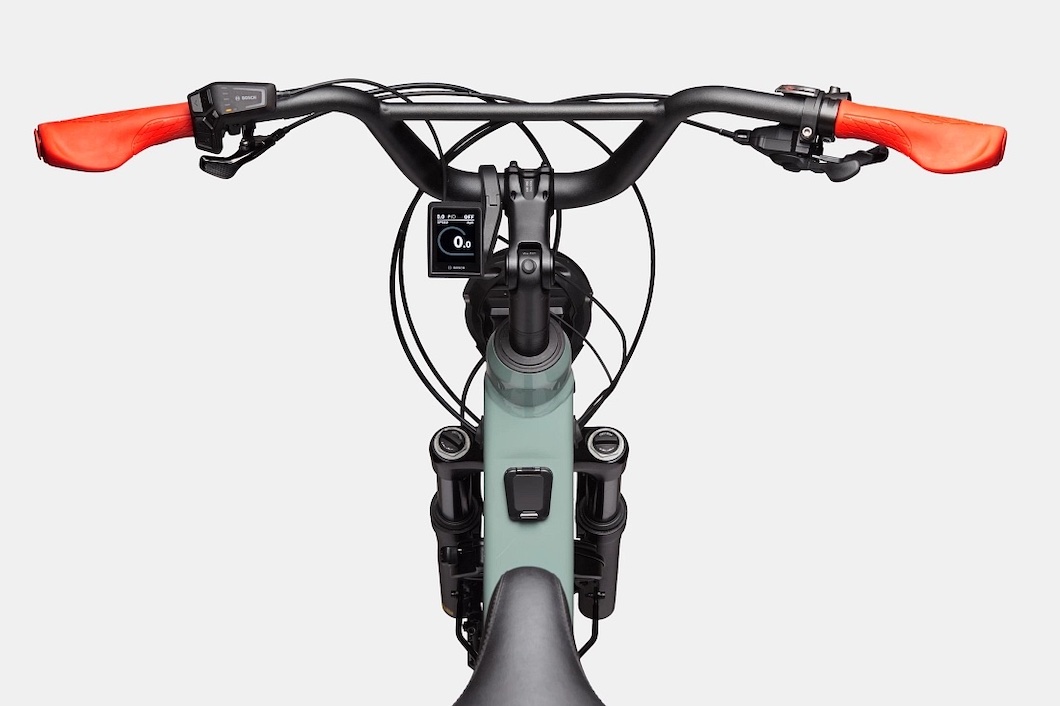 One of the first details we noted when looking at the cockpit components was Cannondale's decision to spec a 740mm-wide bar. Most commuter and city e-bikes come with a narrower handlebar, more like 680mm. The wider bar gives the rider greater leverage in controlling the e-bike and as a result they don't have to use as much muscle to control the e-bike.
The Cargowagen Neo is a one-size-fits-most design, but Cannondale obviously anticipated that this is an e-bike that might be ridden by multiple family members. To make rider changes both quick and easy, they equipped it with a dropper seatpost. Dropper posts jail hail from the mountain bike world where they are handy for allowing a rider to lower their saddle prior to a steep downhill, thereby enabling them to lower their center of gravity. In an instant they convert scary to fun. What most mountain bikers (and e-mountain bikers) don't know is that they were invented for rental fleets.
With a quick squeeze of a lever (the one on the left side of the handlebar) a rider can adjust the saddle up or down. While it's hard to criticize a quick release seat clamp, there's no doubt that the dropper post is both faster and easier.
Cannondale has included a number of other important necessary accessories (necessories?), such as a dual-leg motorcycle-style kickstand, which may not seem like a big deal until you try to load up kids and groceries. They also included better-than-average lights, an Abus ring lock, fenders and Schwalbe puncture-resistant tubes.
To further enable riders to dial the fit to their needs, Cannondale equipped the Cargowagen Neo with an adjustable stem.
Drivetrain, wheels and brakes
Gearing on a cargo e-bike is important. Climbing hills requires lots torque and the best way to generate that torque is with a low gear. Cannondale equipped the Cargowagen Neo with a 10-speed Shimano Deore Linkglide drivetrain. Thanks to a 10-41t cassette, this eBike enjoys double gear range we see in most value-oriented e-bikes—410 percent as opposed to the more common 200 percent.
Worth noting is the Linkglide designation Shimano gave this group. This is a relatively new version of Deore made specifically for e-bikes. What makes this different is the use of a wider chain, wider chainring and wider cogs. The additional metal in the cogs and chainring will last longer under the strain of the torque put out by the Bosch motor.
We've already looked at how the 20-in. wheels work with the frame design to make the Cargowagen Neo easy to handle, but there are some other laudable features when we look at the wheels.
The hub dimensions (15x110mm front and 12x148mm rear—axle diameter x axle width) are a relatively new standard drawn from mountain bikes and eMTBs which will add strength to the wheels, making the handling just a bit crisper.
As we noted earlier, the payload capacity for the Cargowagen Neo is 441 lbs. (200Kg). Loading up a cargo e-bike with 400 lbs. isn't easy, but Cannondale aims for riders to be safe if they do. They spec'd Tektro 4-piston hydraulic disc brakes with 203mm rotor front and a 180mm rotor rear. This is a powerful setup, as powerful as we've seen on a cargo e-bike.
Cannondale Cargowagen Neo First Look Review:
If it seems like we are partial to cargo e-bikes, that's only because it's at least partly true. They are the SUVs of the e-bike world, ready to commute to work, pick the kids up from school, grab a gallon of milk and some other necessities at the grocery store and allow you to arrive home having run all the errands and just enough exercise to put a smile on your face.
We are especially impressed by some of the touches that show Cannondale went above and beyond with the Cargowagen Neo. Including the second battery mount and running boards are both great touches, as is including brighter-than-average lights. Better yet was their decision to spec Shimano's Deore Interglide group. E-bikes with mid-drive motors tend to wear out the chain and cassette faster than e-bikes with hub motors because all of the wattage goes through the chain, rather than just the rider's effort. The Interglide group is the only drivetrain on the market made specifically for the rigors of e-bikes with mid-drive motors. Similarly, the choice to go with Tektro 4-piston hydraulic disc brakes is a serious vote for top-notch rider control. Spec'ing a dropper post to make rider changes both quick and easy is emblematic of all the other thought that went into this e-bike.
Cannondale offers two different front racks, a surround rail for kids, seatpads for kids and panniers for carrying necessities. Considering the mount points we see on the frame and the rear rack, we expect that Cannondale may yet introduce some more accessories.
Considering the many other cargo e-bikes we've seen introduced, while yes, this is more expensive than most, this is an extremely well-designed and spec'd e-bike. The one bummer about most cargo e-bikes is that after paying for the e-bike the buyer still needs to order several hundred dollars more in accessories. The Cannondale Cargowagen Neo isn't fully kitted out by any means, but including bright lights, running boards, the pin lock and including a dropper post make this a friendlier purchase than most.
Anyone with kids who is contemplating the purchase of a cargo e-bike would do well to take a hard look at the Cargowagen Neo. We believe it will stack up nicely against most other cargo bikes on the market.
Reader Interactions