Aventon Aventure Step-Through Review 2023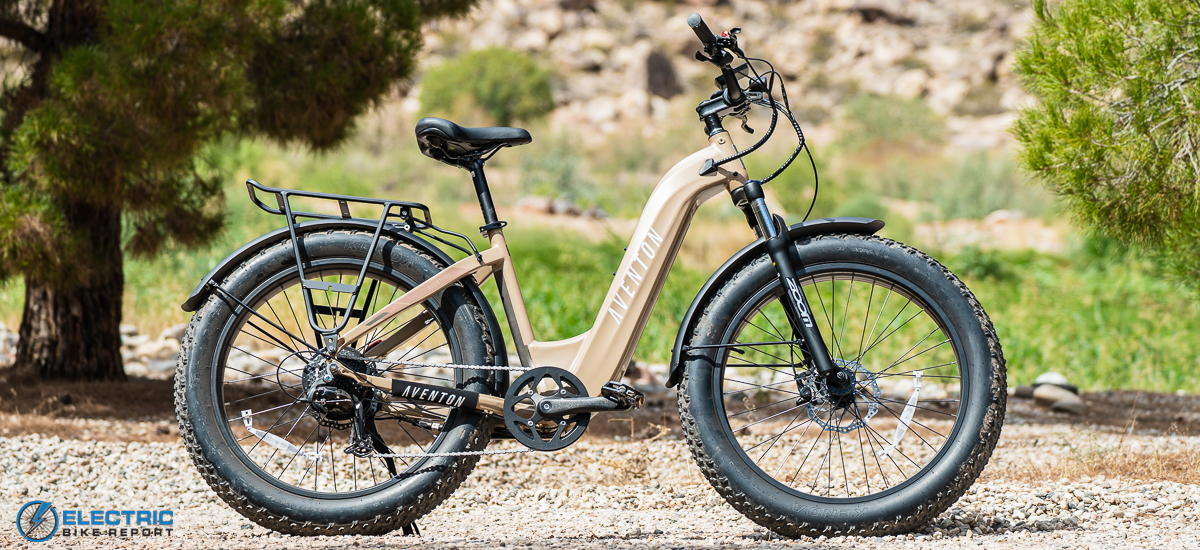 Aventon Aventure Step Through Review: Overview
Looking for the latest Aventure review? Click here for our Aventon Aventure 2 review.
During the Aventon Aventure Step-Through review process I quickly learned why this bike is held in high regard by many, including my Electric Bike Report counterpart, Sam Gross, who reviewed the standard Aventon Aventure earlier this year.
The Aventure is a rugged, refined jack-of-all-trades that comes alive thanks to its 750W motor, 4-inch wide tires, and a long lasting 48V, 15Ah battery.
I really enjoyed the freedom that the Aventure provided me with, I never felt confined to one riding style or terrain because of the fat tires, high rolling speeds, and powerful hub motor. I was able to go where I pleased without the worry that I was potentially pushing the bike out of its element.
I tested the Aventure Step-Through's hill climbing ability, battery range, stopping power, handling and more throughout the review process. All of our tests reaffirmed that the Aventure is a well-designed, high-performance electric bike that will suit your needs whether you're on a paved path joy ride, or on a rocky expedition.
By the end of this written review, you should have a good idea of if the Aventon Aventure Step-Through is the right bike for you and how it stacks up against the other Aventon e-bikes we've reviewed.
Bike Category: Fat Tire/All Terrain
The Aventon Aventure is an electric fat bike capable of Class 3 speeds and light-duty off-road use.
Bike Class:
Ships as Class 2: PAS/Throttle assist, up to 20 mph | Programmable to Class 3, throttle assist to 20 mph, PAS up to 28 mph
Aventon Aventon Aventure Step Thru Video Review

Pro's
The Aventure Step-Through's 750W motor and fat tires allow the Aventure to perform well on most terrain.
The hill climbing ability of the Aventure Step-Through impressed our team. I found myself choosing to ride the steeper routes in town because of the way the Aventure was able to manage them.
The Aventure Step-Through combines great aspects of both a fat tire bike and a mountain bike. It feels like a high performance mix of the two.
Aventon has definitely put some effort into the Aventure as a whole. It feels and rides like it's very well put together and thought out.
The battery life of the Aventure Step-Through is impressive, especially when you consider how much power the motor is capable of producing.
Despite its performance/all-terrain design, the Aventure Step-Through still provides lots of comfort, even on longer rides.

Con's
There was an occasional motor lag when resuming my pedal stroke after tapping the brakes. Sometimes it felt like the motor had to gather itself before boosting me back up to speed.
The fenders can rattle and vibrate quite a bit especially during off-road riding. I would like to see either a sturdier set of fenders, or I'd leave them off the bike altogether.
ELECTRICAL SPECS & FEATURES
Battery: Removable internal lithium-ion 48V, 15Ah (720Wh)
Display: Backlit LCD display with color screen
Motor: 750W, 48V Bafang brushless rear hub motor
Headlight: Handlebar mounted and controlled via LCD display
Taillights: HandlIntegrated into the left-hand seat stay, brake operated
Peal Assist: Levels 1-5
Claimed Range: Up to 45 miles
EBR Tested Range: 47.45 miles on PAS 1 and 25.43 miles on PAS 5
Throttle: Left side lever throttle
Weight & Dimensions
Battery weight: 10 lbs
Claimed weight: 73 lbs
Real weight: 73 lbs
Maximum rider weight: 250 lbs
Maximum load on rear rack: 55 lbs, *rack not included
Dimensions: 32.5" x 25.75" x 72" (height x width x length)
Components & Accessories
Brakes: Zoom hydraulic disc brakes, 180mm rotors
Fenderss: Alloy, front and rear
Fork: Zoom spring fork with 80mm travel, lockout included
Frame: 6061 single-butted aluminum
Drivetrain: SunRace M4 8-speed
Grips: Velo lock on rubber grips
Saddle: Aventon by Velo
Handlebar: Aluminum, 680mm wide
Kickstand: Yes
Pedals: Alloy platform
Tires: 26" x 4.0," e-bike rated
Aventon Aventure Step Through Review: Performance
Acceleration / Speed
One of the first things you'll notice about the Aventon Aventure is that it's capable of high speeds and powerful acceleration. I was really fond of how the Aventure accelerated; it really eased me into higher speeds at a rate that felt safe and in control.
The Aventure is programmable via the Aventon app, where you can modify the top speed of the Aventure through your phone. We set the Aventure up as a Class 3 electric bike, with a top speed of 28 mph. When I rode on flat ground it was easy for me to hover above 25 mph, and on steep hills I was impressed with the speed I was able to maintain despite the bike's size.
Between the size of the motor and the programmable performance settings, the Aventure can be whatever you want in regards to speed. Not a speed demon? No worries, as the Aventure's top speed can easily be limited in the aforementioned Aventon app.
The way the Aventon Aventure is able to climb hills and hover around the maximum Class 3 speed of 28 mph speaks numbers to the bikes overall capabilities.
Range Test
It took me 25.43 miles for the Aventure's 48V, 15Ah battery to die when pedaling on maximum assist (PAS 5). Considering I had an average speed of 22.6 mph I was pretty excited about my results.
We also tested out the Aventure in the lowest pedal assist level. It took our test rider 47.46 miles for the battery to die. He rode at an average speed of 11.6 mph which is about what I'd expect for the lowest pedal assist level.
The Aventure did a good job of walking the fine line between long battery life and high speed, which is easier said than done. The Aventure also continued to assist me for 2.5 miles despite the battery reading "0%". It goes without saying that the lower the pedal assist level the higher the range. Higher pedal assist levels will yield more speed, and a shorter range
Circuit test
Here at Electric Bike Report, we conduct a circuit test where we ride around a 1 mile loop in each pedal assist level and with the bike turned completely off. This gives us a good idea of how much assistance you receive in each assist level, and how much the assist varies from level to level.
The Aventon Aventure ended up having one of the most linear power curves we have seen so far. In simpler terms, each assist level is going to consistently increase your average speed by around 3 mph.
The linear power curve makes for more predictable and consistent jumps from level to level. I noticed that each pedal assist level accelerated quickly, but only to the top speed that PAS level was limited to.
Aventon gave the Aventure a very true minimum, and maximum pedal assist level meaning the bike can either be extremely conservative with its assistance or it expend lots of energy boosting the rider as close to maximum speed as possible.
Hill Test
The Aventure's 750W geared hub motor showed us its power when climbing up our quarter-mile test hill, which possess grades of over 12 percent. When I was climbing the hill I only had to shift once or twice because the sheer power of the bike allowed me to maintain the gear I was in for quite a while.
As the hill got steeper the bike took over more and more, and by the time I was at the top I noticed that I had clocked one of our fastest PAS 5 hill climb tests to date. It only took me 57 seconds to reach the top of our quarter-mile test hill. Typically we are used to bikes clocking times around 1:30-2:00, so the sub minute result up our test hill really speaks numbers to the power the motor is able to produce.
The Aventure is able to take over in situations that normally cause a lot of rider strain like steep hills, and sandy loose routes. It really goes to show that Aventon had these situations in mind when designing and tuning the Aventure. It takes a steep hill to really show what the electric bikes we test are capable of, and the Aventure proved itself to be one of the more refined and powerful fat tire bikes we have tested.
When we tested the Aventures hill climb ability using throttle only it took me 1:12 to get to the top of our test hill, speaking numbers to the power the 750W motor is capable of producing.
Handling
The Aventure puts the "A" in all terrain. With what feels like a standard hardtail mountain bike geometry, robust fat tires and 80mm of suspension, the Aventure ended up being equally capable on paved and unpaved roads.
I was able to get low and maintain speed around corners better than I was expecting on the Aventure; the suspension fork also improved the overall handling as it tracked the ground well and gave me additional traction in bumpy and rocky terrain.
The 4-inch wide fat tires offer a wide range of runnable pressures and I was able to inflate them relative to the terrain I was riding that given day. These tires have withstood over 80 miles of test riding without getting punctured.
The way the Aventure handles allowed me to be extremely confident at high speeds. There were a couple of instances where I reached over 40 mph on a downhill and the bike felt just as stable as it did at lower speeds.
Between the fat tires, suspension, wide handlebars and overall geometry, the Aventure proved ready for everything we tested it on.
Ride Comfort/Geometry
The Aventon Aventure Step Through feels like a mix of a fat bike and a hardtail mountain bike (with a motor and battery of course).
The upright positioning and wide seat kept me comfortable for long periods of time without tampering with the all-terrain performance of the Aventure. Both the upright position and wide seat feel like a good median of comfort and performance.
The fat tires and suspension fork also added quite a bit of comfort to the Aventure. From cracks in the road to rocky singletrack, the fat tires and suspension fork absorbed a lot of vibrations that would otherwise lead to discomfort and fatigue.
I also like how tacky and grippy the rubber grips are. While they aren't the softest grips it was easy for me to maintain a firm grip on them.
A lot of the components that kept me comfortable also allowed me to ride more confident and in control. I always say that comfort is speed and I think the Aventure is a perfect example of that.
Aventon Aventure Step Through Review: Electric Components
Motor
The 750W rear hub motor is one of the main components that make the Aventure so capable. The way the motor was able to take over on hill climbs really impressed me and I rarely had to shift to an easier gear because of the power it was able to produce.
Sometimes it takes a second for the motor to engage, especially when I grabbed the brakes then resumed pedaling. This isn't by any means a major con as cadence sensors usually require a full pedal revolution before engaging the motor. With that being said it is something that is worth taking into consideration. On the flip side, the slower motor engagement is arguably safer than if it were to engage immediately and because of that I feel sort of neutral on the motor engagement.
The motor is strong enough to take over on steep hills, and keep you around any Class 2, or 3 speed you please. You can change the motor's top speed via the Aventon app.
Battery
The 48V, 15Ah battery is one of the larger batteries we've seen internally integrated on an electric bike of this price point. Not only does the battery hold plenty of juice, it also fits nicely into the downtube of the frame.
The battery proved its worth to our team during our range tests, where we tested how far the battery would last on minimum, and maximum pedal assist. Our results showed that even if you ride at the Aventures top speed of 28 mph the battery should last at least 20 miles.
Between the low-profile integration and the long life span, I think the 48V, 15Ah battery is a nice addition to the Aventure.
Pedal Assist / Throttle
The 5 pedal assist levels included on the Aventure are easily distinguishable from one another in feeling and power. Aventon seemed to tune the Aventure to accelerate quickly in every pedal assist level which I really enjoyed the feeling of.
PAS 1 and PAS 5 both showed the motors acceleration, however PAS 1's acceleration stopped around 10 mph while PAS 5's acceleration didn't stop until around 28 mph.
Based on our Circuit Test results, the Aventure has a very linear progression when it comes to its speed. Each pedal assist level will add around 3 mph to your average speed.
The lever throttle offered me plenty of speed modulation without needing to pedal. It eased me into higher speeds at a comfortable pace. Some throttles feel like they're going to blow you off of the back of the bike. Thankfully, this is not one of those throttles.
Display
The colored LCD display is one of the nicest ones I've seen, and that's saying something considering we have tested electric bikes that cost triple the Aventure. This LCD display not only looks good, it provides a lot more data than your average LCD display.
The Aventon Aventures display includes the standard battery percentage, speed, milage, trip mileage, and PAS level. The display also includes additional features and data such as how much carbon you've saved by riding instead of driving. They show this data in a "trees saved " metric, which definitely encourages using the Aventure instead of your car.
Overall I am really happy with the Aventures LCD display. The percentage based battery readout allowed me to truly gauge how much charge I had left, and I was always happy to see another saved tree added to our list (we have 5 now).
Aventon Aventure Step Through Review: Components and Accessories
Aventon seems to understand the role of each component, and how to choose components
that are good in performance and price. Creating a seamless feeling from component to component is no easy task, and some brands do better than others.
We think Aventon is doing a good job with their choice of componentry, especially when you take pricepoint and COVID shortages into account. Take the Aventures 80mm Zoom suspension fork for example, is it the latest and greatest suspension fork out there? No. Does it get the job done and keep the price low? Yes. Yes it does.
Brakes
The Zoom hydraulic disc brakes are paired up with 180mm rotors front and rear. These brakes have plenty of modulation and stopping power. I was able to modulate the stopping power of the brakes as much as I wanted and I had enough stopping power to completely lock up the rear wheel when I pleased.
On our brake test it took us an average of 14-feet-6-inches to stop from 20 mph. All things considered my results are solid considering the fact that this bike weighs over 70 lbs.
The standard Aventon Aventure we reviewed earlier this year came with Bengal hydraulic disc brakes which only took an average of 11-feet 1-inch to stop. While the Bengal brakes provided us with a shorter stopping distance than the Zoom hydraulic brakes did, the Zoom brakes still are plenty powerful to stop you quickly and safely. The Zoom brakes 14-foot result is still better than average among the heavy fat tire electric bikes we have tested.
Frame
The 6061 alloy low step frame holds all the beauty and visual characteristics from the original Aventon Aventure, except without a top tube. I think Aventon is doing a good job with the way they have designed this frame, it has a mount for a water bottle cage and holds the battery within the downtube nicely.
Fork
The 80mm Zoom suspension fork comes with a lockout and has enough travel for all the off-road riding that I put the bike through. The Zoom fork's 80mm of travel isn't a whole lot but when combined with the fat tires the Aventure absorbs trail chatter and vibrations quite well.
When the Aventure died during the range test I locked out the fork and was pretty impressed with how much easier it made pedaling.
Drivetrain / Shifting
The SunRace M4 8-speed drivetrain provides a wide enough gear range and smooth enough shifting for all of the on-road and off-road riding that I did on the Aventon Aventure. The shifter provides very clear and crisp shifts between gears, however at first the shift lever felt a little hard to engage. It almost felt too crisp, and not easy enough to push. With a couple of miles I got used to the way the shifter engaged and it wasn't much of an issue at all.
I was able to pedal the bike turned completely off without much issue thanks to the easier end of the eight-gear range. The hard end of the eight gear range allowed me to maintain high speeds without using too much power from the motor and battery.
The standard Aventure we tested earlier this year came with Shimano's 8-speed Acera drivetrain which gave us reliable and consistent performance. Both the SunRace and Shimano drivetrains we've tested feel good. There isn't much variance in performance, only feeling in the shifter.
With the all terrain design of the Aventure was happy to see gearing that matched up nicely with the bikes intended use.
Contact Points / Comfortability
The Aventure Step-Through is comfortable for long periods of time due to a few key components and the pedaling position this bike possesses. The saddle felt like a good median of being comfortable while still being sporty enough that I was able to move around without a big seat hitting the insides of my legs.
The Velo rubber lock on grips feel very tacky and are easy to get a firm hold on. The hold I was able to maintain on these grips helped me maneuver and manage the Aventure during off road sections. The grips are connected to a 680mm alloy handlebar which is wide enough that stability at speed or trail chatter were never an issue.
I am a big fan of the Step-Through aspect of the Aventure. Not only does it help when getting on and off the bike, it also adds some visual points to the bike in my opinion. This may be a hot take, but I'd argue the Aventure Step-Through is better looking than the standard.
The nice thing about all of the contact points is that they are easily replaceable if you prefer a different style, or feeling. With that being said I think Aventons choice in componentry is great for the Aventure and its intended use.
Tires
The Aventure's 26" x 4" puncture resistant tires play a big role in the overall ride experience. These tires possess more than enough traction and hold their momentum surprisingly well for how wide they are. It was easy for me to get low on corners and stick to a line without getting bucked around or bullied by the rougher terrain.
The large amount of air these tires hold smooth out rougher surfaces which kept me comfortable for longer. The large air volume also allows you to adjust the tires' feeling and overall performance.
I've ridden plenty of on road and off road miles on the Aventure, some smoother than others; the tires have held up strong to wear and tear and puncture resistance.
Extras / Accessories
The Aventure Step-Through comes with alloy fenders front and rear. If you're looking to add some personality and additional utility to the Aventure there are plenty of additional accessories available for purchase on Aventons website. Aventon sent us the Aventure rear rack which was quick to instal and useful for hauling additional cargo.
Aventon has one of the bigger selections of additional accessories I've seen on an electric bike website, so it shouldn't be any issue setting up the Aventure the way you want it.
Aventon Aventure Step Through Review: Summary / Where to Buy
The Aventon Aventure Step-Through review showed how the little details can add up into one extremely capable fat tire e-bike. The Aventure is one of many affordable options in the electric fat tire e-bike space, however I genuinely see the Aventure as one of the best bang for your bucks out of any of them.
Aventon's experience in manufacturing bikes is very apparent in the Aventure. Take the seamless integration of the 48V, 15Ah battery for example. This battery is by no means small, yet it still sits nicely within the downtube of the frame. The calibration of the different pedal assist levels also show the thought put into the Aventure. The jump from one pedal assist level to another was predictable and consistent. As I mentioned in our circuit test section the Aventure Step-Through has one of the most linear power curves we have seen.
One of my favorite things about reviewing the Aventon Aventure Step-Through is how I wasn't confined to one surface when testing it. I was able to go pretty much anywhere I pleased on the Aventure. I didn't have to worry much about riding terrain that would damage the Aventure which allowed me to feel that much more freedom when riding around.
The combination of power and speed from the 750W motor played a large role in making the Aventure Step-Through come alive. I clocked one of the fastest times up our test hill, and around our circuit test loop. The Aventure also showed to be strong enough that you don't have to pedal when ascending a hill if you don't want to.
As a whole, it was really hard to find something I disliked about the Aventure. It's a quality electric bike from a reputable company in Aventon. As far as things I would like to see on the future renditions of the Aventure, I wouldn't mind slightly wider handlebars for additional stability in high speed and/or off-road scenarios. A little quicker motor engagement would also be nice, however it isn't terrible as it is.
If you're looking for a capable and versatile all-terrain e-bike the Aventure Step-Through is a great option. The Aventure's ability and stability are going to allow you to focus more on the world around you and less on worrying about beating up the bike you're riding. The Aventure is going to do most things well, it can be a high speed commuter just as easily as it could be a forest road explorer. With such a well versed electric bike, it's really up to you where you decide to take it.
'Happy Riding, make sure to let us know if you have any questions down in our comments section or if you think we left anything out in this review of the Aventon Aventure Step-Through.
Reader Interactions