E-bike News: Addmotor E-trike, Raleigh Trace Lightweight and Much More!
EBR sometimes wonders why some designs of e-bikes just aren't more popular with manufacturers as there seems to be loads of interest in them out there. Take electric trikes; we reviewed the Evelo Compass electric trike and so far it has racked up over 100,000 views for the Youtube video. So it's great to see Addmotor's new extra capable version of its electric trike hit the market. It's got an extra big battery and a powerful drive system, showing that e-trikes don't have to be the poor cousins of two-wheeled e-bikes in performance terms.
The rest of this week's news is wideranging, including self-extinguising battery fire technology, automatically speed restricting vehicles being piloted on NYC streets and the strangely abrupt events at Bolt Mobility in cities across the US.
In this week's e-bike news:
Addmotor e-trike gets new bigger battery and drive system

Job's micro fire extinguisher system implanted into batteries

NYC pilot intelligent, active motor vehicles that speed-govern themselves

Bolt Mobility funding dries up and leaves their vehicles stranded and 'locked'

Share e-bikes for London's ever popular 'official' bike hire system

The motor systems looking to challenge the market leaders
ADDMOTOR E-TRIKE UPDATES DRIVETRAIN AND ADDS BIGGER BATTERY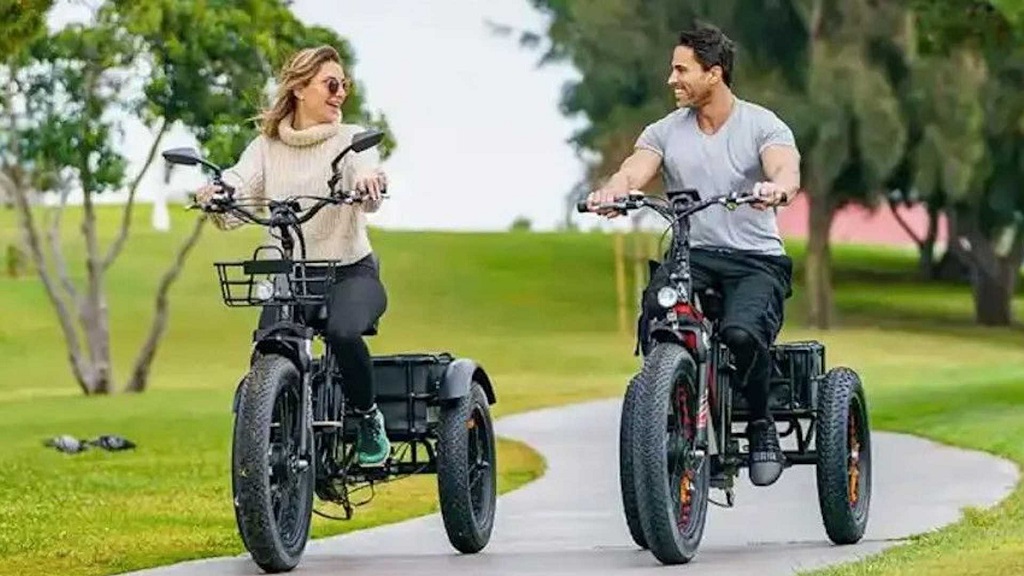 Insideevs reports that 'Addmotor is shaking up the game with the newest update to its popular electric trike, the M-340, which now gets a new powertrain and a bigger, better battery.'
The M-340 claims 125 miles of range from the newly enlarged 960 Wh battery which uses Samsung 21700-format battery cells. It also uses Addmotor's EB2.0 system which was first used on their E-53 City Pro model last year.
Other spec on the M340 includes 750W rated front hub motor, 7-speed transmission and hydraulic disc brakes. It has a rider weight rating of around 350lbs with additional cargo rating of 100lbs. Retail price is $2999.
RALEIGH UK RELEASES ITS LIGHTEST E-BIKE YET
Raleigh recently launched what it says is its lightest ever e-bike, the Trace. An urban hybrid with an integrated battery, weighing in at 16.5kg / 35lbs and selling for £2,199.
The Trace spec includes Mahle's lightweight ebikemotion X35 rear hub motor system, which means you get a 40Nm rear hub motor and a 250Wh frame-integrated battery. There are also mudguards, integrated lights and a rear carrier.
GERMAN COMPANY AIMS TO MAKE BATTERY FIRES A THING OF THE PAST WITH 'MINI FIRE EXTINGUISHER'
Battery fires are incredibly rare but make the headlines when they happen and hold obvious dangers to life, especially given e-bikes are often stored inside. So Bike Europe's report on what it describes as a 'tiny fire extinguisher' is fascinating.
Called the E-Bulb, it's a small glass ampoule filled with liquid and German company Job developed the device and now makes half a million a day, with many ending up in static applications like sprinkler systems in underground car parks.
How does it work? – the ampoule is placed in a thermal fuse made of fire-retardant plastic. If the temperature in this actuator rises above 165° C, it will burst and activate a mechanism that breaks the circuit, lowering the voltage by tripping battery segments. This greatly reduces the risk of short circuits, electric arcs and the like. At the same time, the ampoule injects a liquid into the thermal fuse. This extinguishes any arc flashes and acts as a mini fire brigade in the battery.
Whilst e-bike batteries could potentially benefit from it, the article says 'The E-Bulb is currently being tested for cars. If everything goes according to plan, the minuscule ampoule should be part of the standard equipment of electric cars from 2024.'
HUNDREDS OF SHARE E-SCOOTERS AND E-BIKES ABANDONED ACROSS THE US

NYPost reports 'A startup co-founded by legendary Jamaican sprinter Usain Bolt has run out of money — and has abandoned hundreds of unusable electric scooters and bicycles across the US. Bolt Mobility has abruptly stopped operating in eight US cities over the past several weeks, leaving behind pricey mini-electric vehicles that can only be unlocked through its now-nonfunctioning mobile app.'
Apparently abandoned Bolt vehicles can be found in places as wideranging as Portland, Oregon; St. Augustine, Florida; Richmond, Virginia; Richmond, California; and Burlington, South Burlington and Winooski, Vermont.
A notice on Bolt's website says that the company was forced to "significantly scale back operations" on June 30 after investors "failed to deliver" expected fundraising.
Note Bolt Mobility is not to be confused with an Estonian transportation startup and an American payments company that all share the same name. Indeed, Intelligent Transport reports on a 150 million euro expansion of the completely unrelated European shared mobility provider Bolt.
INTELLIGENT ACTIVE SPEED CONTROL TO PILOT ON NYC MUNICIPAL VEHICLES
ABC7NY reports that 'New York City is trying to put the brakes on speeding by implementing new technology in city fleet vehicles as part of a pilot program.'
'Mayor Eric Adams and Department of Citywide Administrative Services (DCAS) Commissioner Dawn Pinnock announced the implementation of active intelligent speed assistance (ISA) technology in 50 vehicles.'
This technology – if it takes off – may have implications for e-bikes and in particular speed-pedelecs as it could potentially be used to allow them into bike lanes by automatically governing their speed when they enter them. A similar active, remote speed control system was indeed tested in the Netherlands on speed pedelecs back in 2020.
500 SHARE E-BIKES FOR LONDON
The UK's Guardian reports that 'Transport for London is to relaunch its cycle-hire scheme with the addition of e-bikes next month – but will increase charges for some users to meet rising costs. The long-established initiative, which was used a record 1.3 million times last month, will be boosted by 500 electric bicycles from 12 September.' The e-bikes will be dockable at any of the scheme's 800 docking stations.
WILL NEW BUT LITTLE-KNOWN MOTOR SYSTEMS BREAK THE BIG HITTERS' STRANGLEHOLD?

Ask any e-bike rider to name a popular motor system and they might say Bosch, Shimano or perhaps Bafang, Brose or Yamaha.
But recent reports show little known firms may be coming up on the outside in the motor system race in a bid to break the dominance of a handful of companies. Most notably Cycling Industry News reports on how Asian based Hyena Smart e-Bike Systems 'has revealed a pair of new drive systems targeting both the heavy utility and lightweight performance eBikes segments.' Hyena's E-Utility drive system unit is powered by a 750W rear hub drive and equipped with an 810Wh high-capacity removable battery.
Perhaps most surprising is that CIN previously described Hyena as 'A relatively young company in the eBike space, debuting only at this year's Taipei Cycle show in Taiwan, that hasn't stopped the product featuring with brands such as Cannondale, among other high volume brands.'
There are also below the radar German mid-drive manufacturers who are looking to shake things up in future, such as Amprio and Metz.