2021 Sea Otter Day 3 – The Coolest Things We Saw
We traded wind and cold for hot, hot heat in Monterey for day three of the 2021 Sea Otter Classic, which gave us ample excuse to hide in the shady vendor tents and comb through some of the cool new products being shown off at the show.
From a fully-customizable electric gravel bike to 3D printed products and a super rad hanging bike rack, here's what caught our eye on the penultimate day at Sea Otter 2021.
Alchemy Bikes eRonin — a fully customizable electric gravel bike
Custom is cool, and Alchemy Bikes of Colorado builds the eRonin; a fully custom electric gravel bike that can be made exactly to your specifications — from custom geometry to custom paint.
Alchemy had a fully done up custom eRonin on show at Sea Otter this year in a really cool iridescent color. The bike is powered by a Fazua Evation drivepack — a 255W motor we really, really like — and Alchemy has even gone as far as to color match the Fazua's casing to match the rest of the bike. Fazua-equipped e-bikes are already super stealthy, but painting the drivepack made it so incognito it took us a minute to notice it was an e-bike. . 
Rubicon Expedition Products Corral bike rack — holds six 60 lb e-bikes
Built in the shadow of the Sierra Nevada mountain range in Sacramento, California, Rubicon Expedition Products makes one of the most lux hanging bike racks we've seen so far at Sea Otter.
The Corral Rack, which in its largest variation can carry up to five 60 lb e-bikes, is 100 percent made in the U.S. and made predominantly of aluminum aside from its steel backbone. That aluminum frame makes the rack notably light — just slightly more than 70 lbs — and you can choose from a variety of accent colors to make the rack match your bike or the car it's mounted on.
Hiplok D1000 grinder proof lock
It's not everyday you get to take an angle grinder to a $300 bike accessory, but for us, today was that day.
The brand new Hiplok D1000 is arguably the most theft-proof bike lock ever created. With a shackle made of ultra-strong Ferosafe graphene reinforced composite, the D1000 is claimed to withstand multiple cutting attempts from a high-powered angle grinder. Hiplok is so confident in this claim they loaned us a grinder and let us loose. About thirty seconds and one brand-new grinder blade later, the D1000 made waste of the blade.
The Hiplok D1000 is currently on Kickstarter and is expected to retail for about $300.
Saris Door County electric lift bike rack — an e-bike elevator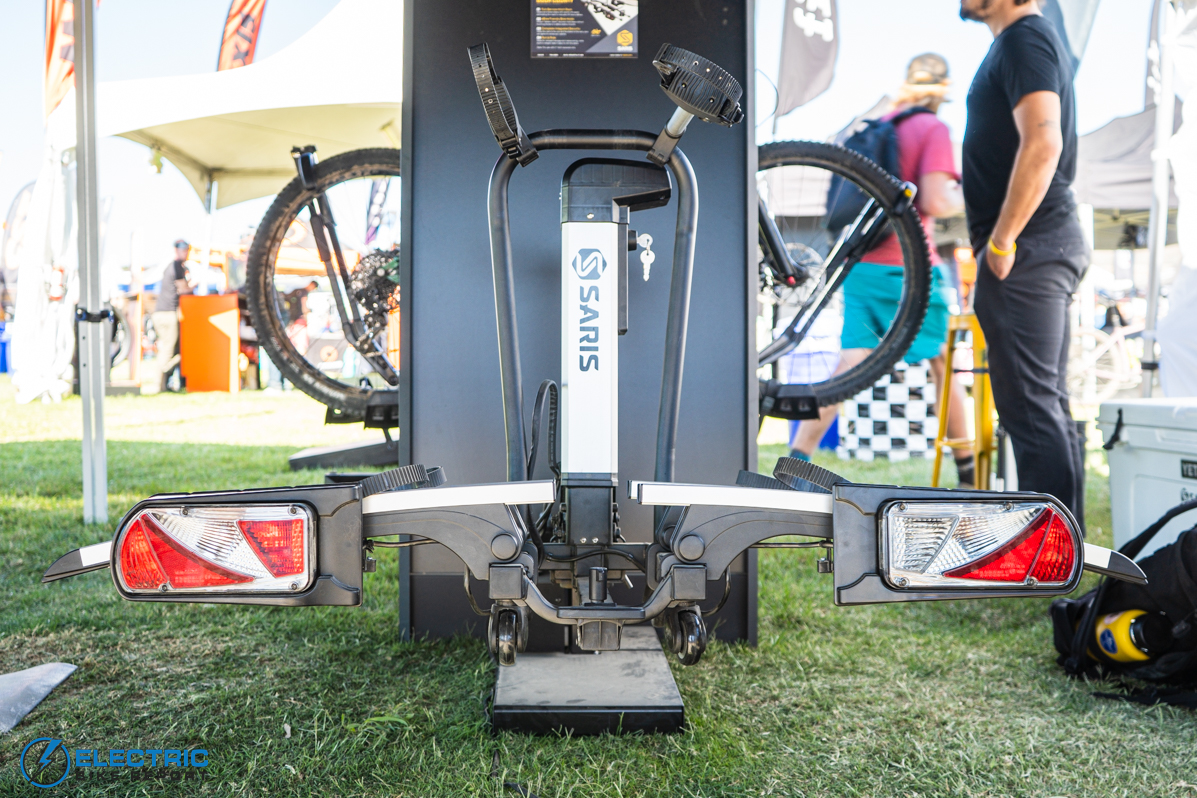 The race to build the most user-friendly e-bike car rack is definitely heating up, and the Saris Door County bike rack is a strong contender for one of the top spots.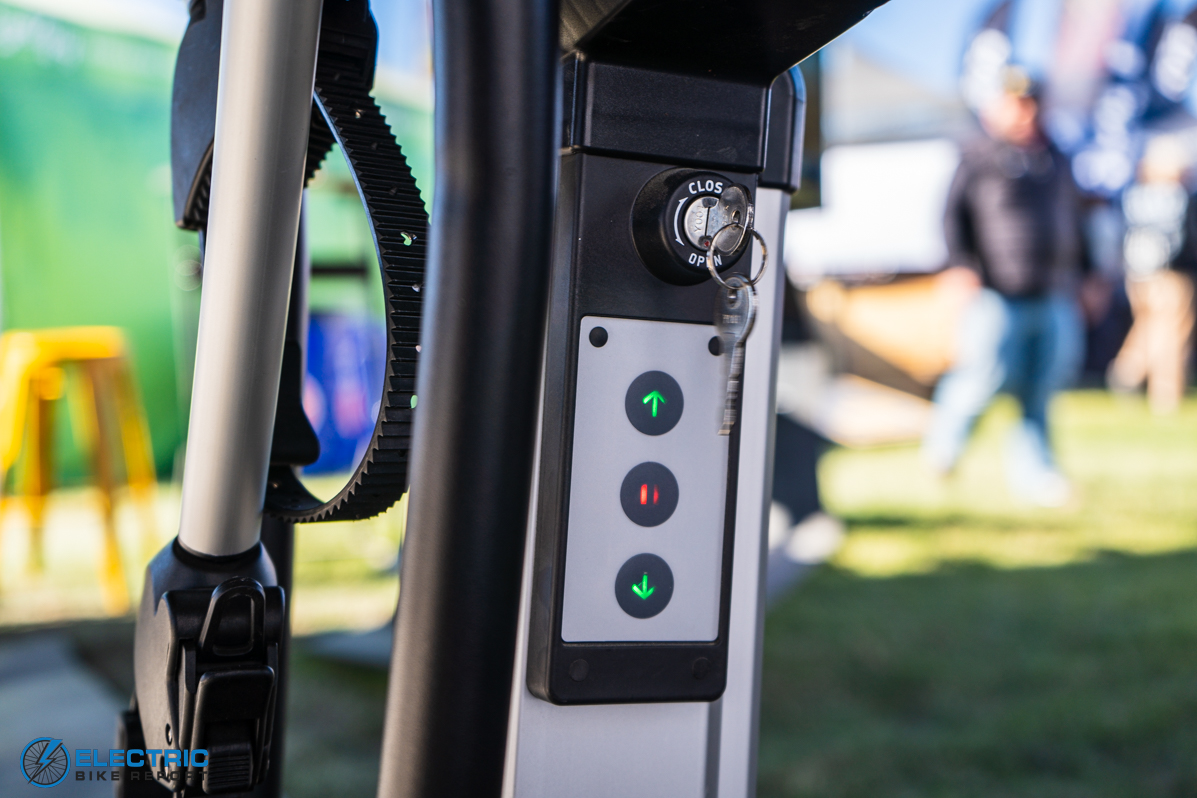 The Door County is a tray-style bike rack capable of carrying two 60 lb e-bikes, but here's the kicker: You never need to lift your bike to load it onto the rack. Instead, the Door County actually lowers down to ground level via an electric lift. You simply roll your bike onto the tray, hit a button and the rack does the lifting for you.
Adidas SP0066 3D printed sunglasses
It's certainly not all e-bikes here at the 2021 Sea Otter Classic (though there are a TON of e-bikes) so there's no shortage of weird cool products to comb through.
We're seeing more and more 3D printed products here, from pedals to seats and custom fitted helmets, but maybe the coolest of the 3D printed offerings are the wild SP0066 sunglasses from Adidas. Just 150 of them were made and they're only available to members of the Adidas Creators Club. Last time we looked there was just one pair left, so get getting if you want some. They're not quite our style, but we'd wager you're going to see more and more 3D printed bike components (and even entire bikes) in the near future.