Vvolt Proxima Electric Bike Review 2023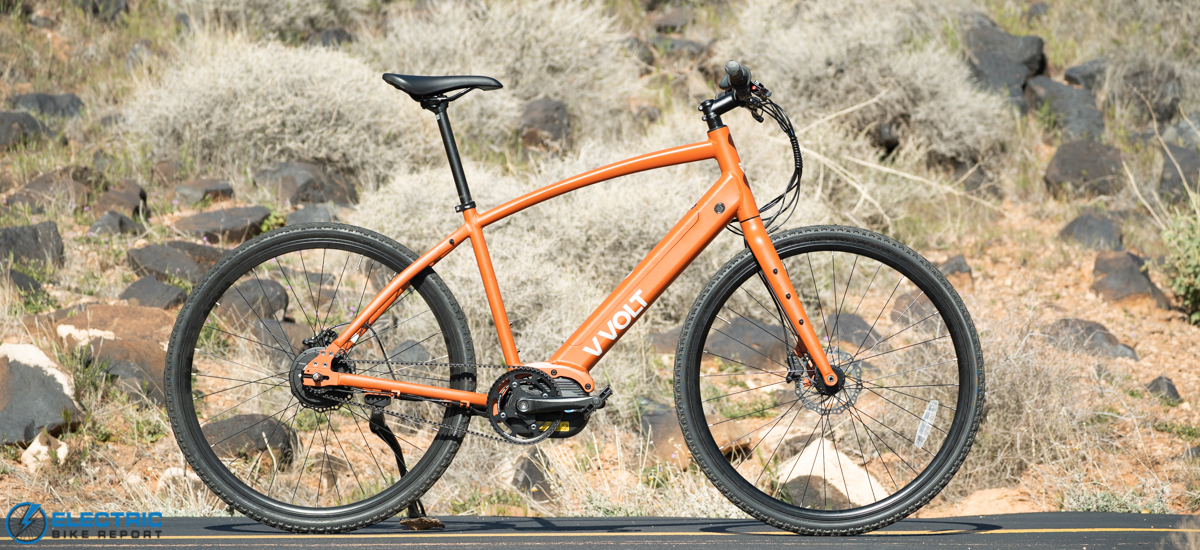 Since most modern internet users have the attention span of a Petsmart goldfish, I'll cut right to the chase with this Vvolt Proxima review: Buy this e-bike.
It's fast, has a mid-drive, handles superbly and boasts a component package that's not only functional and high-performing, but is nicer quality than almost any other e-bike I've ridden in the sub-$3,000 price bracket.
It's also designed by people that get it: They get that good e-bikes — especially good commuter e-bikes are made in the small details — they get that mid-drive motors can and should be affordable, that durability matters and, perhaps most importantly, that you shouldn't need to take out a second mortgage to get all of the above.
For those still with me (analytics data tells us the average Electric Bike Report reader does, in fact, have a much better attention span than the nine seconds we'd get with a goldfish), our real-world testing has shown that the Vvolt Proxima is a nicely rounded e-bike that's billed as a versatile model, but will serve those looking for a light and fast commuter very well. We put it through a gauntlet of tests to help paint a picture of how this bike performs in the real world, the results of which are detailed in the sections below.
It's not a perfect e-bike, as there are a few things (mainly the battery range) that left our review staff wanting a little more, but as a complete package, the Proxima has quickly become one of our favorites.
Bike Class:
Class 3: PAS up to 28 mph (upgraded by Vvolt from Class 1)
Vvolt Proxima Video Review

Pro's
The Austrian-made MPF mid-drive motor is new to us and performs very nicely. We liked the Class 3 "warp core" upgrade, too.
The Gates CDX belt drive is a super cool feature that'll protect your pant leg and is virtually maintenance-free.
Ditto for the Enviolo drivetrain. It's low maintenance, clean and functions very well. It's also just cool tech: There are no traditional "gears" and you can continually adjust the resistance.
The frame is chock-full of small but thoughtful features, such as a pass-through in the rear triangle should you need to replace the belt and three-pack mounts on the front fork.
We really love the look and the bike's trimmed-down aesthetic.The burnt orange color is beautiful and the frame shape is very unique among affordable e-bikes.
The best part: This bike is cheap. At less than $3,000, you'd be hard pressed to find a better spec'd e-bike.

Con's
The small-ish 375Wh battery gives the bike a range that's shorter than many competitors. There's a larger 504Wh version on the way, which will likely solve this issue.
The display readout — particularly for the battery — is a little dated and can be hard to read.
The stiff and fully rigid frame handles superbly, but can feel a little rough on bad pavement.
ELECTRICAL SPECS & FEATURES
Battery: 36V, 10Ah (350Wh)
Display: Xplova LCD display
Motor: MPF mid-drive motor, 250W
Headlight: Included (battery powered)
Taillights: Included (battery powered)
Peal Assist: Five PAS levels, torque sensor
Range: 20-40 miles (claimed)
Throttle: N/A
Weight & Dimensions
Claimed weight: 50 lbs – 52 lbs (size dependent)
Maximum rider weight: 440 lbs (Riders over 300 lbs are suggested to contact Vvolt)
Maximum load on rear rack: N/A
Components & Accessories
Brakes: Radius, 160mm rotors front and rear
Fenders: N/A
Fork: Rigid alloy
Frame: Alloy
Drivetrain: Enviolo CVT rear hub, stepless shifting and 380% gear range | Gates CDX belt drive
Grips: Rubber lock-on
Saddle: Unbranded athletic saddle
Handlebar: Alloy riser bar
Kickstand: Included
Pedals: Included
Tires: Kenda 40x700c
Vvolt Proxima Review: Bike Overview
The Vvolt Proxima is a really great example of what you get when you buy an e-bike from a company founded and staffed by people who know bicycles really well.
For starters, it's built around a 250W mid-drive motor from MPF Drive, an Austrian motor maker that until the Vvolt, I hadn't ridden before. That motor makes 80Nm of torque and, though it comes stock as a Class 1 e-bike, this particular model has been upgraded to Class 3 speeds through an upgrade Vvolt calls "warp core," which changes the bike's max motor assisted speed from Class 1 (20 mph) to Class 3 (28 mph).
We'll dive more into motor performance later, but this motor's speed was very impressive. It didn't quite have the sensitivity of some of the more high end mid-drive commuters I've reviewed, such as the Specialized Turbo Vado 4.0, but it certainly had no issue maintaining comparable speeds.
Even beyond the inexpensive mid-drive, there's a lot more to this bike that makes it a good choice for commuters.
See, a good commuter is hard to make; I'm not just talking about an e-bike that's nice to ride and can carry some things, but a bike that's thoughtfully made with features and an ease of use that, added all together, make a compelling argument for day in and day out use. A good commuter should be able to convince you that it can be used in lieu of your car. That it's just as convenient, just as comfortable and, maybe most importantly, more pleasant to use than something with a combustion engine and a roof — that's what's hard to pull off.
But it's what Vvolt has managed to do with the Proxima.
For starters, its drivetrain is made of a Gates CDX belt drive paired to an Enviolo CVT internal hub. Not only are these just cool and unique parts, but they're extremely functional in the context of daily commuting. The Gates belt is grease free, so you don't have to worry about messing up your pant leg, and it also requires virtually no maintenance. That means no lubing or cleaning your chain.
Less obvious at first glance is the Enviolo rear hub, which, as opposed to a traditional derailleur and sprocket bicycle drivetrain, is entirely sealed inside the rear hub. It's a continuously variable transmission, so as opposed to selecting specific gears your shifting is stepless and feels more akin to adjusting resistance than changing gears. You simply rotate a twist shifter to change your gear ratio (the Trekking model on the Proxima has a 380% gear range), allowing you to fine tune your gearing for any environment.
Again, a cool piece of tech, but one that is specifically useful for commuting applications. Like the Gates drive, it requires very little maintenance and is better protected from the elements. You also don't have to be pedaling to shift, which is useful for stop-and-go traffic.
There's also a set of Radius hydraulic disk brakes with 160mm rotors front and rear, a brand we hadn't seen until reviewing this Vvolt e-bike, but still performed well.
Vvolt bills the Proxima as a "high-performance all-terrain hybrid," which I think is a good elevator pitch for the bike, but after spending time on the Proxima, I'd describe it more as a slimmed-down commuter. It ships sans racks and fenders, but it can accept both should you want to add them. (The folks at Vvolt specifically recommend a rack like the Topeak Explorer, should you have some things to carry.)
The frame geometry, tire choice and cockpit setup all lend themselves to commuting. The bike is supremely balanced in corners and is very friendly to pedaling, making the bike more efficient feeling than many others I've reviewed in the affordable electric commuter category. The 40c Kenda tires have a light tread that can handle some dirt (think unpaved bike paths) but are still very optimized for pavement.
Finally, I'm just a really big fan of the Proxima's look. I'm a sucker for slimmed down e-bikes that are comfortable, fast and handle really well. All traits this bike has in spades. The best part of all? The price. You're likely going to be hard pressed to find a more affordable e-bike that looks this good, rides this well and is equipped with a mid-drive.
Vvolt Proxima Review: Motor Performance, Speed and Acceleration
The Vvolt Proxima's 250W mid-drive motor is sold standard as a Class 1 unit, meaning it's pedal assist only (no throttle) limited to 20 mph. But our review model of the Proxima was equipped with Vvolt's "Warp Core Upgrade," a $100 add-on that swaps out the display and increases the bike's max pedal assisted speed to 28 mph (Class 3).
It's an upgrade I'd highly recommend if most of your riding is done on city streets or bike lanes, where keeping pace with cars is an important thing. If bike paths are more your vibe the stock Class 1 version should suit your needs just fine and likely be a little safer in situations where you're sharing the pavement with walkers and other cyclists.
No matter which you choose, the Vvolt Proxima is wicked fast.
The MPF motor isn't quite as sensitive as some of the higher end mid-drives I've ridden, but it's still miles ahead of hub motors. The engagement is immediate, so the motor stops and starts in time with your pedaling, and its ability to apply power relative to how hard your pedaling is also very, very good.
Many high end mid-drives, such as those from Bosch or the Brose units being specially-tuned by the e-bike skunkworks at Specialized, really boast on their ability to perfectly replicate a rider's pedaling. This gives the sensation that you're not really riding an e-bike, but rather your legs are just super strong. The Vvolt's power delivery isn't quite that smooth and the bike definitely feels e-bikey, but it's a far leap from the on/off sensation you get from most hub-driven e-bikes. I like it a lot, especially considering it costs quite a bit less than some of the big-name makers of mid-drive e-bikes.
The motor's power is broken into five levels of pedal assist, which gives you solid control over the bike's speed and lets you choose how much or how little physical effort you want to throw into the cranks. We tested the bike in each PAS level and found it's a generally quick rolling e-bike, even with the motor entirely off.
Each PAS level lays on a consistent increase in power, all the way up to PAS 5, which harnesses the motor's full 250W and yields a very high average speed.
Vvolt Proxima Review: Range Test & Battery Performance
The only department that left us wanting a little more from the Proxima was in the battery, which has a lower range than many of its competitors.
The Proxima is powered by a 36V, 10Ah (375Wh) battery that's fully integrated into the frame and removable. Compared to other e-bikes we've reviewed, that battery is on the smaller end of the spectrum. Just a handful of others — including the Aventon Soltera, Ride1UP Roadster V2 and Propella Mini — had smaller batteries, and all of those bikes are positioned as more entry-level affordable models.
In our range testing, the Proxima's 375Wh battery yielded results that were lower than what we'd consider typical for a bike in its category. We did three tests — in PAS 1, PAS 3 and PAS 5 — and the results were as follows:
PAS 1: 28.84 mi, 12.46 mph avg
PAS 3: 23.82 mi, 13.74 mph avg
PAS 5: 16.89 mi, 19.1 mph avg
There's two ways we can compare these results to other e-bikes we've reviewed: By battery size and bike type.
Looking at the data of e-bikes we've reviewed with batteries smaller than 400Wh, its results are fairly on par. The context for these bikes is that they're typically more entry level than the Vvolt, have fewer features and are designed for short-distance city riding.
Compared to the results of other e-bikes in its category — Class 3 commuters — the Vvolt's results are near the bottom. But many of those e-bikes come with substantially larger batteries and, in some cases, larger price tags.
According to Vvolt, that smaller battery was a strategic choice aimed at keeping weight down and keeping the bike focused on the commuter demographic. Frankly, I don't think it was a bad call.
The truth is, despite many consumers' assumption that bigger range is better, most e-bike riders don't need a whopping battery to get the job done. Even the Vvolt's shortest range result on PAS 5 is likely plenty for your average rider. Opting for the smaller battery also definitely keeps weight down (and, likely the price), which is one of the features we like best about this bike — it's slimmed-down and featherweight ride feel.
But Vvolt is not ignorant to the fact that there are folks out there who are going to want greater range. They do have 36V, 14Ah (504Wh) batteries en route that should be available in the future. When those will be in stock is still unknown, according to the company, as the cycling industries' bogged down supply chain has delayed their delivery.
Vvolt Proxima Review: Hill Test
Uphill, the Vvolt's 250W MPF mid-drive motor is exceptionally smooth and doesn't require much physical effort from the rider to get the job done.
That motor makes 80Nm of torque; a significant number that translates into quite a lot of climbing capability. One of the best features of mid-drive equipped e-bikes is that the motor's power can be manipulated by changing gears, giving a rider greater control over how it delivers power to the rear wheel simply by adjusting the gear ratio. This is a feature that's particularly useful on hills, and one of the reasons we often see small mid-drive motors rivaling the capabilities of much larger hub motors.
For the Vvolt, all this translates into a really pleasant hill climbing experience. It's no hill climbing speed demon (it's not supposed to be) but it handled everything we threw at it with ease and without raising my heart rate too much.
We pitted the Proxima against the clock on our official test hill Hell Hole — a one-third of a mile section with an average grade of 12 percent — and the bike cleared the top in 1:25.00 with an average speed of 12.8 mph.
Compared to similar bikes we've reviewed (the same ones we used as benchmarks for the range test), that's a solid mid-pack result. Narrowing the field further to just the other mid-drive Class 3 commuters (the Specialized Turbo Vado and MOD Berlin) all the bikes are within 1-3 seconds of each other.
Anecdotally, from my perspective as the test rider, the Vvolt Proxima is a pleasantly well climbing commuter. I never wanted more power from the bike or felt like it was going to give up on me, and I really enjoyed how lively the motor felt on steep pitches.
One highlight, that's especially important on mid-drive bikes, was the Enviolo CVT shifting. Unlike traditional chain and sprocket drivetrains, the Enviolo's stepless shifting had almost zero problem shifting under load and I liked that I could micro adjust the gear ratio as the hill got steeper or more gradual.
Vvolt Proxima Review: Brakes and the Brake Test
Our review model came with a set of Radius hydraulic disk brakes paired to 160mm brake rotors front and rear.
Like the MPF motor, the Radius brakes are new to us, but seem to perform well. In our brake test, where we see how quickly the bike can stop from 20 mph, the Proxima came to a stop on average in 15-feet-6-inches. That's a slightly better result than the average of all the e-bikes we've reviewed, a figure that currently sits evenly at 16-feet.
Vvolt Proxima Review: Ride Comfort, Handling and Cockpit
The Vvolt's handling is one of my favorite parts of this bike; it's light, lively and strikes a nice balance between comfort and a more athletic body position for efficient pedaling.
But there is a caveat I'll add: The Vvolt is a stiff bike. It's fully rigid and even sports a thru-axle in the front end. From a handling and performance perspective, this is a very good characteristic. It gives the bike very tight, very responsive sports car-like handling that's really, really fun and really, really confidence inspiring in corners and at high speeds.
The tradeoff to all that sporty handling is that, much like a sports car, you feel more of the road. It's not overwhelmingly stiff to the point of discomfort, but it is the type of bike where a rider would be smart to keep an eye out for potholes and rough patches. To me, the wonderful handling is worth a slightly rougher ride — but that's a point of personal preference.
In my opinion, the Proxima is a wonderful candidate for a high-performing suspension seatpost and possibly a suspension stem. That way you get a little relief on bumps while sacrificing very little of the bike's truly stellar handling. Since finishing our formal review of the Proxima we've actually chosen it as our testbed for the Kinekt suspension seatpost and suspension stem, a pairing that's turned out nice so far.
At the handlebars, the bike's slimmed-down vibe continues. The control interface is very clean, and the Proxima sports a display that's small and fairly basic, albeit functional. I'm a fan of small displays for aesthetic reasons, and this one takes up very little space on the handlebar. The buttons to change pedal assist levels are easy to use and the screen clear, but the readout itself looks a little dated — using the same dash-style numerals you'd see on an alarm clock. That's mostly an aesthetic gripe, but the one department in which I'd truly ding the Vvolt's display is its battery readout, which is very small and tough to decipher.
Vvolt Proxima Review: Summary / Where to Buy
Regardless of price, the Vvolt Proxima is one of my downright favorite e-bikes I've tested to date. It's good enough that by the time this review was written, the Proxima had already disappeared from the Electric Bike Report offices and landed in my personal bike stash at home.
The folks up there at Vvolt's headquarters in Portland, Oregon have done a really incredible job at piecing together an electric commuter bike that's thoughtfully outfitted for commuting but versatile enough to do just about anything. The Proxima is chock-full of small but wonderfully useful details that are hard to pick out in a spec sheet; the type of details that make it obvious that the people who designed this bike spend a lot of time riding bikes.
There's the obvious stuff like the mid-drive motor, Gates CDX drive and Enviolo shifting, but there's also the less obvious stuff — like the fact they built a pass-through in the rear triangle of the frame in case that belt drive ever needs replacing. Or the fact that the rigid front fork on this bike is actually a utility fork, complete with three-pack mount points on each leg for bottle cages or other small racks.
I could continue raving about all the things I liked about the Vvolt, but quite frankly I think there's a bigger point to be made: This bike is stupid affordable.
The number of sub-$3,000 e-bikes on the market with mid-drive motors is small, but add in the Enviolo drive train, Gates belt and name-brand brakes, and I think the Proxima may be in a league of its own.
If the Proxima's price is a little rich for your blood, Vvolt also makes two hub-driven models — the Alpha and Alpha S — that are cheaper but still share many of the same features and overall look. Vvolt also makes the Sirius, which appears super similar to the Proxima but sports a suspension fork and slightly beefier tires.
Or, if you're as sold on the Proxima as I am, it can be bought online at Vvolt's website and shipped directly to your door.
'Happy Riding, make sure to let us know if you have any questions down in our comments section or if you think we left anything out in this review of the Vvolt Proxima.
Reader Interactions