The State of the Electric Bicycle Market
By Forbes Black
When I attempted to build my first electric bicycle (ebike) in 1990, I had to invent all the components of the motorized drivetrain myself, or at least repurpose them from equipment designed for other purposes.  
I used an electric trolling motor and a deep-cycle lead acid battery.  I fabricated all the sheetmetal myself.  Unfortunately, after putting many hours into the project I had to give up.  
Between going to engineering school full-time and working at a local bike shop to pay the rent, I just didn't have the time or funding I needed to design and build everything from the ground up.
My-oh-my how things have changed.  That first ebike project lit a fire in me that never died.  Since then, I have been the lead engineer at two of the largest electric bicycle companies in North America, Charger Electric Bicycles and Currie Technologies.  
I have watched ebikes grow from a eccentric concept to a pioneering industry and finally to a revolution in personal transportation across the globe.  Every few days I see posts about new electric bicycle companies on my Facebook feed.  
There seem to be new crowdfunding campaigns for ebikes every week or two.  What is feeding the fervor?  Will it last, or is it just a fad?  
I have been out of the industry for several years, so I am no longer intimately involved in the day-to-day workings of the ebike market.  However, I have kept up with friends in the industry, so I decided to ask some of these experts about what is going on.
In order to get perspective on broad trends, I spoke with Ed Benjamin and Frank E. Jamerson, Ph.D.  Benjamin is Senior Managing Director of eCycleElectric Consultants and Chairman of the Light Electric Vehicle Association.  
Jamerson authors the Electric Bikes Worldwide Report (EBWR), with Benjamin as co-author.  EBWR was first published in 1998 and is now in its twelfth edition, having been recently updated to include data for 2016.  
In order to get an insider's view, I spoke with Don DiCostanzo, Co-Founder and CEO of Pedego Electric Bikes, which he describes as "the best selling brand in the U.S."  
Finally, I spoke with Claudia Wasko, General Manager of Bosch eBike Systems – Americas, whose mid-mounted electric drivetrain has created quite a stir in the electric bicycle industry over the past few years.
First, I needed to separate hype from reality.  Sure, those crowdfunding campaigns are catching headlines, but are these companies actually making and selling ebikes in significant numbers?  Have lawsuits against companies such as Sondors made it difficult for crowdfunded companies to succeed?  Are established ebike companies growing or shrinking?  What about the major bicycle companies who are expanding and promoting their ebike offerings?
According to Don DiCostanzo, Pedego's slice of the ebike market has been doing well.  "We have had steady upward growth since our inception in 2008."
Ed Benjamin confirmed that worldwide sales are increasing, "The ebike business is growing at a great pace in Europe, (more than 2 million will be sold this year) in the USA we are 10 years behind Europe, but following a similar path of growth, in China there is a plateau, with about 210 million in use every day. The rest of the world is showing increasing interest, and I am expecting the electric two wheeler industry of the world to reach 130 million units a year in a decade or so. This will include both ebikes and light electric motorcycles / motor scooters."
Bosch's Wasko describes the growth of the ebike market as "fantastic."  She told me that Bosch now supplies electric drivetrains to 27 different companies in North America and far more in Europe, from industry giants such as Trek and Cannondale, to less-well-known companies including Moustache Bikes and "Butchers & Bicycles."
According to an article from 2015, there had been at least six successful crowdfunding campaigns for ebike startups as of about one year ago.  A quick search at kickstarter.com shows that there are currently 74 campaigns underway for electric bicycles, scooters and related products.  
Sondors, the company that experienced legal issues over its previous crowdfunding campaign, currently lists three available models and maintains an active web presence.  If prior lawsuits discouraged anyone from starting up a new crowdfunded ebike campaign, they certainly did not scare off many other entrepreneurs who see the ebike market as open and encouraging.
My next line of inquiry aimed at determining where the ebike market is hot and where it is not.  Most of the people I spoke with confirmed that the European market is currently the hottest on the planet.  
A recent article stated that 2015 European ebike sales were up 26.5% vs 2014 sales.  Per Wasko, Bosch predicts that "eventually, eBikes will account for one of every three bikes sold in the European Union, a ratio now achieved only in the Netherlands. Until then, we predict that e-bike sales will continue growing at a rate of about 15 percent a year."
The only person I spoke with who has not experienced significant growth in their European sales was Pedego's DiCostanzo, whose company is decidedly U.S.-centered.  "We are flat in Europe due to exchange rates. The dollar is strong against the euro which makes our products high."
Overwhelmingly, China continues to dominate the world ebike market.  In terms of units sold, China sells roughly an order of magnitude more than the rest of the world combined. Europe's market is considered hot after selling more than two million units last year.
However, when you compare that to the roughly 30 million units sold in China during the same time period, that number is put into perspective.  Even if the European market continues to grow at a blistering pace, EBWR's estimate of 17 million ebikes sold in Europe in 2035 is still roughly half the units that sold in China last year.
In terms of dollars spent on ebikes China continues to dominate, although by a smaller margin.  EBWR reports that the average ebike in China sells for about $450 versus roughly $2000 for its European counterpart.
Benjamin indicated that the Chinese market has almost reached the saturation point.  "I calculate that of the 30 odd million bikes sold in the last year, about 25 million are replacements for worn out bikes.  So growth exists, but has slowed greatly."
It should be noted that the Chinese market growth of 5 million units per year is still more than double the total number of ebikes sold in Europe last year.  And ebikes are going to remain a vital part of China's transportation picture for the foreseeable future.  
Per Benjamin, "As for the role of ebikes…there is not enough land, money, asphalt or concrete for every Chinese person to own a car, and the government of China knows that. There are now serious obstacles being created by various government units to sales of cars and the use of cars in China. Ebikes have had some ups and downs in government support in China, but overall, for the last 20 years, ebikes have enjoyed great support."
In the USA, the ebike market is still one of largely untapped potential.  For companies such as Pedego, growth has been sustained and steady in the US market.  Benjamin sees near-term growth in the US market coming largely from two sources:
"The eMTB has captured a lot of attention (rightly so) as a fun device that can extend the range (in years, altitude, or miles) of any mountain biker. For the boomers in particular — who invented mountain biking — the eMTB helps offset the relentless increase in gravity and waistline and lets us keep riding. That is a recreation and sport application of ebikes that fits well into the mindset of Americans, American cyclists, and importantly, American IBDs.  Boomers are approximately 1/3 of the US population, and have spent a LOT on bicycles all their lives. They may not ride them a lot, but they sure do buy bikes and bike stuff.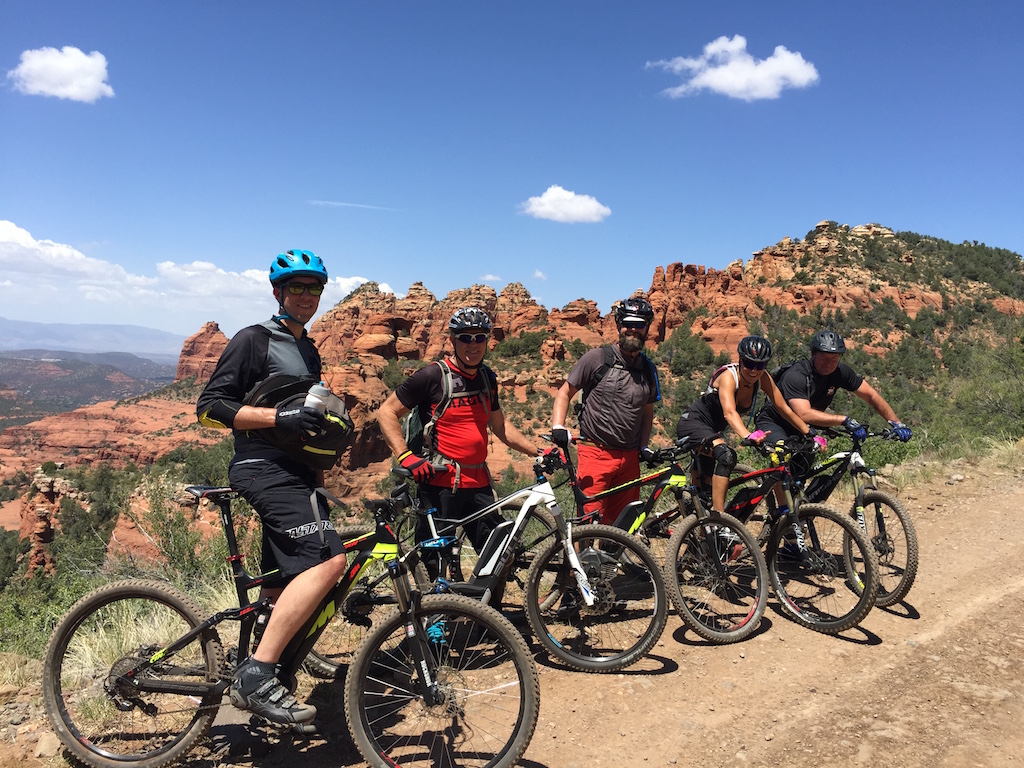 Another trend is this: Millennials, another third of the USA population, that are moving to where the jobs are – often in dense urban environments – and would rather not have a car. Living in Boston/San Francisco/Manhattan etc. means a car is just a pain. Better to walk/ride a bike/ride an electric bike to the metro/bus/train station. Avoiding parking costs, vehicle, fuel, and insurance costs. An electric bike means that they are not sweaty when they get to work. And they can live farther from the station."
Overall, he concludes that "in the USA we are 10 years behind Europe, but following a similar path of growth."
Everyone I spoke with agreed that the ebike market was growing, but which product types, designs and control systems are on the rise and which are in decline?  Perhaps the greatest change seen over the past several years has been the rise of the "pedelec," the ebike type in which the rider must be pedaling in order for the electric motor to engage.  
For many years, the only allowable electric bicycles in most European countries were pedelecs.  The European Union has recently expanded the definition of electric bicycle to include more powerful models which may be equipped with throttles, but pedelecs with a top assisted speed of 25 kph remain the only type that do not require type approval.  
Therefore, it is not surprising that pedelecs dominate the European market.  Companies such as Bosch have spent decades and millions of dollars developing pedelecs which provide an intuitive, exhilarating and seamless riding experience for European riders.
The biggest surprise to me and others is that the popularity of pedelecs is also growing in the USA.  In 1997, Charger Electric Bicycle was the first U.S. company to come out with a pedelec.  While I worked at Charger, the throttle-driven models from Currie Technologies outsold our pedelecs by a large margin.
When we asked bike shop employees why customers preferred the Currie ebikes, the answer was almost always that they wanted a throttle.  What has changed?  Some of the new popularity may be due to new California laws which require that certain classes of electric bicycle be throttle-free.
Additionally, the enormous effort to develop pedelecs for Europe has vastly improved the quality of pedelec offerings.  Industry insiders indicated that people are beginning to appreciate the functionality of a well-designed pedelec.  Jamerson said, "Since both are easy to install via the controller software and an extra switch, I think most bikes in the USA now have both controls on each bike."
DiCostanzo shares my sentiments about the rise of pedelecs, "Much to our surprise, we have seen an increase in demand for pedal assist functionality."  He told me that Pedego will keep offering some products with only throttles and others that have the option to use a throttle or to use pedal-assist mode.
Another recent trend in the European and US markets is rising sales of higher-priced models, while sales of lower-priced models have dropped off.  Ten years ago, big box stores such as Walmart carried a wide variety of ebikes, many of which sold for less than $500.
Today, they offer a much smaller variety and prices are significantly higher.  In my experience, lower-priced ebikes had problems with reliability, performance and weight.  Some of these problems were the result of quality compromises that had to be made in order to meet price points.  The lack of expert assembly also played a role in their downfall.
Today, Bosch and similar companies provide a dizzying array of drivetrains that work flawlessly while offering plenty of power and excellent reliability.  In Europe, consumers have proven to be quite willing to lay down the $2500 to $5000 that such products cost, and American consumers seem to be following suit.  When I asked Benjamin about unexpected developments in the ebike market, he replied that this appetite for expensive models was the trend that surprised him the most.
Nearly everyone I spoke to mentioned the rise of the off-road ebike, the eMTB.  This revolution, fueled by mid-drive systems by Bosch and others, allows vendors to offer well-balanced, high-performance products that open up the recreational possibilities of ebikes.  
Benjamin noted, "I have been in Switzerland, Holland, Belgium, and France this last two weeks. eMTBs are the main excitement here."
Wasko summarized this phenomenon, "Yes, it is all the rage right now in Europe, and this eMTB fever is spreading to the US and Canada. While most eMTB riders are interested in riding on trails, we definitely observe some end-consumers who purchase a full-suspension eMTB for comfort or style reasons and use it mainly on pavement or light trail riding."
Several years ago, many industry analysts predicted that sales of small electric scooters, electric versions of the gasoline-powered scooters that dominate much of the world's personal transportation picture, would rise dramatically.  Has this happened?  Benjamin quipped, "Have I warned you that I am not always right? eMotorscooters have not yet hit the rapid increases that I have expected. I still expect it to happen."
It is an exciting time for ebikes and those who love them.  Ebikes represent nearly one in two of overall bicycle sales in China and sales show no sign of declining.  Experts such as Jamerson, Benjamin and Wasko agree that the sales ratio in Europe will level out somewhere between the one-to-two and the one-to-three level.  
If Benjamin's assertion that sales in the USA will follow a similar, albeit delayed, growth pattern to that of Europe, then we can anticipate rapid sales growth here in a few years.  Everyone I spoke with is optimistic about the future of the ebike market.  Maybe I should think about getting back into the industry.
Thanks to Forbes Black for this eBike industry update!
Forbes Black is a green energy engineer who has been working on projects in solar power, electric cars and electric bicycles since 1995.  He is also a freelance journalist and author of the science fiction novel, Initiate of the New Bushido.
Stay tuned for more e-bike news.
P.S. Don't forget to join the Electric Bike Report community for updates from the electric bike world, plus ebike riding and maintenance tips!
Reader Interactions