The Sea Otter Classic 2023: Day 1's Coolest E-Bike Models and Accessories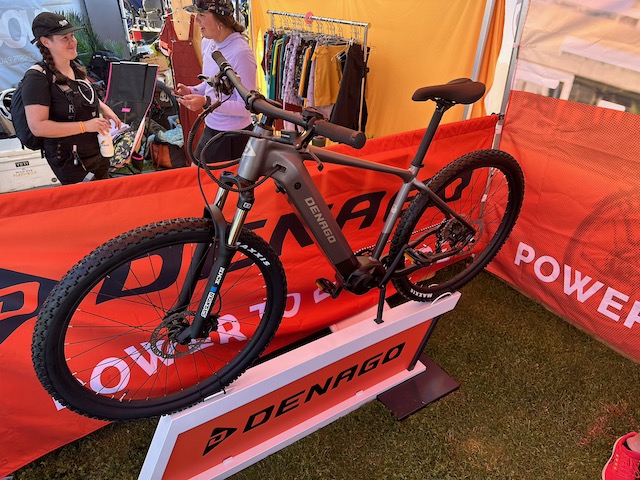 The Sea Otter Classic in Monterey, California, is the world's largest participatory bike event. They have races and rides for the young, the old, the in-between and for road riders, mountain bikers and … even e-bikers.
It's also the bike industry's de facto trade show. There are a number of companies here in the expo who are showing off new bikes and new gear.
Denago E-Bikes
Case in point: Denago. A year ago they had one bike in their line. Now it's more than a half dozen. At Sea Otter they are showing two new mid-drive mountain bikes.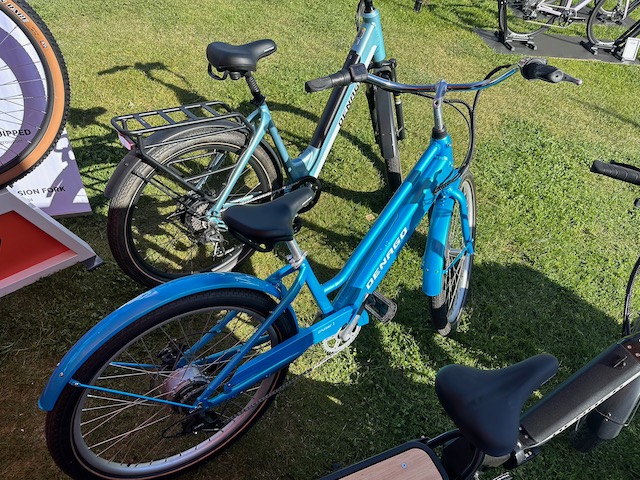 Denago also showed off this new cruiser. It comes in three colors—including pink and gold—and goes for $1099.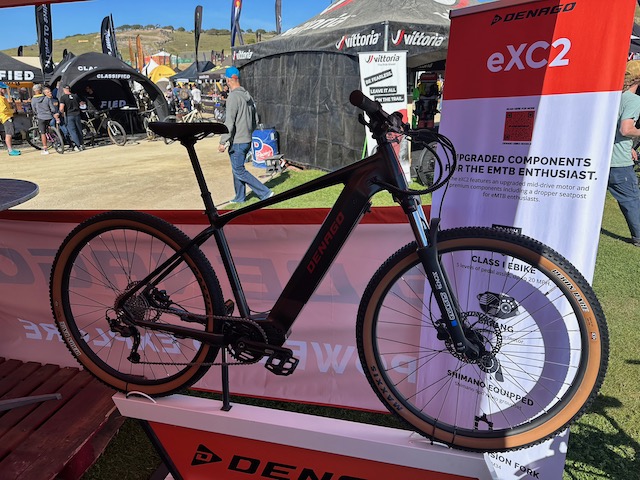 The eXC2 is Denago's top-of-the-line eMTB and it is well-equipped; it includes a suspension fork and a dropper seatpost. Suggested retail for the eXc2 is $3199, and the eXC1 goes for $2749.
1UP's E-Bike Racks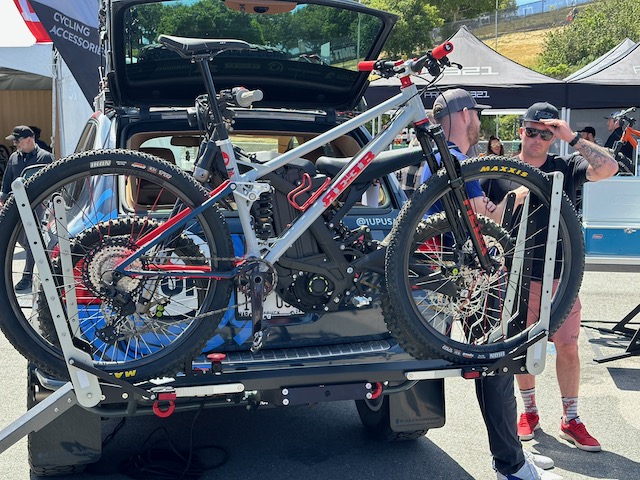 1 Up USA showed a new e-bike-specific hitch rack. The XD comes as a single rack for $850 and can hold an e-bike weighing up to 150 lbs. An add-on goes for another $600.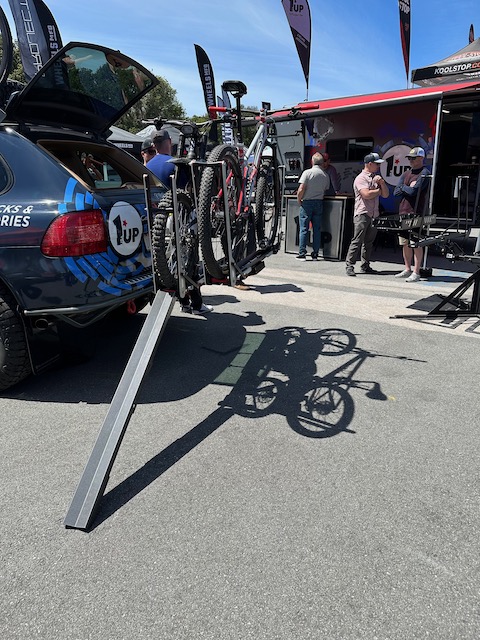 It features an integrated rack to roll the e-bikes into place.
Turkish Brand Ape Ryder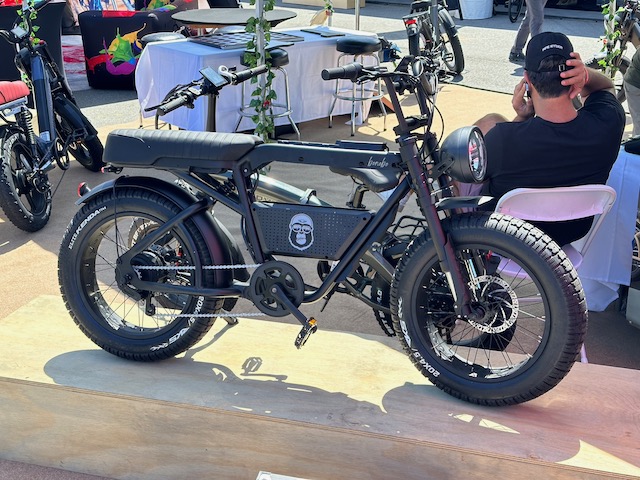 Ape Ryder is a Turkish brand new to the US. They make a full line of e-bikes, including motorcycle-style e-bikes with bench seats and suspension. All of their e-bikes are banned for endangered apes; the model above ids the Bononobo. No word yet on pricing.

They even do one with a step-thru frame. This is the Gibbon.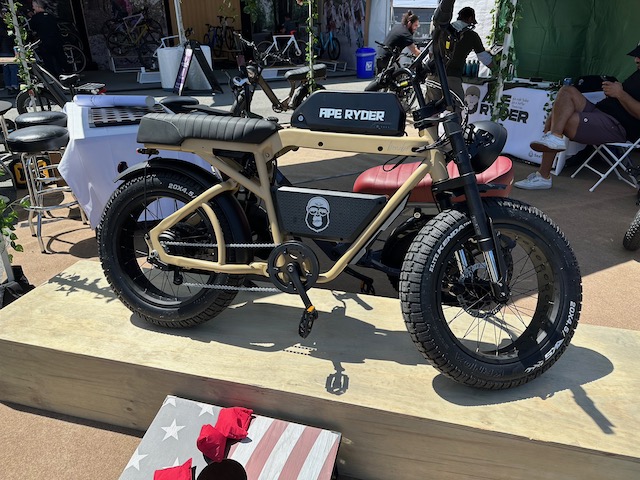 Ape Ryder mounts the batteries on top of the top tube to emulate the feel of a motorcycle's gas tank.
Knog's e-bike friendly adaptable headlights

Australian accessory maker Knog showed off lights that can be run off an e-bike's battery. The easiest option is to plug it into a phone charging port.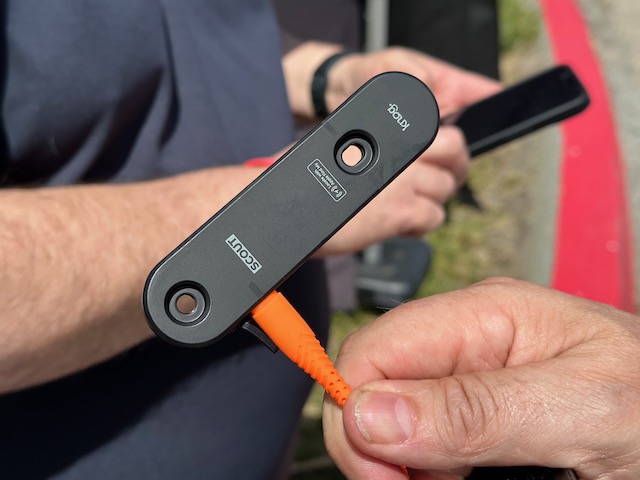 Knog introduced a product called Scout which serves as an alarm/tracker, like Apple Airtags. It's using Apple's FindMy app, rather than a GPS subscription. Scout can be mounted beneath a bottle cage to keep it inconspicuous.
BULLS' Off Road Models

Bulls showed off a very cool bikepacking e-bike. The Copperhead EVO HD 750 features a Bosch Performance Line CX motor and a 750Wh battery; it goes for $4499. The owner of this e-bike reports that he can get as many as 80 miles in a tour before needing to recharge.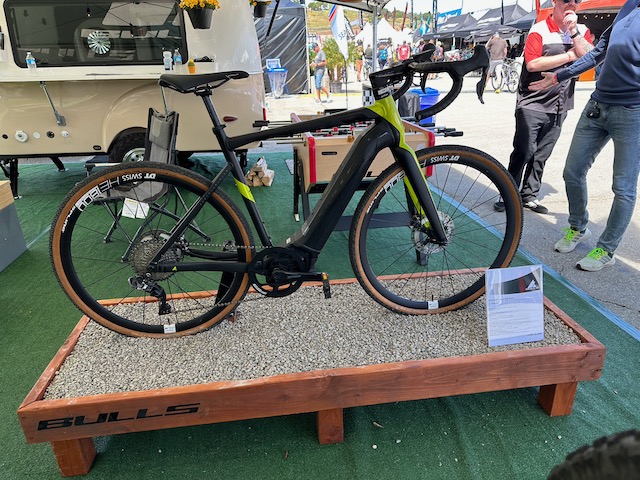 Bulls also showed off a very interesting road e-bike, the Desert Falcon EVO, built with a Bosch Performance Speed motor and paired with a 500Wh battery and goes for $4599.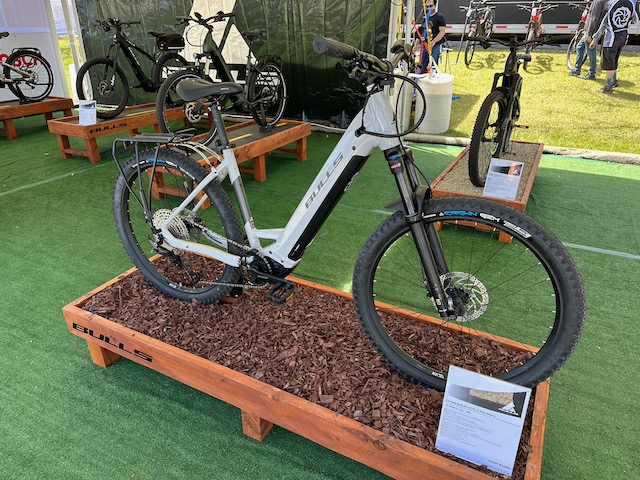 Step-thru eMTBs aren't common, but Bulls does offer one. The Copperhead EVO 2 750 Wave pairs a Bosch Performance Line CX with a 750Wh battery. Other notable features include an 11-speed drivetrain and an air-spring fork for real off-road abilities.
Yamaha Making More Than Just Motors

Yamaha showed off the Wabash a very interesting drop- bar commuter e-bike with their new PW-X3 mid-drive motor (250W, 80Nm torque).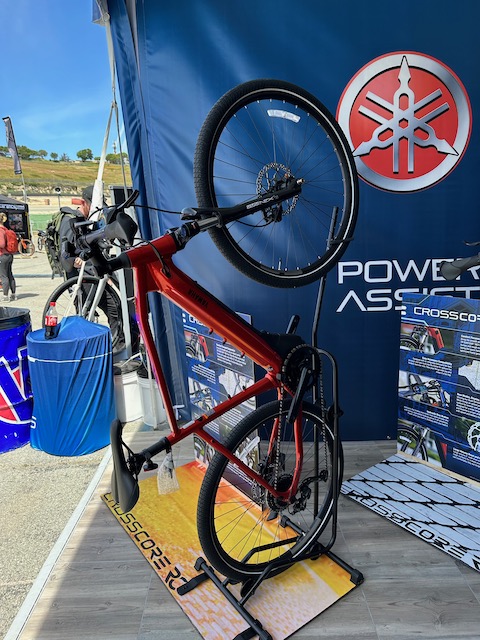 The Crosscore RC city e-bike has real versatility; it would be great on dirt and gravel roads thanks to a 9-speed dictating, 27.5 x 2-in. tires and a 60mm-travel fork.
GasGas eMTBs

European brand GasGas brought a range of eMTBs featuring Yamaha mid-drive motors. They make five different models, all of which feature full-suspension and 11 or 12-speed drivetrains; prices range from $4399 to $6999.
Husqvarna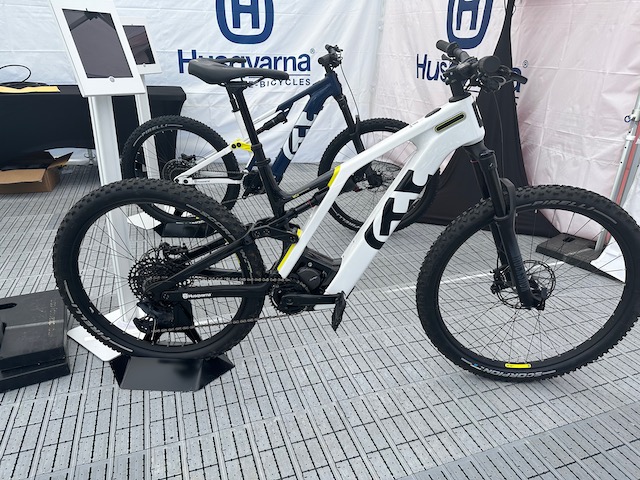 Perhaps best-known for the chainsaws, Husqvarna came with some very cool full-suspension eMTBs. They feature mullet setups (29-in. front wheel and 27.5 rear) and either 150mm of travel front and rear or 170mm front and rear.
Specialized's Globe Brand Shown Fully Decked Out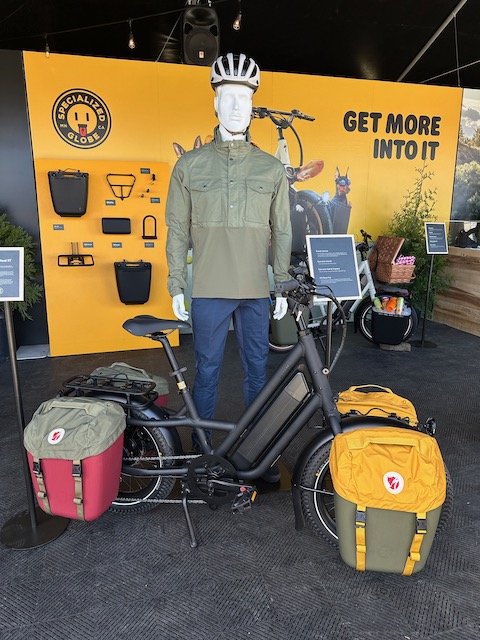 Specialized showed off the Globe Haul ST decked out for commuting.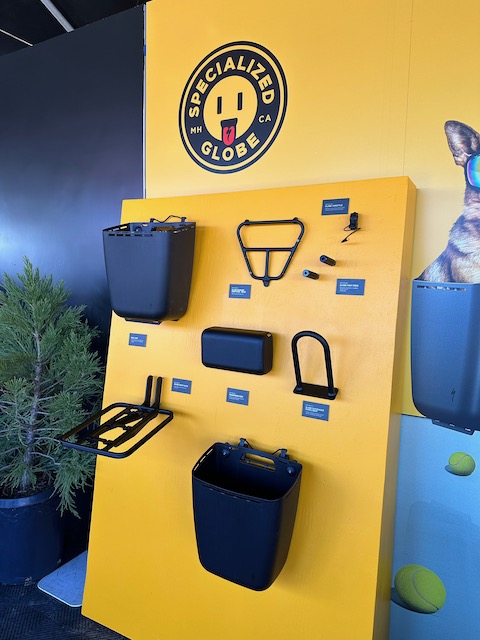 Specialized offers a wide-range of accessories for the Globe Haul ST.
The E-Bike Bike Stand on Our Own Wishlist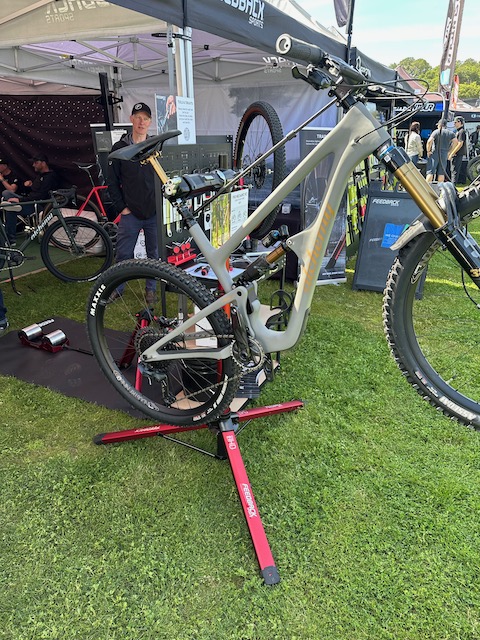 Feedback Sports is known for making some of the best repair stands in the industry. They just introduced this new heavy-duty repair stand stout enough to hold an e-bike thanks to a max weight rating of 70 lbs
Canyon's eMTB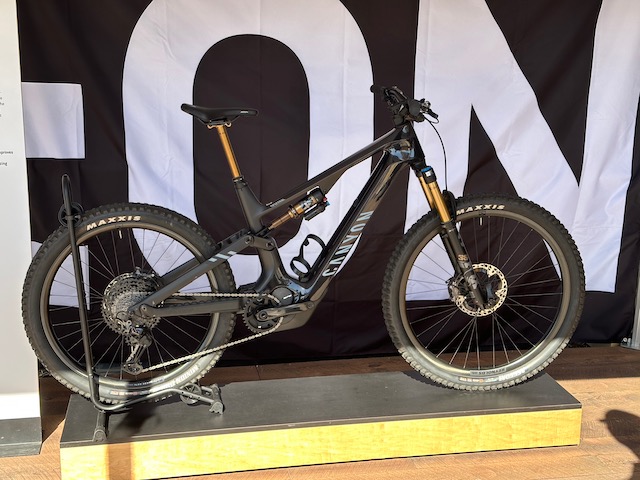 Canyon came equipped with a number of their eMTBs. While they use Shimano motors, they designed their own battery so that it could be positioned lower and flatter in the down tube to help lower the e-bike's center of gravity. The new battery is spec'd on the Spectral ON CFR. They start at $5299 and go as high as $8999.
Reader Interactions