Tern HSD S11 Review 2023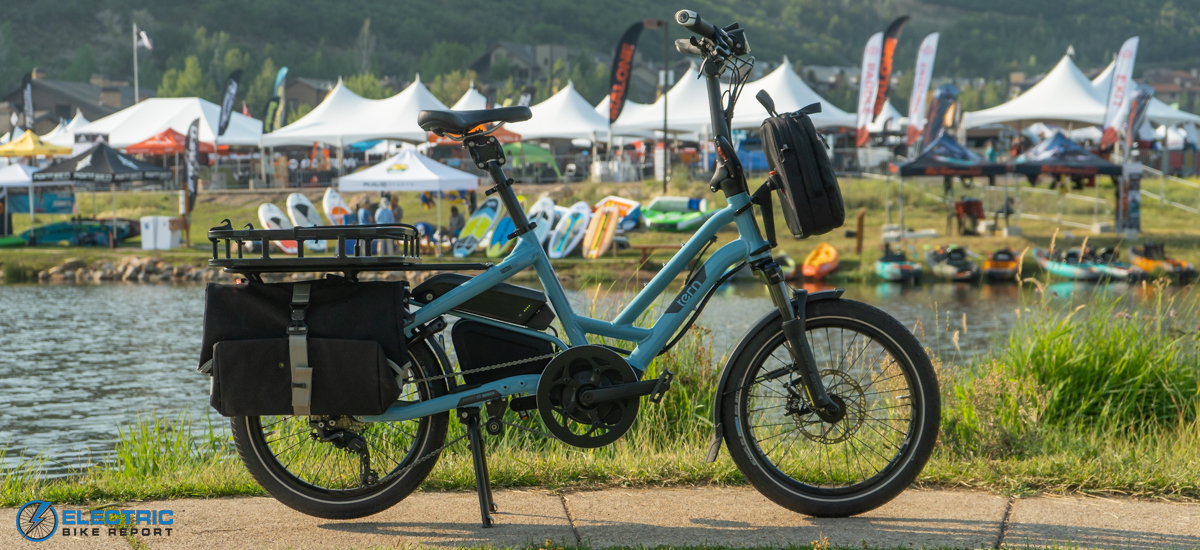 The bicycle version of a mid-size SUV, the Tern HSD S11 is a cross between a small(ish) cargo bike and a high-speed commuter.
The HSD has the stature of a larger folding bike but doesn't fold (though Tern has devised a creative way to store the bike in a compact space), a rear rack that can carry up to 132 lbs and, most importantly, extremely well balanced handling that makes this compact bike handle like a much larger machine. Tern built the bike around the Bosch Performance Sport motor that throws down 65Nm of torque and has a maximum pedal-assisted speed of 28 mph, placing it in the Class 3 super commuter category.
Electric Bike Report got to spend some time with the Tern HSD S11 during the Big Gear Show in Park City, Utah. We didn't have the time to put the bike through our typical in-depth review process, but we were impressed with the HSD's incredibly stable handling and the performance of the Bosch motor. The S11 is one model below the highest-end version of the HSD and retails for just shy of $5,000.
The HSD has one foot in the commuting category and the other in the cargo category. It's the mid-size SUV of e-bikes; sporty enough to race traffic during the morning commute and roomy enough to take you kid to soccer practice in the evening. But, like all of Tern's e-bikes, the HSD is so much more than just a simple commuter/cargo crossover — it's built to meet the daily challenges of carless commuting.
Tern HSD S11 Review: Performance and Handling
Speed and handling
The HSD S11 is equipped with the Bosch Performance Line Sport motor powered by a 500Wh PowerPack battery. That motor is rated as a Class 3, so it's maximum pedal assisted speed is 28 mph and it can produce 65Nm of torque.
This is one of two motors in Bosch's Performance Line capable of Class 3 speeds, but this version asks a little more of the rider to reach its upper speed limit. Unlike the Performance Line Speed motor, which boasts a power curve that quickly helps you reach and maintain speeds close to its 28 mph max, the Sport motor eases off the acceleration and relies more on a rider's pedaling to accelerate beyond 20 mph.
We rode the HSD S11 up and down some of Park City's larger climbs and never once was I wanting more power from the bike. I wouldn't place the HSD in the same category as some of the ultra-fast super commuters that cruise easily at 28 mph, but this bike is anything but slow. It was remarkable how well this bike maintained its speed, even on some of Park City's more substantial hills. I've ridden quite a few Bosch-equipped e-bikes and every time I'm always impressed at how well the motor responds to rider input. The torque sensor perfectly matched my pedaling, even mimicking the discrepancy in strength between my left and right legs.
Tern loaned us all three of their e-bikes during the Big Gear Show and the HSD was my favorite handling. For such a funky-looking bike, the designers at Tern really nailed its weight distribution and balance. The 500Wh battery is mounted very low without being unaccessable and those 20-inch wheels are quick without feeling unstable. The HSD rides like a much larger bike, and I spent all of about 20 minutes familiarizing myself with the handling before I was railing switchbacks at 30 mph above town. Keep in mind this isn't a bike designed for that type of riding, as the HSD is more of a utility belt than a super fast bike — but that doesn't mean it's not exceptionally fun.
Tern HSD S11 Review: Components
Motor and battery: Bosch Performance Line Sport
A Bosch Performance Line Sport motor with 65Nm of torque and the capability of Class 3 speeds powers the HSD S11 and a PowerPack 500 keeps the lights (and everything else) on.
This is all controlled via a Bosch Intuvia display mounted on the handlebars, which gives a rider easy access to boatloads of information ranging from speed, your selected PAS level and other metrics. The display even estimates how much further the battery will last based on your current power setting and rate of pedaling, a really cool feature.
Drivetrain: Shimano XT 11-speed
Tern spec'd the HSD S11 with a Shimano XT 11-speed drivetrain, an ultra-reliable workhorse drivetrain from Shimano's range of mountain bike groupsets.
The Shimano XT drivetrain is one of the most revered groupsets in the mountain biking community, and is becoming a fast favorite on electric commuters. It shifts exceptionably crisp, is lightweight, affordable and utilizes a chain-keeping technology that helps the chain stay taught over rough surfaces. It's also not too often we see electric commuter bikes spec'd with 11-speed drivetrains. Usually they're 10-speed and below.
Brakes: Magura hydraulic disc brakes
The brakes on the HSD S11 are a mixed set from Magura. The Magura MT5 with a 180mm rotor handles braking at the front wheel and the Magura MT4 with a 160mm rotor handles braking at the rear.
This setup slowed and stopped the bike exceptionally well with little brake fade on even the longest descents. I rode the bike with little additional weight aside from myself (I had a backpack with a laptop and heavy chain lock), but I highly doubt these brakes would have issue slowing down a much heavier load.
Other notes: An adjustable cockpit and rack choices galore
The HSD S11 we rode during the Big Gear Show was outfitted with a small briefcase-like bag mounted to the front and, most notably, Tern's huge Shortbed Tray bolted to the rear rack. But this is far from the only configuration of the HSD.
The HSD can be configured to handle duties ranging from child carrier to grocery getter, depending on what accessories you choose to bolt to its rack and frame. Utility is a big deal to Tern's design team, who view their bikes more as tools than toys. Again, the rear rack is rated for 132 lbs, so while a full-sized adult may be a little much the HSD can carry pretty much anything else.
All of Tern's electric bikes are fitted with their innovative fit system which, by way of a telescoping seat post and Andros adjustable stem, allows riders to heavily customize the fit of the bike. It also makes it easy to easily share one bike between two people, no matter their height or size.
Tern HSD S11 Review: Final Word
The amount of thought Tern has put into their bikes really is astounding and it's hard to look at the HSD and not wonder how they managed to fit so much utility, so much practicality into such a small e-bike.
Our time constraints at the Big Gear Show meant we had a very limited amount of time with the HSD S11, but it's incredibly clear we just scratched the surface of discovering everything this bike is capable of. But I can say this: I really, really enjoyed riding this bike.
I'm not able to speak too much about how well the bike works as a real-world grocery getter or how it handles the weight of a small child strapped into a seat on the rack (it's compatible with a number of child seats), because we didn't get a chance to test too much of its carrying ability. But I did get a chance to put the bike through its paces on larger-than-average-hills and at speeds you'd be hard pressed to reach in an urban environment, and boy did it handle that surprisingly well. Even beyond its Swiss Army Knife utilitarian ethos, the HSD is just a really fun riding bike.
Tern sells the HSD S11 — and the other models of the HSD — though its national network of dealers.