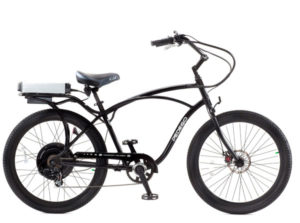 Electric bikes are cool right?  Well the concept is cool, but not all electric bikes look cool.  That is why I put together this guide to show you some of the cool looking electric bikes that you will actually enjoy showing off to your friends!
A2B electric bikes are tough looking and they look pretty comfortable.
Currie Technologies Electric Bikes has many different styles of bikes to fit almost anyone's tastes.
Energie Cycles has a unique "mono-tube" aluminum frame design.  It's a simple and clean frame design that sets them apart from the crowd!
EVELO has a pretty clean looking ebike with a motor that adds power through the gears of the bike (good for climbing steep hills)
Gepida has a cool line up of many different styles
Giant Bikes have always had a clean design that looks comfortable to ride.
Gocycle electric bikes are the cleanest design that I have seen.  They are folding e-bikes that are designed for the dense urban environment.
Kalkhoff electric bikes are elegant sporty city bikes that are well equipped to get you where you need to go with fenders, racks, lights, etc.
M55 is a company that makes rugged electric mountain bikes.  So if you like the tough look, M55 bikes are your ticket.
Ohm Cycles offers city and mountain bike style e-bikes.  They have a design that centers the battery in the middle of the bike for a low center of gravity.  These are high quality e-bikes with a comfortable ride.  See my review of the Ohm XS 750 electric mountain bike.
Optibike electric bikes have a unique mountain bike look.  They are electric mountain bikes that can be used for street or trail use.
Pedego electric bikes are beach cruiser style ebikes that come in many different colors.
Sanyo's Enloop Electric Bike is a very clean and simple design that looks like it's very easy to just get on and ride!
The Smart Ebike is one futuristic looking electric bike from the same company that makes the small Smart Car.  Definitely worth a look!
Trek Bikes has a few electric bikes that have a clean style and they look fast.  Checkout the Valencia + and Transport +.
Voltage Cycles are a very laid back and they describe the style as "classic styling of a prewar era motorcycle and the flair of a modern day cruiser".
Winora has a bunch of electric bikes.
Here is a NON electric bike but it looks like it should be.  This is a super futuristic folding bike from Pacific Cycles called the iF Mode.  You have to see it!
Well that is the list for now.  Stay tuned!  I will be adding more as I come across them.
Please leave a comment below if you know of some other stylish electric bikes that I should add to the list.
-Pete
P.S. Don't forget to get sign up for updates from the electric bike world, plus ebike riding and maintenance tips!  (upper right hand corner of this site)