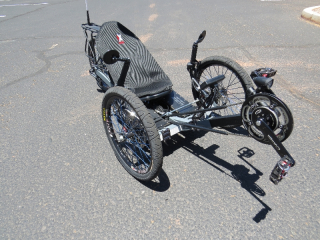 The
Outrider USA 422 Alpha
Adventure Vehicle = 40+ mph, 4,200 watts of power, and up to 165 miles of range!
Let's just say the Outrider USA recumbent electric trikes are high performance vehicles 🙂
Recently, Jesse, Daniel and Tommy from Outrider USA visited here in Sedona AZ and I had a chance to ride their top of the line 422 Alpha adventure vehicle.
Not only did I get to test ride this e-trike but the guys from Outrider had a chance to sample some of the scenic and twisty roads here [Read more…] about Test Riding the Outrider USA 422 High Performance Electric Recumbent Trike!