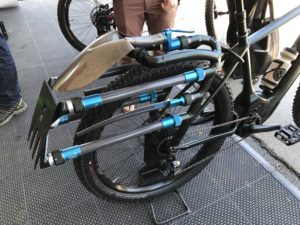 In this continuing coverage of the new 2017 & 2018 eBikes from the Sea Otter Classic there are videos of new eBikes from Calfee, Del Sol, eJoe, Karmic, Kona, KTM, Pure Cycles, and Specialized.
Make sure you checkout these other posts with more videos of new eBikes from:
BESV, BULLS, Raleigh, Yuba, and Haibike
Electra, eProdigy, Fantic, Focus, Haro, and Reise & Muller
Cannondale, Elby, Giant, Trek, Smartmotion, Vintage
The Sea Otter Classic is a celebration of cycling with racing (road, mountain, cyclocross, eMTB), rides, exhibitors, test rides, music, food & drinks, and more.
Now on to the videos!
[Read more…] about New eBikes From: Calfee, Del Sol, eJoe, Karmic, Kona, KTM, Pure Cycles, Specialized [VIDEOS]