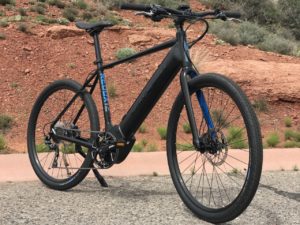 After many miles of testing the sporty Raleigh Redux iE it has proven to be a fun, speedy, and agile eBike that is a quick commuter and fun weekend explorer.
The smooth, quiet, torquey, efficient Brose mid-drive with pedal assist up to 28 mph combined with a nearly 500 watt hour lithium frame battery make the Raleigh Redux iE a high performance machine.
At $3,199 the Raleigh Redux iE offers a high performance and quality ride feel with a solid line up of components from Brose, Hitech, Shimano, Schwalbe, and more.
In this second part of the full review you will get an idea of the ride characteristics, range test results, pros, cons, and overall thoughts on this electric bike. [Read more…] about Raleigh Redux iE Electric Bike Review Part 2: Ride & Range Test [VIDEO]