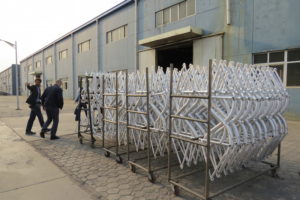 Let's take a look at how bicycles are built!
In this report from the ExtraEnergy & CBA electric bike industry tour of China we will take a look at the assembly facilities of Giant Bicycles, Golden Wheel Bicycles, and Yadea.
Giant Bicycles is an industry giant in the traditional bicycle world and their bikes are sold worldwide.
Golden Wheel makes many bikes under different brand names. They have an impressive facility which includes melting aluminum to create their own aluminum frame tubes!
Yadea is one of the larger e-bike companies for the Chinese market and we were fortunate to [Read more…] about Touring E-Bike Factories In China: Giant, Golden Wheel, & Yadea – Part 2 [VIDEOS]