Surface604 Boar Explorer Review 2023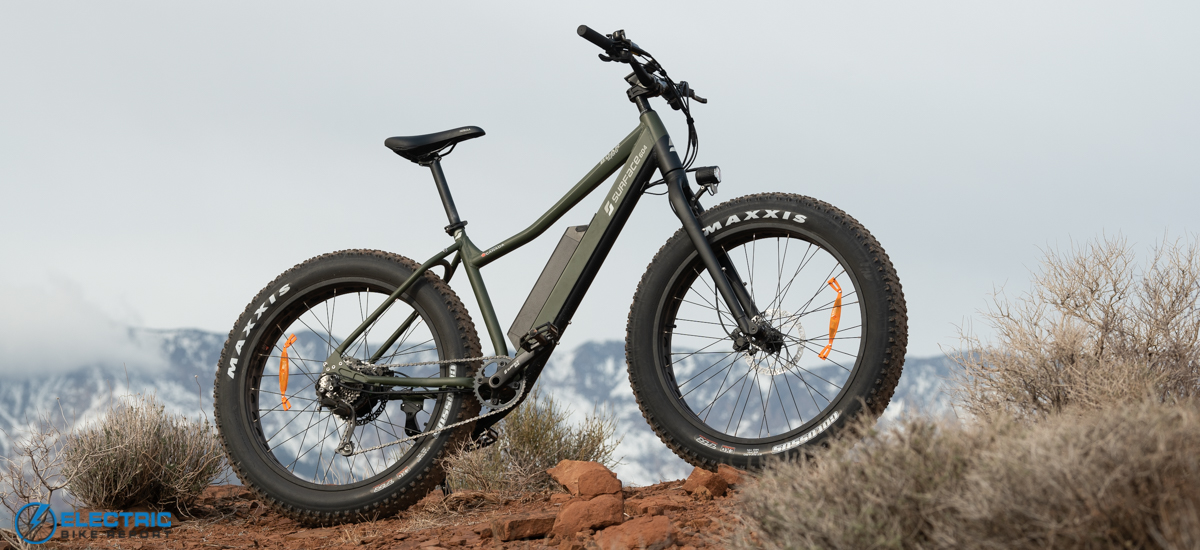 An adventure-ready electric fat bike that takes a refreshing less-is-more approach, the Surface604 Boar Explorer is the Canadian company's more trail oriented fat tire e-bike.
In this Surface604 Boar Explorer review, we put the bike through a series of challenges designed to push the Boar to its limits. We found it's a nimble, lightweight and capable e-bike that's purpose built for more challenging terrain.
The Boar Explorer is the more pared down version of Surface604's electric fat bike. If you're looking for a fat tire e-bike with accountremants like racks and some other extras, take a look at this bike's sibling, the Boar Hunter. The Explorer, which lacks racks and weighs in at just 50 lbs, is designed for lightweight (but not light-duty) trail riding and adventuring. It feels functional in more technical terrain, and Surface604 made some smart decisions with the drivetrain and rigid suspension that help contribute to its capable vibe.
The Boar Explorer, like all of Surface604's e-bikes we've reviewed, is powered by a 500W rear hub motor engaged via an ultra-sensitive torque sensor, giving the rider greater control over the power simply by adjusting how hard they're pedaling.
Bike Category:
Fat Tire/Hybrid Path
Bike Class:
Class 2: PAS/Throttle assist, up to 20 mph | Adjustable to Class 3
Surface604 Boar Explorer Video Review

Pro's
The Boar Explorer is one of the few electric fat bikes that we've has reviewed recently built so well for consistent off-road use.
The torque sensor really does the 500W Bafang rear hub motor justice. It's snappy, feels more harnessed and helps the bike feel manageable in tight terrain.
The 9-speed drivetrain is a welcome upgrade over the 7-speed drivetrains we often see in this category. Not only are there more gear options, but it shifts crisper and the interface is better.
This bike does not come stock with suspension, which we actually think is a pro. This helps keep the cost low, and helps retain the bike's durability and rigidity by foregoing a cheap fork.
The bike's geometry is very stable in rough terrain, and the Boar isn't overly tall, heavy or long, making it easy to handle despite its fat bike persona.

Con's
While we liked the rigid fork, it's not going to suit the needs of everyone. Really evaluate your suspension needs before buying.
There's an argument that a bike this purpose-built for off-road use could use four piston hydraulic brakes over two piston.
ELECTRICAL SPECS & FEATURES
Battery: 48V, 14Ah (672Wh) stock | 48V, 20Ah (960Wh) upgraded
Display: Color LCD display
Motor: 500W Bafang geared rear hub motor, 80Nm of torque
Headlight: Integrated
Taillights: Integrated
Peal Assist: 5 PAS levels and thumb throttle, dropout-type torque sensor
Range: Up to 45 miles with the stock battery or up to 65 miles with the upgraded battery
Throttle: Thumb throttle
Weight & Dimensions
Claimed weight: 50 lbs
Maximum rider weight: 285 lbs (total weight capacity)
Maximum load on rear rack: N/A
Components & Accessories
Brakes: Tektro Auriga hydraulic disk brakes, 180mm rotors front and rear
Fenders: N/A
Fork: Rigid aluminum
Frame: Aluminum
Drivetrain: SRAM X5
Grips: Rubber
Saddle: Velo ergonomic saddle
Handlebar: Aluminum with 35mm rise
Kickstand: Included
Pedals: Wellgo Alloy
Tires: Maxxis Colossus 27.5" x 4.5" with EXO casing
Surface604 Boar Explorer Review: Bike Overview
Among hub-driven electric fat bikes, the Surface604 Boar Explorer is one of the more capable feeling I've ridden.
Much of that is thanks to the bike's geometry and some key component choices which, added together, make the Boar feel balanced and confidence inspiring on unpredictable terrain.
Delivering power is a 500W Bafang geared rear hub motor that makes 80Nm of torque. That motor is powered by two different battery options, the stock 48V, 14Ah (672Wh) battery or the 48V, 20Ah (960Wh) battery we tested in this review. But aside from the strong motor and battery options, arguably one of the most notable features is its torque sensor. This small component is what tells the motor how much power to give and when. Compared to the more common cadence sensor, which can only tell if you're pedaling or not, a torque sensor can tell how hard you're pedaling and deliver power accordingly.
Though the Boar Explorer is advertised as coming with a SRAM X5 drivetrain, our review bike has a 9-speed Shimano Alivio groupset — a likely substitution due to a COVID-induced parts shortage. The good news is that Shimano Alivio is a great proxy for SRAM X5. This 9-speed drivetrain is one of the big value-adds of this bike over some of its cheaper competitors. Not only does it give you more gear options, but should also perform better.
The tires are a set of aptly-named Maxxis Colossus 27.5" x 4.5" fat bike tires that are suited well for off-road terrain. In addition to traction, these balloony tires help take the edge off rough ground and road vibrations. The Boar comes stock with a rigid aluminum fork, but you can upgrade to a WREN inverted suspension fork should you choose.
Surface604 Boar Explorer Review: Motor Performance, Speed and Acceleration
The Boar's torquey 500W rear hub motor is impressive on its own, but pair it with the bike's torque sensor and it's a formidable match.
By detecting not just whether you're pedaling but how hard you're pedaling, the Boar's torque sensor gives the motor a much more intuitive and measured power delivery. If you pedal hard, the motor accelerates hard; if you pedal softly, the motor gives a more gentle assist; and so on. Cadence sensors, on the other hand, while much more common on hub-driven bikes have a distinctive on/off feel. They can only detect whether or not you're pedaling, so you're typically getting the full force of the bike's motor whether you want that much power or not.
We're really familiar with the 500W Bafang hub motor spec'd on the Boar because it's one that Electric Bike Report's staff sees often and for good reason. It's 80Nm torque rating is among the best in class for 500W motors and the Bafang brand has earned a reputation for reliability. But paired with the torque sensor, this familiar motor feels like a new animal — it still has the low-end grunt we've grown to love, but it feels more like a fine instrument than a bulldozer.
We did much of our testing on a public bike path so we kept the Boar Explorer in its stock Class 2 setting, limiting the throttle and PAS to 20 mph. But you can adjust the bike to a Class 3 max speed should you want to and local regulations allow.
Aside from the thumb throttle there are five PAS settings, and to sample them we put the Boar to the test on our test circuit for a lap in each setting plus a lap with the motor entirely off. This gives us an idea of the bike's performance in each setting plus a baseline of how the bike rides with no motor assistance.
Unsurprisingly, the Boar wasn't the easiest to pedal with no motor assistance (fat bikes aren't known for efficiency and speed), but kick on the motor and it was plenty quick. We recorded a top average speed of 19.8 mph around our circuit, just under the Boar's max motor-assisted speed of 20 mph.
Surface604 Boar Explorer Review: Range Test & Battery Performance
Our review model of the Boar is spec'd with an upgraded 48V, 20Ah (960Wh) battery. Stock, the bike comes with a more standard sized 48V, 14Ah (672Wh) battery which should alone yield good battery range. But our upgraded option really put up impressive results.
In PAS 5, the bike's highest assist level, the Boar went for 35.18 miles before running out of battery. In PAS 2, the second lowest assist level, our test rider made it 50.78 miles before dying.
Both of these results are great, and as to be expected of a bike with an upgraded battery. The PAS 5 result in particular is impressive. Few other bikes we've tested — to be exact only six bikes — have gone further than this one in their max assist setting.
As far as battery upgrades go, this one is a pretty good deal. The 20Ah battery tacks on an additional $300 to the overall cost of the bike, which is fairly low when compared to battery upgrade options offered by other brands that can run two or three times that amount. So is it worth your money? I'd say yes, it's a relatively affordable price for a battery large enough you really won't have to worry about range.
Surface604 Boar Explorer Review: Hill Test
On our test hill, the combination of the Boar Explorer's relatively low weight, its torque sensor and that torquey Bafang rear hub motor made for a nice climbing e-bike.
We did two tests on our test hill Hell Hole, a one-third of a mile long steep section of bike path with an average gradient of 12 percent. Our first test was using the Boar's throttle only, which brought me up and over Hell Hole in 1:31.00 with an average speed of 11.9 mph. Our second test, in PAS 5, yielded a time of 1:13.00 with an average speed of 15.9 mph.
Both of these results are really solid, especially for an electric fat bike equipped with a 500W rear hub motor. Most of the e-bikes we review in this class — affordable electric fat bikes — utilize a 750W rear hub motor, the largest you can legally fit onto an e-bike.
But the Boar, with its smaller motor, put up times and average speeds up Hell Hole that are competitive, if not quicker than, many of those bikes with larger motors. This is likely due to the Boar's comparably low weight of just 50 lbs. For an electric fat bike, which we've seen weigh in at 80 lbs or more, the Boar is a featherweight. This undoubtedly gives it a leg up on hills, despite using a smaller motor.
It's also likely due in part to the Boar's torque sensor, which feels really responsive to hard pedaling. All I had to do was keep a consistent tension on the pedals in the PAS 5 test to feel like I was getting 110 percent of the 500W motor's power.
Surface604 Boar Explorer Review: Brakes and the Brake Test
The Boar Explorer comes stock with a set of Tektro Auriga hydraulic disk brakes with 180mm rotors front and rear, a solid brake choice from a name-brand manufacturer we know and trust.
In our brake test, where we bring the bike up to 20 mph and stop as hard as we can five times, the Boar Explorer performed well, coming to a stop in an average distance of 16-feet-3-inches. That's just a hair (two inches) longer than the average braking distance of all the e-bikes we've reviewed thus far.
For all intents and purposes, the Boar Explorer's result is almost dead average — which in our book makes it a solid stopper. During testing, the Boar felt very stable and controlled, even under the hardest of braking conditions. The 4.5 inch fat tires did skid, but the back end did not swing out and the bike tracked straight until coming to a stop.
Four piston hydraulic brakes may have yielded a shorter stopping distance, as the Tektro Aurigas are two piston models, but I think they do the job just fine.
Surface604 Boar Explorer Review: Ride Comfort, Handling and Cockpit
The Boar's cockpit is nicely put together, with a full color LCD display from Bafang, a thumb throttle (which I always prefer) and an overall clean finish.
Like many of Surface604's e-bikes, the Boar Explorer is geared towards larger riders between 5-foot-8-inches and 6-foot-6-inches tall. That's perfect for me at 6-foot-1-inches, but smaller riders should take note of the sizing before ordering.
Handling wise, the Boar explorer definitely feels capable off-road. It feels stable and balanced, and the aptly-named Maxxis Colossus 4.5-inch tires have a massive amount of grip.
As I pointed out before, the Boar Explorer comes stock with a rigid fork. I'd very much argue this was the right call, as it keeps the front end of the bike feeling stable and stiff. Surface604 said they deliberately opted for the rigid fork as the stock option on this bike. It keeps the cost low, and the cheap suspension forks we see on most fat bikes at this price point really only detract from off road performance. They tend to be wallowy, and have little to no fine adjustment for things like rebound, compression and small bump compliance.
There is an option to upgrade the fork on this bike should you want something for a little more aggressive off-road riding. Surface604 offers the Wren inverted fork as an optional upgrade, which is a truly well equipped suspension fork specifically designed to handle the hefty tires and weight of fat bikes.
Surface604 Boar Explorer Review: Summary / Where to Buy
I love seeing companies design e-bikes that have a very specific purpose. E-bikes have certainly helped with the "one bike to do it all" conundrum, making it easier for one type of bike to accomplish more tasks, but I'm still a firm believer that there is no such thing as one bike that can do everything.
Instead, I prefer e-bikes designed and purpose built to be very, very good at one specific thing.
The Boar Explorer was built with the goal of being very, very good off-road, and I think Surface604 did a great job in hitting that mark.
It's remarkably light at just 50 lbs, making it maneuverable and even a little more nimble than some others in its class. The torque sensor helps you stay in control of the 500W motor in tighter terrain, giving the bike a powerful yet harnessed feel. And finally I think Surface604 did a great job with this bike's geometry, clearly designing it with the intention of off-road stability and performance.
I'd also like to give Surface604 kudos for fighting the urge to fit this bike with a cheap suspension fork, which I'm sure many people reading this review are going to have questions about. Fitting this bike with a cheap fork would have only detracted from its off-road capability. Sticking to a rigid design, which inevitably introduces a slightly rougher ride but retains the bike's stiffness, handling characteristics and long-term durability, was a bold move.
All in all, I've been very pleased with how the Surface604 Boar Explorer stood up to our testing. It proved to be a solidly built and uniquely capable off-road electric fat bike.
If you like the Surface604 Boar Explorer, it can be bought on their website and shipped to your door. Or, if you're near a Surface604 dealer (there are now lots of them) you can go in and test ride a bike and buy in person.
'Happy Riding, make sure to let us know if you have any questions down in our comments section or if you think we left anything out in this review of the Surface604 Boar Explorer.
Reader Interactions