E-Bike News: REI's First eMTB, Specialized's Creo SL Gravel, Aventon UL-Certification Trek Recall & More!
REI's Co-op brand of bikes introduces its first eMTB, the DRT e3.1; Specialized introduces a new, lightweight version of their Creo gravel bike, the Creo SL; Aventon receives UL certification for most of its e-bikes; auto brand MINI is now taking pre-orders on a MINI-branded e-bike to be produced by Angell Mobility; Trek recalls its Allant+ 7 e-bike for brake hose issue; Rad Power Bikes issues statement denying claims made in latest lawsuit; an e-bike retailer received a notice from his insurance company canceling coverage, thinks selling, repairing e-bikes is cause; Himiway announces new colors for its Zebra model
In this week's e-bike news:
REI introduces first eMTB

Specialized introduces Creo SL gravel e-bike

Aventon announces UL-certification

MINI takes pre-orders for branded e-bike

Trek recalls Allant+ e-bikes

Rad Power Bikes denies claims in lawsuit

E-bike retailer's insurance canceled

Himiway announces cew colors for Zebra
REI introduces first eMTB
Co-op, REI's in-house bike brand also makes some e-bikes and it is now adding to that lineup with its first eMTB, the DRT e3.1. The full-suspension eMTB features a Bosch Performance Line CX motor with a Power Tube 626 battery, RockShox Recon Silver RL fork, RockShox Deluxe Select Plus RT shock, Tektro 4-piston hydraulic disc brakes, SRAM SX Eagle 12-speed drivetrain and tubeless-ready tires and rims.
The DRT e3.1 is built on an aluminum frame with 140mm of travel in the front and 130mm of travel in the rear. REI chose to offer the DRT e3.1 in five sizes (XS-XL). The 250W Bosch Performance Line CX motor produces 85Nm of torque, giving it the muscle necessary to handle technical singletrack trails. The Bosch Power Tube battery has a capacity of 625Wh. The DRT e3.1 weighs 55 lbs.
REI says that the DRT e3.1 complies with UL's 2849 standard for entire e-bike systems. A system that complies is not the same thing as a system that's certified, meaning this e-bike won't be permitted in New York City.
Specialized introduces Creo SL gravel e-bike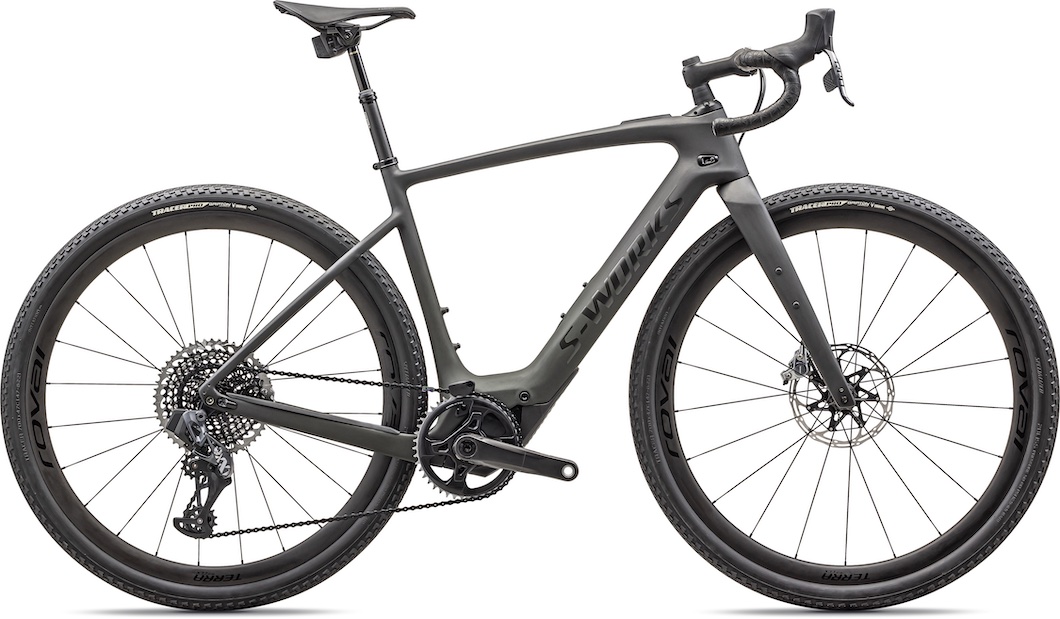 Following in the footsteps of its Turbo Levo SL, Specialized has introduced the Creo SL gravel e-bike. As a gravel e-bike, it looks much like a road e-bike: drop handlebar, 700C wheels, rigid frame and fork. What makes a gravel e-bike like the Creo different from a road e-bike is its tire width; rather than running tires that may only be 23-25mm wide, gravel e-bikes run tires that are much wider for exploring dirt roads and some trails. The Turbo Creo SL improves on the existing Creo with a motor—the SL 1.2—that provides 33 percent more power and 43 percent more torque.
In raw numbers, Specialized says the Creo SL's SL 1.2 motor produces 320W and offers a maximum assist speed of 28 mph (Class 3) and can give riders five hours of ride time, or up to 120 mi. in range. It comes with a 320Wh internal battery and riders can add an additional 160Wh range-extender battery.
Because Specialized made the Creo SL to take in dirt surfaces, they gave it their Future Shock front suspension system, so while the fork itself is riding, the handlebar is able to move 20mm, soaking up big bumps.
Specialized gives riders remarkable control over the Creo SL with its Turbo Operating System smartphone app. Not only can riders change aspects of motor performance, they can track their rides and even use the app to coach them to greater fitness.
The Creo SL comes in three different builds: Specialized's flagship S-Works level, the high-end Expert and the more value-focused Comp level. The frame is produced in six different sizes for optimal fit.
Aventon announces UL-certification of their e-bike models
Aventon has announced that their e-bikes are now certified to UL's 2849 testing standard. This means that Aventon is a brand approved to sell bikes in New York City, which now has the most stringent standards for e-bike system and battery safety.
OSHA recently recognized the North American location of TUV Rheinland as an approved lab to provide certification for UL 2849, the standard that governs complete e-bike electronics systems comprising the motor, battery, controller, wiring harness and throttle.
Some production runs for two models, the Sinch and Level, pre-date the testing and won't be available in New York, but the later versions, the Sinch.2 and Level.2, have received full certification.
MINI takes pre-orders for branded e-bike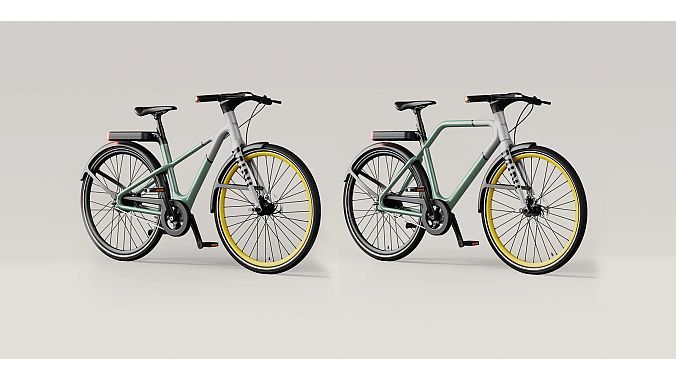 Auto-maker MINI will release two e-bike models in 2024, manufactured by Angell Mobility in France.
Each e-bike will come in two sizes and two colorways. Both frames feature a traditional, step-over frame design, but the smaller size will feature a more radically sloping top tube.
The colorways are Ocean Wave Green and Vibrant Silver. As a celebration of MINI's heritage, Angell Mobility will produce 1959 units of each colorway, corresponding to the year MINI was founded.
The e-bikes will feature a touch-screen display integrated into the combination bar/stem. A corresponding smartphone app (or Apple Watch), offers security functions as well as a high-decibel alarm system. Angell's warranty even includes a theft-replacement program.
Initially, the e-bikes will be available only in Europe. MINI began accepting pre-orders on Sept. 19.
Trek recalls Allant+ 7 e-bikes due to brake issue
Trek has announced a recall of all Allant+ 7 e-bikes due to a problem with the brake hose. The affected e-bikes are equipped with Tektro brakes and on some of the e-bikes the brake hose can catch on the headlight or headlight mounting bracket, resulting in a kink that can eventually break.
The Consumer Product Safety Commission says there have been 58 reports of riders losing control of the e-bikes, including two incidents resulting in minor injuries involving scrapes and bruises.
The affected models are the Allant+ 7 (Nautical Navy), Allant+ 7 Lowstep (Nautical Navy), Allant+ 7S (Nautical Navy and Matte Quicksilver), and Allant+ 7 S Stagger (Nautical Navy and Matte Quicksilver). Trek is printed on the frame and the model name is printed on the toptube. The recall affects about 7,000 units. The affected e-bikes were sold between January 2022 and June 2023.
Owners of the affected e-bikes should schedule a service appointment with a Trek retailer for inspection and possible repair. Trek will provide a replacement brake hose and headlight mounting bracket if necessary. Allant+ 7 owners will be given a $10 in-store credit that can be used to purchase Trek or Bontrager merchandise.
For more information visit the CPSC's recall page.
Rad Power Bikes denies claims made in latest lawsuit
Rad Power Bikes issued a statement defending its quality control and denying the claims made in a class-action lawsuit filed last week that faulted the fork and quick-release design as the cause of a front wheel disengaging from the e-bike.
While they initially declined to make a public statement regarding the suit filed by law firm FeganScott on behalf of Gary E. Mason, Rad Power Bikes subsequently issued the following statement:
"As an industry innovator and leader in e-bikes, Rad Power Bikes holds the safety of our riders as our top priority. We design our e-bikes and accessories to exceed safety and quality standards required by U.S. e-bike regulations. Because of this, we are confident in the safety and quality of all of our e-bikes and components when used and maintained properly. This includes the disc brakes and quick-release mechanism, which have been standard in the industry for years and used on millions of bikes and e-bikes.
"Rad Power Bikes, therefore, denies the allegations in this complaint, and the company looks forward to the opportunity to defend itself and its products in this case."
Mason, of Bethesda, Maryland, purchased Rad Power Bikes's RadRunner model in March of 2021. On May 31, 2022, Mason was riding the RadRunner to the grocery store when he braked to avoid a turning car. He was thrown over the handlebar and "saw the front wheel flying through the air."
Mason suffered five broken ribs and a broken clavicle after landing on his back. He spent two nights in the trauma ward at Johns Hopkins Medicine in Bethesda, and another six weeks in rehabilitation and physical therapy.
The class-action lawsuit seeks a jury trial and "repair, replacement, and/or refund; extended warranty; injunctive relief resolving — and appropriate curative notice regarding — the existence and cause of the defective e-bikes; reimbursement of all expenses associated with the repair or replacement of the e-bikes and damage caused by the Rad e-bikes; and reimbursement of attorney fees and expenses."
E-bike retailer's insurance canceled

Scott Chambers says he had never made a claim with Pennsylvania Manufacturers Association in the five years they had insured his shop, Zippy's Bikes. While his rates had risen, he was surprised by the notice he received from them, dated Sept. 13.
It said, "Unfortunately the program that we have your insurance in will no longer be writing Bicycles Shops at renewal. The non-renewal has nothing to do with your business specifically, the company will just no longer be writing the class of business."
Chambers told Bicycle Retailer and Industry News that the notice came "completely out of the blue. Unexpected."
Zippy's Bikes sells both e-bikes and traditional bikes. Their lines include Trek, Electra, Sun and Biria, among others.
Chambers believes his coverage was canceled due to the fact that he sells and services e-bikes.
"That would be our guess because of the fires and issues with unapproved UL and cheap Chinese lithium-ion products in New York City, and possibly the Rad Power lawsuits," said Chambers. He says he's never had any claims with any of his carriers in 13 years.
Himiway announces new colors for Zebra

Himiway has introduced four new colors for its Zebra model, which is being renamed. The Zebra is being redubbed the D5. The D refers to Himiway's All-Terrain Collection of e-bikes and the number 5 refers to its series designation.
Himiway says the D5, "targets 35-60-year-olds who enjoy outdoor activities and casual cycling, as well as stylish young people and female cycling enthusiasts."
The D5 is now offered in four new colors:
4 New Colors: Pale Green/ Ocean Blue/ Vibrant Yellow/Skyline (exclusive color of the offline store)
Pale Green: This soothing hue is inspired by the tranquility of nature, evoking a sense of calm and serenity. Pale Green is perfect for riders who appreciate the beauty of the outdoors and want their e-bike to reflect their love for the environment.
Ocean Blue: A deep, rich shade that captures the essence of the sea, Ocean Blue is both sophisticated and adventurous. This color is perfect for those who crave exploration and have an affinity for the open water, whether it's a coastal ride or a journey to the heart of the city.
Vibrant Yellow: Bold and energetic, Vibrant Yellow is a color that commands attention. This eye-catching hue is designed for riders who want to stand out from the crowd and showcase their lively personality. If you're someone who loves to make a splash wherever you go, Vibrant Yellow is the color for you.
Skyline(This exclusive color is only available at the Himiway offline store): The Skyline color for your e-bike is a stunning light blue hue that takes inspiration from the sky and clouds. It effortlessly enhances the elegance of your bike and showcases your affinity for nature.
Reader Interactions