Propella V4.0 Review 2023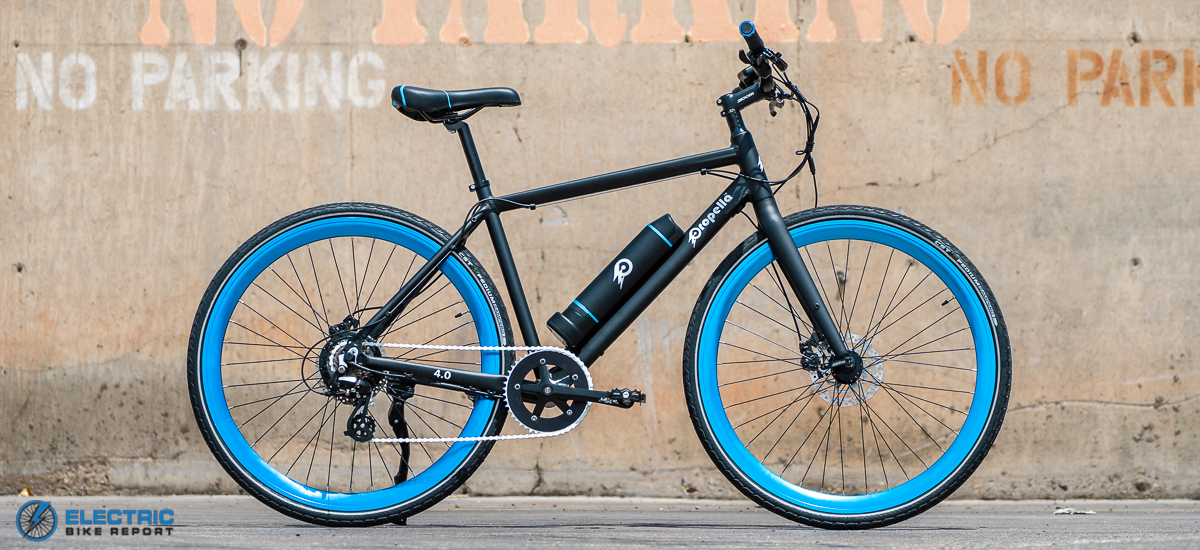 Propella V4.0 Review: Overview
Over the course of reviewing the Propella V4.0 we noticed it emphasizes the "bike" in e-bike. First and foremost, it feels like a traditional bicycle while you're riding it, but with an added boost on hills and during acceleration. I'd relate the riding experience to feeling physically at 100 percent, while riding with a tailwind. The assistance never takes over the ride experience as a whole, instead it does a great job of completing it.
If you simply love to ride bicycles, you don't like the idea of an over-powered e-bike and you don't want to spend too much money, I see the Propella V4.0 as a great option for you.The 250W motor provides consistent and smooth engagement, and the 630mm bar will keep you confident at speed. This is a great e-bike for those who are curious about e-bikes but don't want to commit to a $2000-plus model.
Plus, because of the V4.0s predecessors you'll receive a refined version based on years of feedback and testing; the V4.0 has puncture resistant tires, a 4th generation battery, and a more compact charger than the previous model.
Bike Category: City/Urban Commuter
Bike Class: Class 1
Class 1: Pedal assist, up to 18.5 mph

Pro's
Propella has done annual revisions to their bikes and has shown that they care about their product and are looking to improve upon it from year to year.
The Propella V4.0 is lightweight and easy to maneuver. It's light enough that we were able to pedal it just fine without any pedal assist.
The V4.0 is a great value as it comes in at a very competitive price point for what you receive.
We think Propella has done a good job with the visual aspects of the V4.0. The blue and black paint job is very appealing
The V4.0 gets up to speed quickly and is a great hillclimber due to its lightweight design
The 630mm handlebar and 35c tires make for a snappy and smooth cornering combination.
The V4.0 is easy to handle even at higher speeds.

Con's
The V4.0 has external cables without housing which works fine, but feels a little outdated.
The kickstand is flimsy and rattles around when riding.
ELECTRICAL SPECS & FEATURES
Battery: 36V, 7Ah (250Wh)
Display: LCD display (includes battery level, speedometer, time, and pedal assist level)
Motor: 250W Bafang rear geared hub motor
Peal Assist: Level 1-5
Claimed Range: 20-40 miles
Throttle: No
Weight & Dimensions
Battery weight: 3.5 lbs
Claimed weight: 37 lbs
Real weight: 37 lbs
Maximum rider weight: 275 lbs
Unfolded Dimensions: 68in x 25in x 42in (length x width x height)
Components & Accessories
Brakes: Shimano Tourney TX-805 mechanical disc brakes
Fenders: Available for purchase
Fork: Aluminium rigid fork
Frame: Aluminium frame
Gearing: Shimano Altus 7-speed with 46t chainring
Grips: Lock on rubber grips with blue locking rings
Saddle: Blue and black plush saddle
Handlebar: Zoom alloy 630mm handlebar with 90mm stem
Kickstand: Included
Pedals: Neco alloy pedals with reflector
Tires: 700 x 35c CST Xpedium puncture resistant tires
Propella V4.0 Review: Performance
Acceleration / Speed
The V4.0 has a top speed of 18.5 mph, which it seemed to have no problem hovering near in maximum assist. The V4.0 also gets up to its top speed pretty quickly and I think that's mainly due to the fast rolling tires and 35 Nm of torque the bike can produce.
Despite the top speed being a little lower than some of the competitors bikes the average speed is pretty similar. Sure, it can't get up to 20 mph on its own power but it can hover close to that with ease. Some e-bikes that can theoretically reach 20 mph actually cruise at closer to 15 mph or 16 mph unless you really push it. But the Propella V4.0 has no problem maintaining its top speed.
To me, it was apparent that it could push a little faster if it was programmed to, but the team at Propella limited the speed, which helped increase the range of the battery. I feel the 18.5 mph top speed is a good balance of speed and range without going too slow.
Range Test
The Electric Bike Report team conducts two separate range tests where we see how far the bike rides before the battery dies. One test is done in maximum pedal assist, the other in minimum pedal assist. This gives us a good idea of the true real world range of the bikes we test.
When I rode the V4.0 in maximum assist I reached 17.1 miles with an average speed of 16.2 mph before the V4.0s 36V, 7Ah battery gave way. I was satisfied with the average speed that I rode at, and I was pretty close to the claimed range of 20 miles. I think if I were to live in a flatter area the Propella V4.0 would probably reach the claimed 20 miles before dying.
When we test rode the Propella V4.0 in minimum assist, it took our test rider 33.51 miles for the battery to die. He had an average speed of 10.1 which is about what I'd expect from this bike in its lowest assistance level.
The V4.0 showed its consistency in power output and speed as our range test average speeds were close to our 1 mile circuit test results for the respective assistance levels.
Circuit test
Our team conducts a 1 mile circuit test where we test and analyze the differences between each assistance level, and how it feels. Once we've ridden the bike in all the assist levels we get a good idea of how well calibrated the bike's controller is, and how the transition feels from one pedal assist level to another.
The Propella V4.0 proved to have a lot of consistency in how much speed is acquired from one assistance level to the next. The V4.0 changed levels predictably and it didn't take long for me to familiarize myself with each assist level and how it felt.
The V4.0 really comes alive in pedal assist level 4 and 5, and in level 5 the V4.0 does a good job staying around its top speed of 18.5 mph. I think the more linear the transition through the pedal assist levels the better, as it's important to know what to expect from each level.
The Propella V4.0s results nearly rode out linear which is great to see especially for a bike of this price point.
Hill Test
It took me one minute and 47 seconds to ascend our test hill which is a third of a mile long and has an average gradient of 12 percent.
Despite the motor being a little smaller than some I got up our test hill without having to fully exert myself. While the Propella V4.0 didn't get up the hill as fast as some other bikes I've tested, it allowed me to stay comfortable and seated when climbing the hill.
I was happy with the test results as being able to stay in leisure mode on steep hills is exactly what I would hope for on a commuter e-bike. I also had an average speed of 10.1 mph, which is respectable considering our hill of choice is intended to challenge the e-bikes motors, and see what they're made of. I mean, it's called Hell Hole for a reason.
Handling (cornering, slow speeds, safety on bike, etc.)
The V4.0 rides really smooth and efficiently, it's nimble around corners and fast rolling.
The Propella V4.0 was easy to control whether I was going fast or slow and I think that's mainly due to the wider handlebar adding stability and balance to the bike. I also like the tire choice on this bike; thin, but still voluminous enough to smooth out rougher roads. The tires are wide enough for the occasional gravel road and plenty of traction at speed.
I like the wider bars and tires on the V4.0, the stability they provided gave me increased confidence at speed and added some comfort to the ride as a whole. Had the bars and tires been thinner I don't think I would have been able to ride as confident, or as quickly as I was able to.
I think those who are commuting will really value the snappy handling characteristics of the Propella V4.0. Sharp corners didn't stand a chance and high average speeds were easy to maintain thanks to the V4.0s agile design.
It's also worth noting that the Propella V4.0 handles more like a standard bike than an e-bike thanks to its lightweight design, this also makes it pedalable without any pedal assist.
Ride Comfort
I didn't expect the V4.0 to be as comfortable as it was, for as long as it was.
It isn't very common that I feel like a saddle is designed around my anatomy but this one feels like it is. My bum gets along with this saddle no matter the distance I ride. Considering the fact that this bike has no suspension, having the contact points be comfortable is pretty crucial for a good riding experience.
I did notice some vibration in the handlebars but I wasn't all that alarmed by it. In fact, the vibration isn't near as bad as I would have expected considering the fully rigid design and road wheels and tires. Wearing a pair of riding gloves significantly nullifies the chatter.
Propella V4.0 Review Specs/Features: Electrical Components
Motor
The Propella V4.0 has a 250W Bafang geared hub motor.
The motor was really quick to engage, and the tuning felt like a good balance of getting me up to speed quickly without using a lot of battery life. This motor tuning felt efficient and appropriate for the V4.0s commuter-esc design and capabilities.
I did hear the motor a little bit while reviewing the Propella V4.0, there is a subtle "whirring" noise when in use. Considering the bike's price point I didn't really mind, especially because the feeling of the motor was smooth. With that taken into account it's still worth noting that it's not the quietest motor I've tested.
The Propella V4.0's motor needs to be in pedal assist level 4 or 5 to really come alive, and that's where I spent most of my time when riding it. Both of the mentioned assist levels kept me above 15 mph without me having to work super hard and the motor only seemed to struggle on the very steepest of hills.
While the Propella V4.0 may not reach speeds as high as some of its competitors' e-bikes, it makes up for it in predictability and efficiency. The motor feels like it's capable of higher speeds, but calibrated in a way that limits it before it gets near its maximum output. Because of this, the V4.0 does a good job staying around its top speed of 18.5 mph.
Battery
One of the first things I noticed on the Propella V4.0 was the battery pack. Propella seemed to embrace the fact that there was an external battery pack on the frame, and seemingly designed it to look like a large triple AAA battery. The result is an eye-catching Tron-esc aesthetic.
So, did the battery back up its looks with performance?
I'd say overall yes, it does. On our minimum assist range test we reached 33.51 miles on a single charge. Considering the Propella V4.0 is a commuter bike, I think this is more than enough.
The 36V 250 Wh battery is lighter weight and makes a lot of sense in regards to commuting. Its lighter weight, does not take as long to charge and still provides enough of a range for most commutes. Propella has done a good job balancing cost and performance with their choice of battery.
Pedal Assist / Throttle (when applicable)
The Propella V4.0 comes with 5 total pedal assist settings, with the highest topping out at 18.5 mph.
We conduct what we like to call a "Circuit Test" on the e-bike we review, this test is done by riding the bike in each pedal assist level around our 1 mile loop. After the test is completed we have a good idea of how each pedal assist level performs, and the average speed that comes with each level.
The Propella V4.0 had an average incremental change of 1.44 mph between assistance levels, the biggest jump being between pedal assist levels 4 and 5 (2.0 mph). These pedal assist levels felt pretty consistent from one level to the next, the predictability and consistency factors make for a smooth change when actuating the levels up and down.
The V4.0 does not come with a throttle, which I think would have been a nice addition to the bike as a whole. With the commuter-esc design I see a lot of value in not having to pedal for situations where you want to get to your destination without being even the slightest bit flustered.
Display
The LCD display fits the low profile aesthetics of the Propella V4.0 as it is not very big, or very bright; but I actually prefer it that way.
The LCD display isn't distracting and isn't noticeable unless you want to look at it. Some e-bikes use displays that resemble an iPhone screen and when I ride those bikes I find myself looking at the display more than I probably need to.
While those displays are nifty and fancy, they rarely provide any special functions over the standard displays like the V4.0's. Sure, they may be able to flaunt their color range, but aside from that there isn't much more to the fancier displays most of the time.
For what the V4.0 is I like the more utilitarian, function-based display. It showed me everything I needed to see without being distracting or calling for my attention. The display shows you the battery level, speedometer, time, and pedal assist level — all the essentials.
Propella V4.0 Review: Components and Accessories
Brakes
The Propella V4.0's comes with Shimano Tourney TX-805 mechanical disc brakes, and 160mm rotors front and rear. The bike also has Artek brake levers which will fit most people's hands really well thanks to how long the lever blades are.
After 60 or so miles on the Propella V4.0, and a brake test from the top speed of 18.5 mph I think that these brakes are a good choice for the V4.0.
For our review of the Propella V4.0 we conducted a brake test to see the stopping distance from full speed. During our brake test it took me an average of 13'2" to stop from the bike's top speed which is actually a pretty short stopping distance. I think this is partially due to the bike weighing a little less than your typical e-bike. The stopping distance was reassuring to see because of where this bike is going to be ridden (in between cars in traffic, around pedestrians, on paved trails, etc).
I like to think about how a couple feet of change in stopping distance could be the difference between crashing into something or continuing your ride. Those in big cities should be able to avoid the intersecting taxi cab with these brakes, and those riding the V4.0 on paved trails will have plenty of stopping power to safely pass/slow down for others on the trail.
Frame
The V4.0's aluminum alloy frame possesses very minimalistic and sleek visuals; the welds are low profile enough that it takes some looking to even notice them. The frame also includes water bottle cage bosses on the underside of the downtube, and rack mounting bosses on the chain and seat stays.
I like Propella's approach to the frame design, and in my opinion this stealthy frame adds a lot of visual value to the V4.0. It ties together the bike quite well without being too loud or extravagant. Sometimes less is more, and the V4.0's frame is a great example of that.
While I have no complaints about the performance of the frame I would like to see some fully housed cables on the future models of this bike. The exposed cables can sort of counteract the bikes minimalistic approach, and while the function of these cables is just fine I do think it takes away from the looks some.
I do understand that the V4.0 is around $1000, but I think Propella could implement some better external cable routing and housing without changing the price much on future models. Even if it adds a little bit of cost to the bike, I see it being worth it for the visual cleanliness of the bike.
This is a pretty minor tweak, and I don't see the current housing being a huge negative to the V4.0. It's more so something I'd like to see updated on future models.
Fork
The V4.0's rigid fork is constructed of aluminium alloy, just like the frame. The fork and frame have a very seamless look between them, and despite them being separate pieces they work together like one in the way of the V4.0's looks. Even independently the fork looks great thanks to its glossy finish and edgeless construct.
The rigid alloy fork felt pretty good overall, it felt stiff when braking and kept my steer path consistent. The fork's stiffness helped me stay confident at speed, and it meshed nicely with the 630mm handlebar. In the simplest of terms the combination of the two kept me from feeling like I was spilling over the front of the bike.
Drivetrain / Shifting
The Propella V4.0 meshed up nicely with the Shimano Altus 7 speed drivetrain.
I live in an area with lots of steep, punchy climbs and having a wide gear range allowed me to get up them without an all out effort. The trigger shifter felt really crisp and quick with its shifts which made the ride experience feel that much smoother in general.
The 7 speed cassette is paired up with a 46t chainring which is great for maintaining higher speeds on flat ground and into inclines. The gear range as a whole is a good range for a commuter bike, especially for an area like St. George that has a lot of challenging hillclimbs.
I wouldn't change anything about the drivetrain aside from the white chain, to me it looks a little cheap and low quality especially once the paint started to wear off from use. I don't think the white chain really adds anything to the looks of the bike and a standard chain would look, and feel just fine.
Contact Points
For the Propella V4.0 being fully rigid, it's pretty comfortable.
This is mainly due to the contact points and body positioning the V4.0 has. The saddle feels like it was made for me, it had enough cushion that I rarely re-adjusted my positioning. It also was a great width for my sit bones, I never had any discomfort from the saddle and I believe it's one of the key variables to the V4.0 being comfortable for longer periods of time.
The handlebars are the other main contributor to the comfort of the Propella V4.0. These alloy bars are 630mm wide which is a little wider than what I'm used to on this style of bike; they also have a slight rise that sits the rider a little more upright.
In the simplest of terms the handlebars dimensions helped drastically with lower back pain and overall stability when riding. The wider bar allowed me to use my arms as suspension more than I would have been able to on a thinner bar, ultimately resulting in a smoother ride. I'm a fan of wider handlebars and I'm happy to see the Propella V4.0 has some.
The black and blue lock on grips were plenty tacky but lacked cushion overall. A chunkier, or thicker grip would reduce the amount of vibration that goes into your hands. Despite them being a little thin I thought that they provided really good grip. If you insist on a different set of grips they'll be really easy to swap out thanks to the stock grips being lock on grips, versus slip on grips.
As far as other contact points go the alloy pedals had plenty of grip and felt well made, but for my size 11 feet the platforms felt a little bit small. A larger platform would help riders feet stay in place, and find the pedals a little easier if their feet do happen to slip off. Similar to the grips the pedals will be easy to swap out for a preferred set if needed.
Tires
The CST Xpedium puncture resistant tires are the right tool for the job on the V4.0, as the 35c sizing makes for a great balance of quick rolling speeds and traction.
The slightly wider than average road tires also smoothed out rougher roads thanks to their higher volume. I was able to get away with riding on some gravel roads thanks to the mentioned width, and the puncture resistant casing.
The Propella V4.0 is by no means an off road bicycle, but the occasional dirt or gravel road is doable if need be. If you live in an area with predominantly unpaved roads and the V4.0 is your e-bike of choice I'd recommend purchasing some even wider tires.
For commuting and urban riding these tires are great, it was really easy for me to get up to speed, and maintain speed thanks to their fast rolling characteristics.
Extras / Accessories
The Propella V4.0 comes with a large variety of optional accessories, all of which are available on Propella's website.
They also provide a commuter bundle for $285.00 that includes a saddle bag, rear rack, tail light, fenders, water bottle, folding lock, and headlight. I think the commuter bundle is a really good idea, and a good bargain for all the accessories you receive.
Propella V4.0 Review: Summary / Where to Buy
My liking for the Propella V4.0 grew with over the course of my review. The V4.0 was a lot of fun to dive into corners on once I was used to its handling characteristics, and it was easy to maneuver overall thanks to its lightweight design.
I see the V4.0's fast rolling 35c tires and slightly wider than average handlebars being great for big city commuting, and paved surface riding in general. These components inspired confidence at higher speeds when I was riding, something I definitely value in a commuter.
The saddle was also comfortable for long periods of time and I was actually pretty surprised at how much I liked it. One of the biggest things I look for in a good commuter is how comfortable it is. I like to get to my destination without being flustered or sore, and the saddle earned some extra "commuter points" because of the comfort it provided me with.
The V4.0 also performs quite well without any pedal assist, so if you run out of battery you'll still be able to pedal to your destination. In our circuit test results there was only a -1.3 mph difference between the bike turned completely off and the first pedal assist level; confirming the V4.0s overall efficiency and fast rolling ability. Our max pedal assist level also was only -1.2 mph off of the Propella V4.0's top speed of 18.5 mph.
Propella did a decent job with the motors strength to weight ratio on the V4.0. For only having a 250W motor the V4.0 accelerates fast and can hover around its top speed of 18.5 mph without much issue.
I think the bike would really come alive with a 350W or 500W motor, the average speed wouldn't dip down near as much as it does on steep hills if it had a little more power. Even if they kept the top speed at 18.5mph a larger motor would keep the V4.0 riding close to that speed at all times.
Yes, this would add some weight to the bike but I think the gains outweigh the losses in this instance.
The 7 speed drivetrain also added a lot of value to the bike, and I like that they offer the V4.0 in a single speed design as well. The 7 speeds were largely beneficial to me because of where I live as here in St. George there are a lot of punchy, steep hills that can be difficult to scale. While I was never the fastest up the steep hills on the V4.0 I was always able to get up them without much strain at all, adding to the bike's overall commuting value.
The V4.0 comes in stealthy black, and has blue componentry and decals to tie together the visuals of the bike. The bike looks great, however there are a couple things I think Propella could do to refine the bikes visuals even further.
For one, I think the exposed cable lines make the V4.0 look a little outdated, as lots of similarly priced bikes use fully enclosed cables, or internal cable routing. I also think that the white chain looks a little bit cheap, but I never had any issues with its performance. Both of these things are pretty minor, but I think changing them up would definitely improve the bike's looks.
Propella offers a commuter bundle for $285.00. It includes a saddle bag, rear rack, tail light, fenders, water bottle, folding lock, and headlight. As I mentioned earlier I think the commuter bundle is a really good idea, and it's a good bargain for all the accessories you receive. I think Propella is onto something with their bundle and I would like to see more companies do something like this with their bikes.
By the end of our review and test process on the Propella V4.0 I felt like we had a really good commuter on our hands, especially for those who aren't looking to spend a fortune on an e-bike. The combination of the good looks and overall efficiency made for a fun reviewing process that left me pleased with the bike as a whole.
At the end of the day the V4.0 doesn't try to be anything that it's not, and it does what it's supposed to do pretty dang well.
Reader Interactions