Magnum Scout Review 2023
Built around a 750W Bafang rear hub motor, the Scout electric fat bike is Magnum's entry into the ultra-competitive high-powered electric fat bike category.
The Scout, one of Magnum's most in demand e-bikes, is designed as a do-anything go-anywhere fat bike that's friendly to all sorts of riders. It sports Shimano components, hydraulic disk brakes and two battery options that are both larger than average for this category of e-bike.
The Utah-based company boasts an international distribution network with more than 200 brick-and-mortar retailers that can help with service, troubleshooting or buying your bike if you prefer to do so in person.
This review is one of several micro reviews Electric Bike Report did during the Big Gear Show in Park City, Utah this August, so it's a little less in-depth than our typical review process. But keep an eye on this space, we hope to get several of Magnum's bikes (including the Scout) in the near future for a full length review.
Magnum Scout Performance and Handling
Speed and handling
The Scout, like most electric fat bikes, is a heavy rig at about 74 lbs. But it handles that weight well.
It's a Class 3 e-bike so the motor will assist your pedaling up to 28 mph. The bike is also equipped with a twist throttle that'll cut out at 20 mph. The 750W Bafang motor is a solid match for the bike's weight, all but canceling it out on some of the steeper hills we found in Park City (there's lots of those).
The Scout felt extremely stable in corners and was an all-around comfortable ride. This bike's 74 lb weight isn't unique for a fat-tire e-bike, so I'm always careful to pay attention to how bikes like this handle at low speeds and in corners. Never once did I feel like it would get away from me.
Magnum Scout Components
Motor and battery: 750W Bafang rear hub drive and large battery options
The 750W Bafang rear hub motor is a gold standard among affordable electric fat bikes. It's solidly powered, reliable and has ample torque to satiate even the most power hungry riders. The version of the motor on the Scout was no different, it held its own on hills and under hard acceleration.
But the real standout of the Scout's drive system was its sizable battery options. Buyers can choose between a 48V, 17.5Ah (840Wh) and a 48V, 19.5Ah (936Wh) battery — those are both larger than average. Range should always be a huge consideration when shopping for an e-bike like this. A 750W motor requires a lot of energy to run, so these larger batteries mean more ride time on a single charge.
Drivetrain: Shimano 7-speed
Magnum spec'd the Scout with a mixed Shimano 7-speed drivetrain consisting of an Altus rear derailleur and a Tourney shifter. Like the Bafang motor, this is a pretty standard issue drivetrain in the affordable electric fat bike category.
It's a popular OE choice for good reason: That mix is reliable, shifts well and helps keep the overall cost of the e-bike down.
Shimano components — particularly their more affordable bits like Altus and Tourney — have been tough to source through the COVID-19 pandemic, resulting in widespread parts shortages impacting most every manufacturer. Magnum said they've largely been able to avoid this through using a diverse supply chain, but that's always subject to change. But for the time being, according to Magnum staff at the Big Gear Show, the Utah-based company is having no problem outfitting its bikes. A nice factoid to keep in mind as many other companies are having to sub components to get bikes to customers.
Brakes: Logan two piston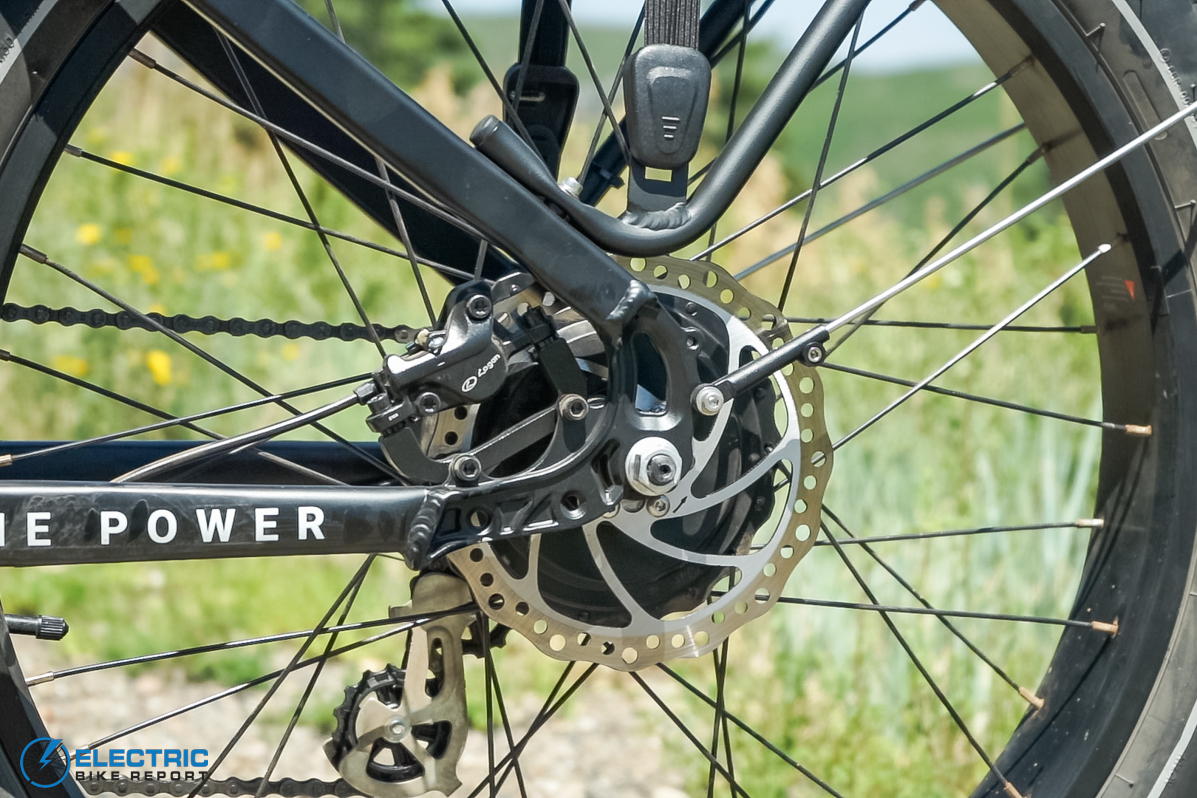 Magnum spec'd the Scout with Logan two piston hydraulic disk brakes.
Like some of the other brake brands we've seen popping up on bikes from Aventon and Rad Power Bikes, I'm not super familiar with the Logan brand. They look and feel similar to some other affordable brake brands — like Zoom and Bengal — but it'll be interesting to see how they hold up in the long run.
Other notes: Accessories, racks and lights
The Scout comes stock with a rear pannier rack that looks stouter than average, front and rear lights, fenders and a unique moped-style kickstand that holds the bike upright instead of leaning it over.
The final word on Magnum's Scout
If you're looking for a stable, safe and reliable electric fat bike that's backed up by a network of brick-and-mortar dealers, the Magnum Scout is a great option.
I was impressed with how this bike rode. It's powerful but not overpowering; I never felt like the bike was going to get away from me despite its large motor and high weight. The Shimano drivetrain is solid and I was pleased to see Magnum spec'd this bike with hydraulic disk brakes, an important safety feature for a bike like this.
You can find the Magnum Scout at one of their more than 200 dealers spread out across the world (yes they have international distribution). Or, if you prefer to buy online, you can order the Scout through Magnum's website and have it shipped direct to your door.