Lectric XP 2.0 Review 2022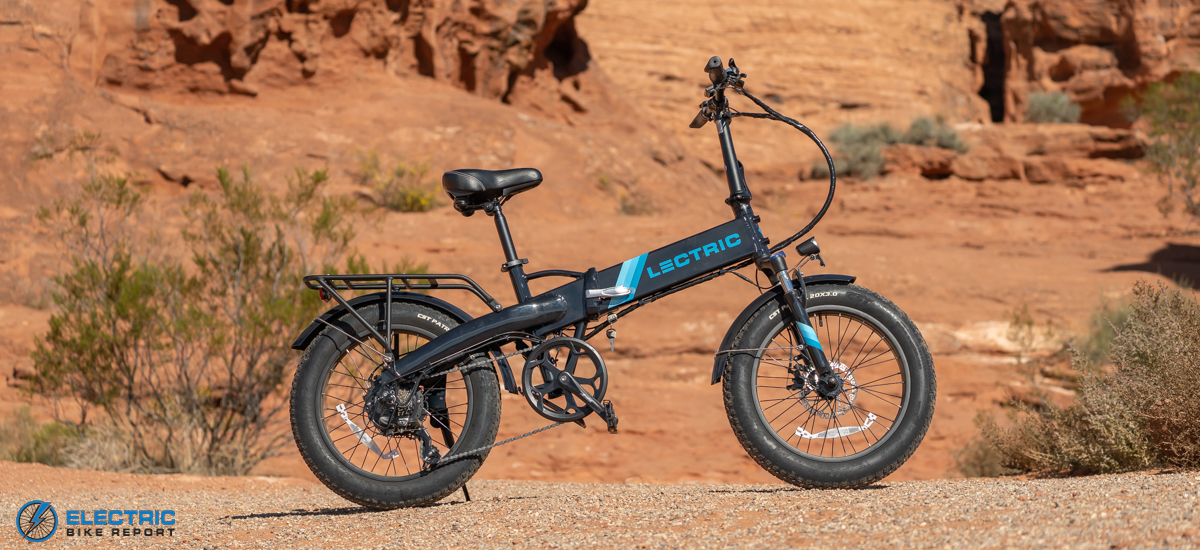 Lectric XP 2.0 Review: Overview
The Lectric XP 2.0 is a folding fat tire electric bike that was created based on Lectric's original bike, the XP. The XP took the e-bike industry by storm in the summer of 2019 with its friendly price point and fun-based riding characteristics. We reviewed both the Lectric XP Lite and Lectric XP Step-Thru this year as well.
Similar to its predecessors, the XP 2.0 is based around fun and versatility — With a 500W rear hub motor, 20" x 3.0" inch tires and a suspension fork, the XP 2.0 is a fun and vibrant feeling bike that has enough power for steep hills and a tight enough turn radius to bob and weave through town. When we started this Lectric XP 2.0 review, we wondered how much had changed from the prior model. So we conducted a brake test, hill climb test, battery range test and more to get a good idea how the XP 2.0 compares.
If you're looking for an electric bike that has a very prevalent fun factor, is easy on the wallet and is easy to stow-away then the Lectric XP 2.0 is a good option. E-bikes like this that The XP 2.0 is a good example of an electric bike that only exists because its electric — folding 20-inch standard bikes aren't really a thing, and with good reason. It's the motor and battery that really allow this design to come alive. By the end of this write up you should be able to decide if the Lectric XP 2.0 is the right folding fat tire e-bike for you. Let's get started.
Bike Category:
Foldable, Fat-Tire, Affordable
Bike Class: 1, 2 or 3.
Class 1: PAS, up to 20 mph
Class 2: PAS/Throttle assist, up to 20 mph
Class 3: PAS up to 20 mph, Throttle assist up to 28 mph
Lectric XP 2.0 Video Review

Pro's
The Lectric XP 2.0 is a jack of all trades, it can be an on-road commuter or an off-road exploration bike.
The XP 2.0 is easy to store, its foldable design will allow those who are low on space to still find a spot to place the bike when not in use.
The XP 2.0 comes with a wider handlebar and a suspension fork which adds comfort and performance over the original XP.
The XP 2.0 is a comfortable bike, it has an upright geometry that kept our test riders comfortable during their rides.
The XP doesn't feel like it folds when it comes to how structurally sound it is when riding.
The XP has a very friendly price point.

Con's
The XP 2.0 comes with a smaller battery than the original XP
The grips are a little bit hard for longer rides. Some softer grips would help your hands stay a little more comfortable.
ELECTRICAL SPECS & FEATURES
Battery: 48V, 9.6Ah
Display: Backlit LCD display
Motor: 500W brushless geared hub motor
Headlight: Included
Taillights: Included
Peal Assist: Levels 1-5
Range: 15-35 miles
Throttle: Half twist throttle
Weight & Dimensions
Battery weight: 7 lbs
Bike Weight: 64 lbs
Maximum rider weight: 330 lbs
Maximum load on rear rack: 75 lbs
Unfolded Dimensions: 67" x 25" x 47" (length x width x height in inches)
Folded dimensions: 37" x 18" x 28" (length x width x height in inches)
Components & Accessories
Brakes: Tektro mechanical disc brakes, 160mm rotors
Fenders: Front and rear full coverage
Fork: Suspension fork
Frame: 6061 alloy, folding
Gearing: 7-speed Shimano Tourney
Grips: Ergonomic, hard plastic/rubber compound
Saddle: Lectric branded cushion saddle
Handlebar: High rise handlebar, 630mm
Kickstand: Included, standard
Pedals: Alloy, folding
Tires: 20" x 3.0" CST
Lectric XP 2.0 Performance Review
Acceleration / Speed
The Lectric XP 2.0 accelerates pretty quickly, but it does a good job of being predictable when the throttle is twisted or pedals are engaged. It doesn't "jump" off of the line right away, instead it has more of an exponential acceleration, giving more power and speed with time.
This is one thing we noticed compared to the original XP, which had somewhat unpredictable motor engagement. The XP 2.0 feels safer, more refined and better-tuned than its predecessor, which made for that much more enjoyable of a ride.
The XP 2.0 comes with a 500W rear hub motor, just like the original. However, the new motor is able to exert a couple more watts of peak power (50W) than the original is able to. Not only is the XP 2.0 smoother, it has some additional wattage in the reserves for when things get tough.
Range Test
Here at Electric Bike Report we conduct a range test to get a better understanding of the true real world range of the bikes we review. The range test is made up of two separate tests — one riding the bike till the battery is depleted in the highest pedal assist setting, the other in a lower setting. Between our two results you should be able to get a ballpark idea of how long the respective bike will last.
For the lower pedal assist test, we choose an assistance level that still makes the bike we are testing feel like an e-bike. For example, some electric bikes PAS 1 setting doesn't feel much different than the bike turned completely off, so we use PAS 2 because it's the first setting where the pedal assistance is noticeable and consistent.
For the Lectric XP 2.0 we used PAS 2 for the lower assist level and PAS 5 because it's the highest level. The XP 2.0 comes with a 9.6Ah battery, which is smaller than the original XP's battery which was a 10.4Ah battery.
In the lowest pedal assist setting our test rider reached 32.22 miles at an average speed of 12.1 mph. The distance traveled was pretty similar to the high pedal assist test we conducted on the original Lectric XP, which reached 30.09 miles.
In the highest pedal assist setting, PAS 5, I reached 19.19 miles with an average speed of 19 mph. Based on the size of the 48V, 9.6Ah battery the distance traveled makes sense. I was happy with the average speed results, being able to ride around the maximum Class 2 speed of 20 mph for nearly 20 miles is definitely a plus.
We aren't sure why Lectric used a smaller battery on the XP 2.0, but the bike still yielded respectable — albeit shorter — results. The XP 2.0 is a heavier bike and it does take some "juice" to keep things moving — if you stay on top of charging the bike the battery range shouldn't be much of an issue. Moving forward we hope to see a slightly larger battery on the Lectric XP.
Circuit test
To better understand each pedal assist setting on the bikes we test, we conduct what we call a circuit test. The circuit test is a 1-mile loop that we ride in each pedal assist setting and with the bike turned completely off. This shows us what each pedal assist setting provides as far as assistance goes, and what the relationship is like between each level. For the Lectric XP 2.0 we conducted the circuit test with Class 2 settings.
The XP 2.0 really started to come to life in PAS 3, where we rode around the loop with an average speed of 17.1 mph. When compared to PAS 2's 13.7 mph average speed we felt PAS 3 was the first level where we really felt the bike start to take off.
PAS 4 and 5 didn't have much difference. PAS 4 gave us an average speed of 19.6 mph, while PAS 5 gave us an average speed of 19.7 mph. Had we done this test in a Class 3 setting, PAS 5 likely would have been more distinguishable from the prior level. Even when using the Lectric XP 2.0 in Class 2 the additional assistance and power was noticeable on hill climbs when using PAS 5.
Our findings showed us that the XP 2.0 has settings for both conserving the battery and riding at high average speeds. The 5 total levels of pedal assistance allow riders to find the perfect pedal assist setting for any circumstance.
Hill Test
One of the best things about electric bikes is the fact that they make steep hills seem not so steep. With that being said some "flatten" hills better than others. To see just how good of hill climbers the bikes we test are we conduct a hill climb test on one of the steepest hills in town. This hill is known as "Hell Hole".
It's a quarter mile long and has a grade ranging from 12% to 15%. We climb the hill twice, once using throttle only and once using the highest pedal assist setting. This gives us a good idea of how the bikes we test perform on their own power and with rider assistance.
The Lectric XP comes with a 500W rear hub motor and 7-speed drivetrain. On paper, this should be enough bike to get us up most hills.
When I conducted the throttle only hill climb test I reached the top of the test hill in 1:46.00, with an average speed of 10.2 mph. The XP 2.0 seemed to struggle a bit during this test, I dropped below 5 mph at one point. Despite the hill pushing the bike near its limits it continued to move forward and completed the throttle only hill climb test.
When I rode up the same hill in PAS 5 I reached the top of the test hill in 1:21.00, with an average speed of 13.4 mph. This result was decent, and I definitely noticed how much easier it seemed on the motor when I was pedaling with the bike compared to throttle only. I would recommend using pedal assist up hills if you want to maintain a decent average speed and take some stress off of the motor.
Handling
The Lectric XP 2.0 has stable handling characteristics. The 3-inch wide tires make for easy balancing, stability at higher speeds and smooth cornering. The XP 2.0 comes with a wider handlebar than the prior model, which allowed me to be more stable and balanced on off-road terrain.
The XP 2.0 also has a suspension fork which does a good job taking the edge off some of the harsher terrain and rougher roads we rode the bike on. In all, the 2.0 feels more nimble and ready for action than the prior XP does.
Ride Comfort/Geometry
The XP 2.0 is a pretty comfortable e-bike overall. Its wide tires and suspension fork make riding a little smoother than the previous XP, which had a rigid fork. The upright geometry also kept all of our test riders comfortable, allowing riders to look ahead without straining their neck. It also takes some stress off of the lower back.
One thing we would like to see changed on future renditions of the Lectric XP series is the grips. While the shape of the grips is good, the plastic-feeling compound is rough on the hands and rather unforgiving compared to the rest of the contact points on the XP 2.0.
This isn't by any means the biggest deal in the world, but it's something our test riders definitely noticed on any ride over 10 miles. I'd recommend investing in some riding gloves if you plan to ride the XP 2.0 any farther than 10 miles per ride.
Lectric XP 2.0 Specs/Features Review: Electric Components
Motor
The Lectric XP 2.0's 500W rear hub motor feels like it's been tuned to work well with rider input and throttle engagement. As I mentioned in the speed and acceleration section, the XP 2.0 accelerates quickly but still in a way that's safe and in control.
The motor seems to accelerate exponentially, meaning the motor eases into higher power and torque with time. Basically, the XP 2.0's motor isn't going to blow your socks off, not right away at least — give it a few seconds to ease into higher speeds and you'll see the XP 2.0 is no doubt a fast e-bike.
Battery
The XP 2.0 comes with a 48V, 9.6Ah battery which is smaller than the original XP's 10.4Ah battery. I am not sure why they decided to downsize the battery on the 2.0, as it seems like somewhat of a backwards step.
While this battery may be a little lighter than the prior one, its range isn't on par with the 10.4Ah battery. In our PAS 5 range test we reached over 30 miles on the XP, when we did the same test on the XP 2.0 we got just below 20 miles.
Internally integrating a battery into a folding frame is by no means the easiest thing to do, however we think Lectric is more than capable of putting a 10.4Ah battery or bigger within future XP models: it only makes sense, as each instalment to the XP series should out-do the last.
Pedal Assist / Throttle
The Lectric XP 2.0 comes with 5 pedal assist settings and a grip twist throttle that's located on the right side of the handlebars. Having 5 settings gave us a pedal assist setting for just about everything, and then some.
For battery conservation we rode in PAS 3 or below, and when we wanted to go faster PAS 4 and 5 did the trick. The throttle acceleration is similar to PAS 4, and only takes around 10 seconds to get you to the top Class 2 speed of 20 mph.
Display
The backlit LCD display sits in the center of the 630mm handlebars and shows the rider all of the critical information needed when riding. This consists of the battery life, speed, pedal assist setting and more. The display also allows riders to adjust top speed and screen brightness. Between the size and features, this display suits the XP 2.0 quite well. It's simple and gets the job done.
Lectric XP 2.0 Review: Components and Accessories
The XP 2.0 comes with solid componentry for its price point. The Shimano Tourney drivetrain and Tektro mechanical disc brakes are good examples of this being the case. They do their job well and are brands most bike shops are familiar with and carry replacement parts for.
Brakes
The Lectric XP 2.0 comes with mechanical disc brakes and 160mm rotors. These brakes do their job, but I wouldn't consider them to have "ultimate stopping power" that Lectric advertises on the XP 2.0's webpage.
To determine how well a bike stops, we conduct a brake test consisting of five full-power stops from 20 mph. The average of those five tests is the bike's stopping distance.
On average, the Lectric XP 2.0 came to a stop in 23 feet. It's not the best result we've had in our brake test, but that figure alone doesn't quite do the XP's brakes justice. The XP's brakes are powerful enough to get the bike to skid consistently, but unfortunately skidding doesn't always equate to quick stopping. The XP is heavy, and even with the wheels locked up the bike's momentum kept it moving forward.
So, would I call the 160mm mechanical disc brakes "ultimate"? Probably not, but I would say they're strong enough to get the job done.
Frame
The Lectric XP 2.0 is made out of 6061 alloy and folds up to make stowing the bike easier. Despite the folding nature of this frame it feels fully rigid when riding around. I never got the impression that the bike was unstable or hindered by its folding characteristics. It feels well built and it's also pretty easy to fold up.
Fork
Perhaps the largest upgrade from the previous XP is the suspension fork on the XP 2.0. This fork makes the XP 2.0 that much more capable on off-road terrain. This suspension fork does a good job of smoothing out rougher surfaces and keeping the front end of the bike plush and soft. The XP 2.0 is noticeably less harsh through stretches of off-road terrain than its predecessor.
This fork comes with a lockout switch which allows riders to adjust the stiffness of the fork, those who do a lot of riding on mixed terrain will likely find a lot of value in being able to adjust the fork's performance characteristics.
Drivetrain / Shifting
The 7-speed Shimano Tourney drivetrain provides a wide gear range for both on-road and off-road riding. Between the gear range and 500W hub motor's power there wasn't a hill we rode that the XP 2.0 wasn't able to get up.
The Shimano thumb shifter does its job well. I am always happy to see Shimano components as they are reliable and refined. Bike mechanics are also very much familiar with Shimano componentry which is definitely convenient come the time of service.
Contact Points / Comfortability
The XP 2.0 is a decently comfortable bike, the seat is plenty soft and wide, and the suspension fork and large tires do a good job smoothing out most terrain. The adjustable handlebar height plays a large role in how comfortable this bike can be, the higher you raise them the more upright you'll be riding.
The handlebars themselves are also a nice touch, they're wider than the original XP bars, which helps with balance and keeping the upper body a little more stable and fresh.
My only complaint in the way of contact points is the grips. The ergonomic shape of them is good, however the plastic compound is too hard. Any ride I did above 10 miles I started to notice some discomfort in my hands. Softer grips of the same shape will likely solve this issue.
Tires
The 20" x 3.0" CST tires are an inch thinner than the previous XP's 4-inch wide tires. With that being said I think it was the right move. Reason being is 3-inches is still plenty wide to plow through sand and absorb rougher terrain, while still having some decent rolling speed.
The faster rolling 3-inch wide tires suit the XP 2.0 a little better than the previous tires do, especially when paired with the suspension fork. We've put in around 100 miles on the XP 2.0 throughout our review process, and we haven't punctured the tires despite a decent amount of off-road terrain.
Extras / Accessories
The Lectric XP 2.0 comes equipped with alloy fenders, a rear rack, a headlight and a tail light. With the price point of this bike taken into consideration the amount of accessories that come on the bike is pretty impressive. Lectric offers a wide variety of additional accessories on their website. Some of the available options include mirrors, phone mounts and pannier bags.
Lectric XP 2.0 Review: Summary / Where to Buy
The Lectric XP 2.0 review was a very interesting one to conduct, seeing how the 2.0 stacked up compared to the original Lectric XP raised some questions, but also gave us some answers. The biggest question we had was about the battery size, while the 48V, 9.6Ah battery did just fine for its capacity, having a smaller battery on the "revised" version of the XP was a surprising choice.
Not all of the 2.0's components and specs had us wondering though, the suspension fork and wider handlebar really brought their all terrain capabilities to life on the XP. Despite having thinner tires the XP 2.0 feels like it's more ready for off-road than the previous model. The mentioned 3-inch wide tires give the bike some faster rolling speeds when on-road compared to the original XP's 4-inch wide tires.
The XP 2.0's design offers a hard to ignore fun factor that doesn't take long to feel. The small 20-inch wheels mixed with the upright riding geometry makes for a unique feeling e-bike that is both fun to ride around town, and on off-road terrain. While I wouldn't recommend using this bike on mountain bike trails or anything of that nature, gravel roads and dirt roads are awful fun on the XP 2.0.
The Lectric XP 2.0 isn't a bike that takes itself too seriously, in fact, the more fun-based your riding is the more you'll see what the XP 2.0 has to offer. Its budget friendly price point, easy to store design and all terrain capabilities make it a great choice for anybody looking to ride a fun-based bike that wont be confined to one style of riding. Threading the needle as it does on price, fun, and function is the type of thing that warrants consideration as one of the year's top electric bikes.
Lectric knows how to make a fun and budget friendly e-bike, and our team here at Electric Bike Report is excited to see what their future bikes will look like, and how they'll be spec'd. Until then we'll be taking lunch rides on the original, and 2.0 XP's.
'Happy Riding, make sure to let us know if you have any questions down in our comments section or if you think we left anything out in this review of the Lectric XP 2.0.
Reader Interactions