Himiway Rambler Review: a Look at the Recently Released Specs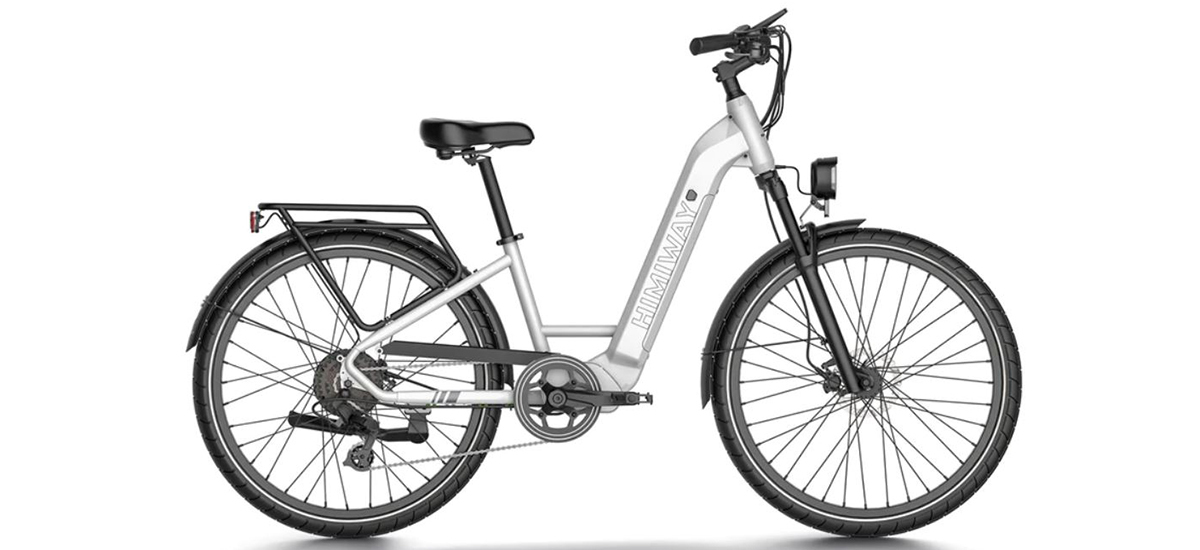 Himiway has announced their new models for 2023 and there are a few surprises in there for this popular maker of fat-tire e-bikes. For the first time, Himiway has introduced an e-bike with tires narrower than 4 in. The Rambler is a city/commuter e-bike that comes in three different versions, two with a hub motor and another version with a mid-drive motor.
The Rambler ships ready for commutes; it includes front and rear lights, fenders and a rear rack. And because the Rambler is meant to stay on paved surfaces, Himiway gave it a different wheel size.
Will Himiway be able to nail the commuter model as they did with so many other Himiway e-bikes we've reviewed? Let's take a deeper look at the Rambler and find out.
*Himiway is sharing some savings with the EBR audience! When you click the button above and use the discount code ELECTRICBIKEREPORT you will save $50 at checkout!.
Himiway Rambler Spec Review: Bike Overview
Frame and Fork
The Himiway Rambler is a city/commuter e-bike featuring a step-thru design. It's made from hydroformed 6061 aluminum tubing and fully integrates the battery into the frame. A suspension fork smooths bumps and pavement seams.
Motor and Battery
The hub motor version of the Rambler specs a 500W brushless, geared motor. The mid-drive motor posts 500W as well. It's paired with a 720Wh battery that has been tested to give riders up to 55 mi. of range, no matter whether it is equipped with the hub motor or the mid-drive motor. Our suspicion is that the edition with the mid-drive motor will possibly see even greater range as mid-drive motors tend to be more efficient.
The pedal-assist levels have been spaced out nicely and Himiway has estimated the ranges according to each assist level:
1. PAS 1: 10 mph, 55 mi.
2. PAS 2: 15 mph, 46 mi.
3. PAS 3: 20 mph, 36 mi.
4. PAS 4: 22 mph, 32 mi.
5. PAS 5: 25 mph, 30 mi.
Componentry
The Himiway Rambler is a departure from Himiway's lineup of fat-tire e-bikes. This one features 27.5-in. wheels, and tires that are 2.4-in. wide. This will make the Rambler a quicker-rolling e-bike than its fat-tired stablemates.
As we mentioned in the opening, the Rambler comes in three different versions. Here they are in broad strokes:
1. 500W hub motor, 7-speed drivetrain, mechanical disc brakes
2. 500W hub motor, 9-speed drivetrain, hydraulic disc brakes
3. 500W mid-drive motor, 9-speed drivetrain, hydraulic disc brakes

Himiway includes front and rear lights, fenders and a rear rack to make it commute ready.
EBR's Himiway Rambler First Look Review:
Himiway has created a compelling commuter e-bike produced in three different builds to suit three different budgets. This sort of flexibility serves buyers, not just by giving them more choices, but also helping to frame what certain upgrades do to the price of an e-bike.
The 500W hub motor with 7-speed drivetrain and mechanical disc brakes will please those on a tight budget with its price of $1299. For $1499, riders see an upgrade to a 9-speed drivetrain and hydraulic disc brakes. This is an e-bike dripping with value, but it's not the best value of the bunch. That nod goes to the mid-drive version of the Rambler, which gets the same 9-speed drivetrain and hydraulic disc brake treatment as the $1499 edition. What's so remarkable about the mid-drive Rambler is that it is priced at just $2199. We rarely see e-bikes with mid-drive motors for less than $2500, so this is a terrific introductory price.
We expect that these pre-order prices will go up after the Rambler begins shipping later this spring.
No matter which version of the Rambler someone chooses, they will enjoy a well-designed e-bike ideal for around-town use.