Himiway Escape Review 2023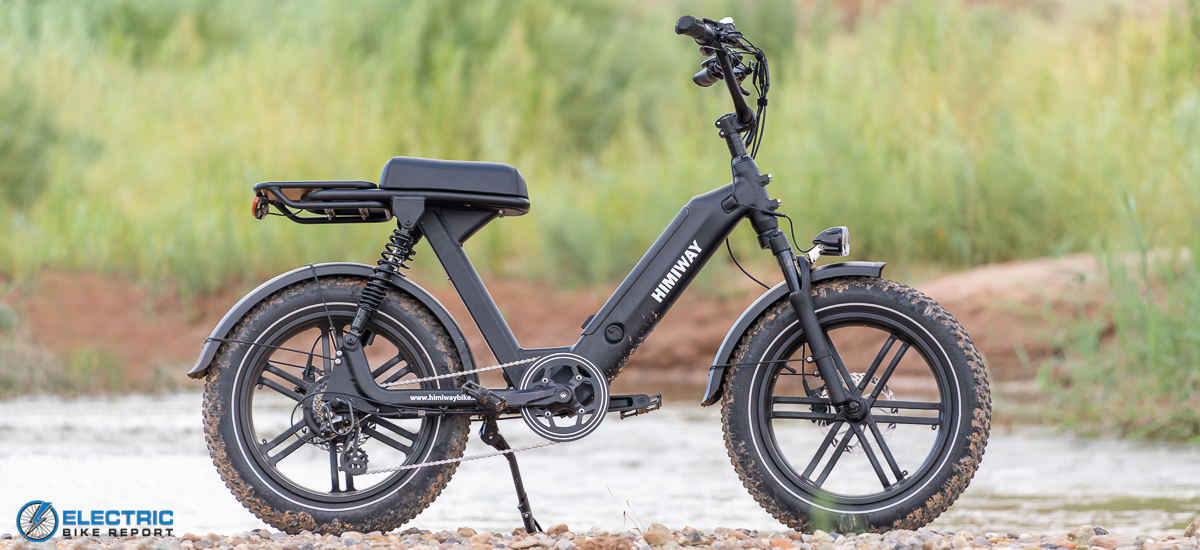 Himiway Escape Review: Overview
The Himiway Escape is a Class 3 moped-style electric bike that thrives in big cities and small towns. Thanks to its 750W motor, fat tires and full suspension design the Escape has a wide range of capability and utility.
When our team here at Electric Bike Report heard we were conducting the Himiway Escape review we honestly didn't know what to expect. All of us really dug the visuals of the Escape, but I personally wasn't sure if its performance was going to match its looks.
It turns out the Escape provides a fun factor that isn't like any other Himiway bikes I've tested and reviewed. It's low center of gravity and full suspension design makes you want to hop off a curb or boost off a natural kicker simply due to how fun it is.
The Escape is an electric bike that you can commute on, or ride around for fun; it does both equally well and its unique design leaves its utility completely up to the rider. With that being said I think the "Escape" name for Himiways moped style e-bike is very fitting.
*Himiway is sharing some savings with the EBR audience! When you click the button above and use the discount code ELECTRICBIKEREPORT you will save $50 at checkout!.
Bike Category: Moped/Commuter
The Himiway Escape is great for getting around town efficiently while still having fun.
Bike Class: Class 3
Class 3: Throttle assist, up to 20 mph. Pedal assist up to 22 mph
Himiway Escape Video Review

Pro's
The Himiway Escape is simply fun to ride. If you like to hop off curbs and take the occasional off road shortcut, this is a great bike.
The full suspension design adds lots of traction and comfort to the Escape. It also has a pretty unique rear suspension design.
The Escape's 750W motor has plenty of power to maintain high speeds and conquer steep hills.
The low center of gravity, suspension and fat tires make for good handling and all terrain capabilities.
The Escape is good for big cities and small towns thanks to its fun factor and overall capability.

Con's
The Escape is pretty heavy, coming in at 92 lbs it's one of the heavier bikes we've tested. While it works great the weight of the Escape creates some issues with storing the bike, and pedaling it when it's completely dead.
You don't get any leg extension when pedaling the Escape due to the seat not being adjustable and the general low to the ground design of the Escape.
ELECTRICAL SPECS & FEATURES
Battery: 48V, 14Ah
Display: LCD display
Motor: 750W geared hub motor, 80Nm of torque
Headlight: Yes
Taillights: Yes
Peal Assist: 1-5
Range: 20-40 miles
Throttle: Grip twist throttle, right side.
Weight & Dimensions
Battery weight: 8 lbs
Claimed weight: 92 lbs
Real weight: 92 lbs
Maximum rider weight: 330 lbs
Maximum load on rear rack: 66 lbs
Dimensions: 69" x 46.5 x 28" (total length x handlebar height x handlebar width)
Components & Accessories
Brakes: 180mm Tektro Aries hydraulic disc brakes with 180mm rotors
Fenderss: Front and rear
Fork: Spring fork with hydraulic lockout
Frame: 6061 Alloy
Gearing: 7 speed Shimano Altus with 18-28 tooth cassette
Grips: Ergonomic vegan leather grips, stitched
Saddle: Padded "bench style" seat
Handlebar: High rise BMX style handlebar
Kickstand: Heavy duty aluminum
Pedals: Alloy pedals with the reflector
Tires: 20" x 4.0" Kenda fat tires
Himiway Escape Review: Performance
Acceleration / Speed
The Himiway Escape definitely lets you know that it's got power when accelerating, but not in a way that feels unsafe. When I pedaled in maximum assist I had no problem hovering around the Escape's top speed of 22 mph; it feels like this bike is capable of much higher speeds, but Himiway capped it out at a safe level.
That 22 mph cruising speed is still plenty fast for what the Escape is designed to do. Thanks to the Escape's low center of gravity I was always stable and in control at higher speeds, resulting in an enjoyable and predictable ride experience overall.
The full suspension design also helped me stay confident and in control at higher speeds. I was impressed with how well the rear suspension worked, and I definitely noticed the traction it provided when cornering and riding offroad. I'll dive deeper into the suspension and its design later in the review.
Range Test
Here at Electric Bike Report we conduct what we call the range test in our review process.
The purpose of the range test is to get a good idea of the true maximum and minimum range these bikes provide. Lots of manufacturers have a "claimed range" shown on their website, but that usually doesn't tell the full story or give the most accurate real world range. We test those claims by riding the bike until the battery dies in both the maximum and minimum assist levels.
The Himiway Escape we tested comes with a 48V, 14Ah battery pack that's integrated nicely into the frame, but looks aren't everything. So how did it perform?
I think our range test results for the Himiway Escape are respectable. When I rode the Escape in maximum assist it took 23.12 miles for the bike to finally die. Over the 23 mile span, I had an average speed of 17.4 mph.
When our test rider rode the Escape in minimum assist it took 29.6 miles for the bike to finally die. He had an average speed of 10 mph.
You may have noticed or thought to yourself "the range for the lowest pedal assist setting should have been a lot farther than 29.6 miles" and you're right; if I had been the one to do the test I guarantee it would have. I bring this up because our test rider for the minimum pedal assist range test is 6-foot 5-inches tall and weighs 220 lbs.
So if anything, I see the near-30 mile range as a victory for a rider that large; riders who are smaller than he is should have a longer range that's closer to the claimed maximum range of 45 miles.
Circuit test
Here at Electric Bike Report we conduct a circuit test on a 1 mile loop that helps us better understand the difference between each pedal assistance level, and how large or small the jumps in between assistance levels are. We also test the bike turned completely off to get a better idea of how it pedals without any help from the motor.
Despite the Escape coming in at 93 lbs, it pedaled pretty good and I think a lot of that is the sheer amount of inertia it has when rolling.
The jumps between each assist level were pretty consistent and predictable. Pedal assist levels 1 and 2 didn't have much of a change in average speed (only .9 mph) but I noticed a decent jump in power and speed when switching from pedal assist level 2 up to level 3. That jump was 2.2 mph, and that same trend of about 2 mph increases in speed continued throughout the remaining pedal assist levels 4 and 5.
When I rode around the circuit in pedal assist level 5 I had an average speed of 20.1 mph, just 1.9 mph off of the bikes top speed overall. Pedal assist level 5 is calibrated how every maximum pedal assist setting should be; near or at the top speed of the bike, and it definitely feels like the 750W motor is doing what it can to ensure that's the case.
Hill Test
While the Escape doesn't put you in the most optimal position for climbing steep hills, it makes up for it in its power and torque. The gear range also allowed me to continue pedaling when things got tough. Between the 7 gear range and the 750W motor you should be able to get up most hills.
In our hill test I was really impressed with how the Escape was able to hang onto its speed, despite how heavy it is. I got a solid time of 1:17 up our test hill when pedaling in maximum assistance, which is a lot faster than I was anticipating. Even more surprising was our throttle-only hill climb test where I scaled our test hill in 1:22:00. The throttle only hill climb results really demonstrates the power and torque of the 750W motor.
Handling
The Himiway Escape doesn't handle like a lot of other e-bikes we've tested and reviewed, it's definitely in a class of its own. Between the mandatory low seating, full suspension design, high rise bars and the wide 20" x 3.0" tires, the Escape added up to be a good handling e-bike. It didn't waste any time in showing me that it's a traction and cornering specialist.
The overall handling feels very lively and vibrant. I found myself taking the off-road shortcuts and jumping off all the curbs I could find when riding around. The Escape isn't only designed for getting from Point A to Point B, it's designed to ensure all that distance between A and B is action packed and filled with fun.
The full suspension design also helped loads with off-road handling, absorbing large impacts and "G-outs". It does a great job absorbing all of the terrain and energy that would normally lead to discomfort and fatigue.
Ride Comfort/Geometry
The Escape is comfortable for around 10 miles, any farther than that and your knees will begin to notice the lack of leg extension. I can't bag on the Escape too much for the pedaling position though, because I understand it wasn't designed to be pedaled far or for long periods of time.
One thing I really appreciate about the Escape was the fact that I didn't have to stand up on bumps. As I mentioned before in the handling section the full suspension design absorbs everything that would otherwise lead to fatigue and general discomfort.
The shape and softness of the grips mixed with the high rise handlebar made for a happy upper body and back over my time spent on the Escape. While the pedaling position may not be optimal, the Escape makes up for it in seated comfort and components.
Himiway Escape Specs/Features Review: Electric Components
Motor
Powering the Himiway Escape is a 750W rear hub motor that proved plenty strong. Despite the Escape being 93 lbs, the motor gave me the ability to ride at high average speeds and conquer steep hills.
With that being said I think this 750W hub motor is the right motor for the Escape, as it's able to manage the overall weight of the bike and rider easily. While I think the size of the motor is great, I wouldn't mind seeing future models tuned to boost me up to 28 mph. Why? Because I'm a speed demon, and this is a fun bike.
Battery
The 48V, 14Ah does pretty well when you take the weight of the bike into account. Based on my range test results, you should expect around 20 miles of battery life at the very least. I weigh 165-170 lbs and I rode the Escape on maximum pedal assist. It took over 23 miles for the battery to die.
The Escape definitely gained some points in the looks category thanks to how nicely the battery fits into the frame.
Pedal Assist / Throttle (when applicable)
The throttle and pedal assist levels suit each other nicely. The throttle gets riders up to the maximum Class 2 speed of 20 mph, while the highest pedal assist level pushes riders just past that with its top speed of 22 mph.
I liked the grip twist throttle and I see it as an essential for a bike like this. Most of the time I was riding around for fun I prefered the throttle over pedaling.
Display
The LCD display shows battery level, pedal assist level, mileage and both a speedometer and power consumption meter. I think this display shows riders everything they'll need to see when riding around. It also comes with a USB changing port.
The only con I discovered was the battery level indicator still showed 1 bar of life when the bike was completely dead. While this is a pretty minor issue, I ran out of charge sooner than I was anticipating due to the display telling me I had one bar of battery life remaining.
Himiway Escape Review: Components and Accessories
Despite a lot of bike brands using similar or the same components, we still see a lot of variation in performance and reliability. Here at Electric Bike Report we focus on each component's performance to give you a better idea of how each part of the bike performs individually. The better each component is on its own, the better the bike is as a whole.
Brakes
The Tektro Aries hydraulic disc brakes come with 180mm rotors in the front and rear. I would have liked a little bit more "bite" from these brakes. They felt pretty soft to me as I was never able to lock up either wheel completely. I understand the Escape isn't the lightest bike in the world and that's why I think some higher powered brakes would suit it nicely.
The lack of 'bite' and wheel lock out isn't to say they still didn't have a respectable stopping distance. When we conducted our brake test we found the average stopping distance stopping from 20 mph. We did this test 5 total times, pulling both the front and rear brakes at the same time. It took an average of 13-feet 4-inches for the Himiway Escape to stop.
Tektro brakes are among the most common brakes to be found on an e-bike. Common is a good thing as replacements will be easier to find when it comes time to service them.
Frame
It only takes one look at the Himiway Escape to know that you're not dealing with your typical electric bike. Between the bench-style seating and the dual-coil suspension on the rear end, it doesn't take an expert to tell that the Escape possesses a truly unique full suspension design.
The frame itself is constructed of 6061 alloy, and is designed to house an integrated battery pack. The Escape also uses internal cable routing which makes for a very clean looking e-bike overall.
Suspension
The Escape uses a spring fork with hydraulic lockout for its front suspension and uses two coil springs for the rear suspension. When I first saw the Escape the unique suspension design caught my eye, and it made me eager to test it out for myself.
I quickly found the rear suspension to be very useful for softening the blow of jumping off of curbs and running into a bump at high speeds. I was actually able to stay seated through all of the terrain that used the suspension travel. The suspension also gives the Escape ample traction in corners and off road surfaces.
The fork felt pretty standard and I'm glad it came with a lockout dial. During my range test the bike died a couple miles away from the EBR headquarters and I was forced to pedal the 93 lb behemoth the remaining distance back. While it definitely wasn't easy to pedal the Escape on my own power, it was noticeably easier when I used the lockout.
The full suspension design makes the Himiway Escape that much more versatile and capable.
Drivetrain / Shifting
The 7-speed Shimano Altus drivetrain gives the Escape a good range for steep hill climbs and carrying speed on straightaways. The easier end of the gear range was extremely useful for hill climbs and pedaling the Escape turned completely off. All the shifts were smooth and crisp and I think this drivetrain should be fine for everybody considering the Escape.
Contact Points / Comfortability
The Himway Escape has pretty comfortable contact points all around and the only problem I ran into was the lack of leg extension when pedaling. That makes sense considering the design of the Escape, and when it comes to the seat, handlebar and grips I thought they were great.
The bench seat has plenty of padding and room to slide back and forth. My legs would rub the sides of the seat a little bit when pedaling, but never to the point of discomfort. As I mentioned earlier all of my discomfort came from the lack of leg extension.
The grips and high rise BMX-style handlebar made for a great combo. The shape of the grips felt good on my hands and the high rise handlebar kept me a little more upright which felt nice on my back and neck.
Tires
The Escape uses 20" x 4.0" Kenda fat tires that add a lot of comfort and control. The sheer volume of the fat tires added additional suspension to the bike and they were easy to corner and ride off-road. With the large volume of air these tires hold you can choose a tire pressure relative to the terrain you decide to ride.
I've ridden over some nasty stuff on these tires and I've yet to flat them. Flat inner tubes won't be the easiest thing to repair on a bike like this so the puncture resistance is definitely appreciated.
Extras / Accessories
The Escape comes with a 48V headlight, a taillight, front and rear fenders and a rear rack. It also comes with a heavy duty aluminum kickstand.
I liked the headlight alot, it was definitely bright and its design fit the theme of the bike nicely. All the other included accessories are pretty standard and they do their job as you'd expect.
Additional accessories such as the "Escape Delivery Bag" are available for purchase on Himiways website.
Himiway Escape Review: Summary / Where to Buy
The Himiway Escape ended up exceeding my expectations in performance and the overall ride experience. Since conducting this review the Escape has been my go to bike to ride during my lunch break. The Escape allowed me to maximize the fun factor on the routes I rode thanks to its full suspension design, and throttle oriented riding style.
I was impressed by how the bike performed in our tests. Despite the Escape's heavy weight, it proved to be no slouch on hills. Our hill climb test results were only 5 seconds apart between the throttle and pedal assist. We learned that if you decide to pedal or use the throttle the hill climbing ability remains pretty similar.
The Escape ended up handling very nimble and quick; it seems to ignore the fact that it weighs 93 lbs. It was easy for me to get low on corners and pop up and down curbs throughout town. The low center of gravity combined with the full suspension design made for lots of traction and control regardless of the terrain I was riding. The rear suspension performs better than I was expecting it to. At first I thought the dual-spring suspension design was more for visuals than performance, but I quickly learned that wasn't the case. I have to give some kudos to Himiway — they exceeded my expectations with this one.
The Himiway Escape is going to be good for those who are looking to cut down on driving time and those looking for a bike with a large "fun factor". The Escape is just as good of a commuter as it is a recreational e-bike. Its unique and capable design makes for a wide array of possibilities when it comes to the way you decide to ride.
The Escape is available for purchase on Himiways website. Himiway also offers plenty of additional accessories and a two year limited warranty for all of their bikes.
Happy Riding, make sure to let us know if you have any questions down in our comments section or if you think we left anything out in this review of the Himiway Escape.
Reader Interactions