First U.S. Electric Bike Sharing Launches in Birmingham Alabama
By now you've heard of the "sharing economy". Companies like AirBnB, DogVacay, RelayRides and Task Rabbit have introduced millions of people to new solutions of old problems.
Many feel that using the sharing economy enhances their lifestyle and spreads goodwill. In recent years another sharing economy program, Citibike, began in New York City and spawned similar offerings in more large metro areas.
Birmingham, Alabama though can now lay claim to a more modern, efficient – and in the minds of many enthusiasts – more desirable bike sharing program than any other city in America.
Birmingham pedaled away from the crowd to become host of the first electric assist bike sharing program in the United States.
The name of the program is Zyp Bike Share. Zyp is supported by local sponsors which include Regions Bank, Blue Cross Blue Shield, Alabama Power Foundation, and the Birmingham-Jefferson Convention Conference.
Officially launched  on October 14, 2015, Zyp has already brought Birmingham a nationwide audience keen to learn more about the network. At the time of launch, 30 kiosks and 300 bikes were deployed.

Approximately 25% of the 300 bike fleet are electric assist pedelec bikes with the rest being 8 speed traditional pedal bikes. Bikes that feature the assist are identified by a white lightning bolt logo decal affixed to the rear wheel.
The kiosks are pickup/dropoff points for the bikes and serve as charging stations for the electric assist bikes. As with Citibike, Zyp bikes have both annual and shorter term usage options.
The bikes are available 24 hours a day and payment is made with the swipe of a credit card. Riders looking for an electric assist model will need to identify it at the kiosk and choose one with sufficient battery levels for their trip.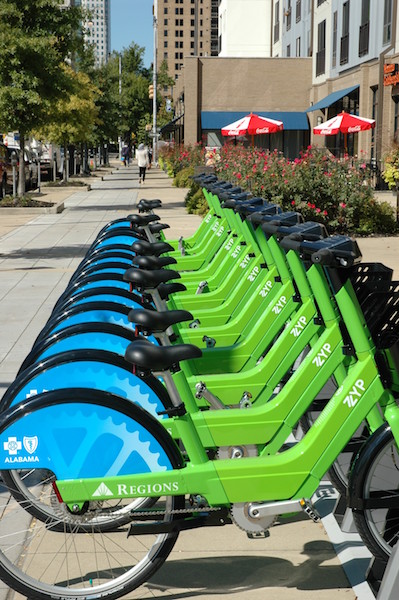 Zyp Annual memberships cost $75.00. 24 hour memberships cost $6.00 and a 7 day membership is $20.00. With each of these options, the first 45 minutes of any ride are included. Those riding longer than 45 minutes will incur overage charges.
As part of their launch, Zyp offered a limited number of what it called the "Shyfter" package. No longer available, Shyfter's received a two year membership for $200, with the first hour of each ride included.
Further adding to the Zyp experience is a downloadable mobile application. The app is able to unlock bikes from kiosks for members when their credit card is not present.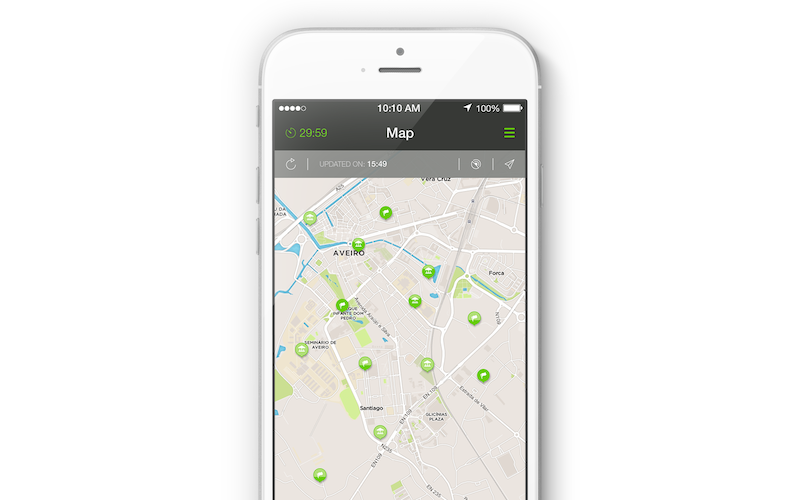 The location of all Zyp bikes and kiosks in the network can be seen in real time on the app, as well as the device owners previous routes, travel times, and favorite kiosk locations. When a timer is engaged at the start of Zyp ride, the rider will be alerted when the end of their 45 minute allotment is nearing.
Putting ideas into action takes effort, and turning actions into usable, real-world applications takes a whole lot more. Zyp partnered with a company called Bewegen to turn their vision of an electric assist bike share program into reality.
The developmental work that Bewegen put into bicycles, electric assist, kiosk/docking stations and information technology now assumes the enviable, highly scrutinized first-to-market position.
The unlikely city of Birmingham takes a place on the map of relevant cycling communities not just in the USA but globally.
While there is a sense of inevitability when it comes to electric assist bicycle share programs, there is a strong interest in what the overall user experience entails. For municipalities, cost, benefit and usage data gleaned from Birmingham could provide a valuable window to the future.
Here's a video of this new e-bike sharing program from a local new station in Birmingham.
P.S. Don't forget to join the Electric Bike Report community for updates from the electric bike world, plus ebike riding and maintenance tips!
Reader Interactions