First impressions: Super73, SoCal's lifestyle e-bike brand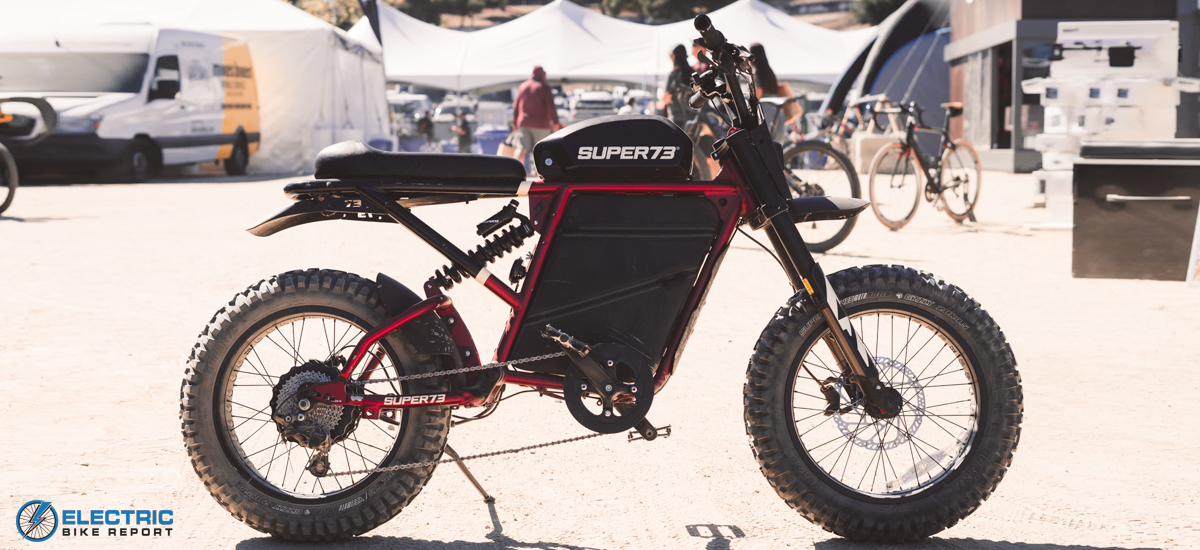 Monterey, CALIF. (2021 Sea Otter Classic) — Founded in 2016, Super73 has one goal in mind — create something the electric bike industry has never seen before. With inspiration from vintage 1970's "taco style" motorcycles, the original Super73 model combined modern electric bike performance and componentry with a touch of nostalgia.
Fast forward a couple of years, and their bikes started to gain traction — and it wasn't just from their 4 inch-plus tires. By 2018, Super73 gained loads of attention online thanks to popular YouTubers riding and reviewing their bikes, and celebrities like Post Malone taking notice of the brand.
We sat down at the 2021 Sea Otter Classic with Drew Palos, one of the head marketers for Super73 to learn more about the company and their bikes. The Southern California native gave the skinny on the history of the company, what makes their bikes special and why he personally enjoys owning a Super73 e-bike so much.
Super73: The E-Bikes
Super73's motorcycle-inspired e-bikes seem to span categories and pique interest among lots of different consumers. They've been a pioneer in the burgeoning moped-style class of e-bikes, and for good reason; they just seemed like a fun bike to hop on and ride.
"We say the age range and demographic is ages 7-73 and anybody can hop on these bikes and have a good time," Palos said.
There's beauty in a more casual approach sometimes and we feel Super73 embodies the perfect balance of fun and utility. We got the opportunity to test ride some of their bikes with some of the Super73 team members.
I rode the tricked out SUPER73-RX, a full suspension electric fat bike that looks like it belongs in a Mad Max scene. The bike had very quick acceleration and a very plush feeling thanks to its full suspension design and super wide 5-inch tires.
The RX comes with internal cable routing, a 600 lumen headlight and a 750W rear hub motor. I only needed a couple minutes on the bike for its quality to shine through, and the performance definitely matched the looks. Electric Bike Report's videographer, Bryce, rode the SUPER73-S2 — essentially the hardtail version of the RX. They both felt like great bikes to explore the Sea Otter Classic Venue on.
The fun-focused brand has models for all sorts of riders, some of which we are hoping to get in for review before too long. While our riding time was brief, it showed us what the Super73 hype is about.