Espin Sport Review 2023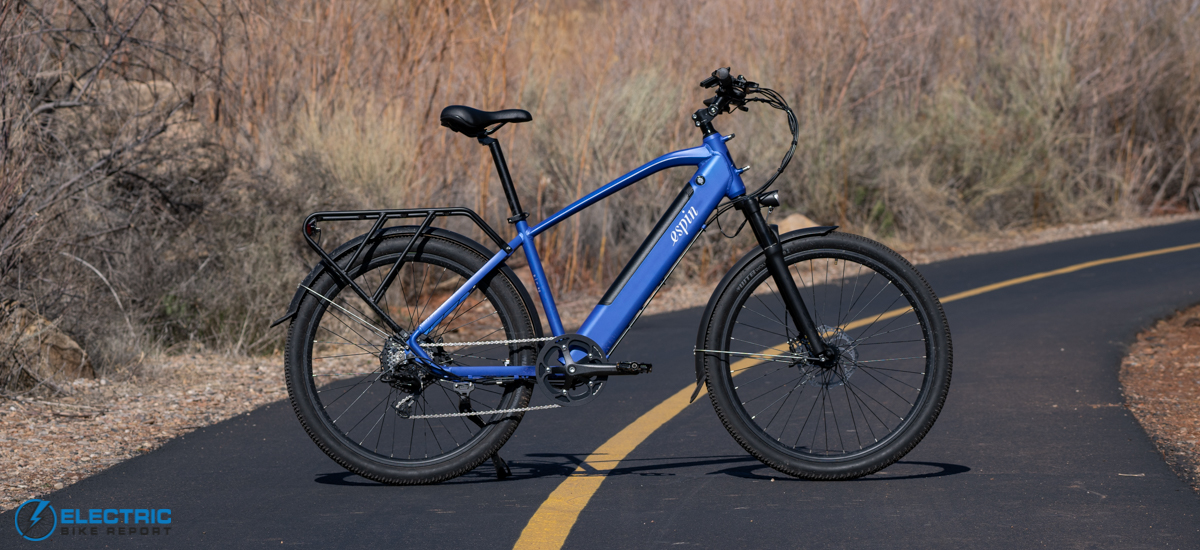 An electric bike designed to strike a balance between affordability and capable commuting, the Espin Sport is an electric commuter bike with good looks, a peppy 500W motor and an MSRP that won't break the bank.
In this Espin Sport review, we dive into this bike's specs and its performance in a series of tests designed to demonstrate how it performs in the real world.
Started by a couple inspired by European and Asian extensive public transportation networks, Espin is a California-based e-bike brand trying to change the status quo that good e-bikes have to be expensive. The result is a growing line of e-bikes designed as tailored solutions to different commuting needs, ranging from a lightweight single speed commuter to a folding utility-style bike.
The Sport model we review here is a commuter aimed at style, speed and light off-pavement capability. With a high-step frame that loosely resembles a mountain bike and more aggressive tires, it's the type of bike that's equally at home in a city center or on a rural rails-to-trails bike path.
Bike Class:
Class 2: PAS/Throttle assist, up to 20 mph

Pro's
We love the looks. As far as affordable commuters go, the Espin Sport's unique frameshape and all around finish are very nice.
The geometry is perfect for a commuter with one toe in the paved world and the other in the dirt world. It's balanced, predictable and won't get squirrely on loose terrain.
We've been pleasantly surprised by the performance of the lesser-known S-Ride groupset, which shifts cleanly and has nice ergonomics.
The aggressive WTB tires were a nice touch and are from a company known and trusted in the mountain bike world.
The frame-integrated battery is also a nice touch at this relatively cheap price point. It's one of the biggest features that helps elevate the bike's looks.

Con's
Though we like the WTB tires, we had a notable number of flats while testing this bike. It may be worth preemptively treating the tubes with slime, adding a flat protection strip or upgrading to thicker tubes.
The battery life is less than what we'd expect from a 652Wh battery and 500W motor.
We had issues with the rear disk brake as soon as we pulled it from the box. The Zoom brakes are affordable and have performed well for us, but we do have questions of their longevity and serviceability.
ELECTRICAL SPECS & FEATURES
Battery: 48V, 13.6Ah (652.8Wh)
Display: Color LCD display
Motor: 500W geared rear hub motor
Headlight: Integrated
Taillights: Integrated
Peal Assist: 5 pedal assist levels, cadence sensor
Range: 30 – 50 miles, claimed
Throttle: Thumb throttle
Weight & Dimensions
Claimed weight: 55 lbs
Maximum rider weight: 275 lbs (total weight capacity)
Maximum load on rear rack: 55 lbs
Components & Accessories
Brakes: Zoom hydraulic disk brakes, 180mm rotors front and rear
Fenders: Front and rear
Fork: 100mm suspension fork
Frame: Aluminum
Drivetrain: S-ride 8-speed drivetrain
Grips: Rubber grips, lock on
Saddle: Selle Royal FreeWay comfort saddle
Handlebar: Aluminum flat bar
Kickstand: Included
Pedals: Alloy
Tires: WTB Wolverine SS
Espin Sport Review: Bike Overview
The Espin Sport is a stylish electric commuter that's low cost and boasts some cool features for an e-bike that's definitely on the cheaper end of the spectrum.
For starters I'm a big fan of it's looks, which are definitely a little more resemblant to an eMTB versus a pavement-only commuter. It's got a frame-integrated battery — another feature we don't always see on a bike priced this low — and the frame design is notably unique. It's got a kinked tob tube and ovalized downtube that blend nicely into the rear end of the bike. Often we see affordable e-bikes that have frame elements that either are identical or are partially identical to their competitors, but the Espin Sport looks notably unique — it's a nice change from the norm.
The motor is a Class 2 500W rear hub unit that makes 65Nm of torque and is powered by a 48V, 13.6Ah (652.8Wh) battery nested inside the downtube. That motor is actuated either via a rider's pedaling and a cadence sensor or a thumb throttle, and there are five levels of pedal assist to choose from.
Shifting is handled by a S-Ride 8-speed groupset, a drivetrain made by a lesser-known company but one that I've been pleasantly surprised with. It's good to have a healthy bit of skepticism of groupsets made by companies other than SRAM or Shimano, but the S-Ride kit has performed well for us. The shifting is good, and handles gear changes under load better than I expected.
The hydraulic disk brakes are made by Zoom, which is a relatively new brake maker we've seen pop up over the past year. Their products have performed well for us in the past, but we always look skeptically at new and affordable components; especially ones as important as brakes.
Softening bumps in the front is a 100mm suspension fork and at the rear of the bike is a direct-mounted rear rack rated for 55 lbs of cargo. Lastly, the Espin has a notably low weight of 55 lbs.
It's overall a very nice riding e-bike, and compared to some of the other more affordable e-bikes in its category, I feel Espin did a nice job of selecting cost effective components that balance performance with dollars. Everything pieced together nicely on this model.
But not everything with the Espin was roses.
We had four flats during the long range test, which is a notable number. This could be bad luck, or maybe Josh, our long-range test rider, did something to irk the bike gods. Or, it could be an indication that those WTB tires, which we really like for the tread and grip, might not have the best flat protection. It's not at all uncommon for us to get a flat or two over the course of reviewing an e-bike — we're based in the desert after all, where all the plants are angry and pokey — but four in one sitting got our attention. Either way, it may be beneficial to proactively put some sort of sealant like Slime, a thicker tube or some other sort of flat protection on this bike.
The bike's range, which we'll dive into later in this review, also left something to be desired. It's passable, but was less than we'd typically expect from a bike with a 652Wh battery.
Finally, we also had issues with the rear hydraulic brake from the get-go. The rear brake was squishy as soon as we unpacked the bike, and eventually, near the end of our testing, it nearly ceased to work at all. We've had good luck with Zoom brakes thus far, but we have had some concerns of how long they may last, how often they have issues and how serviceable they are if they do develop problems. I haven't attempted to service them yet, and there are some how-to videos out there that indicate they are indeed serviceable, but fixing cheap components can be tricky. It's not uncommon that a bike shop (yes, hydraulic brake fixes typically require the help of a professional bike mechanic) might suggest you replace rather than repair a brakeset this cheap.
None of these issues are deal breakers for me, especially considering the Espin Sport's very affordable price of less than $1,700 MSRP. But these are all things we feel are worth noting, especially considering some are problems that would likely result in a trip to your local bike shop and some extra money shelled out in repairs.
Espin Sport Review: Motor Performance, Speed and Acceleration
Equipped with a 500W rear hub motor that makes 65Nm of torque and is limited to Class 2 speeds, the Espin Sport is lively and quick.
There are five levels of pedal assist activated via a cadence sensor, which is responsive but has some of the typical lag you'd expect from a cadence sensor-equipped e-bike. We tested the motor performance in each of the five pedal assist levels around the Electric Bike Report test circuit, and the results were largely as expected.
Each PAS level had a measurable change in speed from the next that felt measured and appropriate, which means a rider has plenty of control over how much or how little motor power they're using at any given time. We also saw a good hot lap around our circuit in PAS 5, which was right up against the bike's max motor-assisted speed of 20 mph.
Espin Sport Review: Range Test & Battery Performance
The Espin Sport's 48V, 13.6Ah (652.8Wh) battery left a little to be desired in our range testing, especially when compared to other e-bikes we've reviewed of similar makes and battery specs.
We tested the Sport's battery life twice during the review period, once in PAS 5 and the next time in PAS 2. In the PAS 2 test, the Sport lasted 36.34 miles before dying. Kick the power up to PAS 5, and the range we recorded fell to 16.01 miles.
Both of those results are short of what we'd expect from a bike with a 652.8Wh battery and 500W rear hub motor. The Rad Power Bikes RadCity 5 Plus we just reviewed, which for context is a similarly spec'd electric commuter that costs a few hundred dollars more than the Espin, clocked a 51.39 mile range in PAS 2 and a 31.10 mile range in PAS 5. Like the Espin it too has a 500W rear hub motor and its battery is a hair larger at 672Wh to the Espin's 652.8Wh — a difference in watt hours that doesn't explain the marked difference in range test results.
Though shorter than expected, I'd still qualify the Espin Sport's range as passing for an electric commuter, especially if you don't max out the power settings for the entirety of your ride. Few commuters are going to log more than 20 miles a day on their e-bike, so it's reasonable to think the Espin would cover that distance with just a little careful battery management.
Espin Sport Review: Hill Test
Uphill, the Espin Sport is no rocketship but it is very capable of climbing steeper-than-average hills easily using pedal assistance and even on throttle power alone.
We tested the Espin's climbing prowess twice on our test hill Hell Hole, first using just the throttle and again using PAS 5. In each, the Espin put up a confidence inspiring time.
Hell Hole is a third-of-a-mile long section of bike path with a 12 percent gradient on average, which is plenty long and plenty steep to put even the most powerful e-bikes we've reviewed into difficulty. But despite our hill's reputation, the Espin Sport's 500W motor held its own.
In PAS 5, the Espin Sport cleared Hell Hole in 1:16.00 with an average speed of 14.3 mph and in the throttle only test it made it to the top in 1:40.00 with an average speed of 10.8 mph. Both of those results are about what we expected from this descently powerful but refreshingly lightweight electric commuter bike.
Espin Sport Review: Brakes and the Brake Test
Despite the aforementioned issues we had with the rear brake, the Espin Sport performed surprisingly well in the brake test portion of the review.
In five full-power stops from 20 mph, the Sport came to a stop in an average distance of 13-feet-2-inches, which is several feet better than the current all-time average of 15-feet-8-inches.
Considering I was almost entirely relying on the front brake alone during the test, that's an incredibly impressive result that speaks volumes to the efficacy of the Zoom brakes when they are functioning properly. What makes me stop short of waxing poetic about these brakes is that I am concerned about their quality, and the likelihood that other consumers out there might have a similar problem with one or both of the brakes as we did.
When it comes to reviewing affordable e-bikes, brakes are arguably the toughest component to evaluate, especially when we're talking about brakes made by new or lesser known manufacturers. Obviously the first consideration is whether or not they work safely and reasonably well, which, in the case of at least the front brake on the Espin Sport, the Zoom brake does appear to work well.
But engineering a functioning hydraulic brake system is only half the battle. The next half of the battle — which name brand companies like Shimano, Tektro and SRAM excel at — is how much engineering forethought has been put into how they can be repaired when something goes wrong. This is the part that gives me pause with these affordably priced and lesser known brake manufacturers: While they often work well when functioning properly, they're often difficult or impossible to service when they're not functioning properly.
There is some information on how to bleed the Zoom brakes online, a process that appears to involve generic syringes, hydraulic oil borrowed from other brake brands and a procedure that makes the bike mechanic in me scratch my head. My guess is that, if you had an issue similar to the one we had with the Espin Sport's squishy rear brake, a shop likely will struggle to service the Zoom brakes. In all likelihood, they'll suggest replacing the brakes instead of repairing them.
Espin Sport Review: Ride Comfort, Handling and Cockpit
The Espin Sport's handling and comfort were highlights of this review process. Espin did a great job building an e-bike that has balanced handling and a geometry that's both comfortable and descently efficient.
In corners, the Sport is predictable and confidence inspiring at higher speeds or tight situations. There's no indication of understeer or oversteer, and the bike handles nicely when cruising near its top motor assisted speed of 20 mph.
Comfort wise, Espin made smart decisions by using plain-old rubber grips that lock to the handlebars, a Selle Royal comfort saddle and by using an overarching geometry that places the rider in an upright position that's athletic enough to take advantage of their leg power.
The rest of the cockpit is fairly standard with a full-color LCD display and a thumb throttle.
Espin Sport Review: Summary / Where to Buy
Overall the Espin Sport is a good contender in the affordable electric commuter category.
It's a quick bike with a 500W rear hub motor, good looks and (mostly) good componentry. It also costs a few hundred dollars less than many of the other e-bikes in its category, which always makes it appealing to those on a budget or who are buying their first e-bike.
There are a handful of issues that cropped up in our review process, including the short range and issues with the rear brake, but those problems are either passable or fixable. More than anything, they're factors to keep in mind if you're considering this e-bike.
With a little troubleshooting and possibly some repair costs, our review model of the Espin Sport will likely turn out to be a formidable commuter. I'll reiterate that the battery issue isn't so much of an issue as it's just shorter than we expected, and for the brakes, that's a problem that could happen to any e-bike with cheap brakes; it just so happened it reared its head on this one. Are those issues enough for me not to recommend the Espin Sport? No — I still think this is a good e-bike for a good price. There are just some things to mull over before buying.
If you like the Espin Sport you can buy it on Espin's website and have it shipped direct to your door. There are also a handful of test ride locations around the U.S. should you want to give it a try before buying.
'Happy Riding, make sure to let us know if you have any questions down in our comments section or if you think we left anything out in this review of the Espin Sport.
Reader Interactions