Electra Ponto Go! First Look Review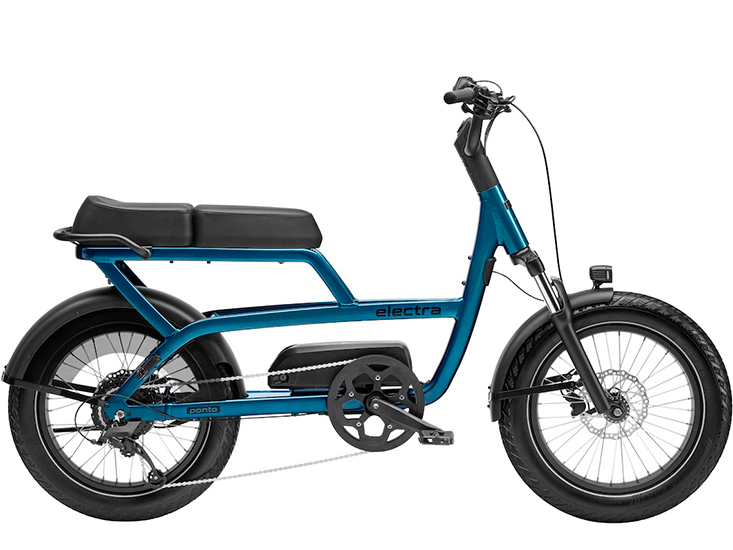 The Electra Brand has been known for cruisers and city bike, both electrified and not. They've left road bikes, eMTBs and cargo e-bikes to other brands (like their parent, Trek). Instead, they've focused on the category for which they are known. They've now introduced a new e-bike, the Ponto Go!, which takes a little sidestep from the world of cruiser e-bikes.
In our Electra Ponto Go! review, we will look at how this e-bikes is modeled on a moped design, with a long bench seat that is lower to the ground than we see with more traditional e-bikes. Its frame splits the difference between a traditional e-bike frame and the "box" frame we are used to seeing with mopeds/motorcycles and the like. It has big tires and a suspension fork for a comfy ride quality and a high-rise handlebar that can be rolled forward or backward to increase or decrease the rider's comfort.
It is spec'd with a 750W brushless, geared hub motor which is powered by a 650Wh battery, operated by a controller that gives riders five different PAS levels. Riders will be pleased with some component upgrades we see over some similar designs, such as hydraulic disc brakes and an 8-speed drivetrain.
In short, Electra has approached this style of e-bike with a fresh take, giving riders something different, something that may better fit their needs.
Electra Ponto Go! Spec Review: Bike Overview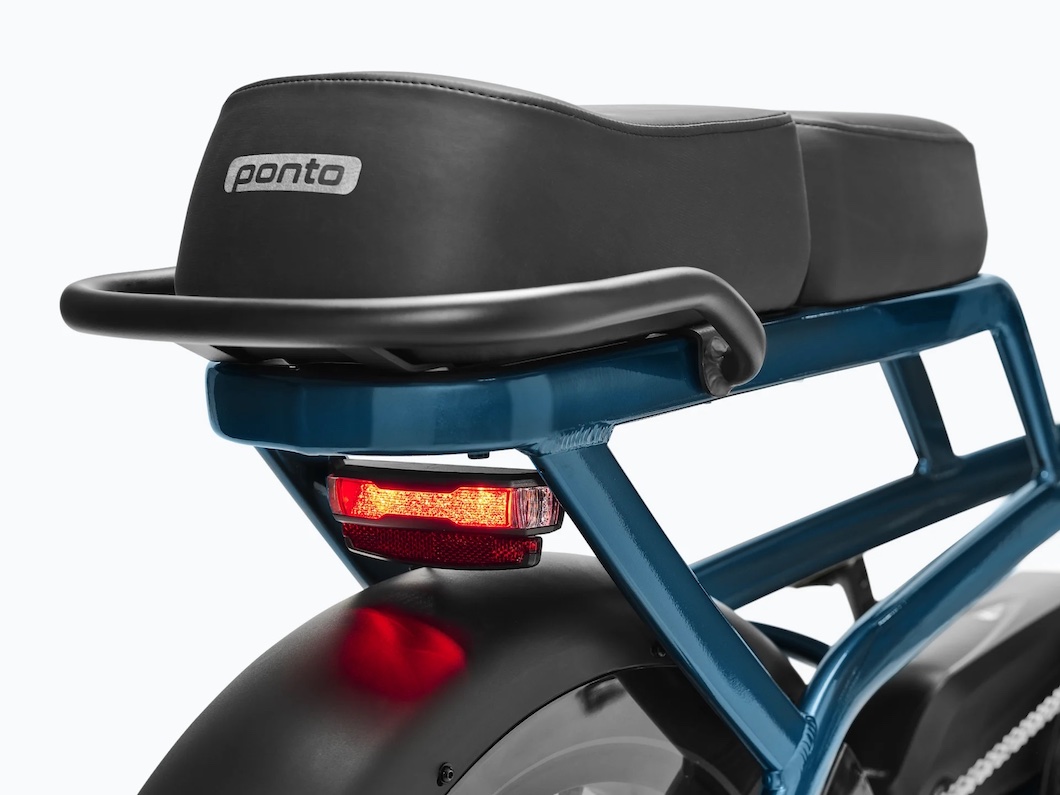 The first thing to understand about the Electra Ponto Go! is that this e-bike is meant to compete with e-bikes from other brands, like Super73, which has made the moped-styled e-bike a category, not an oddity.
Brands like Super73, Himiway, Ride1UP and Juiced have all introduced e-bikes that are styled after mopeds and motorcycles. Most of these e-bikes share a few essential design elements to make them appeal to a specific rider.
What they all share is a bench seat instead of a traditional bike saddle that cannot be changed in height. In most instances, this bench seat sits closer to the ground, making it possible for most riders to put both feet flat on the ground upon coming to a stop.
These e-bikes also share 20-in. wheels as a key part of their design. The smaller wheels make these e-bikes more agile and when running 3 or 4-in.-wide tires, they enjoy terrific traction.
That long bench seat also makes it easier for the rider to take a passenger along with them. The Electra Ponto Go! makes this point explicitly with the addition of a grab handle behind the seat and footpegs for the passenger's comfort and safety.
These designs appeal to riders who are less focused on pedaling. Most riders cover most of the miles they ride using the throttle, rather than the assist part of pedaling. It's fair to ask why and we will answer that question as we dig into the details of the Electra Ponto Go!
Electra Ponto Go! Review: Specs & Features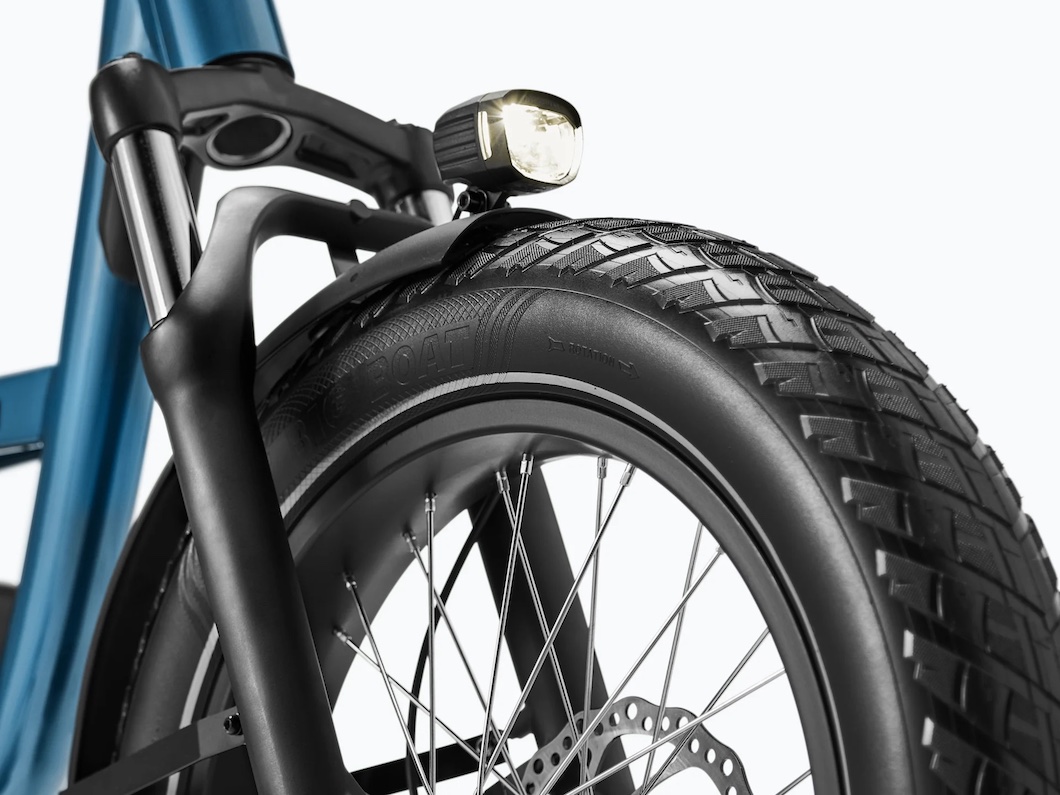 Frame and Fork
We refer to e-bikes like the Electra Ponto Go! as being styled after mopeds and motorcycles rather than other e-bikes for a couple of reasons having to do with the frame design. Where a traditional bike frame features a single top tube and single down tube, the moped-influenced designs use what is referred to as a box frame; generally, two tubes run in parallel from front to back. That was meant to create a stable mount for the motor and the width of the box frame dictated the width of the bench seat.
So what purpose does such a design serve? It has pedals, so it's meant to be pedaled, right? Not necessarily. The design itself tells us who it will appeal to most. Many e-bike riders aren't interested in pedaling all that much. They like the activity and don't mind pedaling some, but they aren't looking to become a weekend-warrior athlete. So that thumb-button throttle matters more than the pedals do.
There are plenty of riders who want to put their feet—both of them—flat on the ground when they stop. A low-slung bench seat of fixed height serves that desire well. But it creates a trade-off: Most bench seats are wide enough that pedaling isn't all that comfortable and it can be hard to find the right balance of reach to the handlebar and distance from the pedals for comfortable pedaling; that's why on most e-bikes the saddle can be raised or lowered, and why the nose of the saddle is quite narrow. But this returns us to the idea that if the goal isn't lots of pedaling, then what form might an e-bike take?
The Electra Ponto Go! uses an innovative approach to its "box" design. The frame begins with a traditional head tube welded to a down tube and the seatstays and chainstays that create the box split from the down tube. What this means is the frame uses less tubing and less metal means less weight. At 80 lbs. this e-bike isn't light, but with a more traditional design it would have turned out heavier than it is.
Of course, an e-bike frame with a fixed seat height is a way to sidestep the issue of a one-size-fits-most e-bike. The reason for different frame sizes is to give riders the opportunity to purchase an e-bike where they get enough leg extension to pedal comfortably and a just-right reach to the handlebar. If the rider is mostly using the throttle, the seat height doesn't matter so much.
The frame is constructed from 6061 aluminum and is matched to an 80mm-travel suspension fork that uses a coil spring. The fork will do a nice job of taking the edge off pavement cracks, potholes and driveway lips.
Motor and Battery
There aren't too many mandatory features for a moped-styled e-bike, but for anyone who wants to use the throttle more than the pedals, then the motor needs to offer plenty of power. Electra chose a 750W brushless, geared hub motor that can turn the wheel with 60Nm of torque—plenty for getting up a hill or away from a stoplight ahead of most traffic.
With such a powerful motor, the battery needed to offer plenty of capacity lest the rider fear they lacked the range necessary for doing the rides they wanted. With the Ponto Go! Electra spec'd it with a 650Wh battery. Electra suggests that riders may enjoy range of up to 60 mi., but that number seems generous. Our experience with other e-bikes with similar motors and batteries suggests that while 60 mi. might be possible, it's only realistic if the rider pedals full-time and restricts the motor to PAS 1. Riders zipping around with the throttle at PAS 5 may not see even half that in the real world.
Shoppers wondering what kind of speeds they can expect to reach on the Electra Ponto Go! can anticipate reaching 20 mph with the help of the throttle and if they pedal with some vigor can expect to reach a maximum assisted speed of 26 mph, making this a Class 3 e-bike.
Componentry
One notable component that Electra chose for the Ponto Go! that may surprise shoppers is the fact that they chose a torque sensor rather than a cadence sensor. In e-bikes where the rider might be expected to favor the throttle, a cadence sensor can be handy in that it can allow a rider to pedal without much effort but keep the motor engaged because the cadence sensor detects ongoing movement in the pedals.
With a torque sensor, riders enjoy a more dynamic pedaling experience; as the rider pedals harder, the e-bike accelerates more; the e-bike becomes responsive beyond just which PAS level the rider has chosen.
Compared to some of the bench seats we've seen on some moped-styled e-bikes, the seat on the Ponto Go! is a bit slimmer and narrows some near the front of the seat, which will make pedaling easier than with some similar models.
Electra fully expects riders to bring a passenger along any time they want. The bench seat is split into two different seats to better support each rider. A rear grab rail gives the passenger a place to hang on and foldable foot pegs give them a safe place to position their feet. A clear plastic wheel skirt will keep the passenger's feet out of the rear wheel as well.
The high-rise handlebar can be rolled either forward or backward to give riders a more dialed reach from the saddle. Electra includes front and rear lights as well as fenders and a kickstand, but due to the frame design, it does not include a rack, nor can a rear rack be added. What they do offer is a front rack that can be added for those who need to carry a load that won't fit in a backpack.
Drivetrain, Brakes and Wheels
Riders who do plan to pedal, whether climbing a hill or accelerating away from a stop, will appreciate the Microshift 8-speed drivetrain. It features an 11-34 cassette which means it has a broad enough range of gears to make a difference on hills. Microshift, as a brand, doesn't get much attention, but they make solid components that perform well. And, because they don't have the name recognition that Shimano does, their components tend to be less expensive, which helps keep your e-bike as affordable as is reasonable.
When an e-bike weighs 80 lbs., we want to see good brakes and Electra chose Tektro hydraulic brakes with cutoff switches in the levers and paired them with 180mm rotors—a robust setup.
As we mentioned in our opening, the Electra Ponto Go! is spec'd with 20-in. wheels, which help to keep the e-bike nimble and the rider closer to the ground. It makes for a very confident ride. The challenge with 20-in. wheels is that we don't often see them shod with tires any wider than 3 in. The Ponto Go! rolls on 4-in.-wide tires which can be run at a lower pressure than narrower tires and between the lower pressure a big tire can afford and wider tire footprint, traction is superior to e-bikes with smaller tires.
EBR's Electra Ponto Go! First Look Review: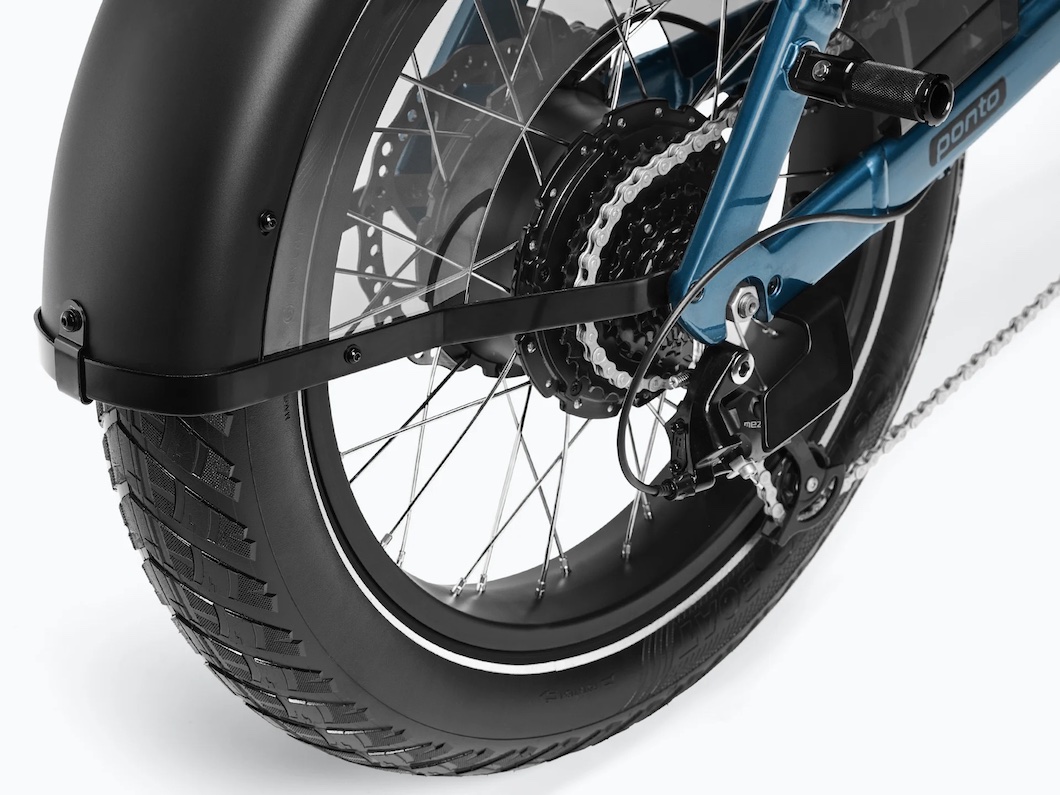 The Electra Ponto Go! is a fresh take on what a moped-styled e-bike can be. Unlike with some models in this category, the frame isn't overbuilt for what it carries, but it is plenty strong as evidenced by its maximum payload weight of 360 lbs.; that's enough to carry two adults.
This e-bike looks good, too. It has stylish lines and is proportioned in a way that makes it look fun. And true to their cruiser heritage, Electra gave the Ponto Go! a long head tube which when combined with the high-rise bar and low seat height results in a ride that allows the rider to sit upright and look around at the world as they ride.
While this is an e-bike that is branded Electra, Electra is owned by Trek and as a result, buyers gain access to the Trek Central app which gives riders additional functionality and control over their e-bike. The Quad Lock mount integrated into the stem gives riders a place to secure their smartphone and even charge it—wirelessly.
The only detail we question on the Electra Ponto Go! is the decision to spec this e-bike with a torque sensor. It seems likely that most buyers for this e-bike are going to be content riding with the throttle. Torque sensors, on the other hand, are generally favored by riders who want more in the way of exercise on their e-bike. We tell people that torque sensors are for people who want a workout and cadence sensors are for people who want activity. The opportunity to ghost-pedal with the help of a cadence sensor seems like a more natural fit for an e-bike of this sort. We're not dinging this e-bike for this choice; we just wonder if it's being presented to the rider who will most appreciate it.
This is the sort of e-bike that is increasingly being purchased by parents to allow their teens to get around in lieu of a car. For that reason, we like that the Electra Ponto Go! only allows throttle use up to 20 mph and there appears to be no provision to jailbreak the motor.
Electra makes a number of accessories that can make the Ponto Go! conducive to errand running, or simply helping you keep track of your essentials. While the Electra Ponto Go! isn't as versatile as a cargo e-bike, it does come ready for a passenger, making it a useful alternative to a car in some situations. All in all, this is a very useful and fun e-bike that can do more than recreation.