eBike News: US Rail Trail, Norco eMTB & eFat, Wing eBikes, Rad Power Bikes, Cargo Kit, Minneapolis Expo, & More! [VIDEOS]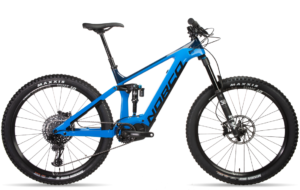 In this week's eBike news roundup:
The Great American Rail Trail
Norco eMTBs & eFat Bikes
Stylish Wing eBikes
Revvi Kids' eBalance Bike
Rad Power Bikes Pre-Tariffs Pricing
Argo Front Cargo Conversion Kit
Minneapolis E-bike Challenge Expo
Transdinarica European MTB Route
Breeze Women's Only Rides
Monthly Rental the New Hire Model?
And Much More!
Headline News
Be Part of the Great American Rail Trail
'The Great American Rail-Trail promises an all-new American experience. Through the 12 states and the District of Columbia, the trail will serve more than 50 million people within 50 miles of the route.' This is what Rails to Trails Conservancy are pushing for and have recently been e-mailing members to let them know more about the project.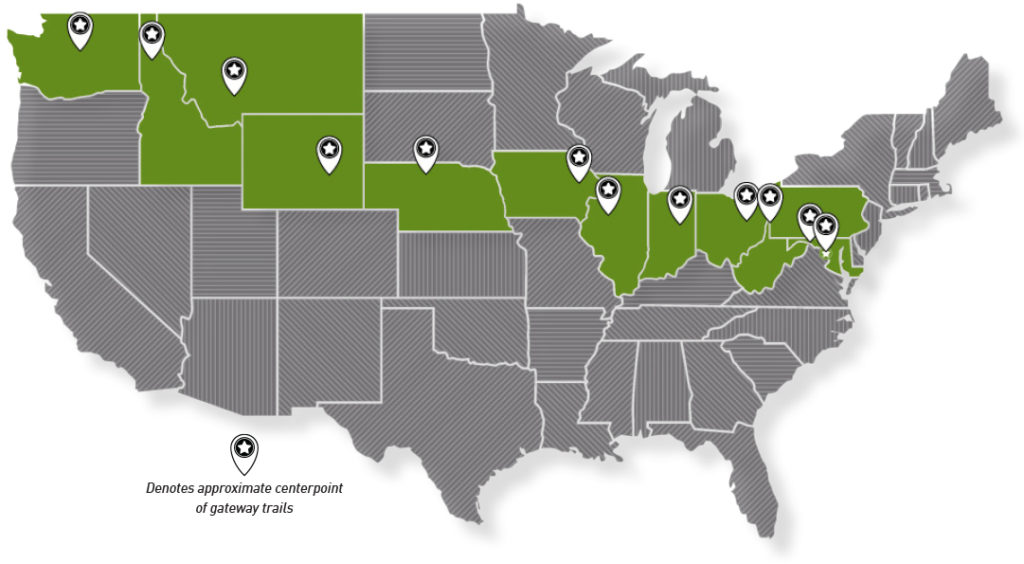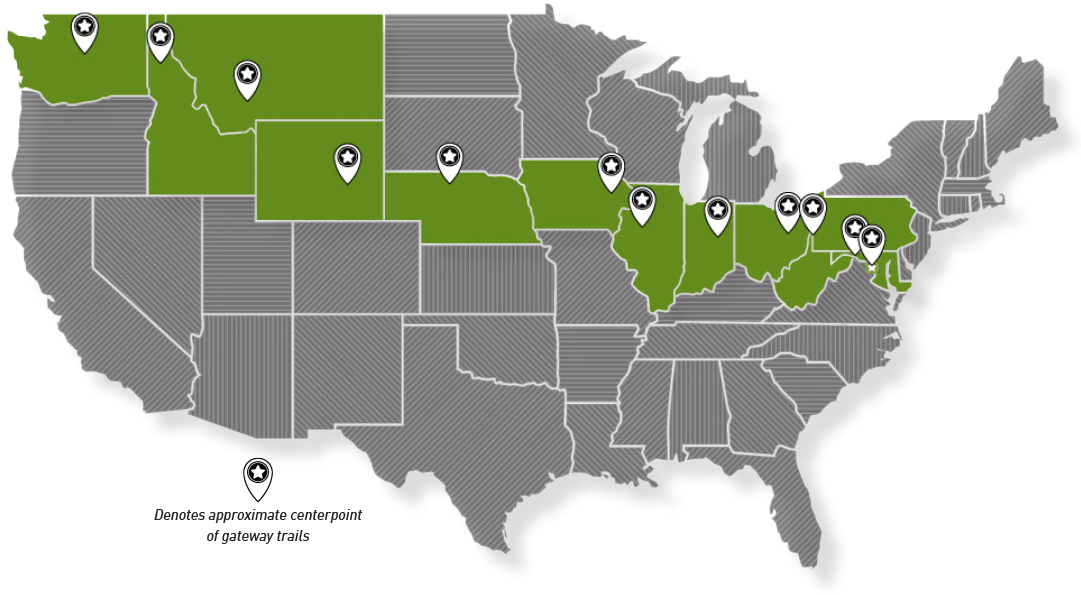 Already there are trails in place you can ride – such as the Capital Crescent Trail, the Panhandle Trail and the Cowboy Recreation and Nature Trail (amongst many others) – that will be connected to run across the country to make up the Great American Rail-Trail.
Rails to Trails make it clear this is a long term project, but that they have a 'commitment to creating an iconic piece of American infrastructure that will connect nearly 4,000 miles of rail-trail and other multiuse trails from Washington, D.C., to Washington State.'
They add 'RTC is committing to this project after more than 18 months of analysis and collaboration with local trail partners and state agencies whose work is critical to the success of this significant undertaking. Analyses that were used to confirm the project's viability included a thorough assessment of route options using RTC's database of more than 34,000 miles of open trails nationwide; analyses of state and local trail plans; and discussions with hundreds of local trail partners and state agencies representing all of the trails along the potential route.'
A truly inspiring vision for what would surely be a massively popular route for cyclists and e-bikers alike.
Just visit here to get the opportunity to sign up to updates or just learn more about the background and the trails involved.
New eBikes & eBike Systems
Norco's Carbon Frame 630 Wh eMTB
Norco is a Canadian bike manufacturer and they recently launched their new Sight VLT eMTBs.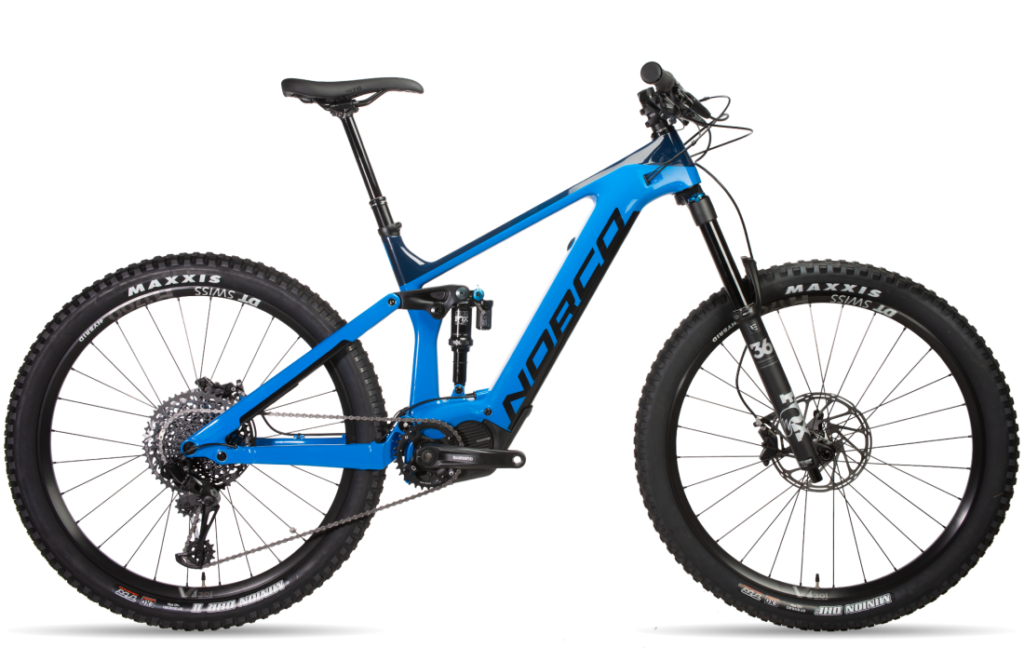 The Sight VLT 1 eMTB is unusual in that it features a carbon frame and a larger 630Wh battery. The penalty of the carbon frames appears to be that the battery is not removable, and remains fully integrated into the frame, only being removable by a dealer, presumably as any aperture in the frame would compromise its strength.
The Sight VLT 1 is powered by the renowned Shimano E8000 mid motor and retails at $7,699 USD €7,499. You can read more detail and get info on the lower priced VLT 2 and 3 versions at E-mountainbike.
Also in the 2019 line up are the Bigfoot VLT 1 and VLT 2 eFat bikes with a similar eBike system:
Wing Stylish Urban & Fat E-bikes
Wing e-bikes are based in the US and offer a range of three e-bikes all with a distinctive frame featuring an extra long top tube that houses LED lights within the frame. All have batteries semi-integrated into the frame and are powered by rear hub motors.
Their website states a claimed weight of 39.8lbs / 18kg though it's not clear which of the bikes this applies to. All bikes come with cable disc brakes and basic Shimano Tourney derailleur gears.
The Freedom is an urban bike, the Freedom Fatty, naturally enough, an e-fat bike and the Freedom S a compact model.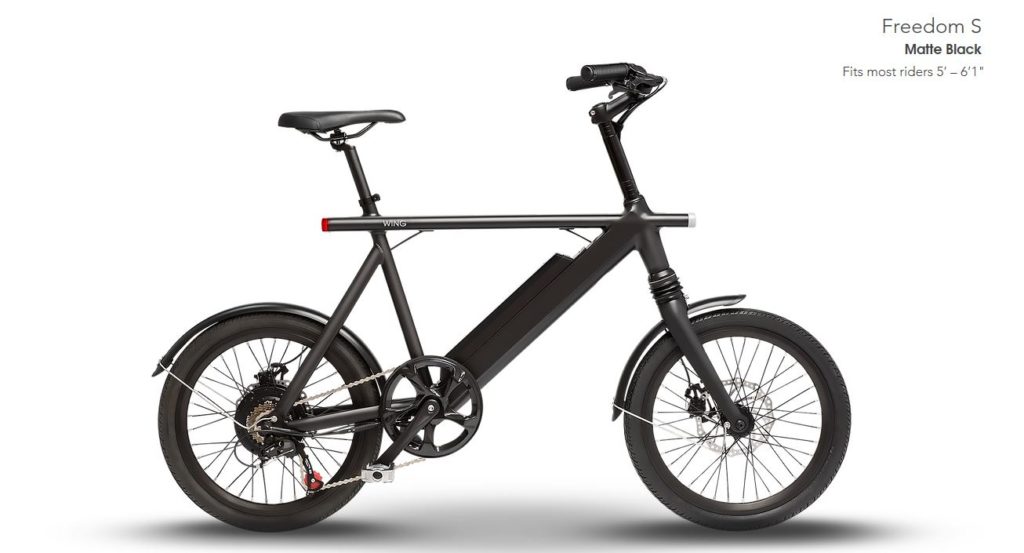 Wing are offering US$400 discount 'for a limited time' making them currently available for US$1295 with free shipping within the continental US.
Start 'em Early With Revvi
Revvi are balance e-bikes for young children with two speed settings of 5mph and 10mph and are available for pre-order in the UK for £299. Claimed weight is 9kg and Revvi say you get an hour's use on a single charge.
Balance bikes are often said to be a better way for very small children to learn to ride a bike and this twowheelingtots article tells you why.
Just to be clear, these are toys and not legal e-bikes allowed on public roads and should be used accordingly.
Rad Power Bikes Pre-Tariff Pricing
https://youtu.be/ifZ-TXLWvQU
Rad Power Bikes announced that they are bringing back their pre-tariff eBike prices that start at $1,499. They are also price-matching for anyone who bought a Rad Power Bikes eBike between January 1, 2019 and January 31, 2019.
"We want to bring the most value to customers and one powerful way to achieve this goal was to absorb the tariff costs completely," said Mike Radenbaugh, Co-Founder and CEO of Rad Power Bikes. "We believe ebikes can truly revolutionize transportation and the communities we live in, and we're here to make sure that happens no matter the cost."
To fully absorb the costs of the tariff, Rad Power Bikes focused on what they could change, rather than deferring to factors outside their control. The company streamlined business processes, standardized components across their models, enhanced relationships with vendors, and diversified manufacturing. These efforts allowed the company to return to their original pricing of $1,499-$1,599 without compromising quality, customer support, or the growth of their U.S. based business.
Bike Accessories
The Argo looks like some accessory – a kit that replaces your front wheel with the front end of a cargo box style cargo bike!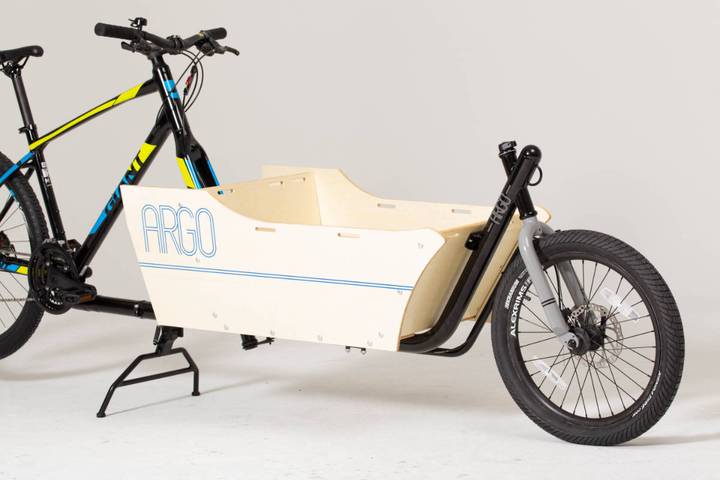 Argo promises it is swappable with your front wheel in a matter of minutes and will fit 'most city and mountain bikes….and some road bikes.'
There do appear to be potential issues if you have hydraulic disc brakes on the bike you would like to use the kit with (the Argo relies on having cable brakes so you can install a splitter in the cable) and for e-bikes other than those with a rear hub motor it appears the motor might not be compatible with some of the Argo mounting points. They appear to be working on a mid-drive eBike option.
This looks like clever lateral thinking and after a successful Kickstarter campaign Argo have sold out of their first production run at US$ 899. For news of the next batch you can sign up here.
Get Inspired
Visit E-bike Challenge, Minnesota
March 23rd and 24th 2019 will see the E-bike Challenge event take place at the Minneapolis Convention Center, Minnesota.
It promises the chance to try out the latest e-bikes on an indoor test track plus the opportunity to find out about biking locations, listen to lectures and indulge in fun family activities.
New Route Across the Balkans by MTB
Bike Magazine gives some detail about plans for a new cross-border cycling route with plans to launch a 1,200 mile mountain bike trail that will traverse all eight countries in south east Europe.
'Trans Dinarica presently connects Slovenia, Croatia and Bosnia-Herzegovina, and the plan is to eventually encompass Montenegro, Albania, Kosovo, Serbia and Macedonia. Inspired by the Via Dinarica hiking trail, this will enable cyclists to travel across all eight countries along the Dinaric Alps and Shar Mountains. The trail stays off-the-beaten path, and cyclists travel over challenging gravel tracks and mountains.'
Breeze on a Group Ride – E-bikes welcome
The BBC just had this feature telling us that British Cycling are aiming to get one million more women cycling by 2020. One of the ways of doing this is through the women-only group ride programme called Breeze. Participation is free and there are rides of all length and ability and e-bikes are welcome. There are also various other group ride programs you can check out here.
What an eMTB Can Do
Infrastructure and Bike Share
California State Workers can be Reimbursed for Riding Jump E-bikes
The Sacramento Bee reports that California state has told its workers that 'Yes, the state will reimburse you for using JUMP bikes.'
According to the article 'The email referenced updates to the state's travel and relocation policy, which also clarifies that electric scooters — more common in cities such as San Diego and San Francisco — are eligible for reimbursement.'
Is it an E-moped, is it an E-kickscooter? It's OjO.
This Elektrek article informs us 'New micro-mobility startup Ojo is now preparing to roll out their sit-down electric scooter sharing platform in the US. With operations beginning in Austin, Texas, OjO's new take on scooter sharing could signal a shift in the industry.
Functionally, OjO's scooter sharing model will be similar to the likes of Jump and Lime (ie dockless) but the design appears to borrow elements from the world's of both moped design (the seat and front fairing for example) whilst retaining a step through kickscooter configuration with relatively small wheels. It will have a 20mph assisted speed limit.
Will users take to the extra comfort features like seat, suspension and handling stability or will they baulk at the extra weight?
Kia Present their Version of an Autonomous Future
This video shows Kia's vision of an autonomous vehicle future, linking different sizes and designs of futuristic looking vehicles to enable both short and long distance travel.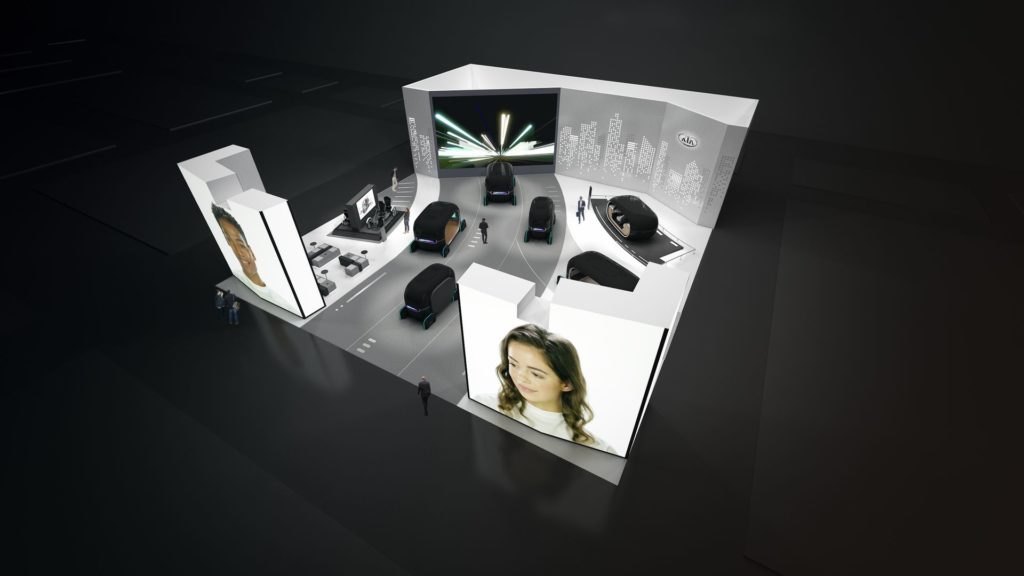 Small four-wheel electric cycles, SEED cars, can be driven individually or driven onto autonomous BIRD Cars which will be able to travel longer distances. The SEED car will be allowed in bike lanes and like today's regular e-bikes there is no need for any red tape in the form of a licences, tax etc.
The BIRD cars will accommodate 2 SEED cars or up to eight people as well as regular bikes, wheelchairs, children's buggies etc.
Is the Sharing Culture Really Coming the Bikes?
Whilst there is no mention of e-bikes, Swap is a Dutch firm that is looking to bring a new twist to the idea of using a bike you don't own and it could have implications for e-bike share if it takes off globally.
This Forbes article describes the idea thus 'For a monthly subscription Swap supplies a bike and on-demand repairs or replacement. For now, the Netflix-for-bikes service is available mainly in the Netherlands, but the startup is also expanding across Germany, Denmark, and Belgium, and could one day roll out in America, the company CEO told Forbes.'
This video explains the basic concept in a nutshell:
Indeed Paris recently announced what is described as 'the world's biggest e-bike fleet' on a similar monthly rental model, with a reasonable 40 euros a month fee . Is this the new model for e-bike rental one that could be copied in cities around the world or will the much shorter term model from the likes of Jump and Lime prevail?
E-bike Legal Watch
New Standard for Speed Pedelecs comes into Force in EU
This Bike Europe article details how a new type approval came into force in the European Union from 1st January 2019. It means that newly registered speed pedelecs (motor assisted speed up to 45kmh) must feature both a horn and a brake light.
E-bike Biz
ZOOV E-bike Share Receives 6 Million Euros Funding
Silicon Canals reports that 'The French electric bike sharing service Zoov has secured €6 million in funding to kick start operations in more cities apart from Paris. The investment round was led by Daphni, C4 Ventures and Road Ventures. BNP Paribas Development and the Banque des Territoires have also participated in the funding campaign.'
The ZOOV website makes it clear that it's current offer is pitching to companies who want a system for their employees to use, with ZOOV using the on-board e-bike sensors to monitor their condition and maintenance requirements. It will be interesting to see how and where ZOOV expands with the new funds. The company also makes a pitch to those who might think public bike share equals pavement clutter, as they bill their system as 'the first ebike-sharing service that respects public roads with its lightweight, ultra-compact stations in the densest areas.'
Private Funds Boost for Swytch
Swytch is a UK-based manufacturer and retailer of hub motor retro-fit kits.
'Swytch, is celebrating its first year after receiving an additional £795,000 boost from private investors. The start-up, which has generated almost £1 million in revenue to date, exceeded its crowdfunding target by over 500% back in 2017' Cycling Industry News tells us.
JIVR 'Chainless' E-bike Seeks Equity Crowdfunding
Crowdfund Insider recently reported that 'JIVR, a foldable, electric, and chainless bike brand, is now seeking €850,000 through its equity crowdfunding campaign on Seedrs. JIVR was notably launched as a concept in 2012 as a result of a University College London research paper which studied the quality of city life. CEO and Founder Marcin Piatkowski completed the research with an idea to popularise cycling to work…'
In other words people want a lightweight, easy to use, low maintenance folding e-bike! This is harder to produce than it sounds and it should be noted, as the article does, that 'Although the concept sounds interesting, there have been some issues with Jivr in the past. The company raised a total of £126,152 from 204 backers on Kickstarter in April 2015 for its anticipated bike but has yet to deliver the product nor has it refunded all backers choosing to ditch the project.'
The real novelty of the e-bike appears to be the frame-enclosed belt drive. The bike is available on the Jivr website from €3199 and the Seedrs equity crowdfunding page is here.
Stay tuned for more e-bike news and reviews and thanks for reading!
-Richard
P.S. Don't forget to join the Electric Bike Report community for updates from the electric bike world, plus ebike riding and maintenance tips!
Reader Interactions