Ebike News: Sea Otter Classic registration date set, Stromer and QuietKat have new owners, EU road fatalities hit all time low & much more!
One of the world's largest bicycling events is nearing after a more than year-long hiatus; some e-bike companies were bought and sold; and U.S. lawmakers took positive steps to make our roads safer as Europe reported the fewest pedestrian road deaths on record.
Those things and more in this week's news roundup.
In this week's news:
Registration for Sea Otter Classic nears after COVID hiatus

European road fatalities fall to all time low

Transportation bill moves forward with funding for cycling, walking infrastructure

QuietKat acquired by Vista Outdoor, owner of several well-known outdoor brands

Luxury e-bike brand Stromer also gets bought

Support people for bikes, (maybe) win a Stromer
Registration opens next month for California's famed Sea Otter Classic
Registration for one of the United States' largest bicycling events is set to open next month after being postponed for more than a year due to the COVID-19 pandemic.
Racers and exhibitors can reserve their spots in the 2021 Sea Otter Classic starting at 9 a.m. on June 28th, marking a return of one of North America's largest and longest-running bicycle events after the global pandemic all but wiped out major affairs last year. Sea Otter is traditionally held in April each year, but it's slated for October 7-10 in 2021.
Barring a return of the now defunct Interbike trade show, Sea Otter boasts one of the largest bike expos outside Europe, which is usually a manufacturer favorite for debuting new bikes and parts. The event also features nearly every form of bike racing with racers toeing the start line on the world-renowned Laguna Seca Raceway in Monterey, California.
European road fatalities drop to all time low in 2020
2020 was a banner year for road safety in Europe, or maybe a deadly pandemic was keeping people off the streets. Either way, 4,000 fewer people were killed in crashes on Europe's roads, according to preliminary figures released by the European Commission late last month.
It's estimated that roughly 18,800 people were killed in a road crash last year, a 17 percent decline from European road deaths in 2019.
The commission's release acknowledged the pandemic likely played a part in 2020's unprecedented decline, but added the exact impact of the pandemic is tough to measure. Road deaths in the EU have trended generally downward for the past decade, dropping 36 percent between 2010 and 2020, according to the release.
Roughly 70 percent of the 2020 fatalities involved "vulnerable road users," a group that includes cyclists.
Transportation bill moves forward in the U.S. Senate, which would make it easier to build bike lanes, sidewalks and other infrastructure
A bipartisan transportation bill in the U.S. Senate moved out of committee this week, signaling a positive step forward for a plan that would increase funding and make it easier for municipalities to build pedestrian infrastructure like bike lanes and sidewalks.
The bill, known formally as the Surface Transportation Reauthorization Act of 2021, proposes a historically-high $303.5 billion baseline funding level for Department of Transportation projects, which includes pedestrian infrastructure.
"The bill's proposed changes to the Transportation Alternatives program will make it easier for local governments to build bike lanes, sidewalks, and trails, plus new language on the safety of vulnerable road users puts a desperately needed focus on reducing fatalities and serious injuries among people biking, walking, and using wheelchairs," wrote Bill Nesper, executive director of the League of American Bicyclists, in a release praising the bill's draft.
QuietKat acquired by Vista Outdoor, owner of several well-known outdoor brands
Well-known hunting e-bike brand QuietKat has been acquired by Vista Outdoor Inc., the parent company of several iconic cycling brands including Bell, Giro, Camelbak and Blackburn.
Colorado-based QuietKat makes a number of rugged e-bikes including a JEEP branded model and several fat e-bikes with up to 1,000W motors.
Luxury e-bike brand Stromer acquired by European private equity firm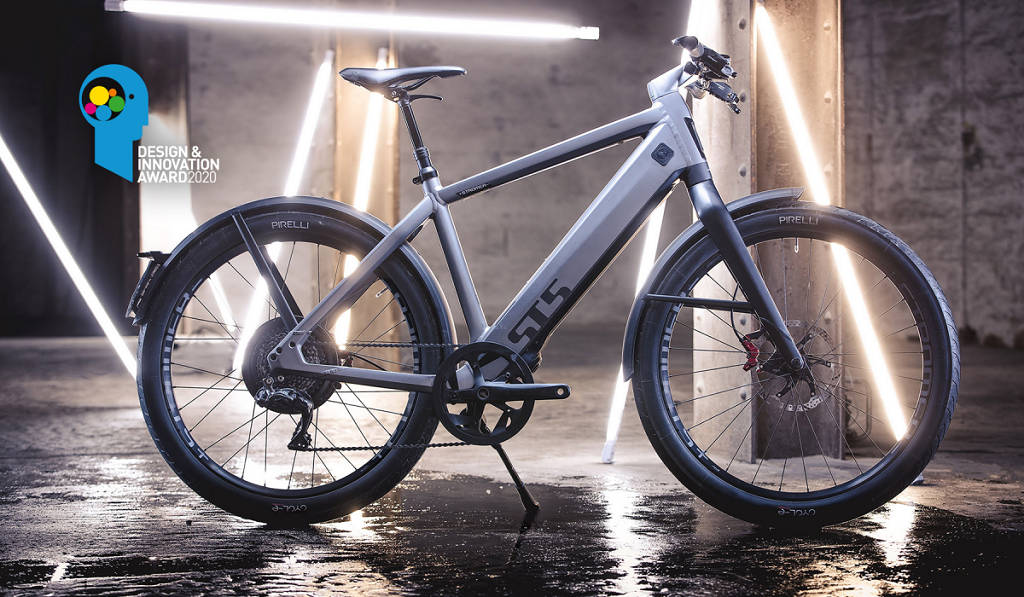 Known for its sleek, sporty and very premium commuter e-bikes, Swiss-based Stromer has been acquired by the European private equity firm Naxicap Partners.
Few details about the acquisition are available other than a commitment from Naxicap that it will support Stromer with a focus on international sales, an expansion in central Europe and increasing marketing activities, according to BicycleRetailer.com.
Speaking of Stromer… want to win one while supporting PeopleForBikes?
We unabashedly love PeopleForBikes and you should too. So why not show that love while entering for a chance to win an ultra-lux Stromer ST1 e-bike?
In celebration of bike month, PeopleForBikes is raffling off a Stromer and Bell helmet. You can enter either by donating any amount to the U.S. based bicycle advocacy organization or by completing a ride challenge. PeopleForBikes is one of the most vocal advocates for cyclists in Washington D.C. and local statehouses, helping craft legislation and push politicians to make bicycling better for everyone. Your donation goes to supporting their work.
Reader Interactions