eBike News: Cipollini eRoad, Lightweight eBike, Car Alternative, Smart Helmet, & More! [VIDEOS]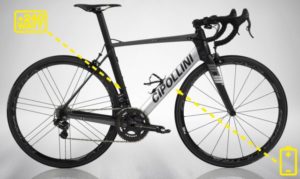 In this week's eBike news roundup:
Cipollini's new eRoad bike
Trek Super Commuter+ car alternative
Full-suspension IZIP eMTB
New lightweight Propella 2.0
15,000 sign up for French eBike refund program
Sena Smart Helmet
Fun eMTB videos
And much more!
New Products
Teaser Info From Cipollini
Italian ex-road racer Mario Cipollini was a flamboyant star of the road racing circuit in the 1990s and 2000s and not surprisingly has his own brand of racing bikes….now it seems including an e-racing bike.
Details are scare but here is the teaser info. All very slick with frame enclosed motor and battery as you would expect.
Trek Super Commuter+: Goodbye, Car
Here's a closer look at the new Super Commuter+ speed pedelec (up to 28 mph) that Trek is promoting as the bike alternative to the car. "You're really comparing this bike to a car, not so much another bike." said Jocelyn Vande Velde, Trek City Bike Brand Manager.
Here is more info on the Super Commuter+.
Upgraded IZIP Full Suspension e-MTB
From Digital Trends – A newly launched IZIP E3 Peak DS has the same Bosch CX electric drive system found on its hardtail companion model (the Peak+) but now has many upgraded components in addition to the full suspension frame. These include upgraded brakes, derailleurs, chain, and shifters, RockShox fork and Novatec hubs.
The IZIP E3 Peak DS is priced at US$4199.
Propella Lightweight
'The 2nd generation of Propella e-bike combines high quality components with the latest battery technology to create a lightweight electric bike that rides and feels like a traditional road bike' says the Seattle-based company's recently-launched IndieGoGo campaign.
At a claimed singlespeed weight of 34.5lbs (15.6kg) it's certainly a lightweight as electric bikes go. It features a high torque rear hub motor from Bafang and a frame-mounted battery with Panasonic cells giving 245Wh capacity. There is a seven speed derailleur upgrade (base model is single speed).
The bike has a 20mph top assisted speed and the offer is only available in the US and Canada. Early backer offers of $999 / $1149 (single speed / 7-speed) are still available.
Check out the bike here:
Cheaper Bafang Crank Drives?
In last week's news we reported on the Bosch Active Line Plus Generation 3 coming on stream in 2018, raising the prospect of 1300 – 1500 euro (US$1385-1600) Bosch-powered e-bikes. Bafang have responded with their own Modest branded line of crank drives aimed at a similar price point, as well as their new Ultra branded crank drive for e-MTBs.
Sena Smart Helmet
The Sena Smart Helmet for Cycling is equipped with a fully integrated Bluetooth bicycle communication system and QHD camera. Connect to your smartphone via Bluetooth 4.1 and communicate with up to three riding companions through the built-in intercom system, listen to music, make phone calls, and hear fitness data through the helmet's high quality audio speakers.
https://youtu.be/PzwJt5D3KLc
Get Inspired
In France 15,000 Sign up for eBikes & Get Refunds up to €200
Earlier this year it was announced that the French government was promoting electric bike use by offering up to a €200 refund when people purchased an eBike.
This program has proven to be a success as nearly 15,000 people took the government up on this offer since it was launched in early March!
The current program is set to expire January 31, 2018 but they are considering an extension of the program.
Oxford Goes Electric
The UK university town of Oxford is a cycling town par excellence and, it seems, is going increasingly electric. Well-known local chains have been stocking e-bikes for a while and there is an e-bike hire scheme. Now one shop claims to be the first independent bike shop in the city to commit to e-bikes in a big way.
Bike Zone owner Tim Harris said '"It is really the only growing part of the cycle market at the moment and it is a future market that can only get bigger." He is even organising seminars to educate people on the benefits of e-bikes. Good work!
Specialized Heads to Italy (for a ride…)
The Specialized Turbo Levo gets an outing on the trails of the Italian Riviera in the latest awe-inspiring video from Specialized. If you you're not jealous after seeing this then you probably already live there…
Equally spectacular is this video from Dirt Mountain Bike magazine – a venerable UK MB mag that now features a specific e-MTB section, just demonstrating how mainstream the genre is becoming.
The incredible looking video is Wales' Snowdonia mountain range.
E-Bike Biz
E-Bikes Driving Raleigh's Renaissance
This very detailed article from the Nottingham Post shows how important the iconic UK bike brand of Raleigh once was to its hometown of Nottingham. It also reveals the importance of e-bikes to the firm, apparently now accounting for around 40% of its bike revenue and being the backbone of its recent revamp which includes a bike cafe and tryout Velopark.
Gazelle Targets the US
Dutch-based brand Gazelle has opened an office in Santa Cruz, California reports Bike Europe. Gazelle say they will be getting out and about in the US to promote e-bikes: 'With our demo truck we will attend farmers' markets and events that focus on healthy life style.'
However, one industry commentator at least thinks they may have underestimated what they are taking on if they want to introduce a genuine European style cycle culture into the US. Check out this article by US consultant Jay Townley – and in particular the table of gas prices which really makes his point in a nutshell.
Stay tuned for more e-bike news & reviews and thanks for reading!
-Richard
P.S. Don't forget to join the Electric Bike Report community for updates from the electric bike world, plus ebike riding and maintenance tips!
Reader Interactions