E-Bikes News: E-Trike Trivel Enters US, Cannondale Recalls E-Bikes, Bianchi's Latest emTB and More!
With the growing popularity of e-trikes a Canadian brand called Trivel expands its distribution into the US. Some Cannondale e-bike were shipped to US dealers with the right brake lever operating the front brake and the left brake lever operating the rear brake and Cannondale has issued a recall to correct the assembly error. Legendary Italian brand Bianchi introduces a new line of eMTB called Vertic. Taiwanese-base Hyena launches a new lightweight road e-bike hub motor.
In this week's e-bike news:
Candadian E-Trike Brand Trivel Enters US, Seeks Dealers

Cannondale Recalls 75 E-Bikes With European Brake Setup

Bianchi introduces eMTB with 140mm of Travel

Hyena Launches Lightweight Hub Drive for Road E-Bikes

Layoffs at Helmet Makers Bell and Giro
Canadian E-Trike Brand Trivel Enters US, Seeks Dealers
Trivel, a Canadian brand of electric trikes has seen the growing market for e-trikes in the US and decided to cast their net to the south. Trivel is expanding into the US and is actively seeking dealers. The company says that where once the struggled to encourage dealers to stock even a single e-trike, they now often receive large pre-season orders.
To meet anticipated demand for their e-trikes, Trivel has opened a distribution center in Warwick, R.I. They are also scouting space for a West-Coast distribution center.
Trivel is based in Eastern Canada and is no newcomer to trikes. They've been producing adult trikes for 25 years and moved into e-trikes as the technology matured. Trivel offers a wide array of e-trikes, including industrial and orthopedic versions. To learn more about Trivel's e-trikes visit their site here.
Cannondale Recalls 75 E-Bikes With European Brake Setup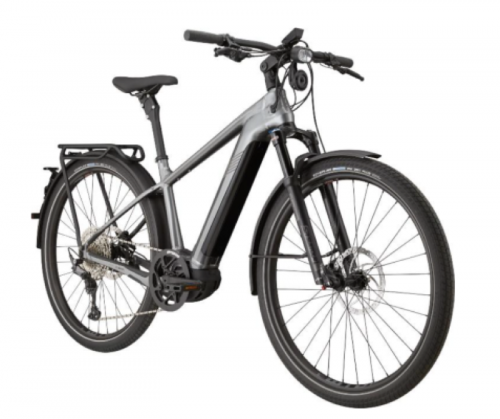 Cannondale has issued a recall notice for 75 Tesoro Neo X Speed e-bikes because they were delivered to the US with a European-style brake setup. In the US the Consumer Product Safety Commission requires the all bikes and e-bikes with hand brakes be set up so that the left lever operates the front brake and the right lever operates the rear brake. In Europe the standard is reversed, with the right lever operating the front brake.
Cannondale has engaged a voluntary recall with the CPSC's help. Any rider who purchased one of the Tesoro Neo X Speed e-bikes with the incorrectly installed brakes can visit their Cannondale dealer for the necessary change.
Important to note is that the brakes work, but riders can be surprised by how the brakes control the e-bike if they tend to favor one brake more than the other. No incidents or injuries have been reported. Owners of the affected e-bikes can contact Cannondale at (800) 245-3872 from 9 a.m. to 6 p.m. ET Monday through Friday, email [email protected] or go to Cannondale's recall page here.
Bianchi introduces eMTB with 140mm of Travel
One of the oldest bike brands in the world, the venerable Italian maker Bianchi, has introduced a new eMTB. The E-Vertic FX Type is Bianche's new eMTB with 140mm of travel front and rear. The trail eMTB comes in three sizes and is based on Bosch's Performance Line CX mid-drive motor and is powered by a 750Wh Powertube battery.
The E-Vertic FX Type features a gravity-cast aluminum frame and is equipped with a combination of 12-speed SRAM NX and GX Eagle parts. Magura MT Thirty brakes paired with 203mm rotors provide impressive stopping power. Suspension duties are handled by a Fox Float 34 fork and a Fox Float DPS shock.
Hyena Launches Lightweight Hub Drive for Road E-Bikes

Taichung, Taiwan-based e-bike motor manufacturer Hyena has introduced a new hub-drive system for road e-bikes. Hyena says the new motor weighs less than 1.3kg (2.9 lbs.). The E-Road AIR System uses a 250Wh battery and a 180Wh battery can be added to extend range.
The ISIS-style bottom bracket includes a high-resolution torque sensor. The LED display can either be integrated into the e-bike's top tube or stem. The freehub on the hub motor ships compatible with 11-speed drivetrains, but can be upgraded to 12-speed.
In an interesting turn, Hyena offers a solution to integrate electronic shifting systems into their controller. Hyena offers a smartphone app that will allow users to choose performance parameters for the motor as well as the shifting.
Bell, Giro and Blackburn Suffer Layoffs in Integration With Fox Racing

Vista Outdoor, the parent company for helmet makers Giro and Bell (bicycle helmets) and the accessory brand Blackburn, is merging the brands with Fox Racing and has laid off significant portions of staff. The brand, marketing and creative departments all saw deep cuts to staff.
In addition to Bell, Blackburn and Giro, Vista is also consolidating Copilot, Krash and Raskullz with Fox in their offices in Orange County. Vista will close the Scotts Valley facility that housed Bell, Blackburn and Giro by September 1.
Remaining staff will be moved to Fox's facilities in Irvine, which will be re-dubbed an Innovation Center.
In a statement from Vista Outdoor, president Jeff McGuane said, "We are accelerating the merger between Bell, Blackburn, Copilot, Fox, Giro, Krash and Raskullz. Plans are underway to unite our teams at the current Fox offices, which will soon be transformed into a revamped Innovation Center that unites our teams under one roof while honoring each brand's culture and ethos, which are unique, valued and untouchable. Fox will be Fox, Bell will be Bell and Giro will be Giro."
Reader Interactions