E-bike News: Thömus 25lb Hybrid, Brompton T-Line Cytronex and Much More !
Just how light can e-bikes get? There have been a number of ultra-light electric road bikes in recent years but it's good to see Swiss firm Thömus and the UK's Cytronex pushing the boundaries of weight in the hybrid and folding areas. Other areas we explore are how far auto firms will get into e-bikes (with Rivian the latest manufacturer to signal a possible move in that direction), state subsidies, e-bike camping conversions and speed pedelec recumbents in Europe. A truly mixed bag.
In this week's e-bike news:
The Thömus Swissrider, a 25lb hybrid e-bike

Will Rivian get into e-bikes?

SpaceCamper convert e-cargo bike into e-camper

Brompton T-Line Cytronex conversion – the ultimate e-folder?

Speed pedelec recumbent first of its kind to get German type approval

US state subsidy update
IS THIS THE WORLD'S LIGHTEST COMMUTER / GRAVEL E-BIKE?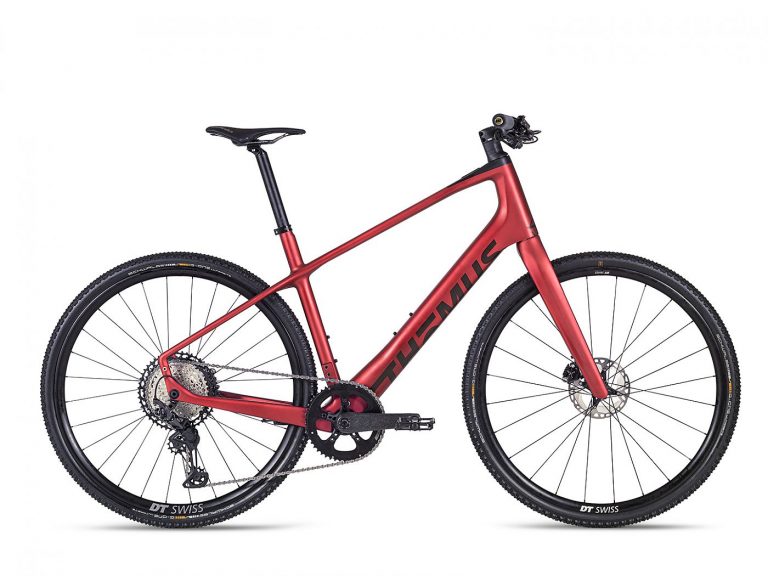 Switzerland's Thömus just announced the Swissrider Urban, a 25-lb (around 11.3kg) commuter e-bike which they claim is the lightest on the market. There are certainly quite a number of e-bikes out there lighter than this but they are largely e-road bikes without the inbuilt lights and the option of mounting mudguards and rack that the Urban has (unusually it also comes in Gravel and Road models).
It combines a carbon frame with a lightweight Maxon mid-drive with rated torque at a relatively modest 30Nm. Battery options are 250 Wh, 360 Wh and 426 Wh with a 'Ranger Extender' 250 Wh also available. The urban model starts at $5750.
The company was founded in 2021 and operates a flagship retail boutique in Santa Monica, California and they also say 'Each bike we sell is built by hand on-site, in our workshop in Santa Monica.'
RIVIAN SAID IT WILL MAKE AN E-BIKE (OR DID IT?)
Whilst it's being widely reported online that electric truck maker Rivian is to make an e-bike, The Verge (quoting original sources at Bloomberg) say the language used to Rivian staff, where the plan was first mentioned, seems to imply the project could be an e-bike or an electric motorcycle.
Whatever the truth there has been much speculation. If it is an e-bike has Rivian been tempted by the impressive sales figures of electric bikes? Electric bikes have actually outsold electric and plug-in hybrid cars in the US since 2021. And in Europe, e-bike sales are on track to overtake the number of all cars sold, electric or not. The numbers speak for themselves.
It's also clear that Rivian's planned sales of electric trucks have not been running as smoothly as they had hoped recently, with the company recently laying off around 6% of its workforce for the second time in less than a year.
E-CARGO BIKE BECOMES E-CAMPING BIKE
The UK's Move Electric reports that 'German firm SpaceCamper …has created the first cargo e-bike camper. The Darmstadt company has been producing campers for more than 15 years, mostly based on the Volkswagen Transporter.
The SpaceCamper Bike is actually based on a Riese & Müller Load e-cargo bike – R&M are also based in Germany – and has the extremely high spec you would associate with the company (all their e-bikes are based around Bosch mid-drives and use other premium components such as Rohloff hub gears, ideal for heavy load hauling).
It's cleverly designed so that the camping kit packs down into the bike's cargo box and the bike itself is used to support the tent cover. There's also a variable reclining surface which doubles as both a seat and a bed. A table can also be mounted over the fold-down handlebars. Claimed setup time is around five minutes.
SpaceCamper say sales should begin this summer.
BROMPTON T-LINE CYTRONEX – THE COOLEST FOLDING E-BIKE EVER?
Back in January 2022 we reported on how Brompton launched the T-Line – a non-electric all titanium and carbon version of their legendary folding bike. We noted how it could open the way to producing a super lightweight folding e-bike. In theory adding a 7lb / +3kg retrofit kit like Cytronex or Nano to the T-line titanium Brompton could produce a 23/lb/10.5kg e-folder with Brompton's super compact fold with single speed and four gear derailleur options .
Not only has this happened, with the UK's Cytronex adapting their Brompton kit to fit the different spec (larger frame tubes etc) of the T-Line, there is a 'tried and tested' review of the Cytronex T-Line in the latest edition of A to B magazine.
They tested the four speed version which came in at a weight of 25.7lbs / 11.65kg which included the 198Wh battery, giving an impressive range of 32.6 miles – and that's in the UK winter. As the writers put it, 'this little machine can be carried like a lighter than average non-assisted bike, but it rides like a powered one.'
The big downsides are cost (the unpowered T Line starts at £4180 and the kit at £1245 self-fitted or £1395 fitted) – though there is an argument to say this a not a bad price for an e-bike that will do what virtually no other will – and more problematically, even for the well-off, availability (T-Lines are hand made in small batches and there appears to be a huge waiting list).
GERMANY GIVES TYPE APPROVAL TO FIRST RECUMBENT SPEED PEDELEC
Manufacturing and buying speed pedelecs in Europe and the UK is far more difficult than in the US where the 28mph pedelec machines have their own classification as 'class 3' e-bikes and as this BRAIN article points out, 'Some 39 states have passed laws codifying the three-class system with that definition. Most of the industry, and its trade association, PeopleForBikes, proceed on the understanding that Class 3 e-bikes are bicycles and have to meet Consumer Protection Safety Commission bicycle standards.'
The situation in Europe varies from country to country, but in general they are considered motor vehicles and so there is extra cost involved in manufacturing them, more restrictions on where you can ride them and more cost and red tape for the end user, often in the form of things like compulsory insurance and helmet wearing. Without getting too technical they generally need to conform to type approval which is a higher technical bar and involves more cost than the 15.5mph regular e-bike EN15194 standard.
Good news then for 28mph e-bike fans that this German-language report tells us that 'the (German) Federal Motor Transport Authority has granted the Speedmachine S-Pedelec a European type approval. This is the first time that a recumbent bike is classified as a light motor vehicle. The manufacturer HP Velotechnik can now sell the Speedmachine via its dealer network both in Switzerland and in EU countries. For this purpose, the wheels no longer require separate TÜV approval, but can be produced in series and registered without any hassle.'
STATE SUBSIDIES UPDATE
The Los Angeles Times reports that 'In response to the growing interest in e-bikes, the California Air Resources Board (CARB) is preparing to launch an e-bike incentives program.'
LAT adds 'CARB's current proposal is to offer a point-of-sale incentive (different from a rebate) of $1,000 off a standard e-bike, with an additional $750 discount for larger cargo bikes, adaptive bikes or recumbent bikes.
The equity-based program will be limited to state residents with household incomes no more than 300% of the federal poverty line. That works out to about $83,000 for a family of four.
There are some additional eligibility requirements and priority criteria, and applications "will be accepted on a first-come first serve basis," according to a recent presentation from CARB.
Meanwhile over in Denver Electrek reports that 'Denver's latest round of e-bike rebates proved that demand still far exceeds supply when it comes to the city's electric bicycle subsidy program. The latest round of rebates, which was opened last week, was exhausted in just 20 minutes.
Denverites flooded the city's online portal to apply for an electric bike rebate, which offered to take $300 off the price of a new e-bike for all Denver residents. Income-qualified residents could receive an even higher rebate of $1,200.'