E-bike News: Orbea, BMC, and FLX Release New E-Bikes, Rad Power Bikes Has a New CEO & More!
Rider safety leads our news this week with the announcement that the CPSC has decided to make Rad Power Bikes' rim-strip safety notices a recall. The New York City Council, in the wake of several lithium-ion battery fires is considering bills to improve the safety of the batteries. Some of the legislation could include fines.
In this week's e-bike news:
FLX Introduces the "Menace," Modeled on the Schwinn Stingray

E-Bike Black Friday well underway

Rad Power Bikes CEO Steps Down

CPSC issues recall on some Rad Power Bikes' rim strips


BMC Launches new, premium e-road bike, the Roadmachine 01 AMP X

Orbea updates its popular enduro eMTB, The Wild
FLX INTRODUCES THE "MENACE," MODELED ON THE SCHWINN STINGRAY
Few bikes can compete with the iconic status of the Schwinn Stingray, but leave it to FLX to introduce an e-bike that recalls a bike so desirable that Schwinn has issued replicas on occasion. The Schwinn Stingray was designed by Al Fritz who took aim at the 1960s hot rod car culture; the Stingray remains one of the most popular bikes Schwinn ever made and one of a handful of bikes known by name.
The FLX Menace echoes the Stingray's curvy tubes, chopper-style handlebar and banana seat, but this is an e-bike, through-and-through. It features a rear hub motor and the battery is cleverly concealed in the banana seat. It is likely to be a Class 1 or 2 e-bike due to the fact that this will be a single-speed e-bike. Renderings show it with Magura hydraulic disc brakes and front and rear lights.
Currently, FLX is taking $100 deposits on the Menace, which is expected to begin shipping in spring 2023. Learn more at FLX's website here.
Black Friday E-Bike Deals Started Early
While it isn't uncommon to see a few e-bike deals jump the gun before Black Friday, it seems like there are more e-bike brands that have begun their e-bike sales than haven't.
We have a full roundup of the deals on our Black Friday e-bike deals page, but if here's a few of those brands that have already gotten a start:
RAD POWER BIKES' CEO STEPS DOWN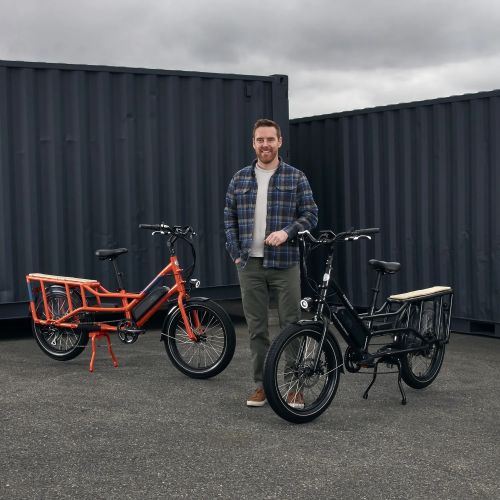 Mike Radenbaugh, the CEO of Rad Power Bikes, will step down as CEO of the e-bike brand and hand the reins to Phil Molyneux. Radenbaugh will transition to chairman of the board to focus his efforts on advocacy and innovation.
Molyneux joined the company nine months ago as president. The most is not unexpected. Molyneux has a history of leading large companies and previously served as president at Dyson and Sony. His particular expertise is in leading "complex hardware businesses."
Rad Power Bikes has been among the fastest growing e-bike brands in the U.S. and its growth shifted into high gear in 2021 when it announced a $154-million dollar investment, bringing the company's total investment to $329 million, making it what they claim is the best-funded e-bike company in the direct-to-consumer space.
In July, Rad Power Bikes added a sixth showroom, this one located in Salt Lake City. It has announced plans to open additional showrooms in Brooklyn, New York; Huntington Beach, Calif.; and St. Petersburg, Fla.
Rad Power Bikes' growth has not gone unchecked, though. The company shed 163 employees in two rounds of layoffs. It has also been the subject of several lawsuits and one CPSC recall.
CPSC MAKES RAD POWER BIKES' RIM-STRIP SAFETY NOTICE A SAFETY RECALL
Rad Power Bikes issued a "stop-ride" notice to owners of select Rad Power Bikes models in August and September due to a faulty rim strip. That notice has now been escalated to recall on the rim strips. Rad Power Bikes is working with the Consumer Product Safety Commission to issue the recall, which involves roughly 30,000 Rad Power Bikes.
The recall covers rim strips found on the RadWagon 4 Electric Cargo Bikes. According to the notice, the rim strip can become misaligned, causing the innertube to rub against the wheel and cause unexpected flats.
According to the CPSC, 29,300 RadWagon 4 e-bikes are covered by the recall. The bikes were sold in black, white and orange frame colors and feature the word "RadWagon" on the top tube and Rad Power Bikes on the down tube. The recall also covers the 22 inch by 3 inch tires from Vee tire.
Consumers who own these bikes are encouraged to contact Rad Power Bikes to schedule service to replace both the tires and the rim strips on the affected bikes.
According to the CPSC, there have been 137 reports of tires that blew out, causing crashes. Eight injuries have been reported including one broken arm and one broken wrist.
Consumers can contact Rad Power Bikes toll-free at 844-406-2703 from 7 a.m. to 6 p.m. PT Monday through Sunday, or email [email protected] or visit radpowerbikes.com/pages/recall-radwagon4-tires.
BMC LAUNCHES NEW, PREMIUM E-ROAD BIKE, THE ROADMACHINE 01 AMP X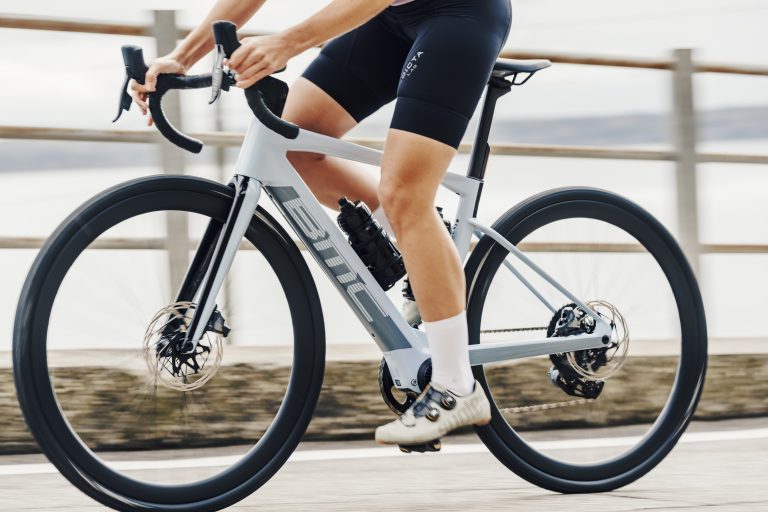 The Swiss bike brand BMC has introduced a new model, the Roadmachine 01 AMP X. It is a premium e-road bike the company said. In fact, it is more versatile than that. The Roadmachine 01 AMP X will have clearance for tires as wide as 38mm, making it suitable for gravel riding.
The motor is made by TQ and is touted for its performance and quiet operation. In the U.S., the Roadmachine 01 AMP X will be a Class 3 e-bike with a maximum pedal-assist speed of 28 mph, while in other global markets the speed will be limited to 40 kph (25 mph).
The TQ-HPR50 is said to produce 300W and 50Nm of torque. TQ allows riders to customize its three riding modes via an app and a 2-in. screen is integrated into the top tube for ease of visibility and operation.
The Roadmachine 01 AMP X will be offered in six sizes, from 47cm to 61cm. The Roadmachine 01 AMP X One will features SRAM Force AXS and will retail for $9627, while the Roadmachine 01 AMP X Two will be equipped with SRAM Rival AXS and go for $8550.
ORBEA LAUNCHES UPDATED ENDURO E-BIKE, THE WILD

Orbea has launched a new version of its eMTB, the Wild. The Wild is aimed at the enduro rider and features a carbon fiber frame, an integrated battery and 160mm of travel in the suspension. It can be paired with either a 160mm or 170mm-travel fork.
Buyers can choose between a 625Wh or a 750Wh battery. Orbea says that while the Wild bears some similarities to the Railon, the Wild has geometry optimized for an e-bike. It has an ultra-slack 64-degree head tube angle to provide stability at high speed and they have increased the reach by 25mm, to 450mm to better position the rider. To make it easy to pedal on climbs, it features a 77.5-degree seat tube angle.
It is said to be 51 percent stiffer than the previous version of the Wild, as well as a third lighter. And unlike most of its competitors' e-bikes, the frame features a lifetime warranty.
The Wild will be offered in four sizes—S, M, L and XL. No word yet on pricing.