E-Bike News: Marin Updates eMTB Line, Tektro & Bosch Partner on Anti-Lock Braking, New Patents, Power Tool Batteries Fuel an E-Bike
Marin freshens up its three-bike Alpine Trail-E family, presenting eMTBs that range from $4499 up to $6299, bringing some much-needed affordability to the eMTB market. The company released a new entry-level model, and the existing E1 and E2 models received spec updates. All models use Shimano STEPs drive units and the same frame, with three tiers of components.
In this week's e-bike news:
Marin Bikes updates Alpine Trail-E models

Tektro and Bosch collaborate on anti-lock brakes

E-bike patents point to new technologies at Shimano and other manufacturers

New tech allows some e-bikes to be powered by certain power tool batteries

Mountain Bike Pioneer Gary Fisher Launches E-Bike Brand Morelle
Marin Bikes Updates Alpine Trail-E Models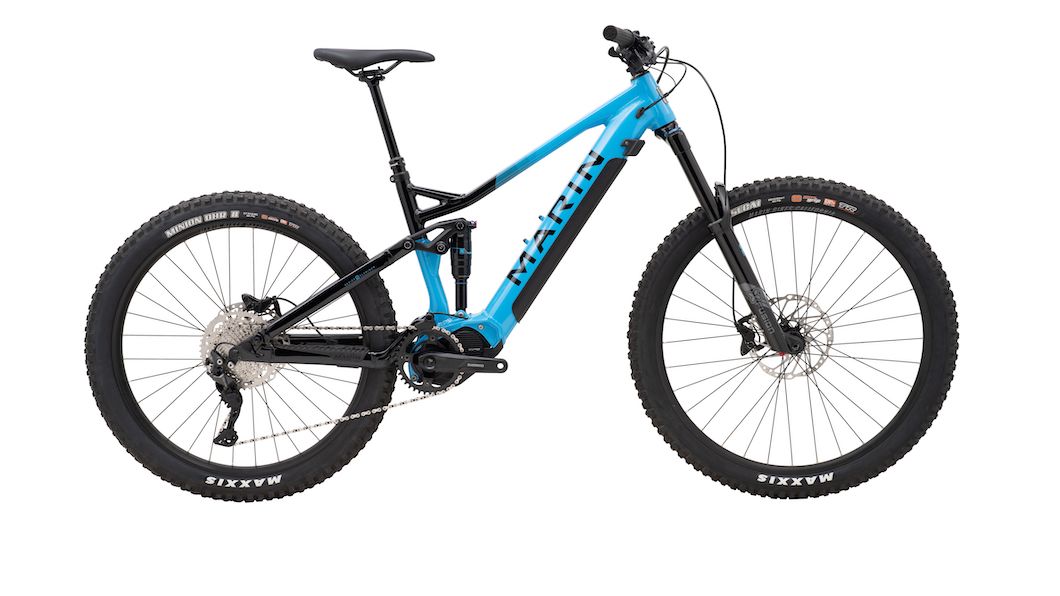 For 2023, Marin Bikes has expanded their Trail-E lineup with new specs for the two existing versions as well as the addition of a new entry-level edition. All three e-bikes share Marin's Series 4 MultiTrac aluminum frame with 150mm rear travel, balanced by slightly longer 160mm all-mountain/enduro forks up front. Shimano STEPs drive units give the models a boost, with the E2 utilizing the latest EP801 model, and the E1 and E powered by the new EP6, all producing up to 85Nm of torque. All models now utilize the same frame, with a capacity of up to a 630Wh battery, as used on the E2 and E1 models. The Alpine Trail E (base) is paired with a 504Wh battery with a spacer, but can be upgraded to a larger battery in the future, if the rider is so inclined.
The top-of-the-line Trail-E2 is spec'd with a Shimano STEPS EP801 motor, 630Wh battery, Fox fork and shock and a mix of 12-speed Shimano XT and SLX parts. It carries a retail price of $6299. The Trail-E1 moves to an 11-speed Deore drivetrain, a STEPS EP6 motor, an X-Fusion fork and Rock Shox shock and goes for $4899. The new entry-level Alpine Trail-E is spec'd with a STEPS EP6 motor, 504Wh battery, 10-speed Deore group, X-Fusion fork and shock. It may be one of the very best values in eMTBs thanks to a price of just $4499.
Tektro and Bosch Collaborate on Anti-Lock Brakes
Bosch has been open about its desire to bring anti-lock brakes to e-bikes. Their first efforts came with Magura. Magura, however, isn't known for making components across a wide range of price points; they are focused on the high end of the market. More recently, Bosch began working with Tektro, a manufacturer with a proven reputation for producing some of the most affordable hydraulic brake systems on the market. Tektro will also produce some brakes with its premium TRP line.
The systems will work only with Bosch-equipped e-bikes as the anti-lock electronics are powered by Bosch's batteries. The system will work with existing rotors by mounting a small ring to rotors and then a speed sensor on the fork. This is a strictly front-wheel brake, which should prevent panicked riders from braking too hard and going over the bar.
E-bike patents point to new technologies at Shimano and other manufacturers
Patent Agent Alan Coté reports at Bicycle Retailer and Industry News that a number of new patents have been awarded for new e-bike technologies. Leading the charge is Shimano with new designs for an e-bike communication system and new battery mounting designs. And while they introduced an anti-lock brake system for e-bikes last year, they've patented a new anti-lock brake system.
Campagnolo is known for its high-end road racing components … and not much else. It is with some surprise that we note Campagnolo has been awarded a patent for a motorized rear hub. This suggests that we may see high-end road e-bikes equipped with Campagnolo parts.
Bosch is a busy company and because their products cover such a broad range of consumer products with them producing everything from individual components to finished products. Bosch was awarded 1,387 different patents. Dozens of them apply to e-bikes, such as a new battery-mounting system.
Imagine an e-bike display mounted to the top cap on a stem. That's but one of Yamaha's new patents. Another design is for sensors that can be used to measure torque or speed and manage the power output for a motor, as well as battery life.
German consumer-direct brand Canyon was awarded a number of interesting patents that apply to e-bikes. One is for an e-bike specific shipping carton. Based on Canyon's current business model we would anticipate that this shipping carton would provide superior protection for the e-bike as well as making assembly simpler. They were also awarded a patent for a frame tube design that would house an e-bike battery.
Suspension company Fox has pursued a number of different technologies not associated with suspension. One of their latest is for e-bikes and makes use of GPS data to manage battery life. Imagine a system that won't let an e-bike completely drain the battery before arriving home.
New Tech Allows Some E-Bikes To Be Powered By Power Tool Batteries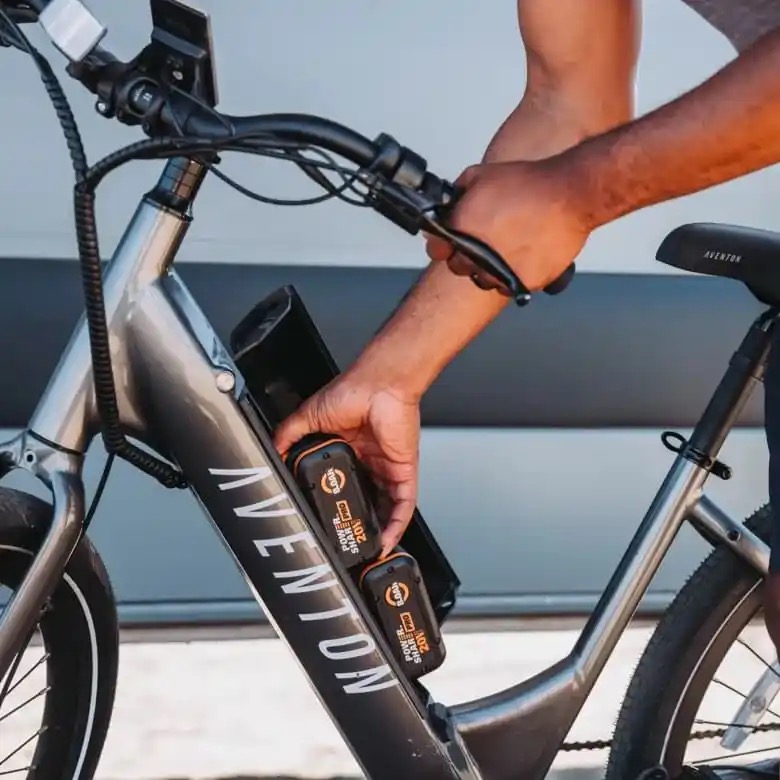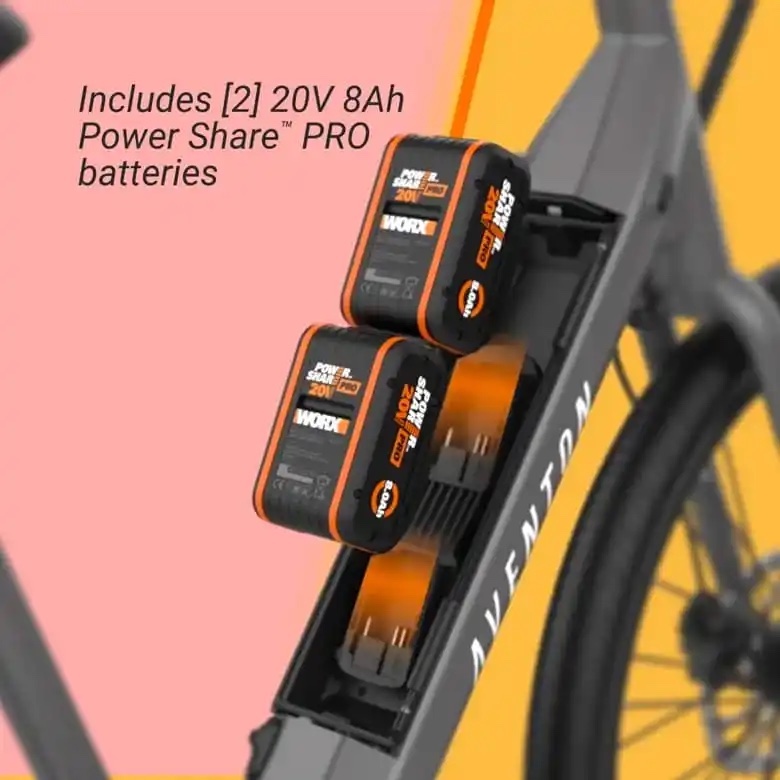 Aventon e-bikes has partnered with power tool manufacturer Worx to bring a new solution to market for powering e-bikes. Using an adapter that snaps into place instead of Aventon's standard battery, a rider can plug two 8Ah Worx batteries into cradles that will give Aventon's Pace 350 up to 28 mi. of range. That's not an enormous amount of range, but we suspect that this will be marketed as a solution for when someone is in a pinch, Plan B, so to speak.
Mountain Bike Pioneer Gary Fisher Launches E-Bike Brand Morelle

Since Trek Bikes folded his mountain bike brand, Gary Fisher has devoted his energy to micromobility—e-bikes. Fisher has just announced his new brand, Morelle, which uses a new lithium-ion battery technology that is said to increase energy density by 50 percent, offer five times more power and charge faster than traditional batteries.
Morelle is a division of Ionblox, which has, until now, focused its efforts on electric aircraft, a tiny sliver of the overall aviation market. Hays approached Fisher because Ionblox wants their technology to reach a larger segment of the population and benefit as many people as possible.
Morelle plans not to sell their e-bikes, but to offer them by subscription, possibly $100 per month. The subscription model is meant to sidestep the sticker shock that would come with a more expensive e-bike.
In broad strokes, the bike they plan to offer will feature an aluminum frame with a mid-drive motor, and while they want to use widely available parts as much as possible, they also want to incorporate some electronics like tire pressure sensors. They will have a physical presence in each market in order to assemble and maintain the e-bikes.
According to Fisher, Morelle's e-bikes will be easy to customize; he wants to offer a cargo e-bike as well.
Reader Interactions