DYU D3F Review, 2023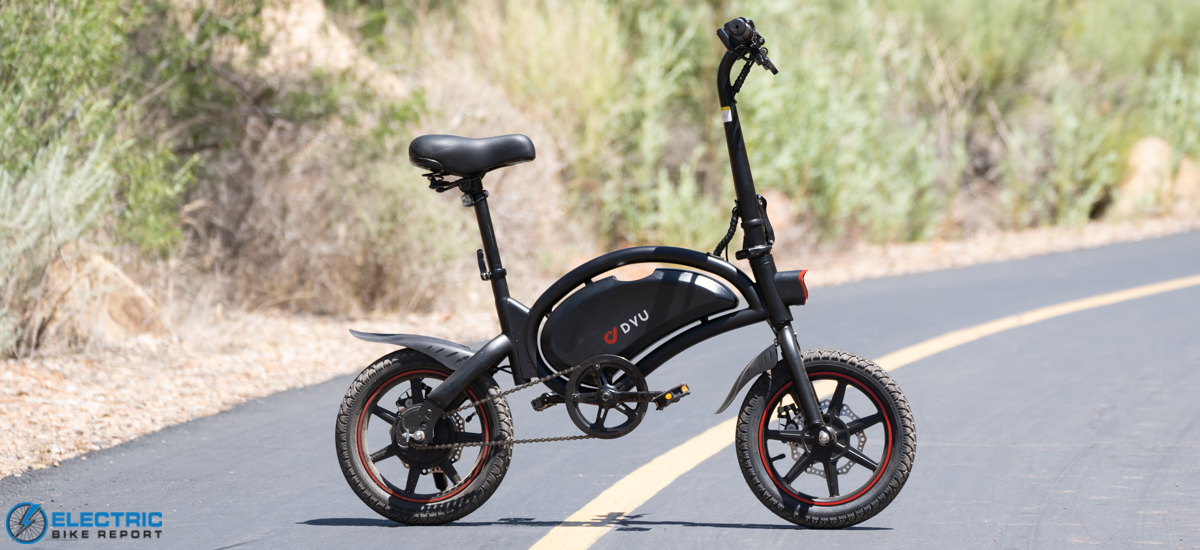 Electric bikes are getting cheaper and cheaper, but fewer are cheaper than the electric minibikes made by DYU.
In this DYU D3F review, we dive into the specs and real-world performance of one of the most inexpensive e-bikes money can buy. Powered by a 240W rear hub motor and a surprisingly large 360Wh battery, the D3F has fast become a popular option for those on a budget or who just dig the bike's quirky looks.
Though this e-bike has a weight capacity that can accommodate a full-grown adult, the tiny frame and 14-inch wheels have made it an easy choice for kids. We test this, too, by breaking our normal review mold and incorporating the feedback of a 10-year-old junior test rider.
Whether you're looking for a cheap ride, a ride for your kid or you just really appreciate this bike's quirky looks, the DYU D3F is a solid choice for few dollars. Our impression is that it's mostly a toy — best used for having fun over function — but it may also be a good option for those looking for affordable transportation.
Bike Class:
Class 2: PAS/Throttle assist, up to 15.5 mph

Pro's
The 360Wh battery is far larger than we expected and gives the bike a surprisingly decent range.
The folding handlepost, grab handle and 38 lb weight make the bike easy to transport.
The 240W motor has enough oomph to comfortably whisk an adult around town.
The capped 15.5 mph top speed makes the DYU a little more approachable for kids.
It's cheap: You'd be hard pressed to find an e-bike more affordable than this one (we probably wouldn't recommend riding it if you did).

Con's
The brakes on our review model arrived reversed, with the right lever controlling the front brake and the left lever controlling the rear brake.
Its tiny size isn't the most comfortable for adults on longer rides.
The handling can be a little twitchy and unpredictable.
ELECTRICAL SPECS & FEATURES
Battery: 36V, 10Ah (360Wh)
Display: LED Display
Motor: 240W rear hub motor
Headlight: Included
Taillights: Included
Peal Assist: One pedal assist level, cadence sensor
Range: 15-35 miles
Throttle: Included
Weight & Dimensions
Claimed weight: 38lbs
Maximum rider weight: 265lb max capacity
Maximum load on rear rack: N/A
Components & Accessories
Brakes: Mechanical disk brakes
Fenders: Included
Fork: Rigid alloy
Frame: Alloy
Drivetrain: 38t x 12t single speed
Grips: Rubber
Saddle: Comfort
Handlebar: Alloy straight bar
Kickstand: Included
Pedals: Included
Tires: 14"
DYU D3F Review: Bike Overview
I think it goes without saying that the DYU D3F is a weird little e-bike. We've come to call it the "clown car" bike because our testers — especially me at a lanky 6'1" — look a bit ridiculous when riding it.
But despite its weirdness, the DYU has become pretty popular. We actually see this thing in the wild pretty often, and I suspect that's, at least in part, due to its really cheap MSRP of less than $500. You really can't get much cheaper than that in the e-bike world, and I think that draws many people to it.
The DYU rolls on a set of 14 inch wheels and is powered by a 240W rear hub motor and a surprisingly large 36V, 10Ah (360Wh) battery nested inside the front triangle of the frame.
We'll dive into the details of power and handling later, but in short, don't expect a ton from this super affordable mini bike. That's OK, especially if you're buying it as a toy and not transportation, but it's no sportscar.
Despite its very, very small stature, the DYU D3F's 265lb weight rating certainly suggests its built with adult riders in mind. Though, this bike has become popular for children — something we actually tested in this review. And there are also suggestions its miniature size has some function behind it.
The bike sports a foldable handlepost so you can tuck the handlebars neatly down by the frame and there's a grab spot carved out of the battery, so you can carry the bike like a suitcase. It's just 38 lbs, so there is an argument this could be an ultra-affordable alternative to high-end fast folders like the GoCycle or Brompton, but with a fraction of the performance.
It's got a single speed drivetrain with a 38x12t ratio that feels a little spinny while you're cruising but is a nice gear for helping the motor up hills.
The brakes are mechanical disk brakes, and an important note here is that the set on our review bike arrived reversed with the left hand lever operating the rear brake and the right lever operating the front brake.
This is something to be aware of the first time you ride the bike, but luckily this can be fixed relatively easily.
And that's about it. The gist of this bike is it's very cheap, very small and very simple. None of those facts make this a bad e-bike by any means, but it is important to keep all of them in mind when buying. This bike is for fun, and in that sense it does a great job.
DYU D3F Review: Motor Performance, Speed and Acceleration
What makes this miniature e-bike an e-bike is its 240W rear hub motor housed inside the rear wheel. It's a Class 2 motor with a throttle and a single level of pedal assistance, all of which is capped at 15.5 mph, according to DYU.
Compared to other e-bikes we've reviewed, that's certainly not the quickest top speed. But personally, I think it's plenty quick for this little bike.
The motor isn't the best for hill climbing but on a flat surface it has no problem cruising at 12-13 mph.
Because of the bike's tiny size, I personally think most people are going to be zipping around on the throttle and only pedaling to get up to speed and to help the motor up hills. That's what I did, at least.
Aside from the crunched pedaling position, the 38x12t gear ratio is pretty spinny by the time you reach about 12 mph. It's nice for climbing, but I think you're going to find throttling a bit more comfortable on flat ground.
As always, we did test the bike on our EBR circuit, but there isn't much to glean from this aside from average speed due to the bike's single PAS level. It cruised around the track at 13.6 mph on pedal assistance and without the help of the motor it cruised at 9.7 mph.
DYU D3F Review: Range Test & Battery Performance
Shockingly, for a peanut-sized e-bike that costs less than $500, the DYU's 360Wh battery puts up a pretty good range.
This is a test we typically run twice, one in a high pedal assist setting and again in a low pedal assist setting, but the DYU has just one pedal assist setting and a throttle. So instead of two tests we did one and instructed our test rider to ride the bike how you think an average person would.
What they got was a range of 29.65 miles, which is pretty great considering this is an ultra-cheap minibike.
Now, would you actually want to ride this bike that far in a single sitting? That's going to be up to the user. I doubt this bike will be ridden much more than 5-8 miles at a time, so what this large battery means is you're going to need to charge the bike less often and you're unlikely to suffer from range anxiety.
Or, if you're really ambitious, it means you can ride the thing pretty far.
DYU D3F Review: Hill Test
With a scrunched-up pedaling position and a very modest 240W motor, we had little hope that the DYU D3F would stand a chance against our test hill Hell Hole.
At a third of a mile long and a 12 percent gradient on average, Hell Hole is steep enough and long enough to stress even the most powerful e-bikes we review, let alone a lightly-powered minibike. But we did try.
We attempted two timed tests of the DYU up Hell Hole, one using just the throttle and the other in the bike's sole pedal assist setting. Neither were successful, with the bike quickly failing on the hill's lower slopes.
Both these failures happened with me riding the bike, a full-grown 170 lb adult male. But, considering this is an e-bike that'll often be used by kids, we had our Junior Test Rider take a third run at Hell Hole to see what would happen with a smaller, lighter human at the controls. Amazingly, the DYU cleared the hill with ease.
Obviously a hill as steep or long as Hell Hole is not going to be the DYU's cup of tea (especially if you're an adult), but I will say that I've been pleasantly surprised by the bike's climbing ability.
There are lots of rolling hills in our area, many of which have a good pitch and can go on for a long distance. The DYU tackled a surprising amount of them, and though this is an e-bike that I think is going to be throttled more than pedaled, a little pedaling on the hills goes a long way in helping the motor.
That said, this isn't a hill-friendly e-bike. It's going to do best zipping around a suburban neighborhood or maybe a flat urban area.
DYU D3F Review: Brakes and the Brake Test
Normally in this section we've got a big chart comparing how the braking power of the
e-bike being reviewed
compares to the braking power of all the other e-bikes we've reviewed.
How we normally conduct our brake tests is we bring the bike up to 20 mph five times and stop as hard as possible, taking the average stopping distance. But, considering the bike's max speed of 15.5 mph and low gearing, we can't get the DYU going fast enough — so no brake comparison for the DYU.
Though we can't compare the results, we did put the D3F through the test and got an average stopping distance of 6-feet 11-inches, which is a very short distance. Considering the max speed, that likely indicates these brakes are plenty powerful.
One very important note on the brakes, though: Our review bike came with the levers reversed. Meaning the left-hand lever operated the rear brake and the right-hand lever operated the front. This is backwards from the typical bicycle sold in the U.S.
The reversed levers are an important safety consideration, as it's not a far-flung idea to think someone may grab a handful of brake thinking they're engaging the rear brake, only to go flying over the handlebars because they engaged the front brake. This is relatively easy to fix because the brakes are mechanical, but it is something to keep in mind.
DYU D3F Review: Ride Comfort, Handling and Cockpit
While it's compact, cheap and might look cool to some people, the DYU's super small size and 14-inch wheels aren't the most forgiving when it comes to handling.
The steering is exceptionally quick and twitchy and with the narrow handlebars, even small potholes can wrench the front end away from you. There's no suspension, so you can feel lots of the road, and, though this probably goes without saying, the cockpit is very cramped for full-sized adults.
But, put the bike under a more appropriately-sized kid, and many of those clown-car like issues seem to subside. Our junior test rider, a 10-year-old, felt very safe and secure on the DYU. Her parents also felt comfortable with her riding it; so comfortable that they're going to have her switch from an electric scooter to the DYU as her transportation to school. We'll keep tabs on how the DYU stands up to her daily use and report back, so stay tuned for that.
DYU D3F Review: Summary / Where to Buy
The DYU D3F has quickly become a popular e-bike, and I think I get why: It's cheap, fun and surprisingly well put together.
After logging a considerable number of miles on the D3F, I'm surprised at how much fun we've had with the little thing. From an adult's perspective, the DYU D3F is a fun toy — a goofy electric bike to tool around the neighborhood or explore your area without dropping big bucks.
From a kid's perspective, the D3F is an absolute blast. Frankly, I was surprised at how much our junior test rider liked the D3F. According to her parents, it's gotten her excited about bikes to the point that she won't stop asking about it.
No matter the size of the rider, we've been impressed by the DYU. It's got a solid range, the motor gives enough support to be comfortable and the frame and componentry has held up better than expected — all positive signs for a bike that costs less than $500 MSRP.
If you like the DYU D3F it can be bought online from DYU's website and shipped directly to your door.
'Happy Riding, make sure to let us know if you have any questions down in our comments section or if you think we left anything out in this review of the DYU D3F.

Reader Interactions